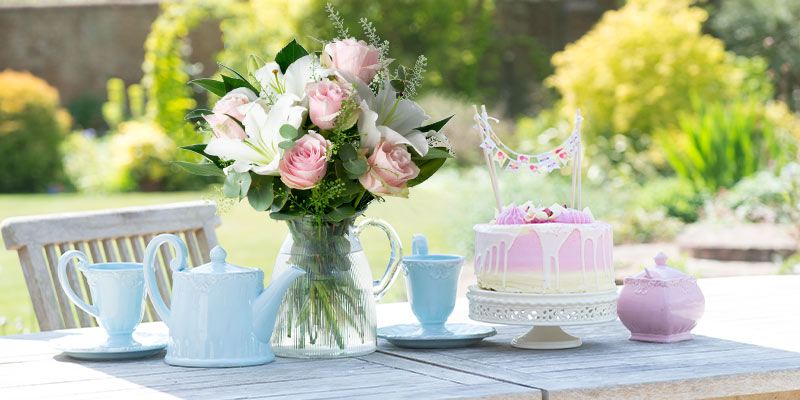 Everyone loves receiving flowers on their birthday, it's basically a scientific fact. Ok, it's not quite science, but it's absolutely a failsafe gift idea.
So, when it comes to birthdays and flowers, the only thing you need to think about is what type of flowers will bring your giftee joy. If you can, plump for something seasonal, as many floral fans will keenly await the arrival of peony or dahlia season. Or send a bouquet based on their favourite colour, or blooms that symbolise a special meaning pointing to your relationship, whether it's platonic or romantic.
We've explained some of our favourite birthday blooms below, from what they symbolise to when they're available and who to send them to, so you can send with confidence.
Roses
Roses are often wrongly thought to be the official flower of February, owing to their links to Valentine's Day. Instead, they're actually June's birth flower, but are so ubiquitous and versatile thanks to their many colours, that they're suited as birthday flowers for any month.
Pink and red roses are most often associated with love, especially in mono bouquets (made up of just one type or colour of flower), but mix them up with other colours and seasonal blooms and they become something quite different. Red roses with hard foliage and berries become a seasonal bouquet for anyone born in December for example, whilst mixing pastel roses with soft pinks from tulips, lilies, and lisianthus is perfect for a spring look. For something autumnal team orange roses with deep orange or dark purple dahlias, marigolds, sunflowers, and dried grasses.
You can send a lovely message with your birthday gift easily too, as different coloured roses have different meanings. Yellow roses symbolise friendship, whilst orange ones represent enthusiasm and energy. White traditionally means sympathy, as well as purity.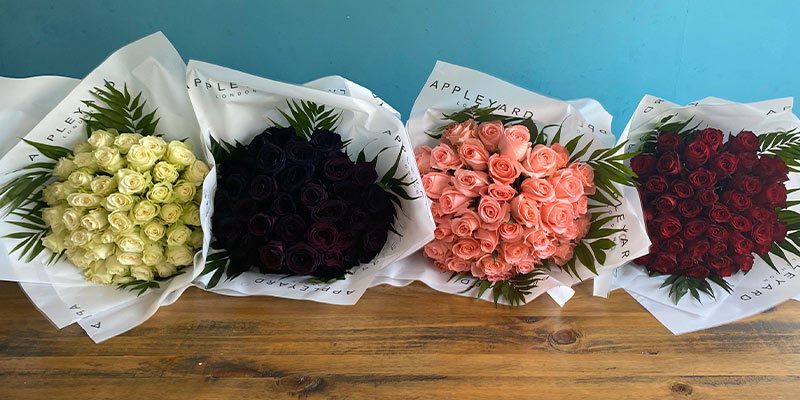 Dahlias
No flower celebrates the height of British summertime quite like the dahlia – one of the season's later flowering plants that can start as early as May and flourish into October.
Originating in Central America, there's more than 40 species of these beautiful flowers and countless varieties, shapes and colours, from tight pompoms to spiky heads, which can easily be as big as your head.
Dahlias come in bold reds, deep purples, almost fluorescent yellow and peachy orange colours (just not blue) and symbolise commitment and an everlasting union, as well as inner strength, creativity, prosperity and elegance.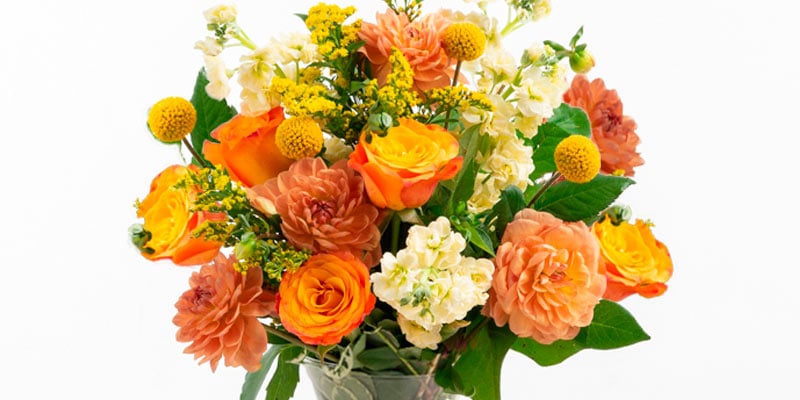 Lilies
Lilies are universally popular flowers that are endlessly elegant thanks to their large petals, impressive star-like shapes, and beautiful fragrance. They're available all year round, making them easy to send for any birthday.
In Greek mythology, they're thought to have come from the milk of Hera – the goddess of marriage and women, which is where the link to rebirth comes from. They also represent purity and abundance, while in Asia they're strongly associated with good luck.
If you're after the traditional scent, go for white oriental lilies or stargazer lilies, as these tend to be the most fragrant. They're also likely to last the longest of any other cut flowers in vases. Help them bloom even longer (and avoid pollen stains) by removing the pollen stamens.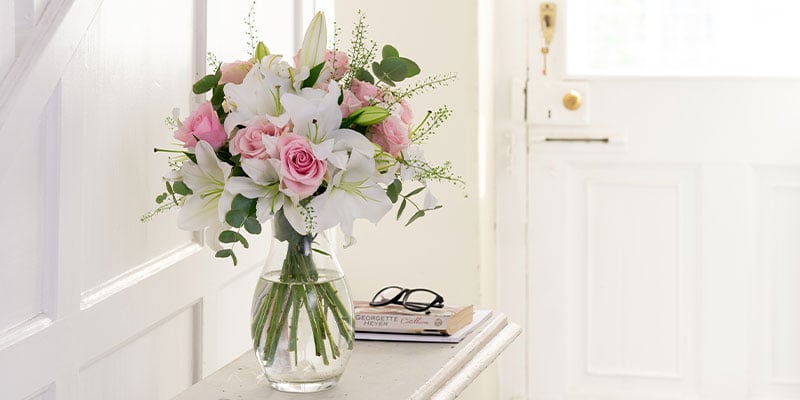 Sunflowers
Flowering seasonally between July and October, with long, sturdy stems and wide open faces, these blooms are a literal ray of sunshine that will brighten up anyone's day thanks to their summery disposition. For these reasons they mean positivity, loyalty and good luck, making them an ideal choice to send someone your best wishes on their birthday.
We're not the only ones to appreciate their beauty though, as the ancient Incas, who were keen worshippers of the sun, thought of sunflowers as a symbol of the sun, and used them to decorate temples.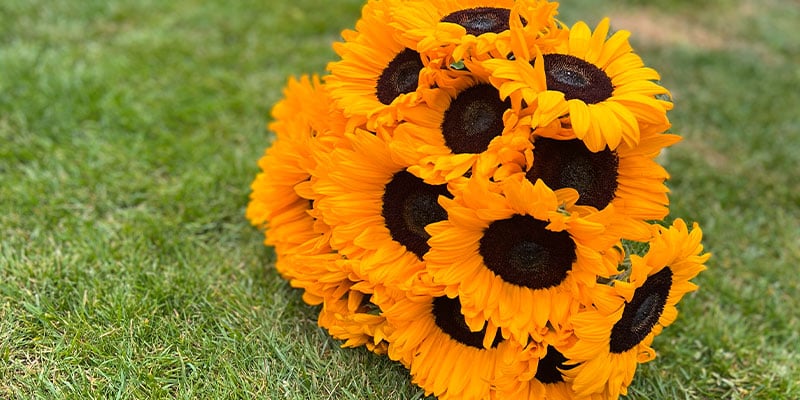 Delphinium
In June and July, out come the conical shaped delphiniums, which are another tall and proud flower, with multiple blooms that really shine in large bouquets. They're one of the more unusual flowers as they're often found in blue tones, as well as purple, dusky pink, white and red.
For their beauty and height, they've garnered themselves the nickname 'the queen of the border', while the origins of its name actually means dolphin, owing to the flowers which actually look like the shape of the mammal. These pretty florals symbolise cheerfulness and goodwill. They're also July's birth flower, making them a thoughtful choice for a loved one with a July birthday!
Gladioli
With their tall stalks and trumpet shaped blooms in a range of pastel tones, these impressive flowers bring structure and colour to any bouquet. Their shape has also inspired their name, which comes from the Latin, gladius, meaning sword. It's also for this reason they're often described as 'piercing the heart of the recipient', making them a great choice for romantic partners.
They symbolise strength, faithfulness and integrity and are the official birth flower for August. This is when they're at their best, making them an appropriate birthday bouquet for anyone born in the same month.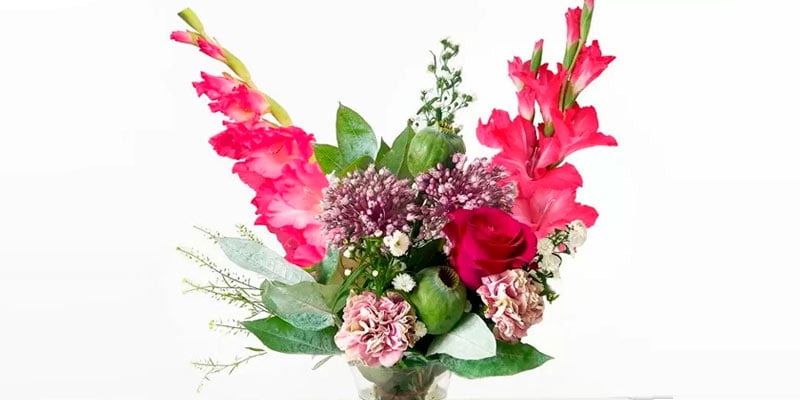 Peonies
Peony season begins in late April or early May and carries on through into June, and is always something to be celebrated. It's this short window of availability that makes them all the more special, too.
In terms of colours, there's far more than just the classic hues of pale pinks – you'll also find deep reds, violets, yellows, creams and our personal favourites, peachy corals. Their tightly balled heads eventually furl out into billowy, blousy blooms, but their roots go all the way back to ancient Greece. They're named after Paeon, who in Greek mythology is the god of medicine and healing, and is said to have used a peony to heal a wound for Zeus.
Aside from their healing properties, peonies' popularity in bridal bouquets is fitting, as they also symbolise romance and love. You'll no doubt win brownie points by sending a bouquet of birthday peonies to anyone who had them at their wedding.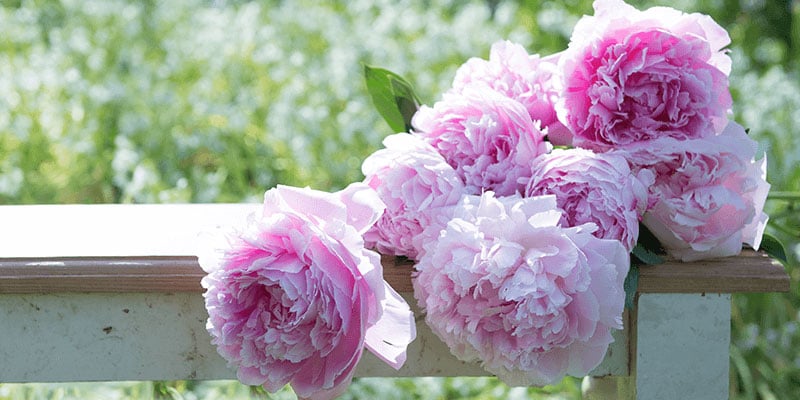 Tulips
The arrival of tulips means one thing: spring. Blooming between March and May, they're perfect for spring birthdays and each colour represents something different. Red is, unsurprisingly, for 'perfect love', which is based on the Romeo and Juliet-esque Persian love story of Farhad and Shirin, who would rather die than not be together. The tale also points to where tulips originate from too, Iran, and not Holland. Although in 17th century Holland, tulips were a real sign of wealth and were at one point, held approximately the same value as houses!
White is for forgiveness, deep purple represents royalty, pink is for happiness and confidence, while yellow is thought to bring cheeriness. Whatever you go for, they're always a welcomed addition to a bunch of blooms that signify the new spring season.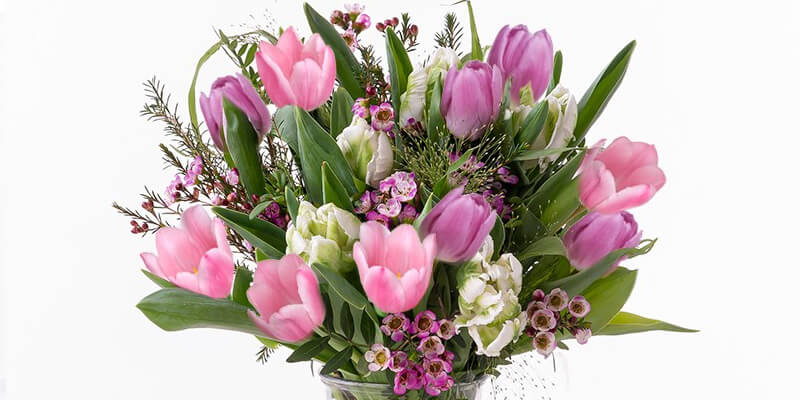 ---
Found the perfect birthday flowers? Make their day extra special with a beautiful birthday gift set, pairing one of our beautiful bouquets with a selection of chocolates, wines, champagnes, and more.