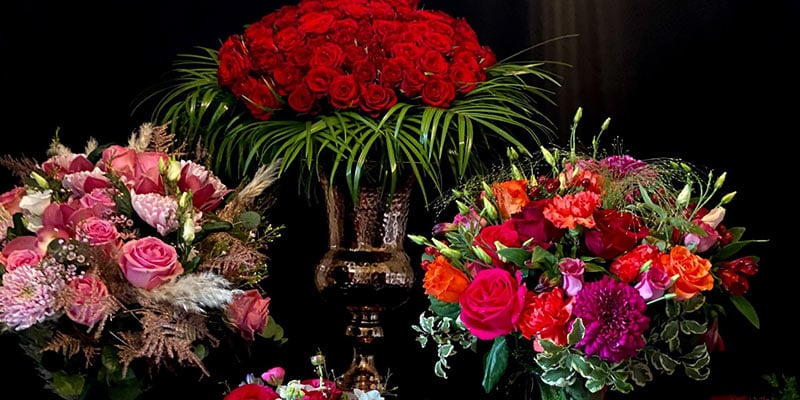 Sending flowers on Valentine's Day is a timeless romantic gesture.
Many blooms symbolise love, romance, and passion, making them the perfect way to show someone special just how much you care.
Not sure which Valentine's flowers to send? Take a look at our most romantic flowers to say "I love you" this year.
1. Red Roses
Red roses might seem like a bit of a cliché, but they're popular for a reason. They've symbolised love throughout history, firmly cementing their status as the romantic flower of choice. In Greek mythology, the red rose was created by the goddess of love Aphrodite, and in Roman times, newly married couples wore rose crowns and covered their beds in rose petals.
In the Victorian language of flowers, red roses have one of the least ambiguous meanings - they're a declaration of love, romance, devotion, and passion.
With all this romantic history, red roses simply can't be misinterpreted. If you're looking for flowers to say "I love you" and show someone just how much you adore them, you can't go wrong with a bouquet of velvety red roses.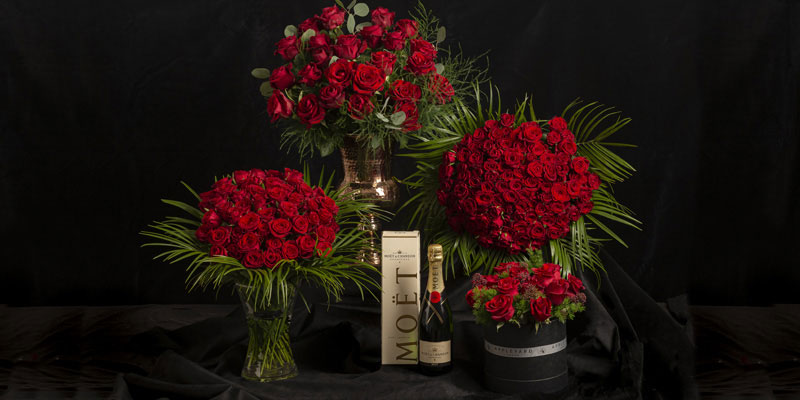 2. Pink Roses
Although red roses are perfect for grand romantic gestures, we get that sometimes that can be a bit much. Pink roses send a gentler message, meaning they can be a good alternative for Valentine's Day (especially if you're in the earlier stages of a relationship and don't want a bouquet that screams "I love you" just yet!)
Deeper pink roses symbolise appreciation and admiration, whilst light pink roses convey grace, happiness, and sweetness. They'll send the message that you care about someone and that they make you happy, without being too intense.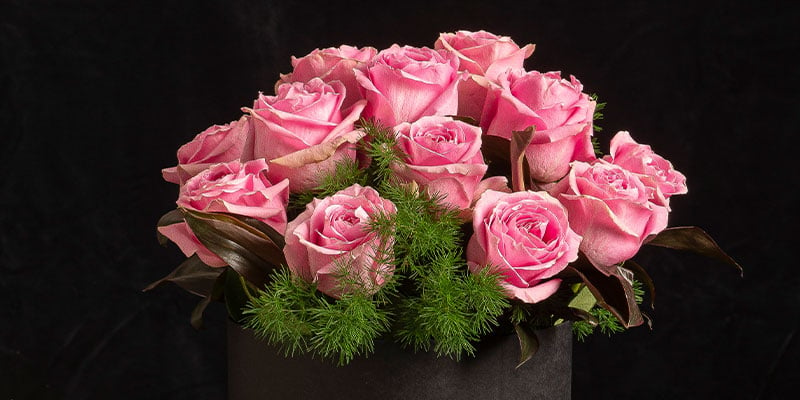 3. Orchids
Long loved as a symbol of luxury and refinement, orchids have a number of romantic meanings as well including beauty, love, strength, and charm. These elegant blooms are rarely seen in bouquets, so they add an unusual twist to Valentine's bouquets. From regal purple Vanda orchids to delicate pink cymbidium orchids, Valentine's orchids are the perfect way to celebrate a unique love.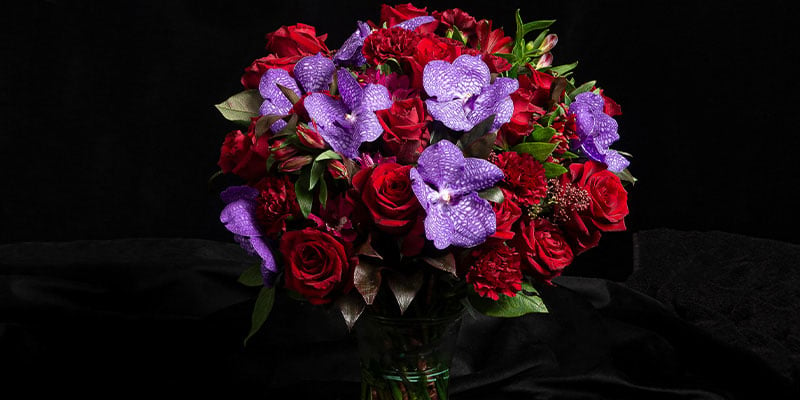 4. Calla Lilies
The calla lily's name comes from the Greek word for 'beauty', and these stunning blooms certainly live up to their name! We've included Cherry Kiss Calla lilies in our collection, adding a pop of gorgeous cerise colour.
In the Victorian language of flowers, calla lilies could be used to celebrate great beauty, and pink calla lilies convey admiration and appreciation. With these meanings, calla lilies are the perfect way to send a heartfelt compliment this Valentine's Day.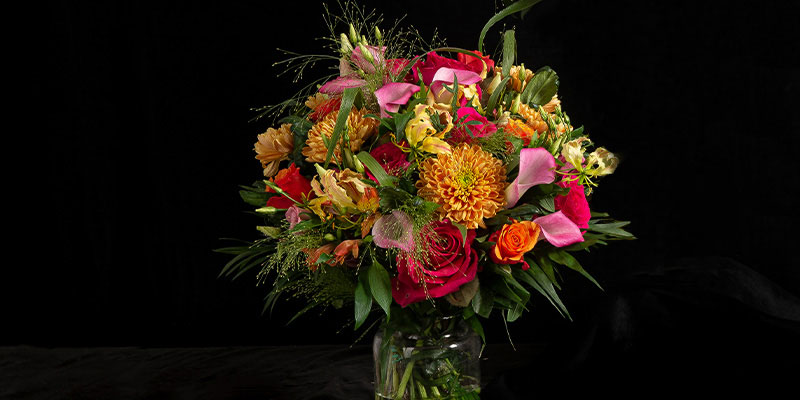 5. Lisianthus
At first glance, lisianthus can seem like quite an understated flower, but they really come into their own when they bloom. Each stem has several flowers, so when they open they fill bouquets with bursts of colour. Their pretty bell shaped flowers and flared petals only add to the appeal, adding charm to any arrangement.
We love them for Valentine's Day as alongside meanings like gratitude and admiration, they also symbolise a lifelong love.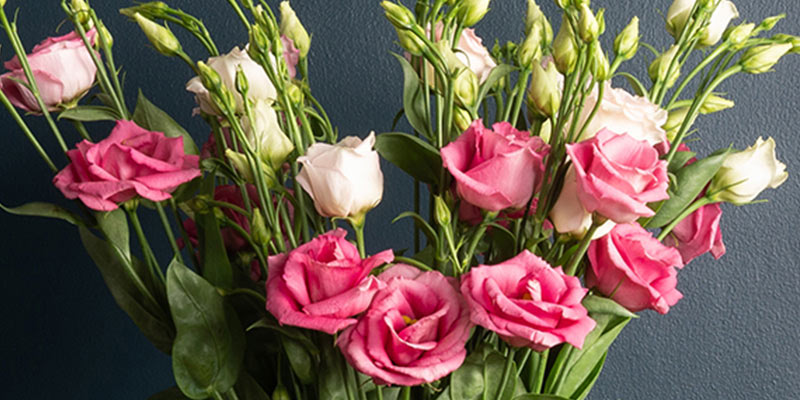 6. Carnations
You might not think it, but carnations are actually full of romantic symbolism! They convey feelings of love and devotion, making them perfect for showing commitment towards your partner. Carnations also symbolise fascination and distinction, so can be sent to show someone you find them uniquely enchanting.
Much like roses, red carnations in particular are associated with passionate love and romance, so we've included gorgeous, rich burgundy varieties in our Valentine's bouquets. We also like white and orange carnations for Valentine's Day, with the former symbolising luck and purity, and the latter conveying joy and happiness.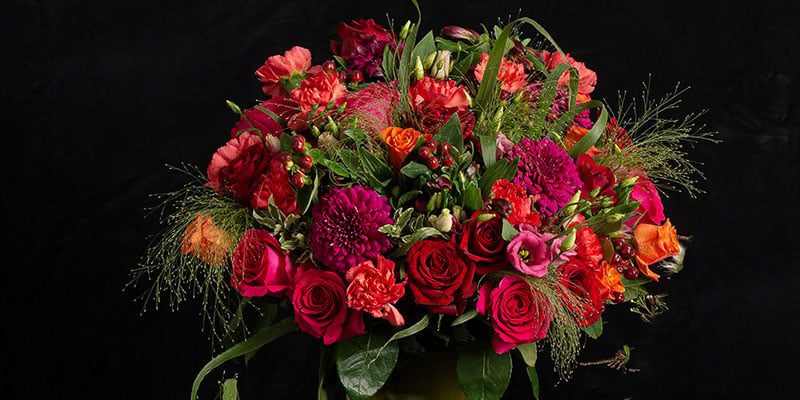 7. Freesia
A big flower in a small package, freesias just can't be beaten in scent - their alluring sweet and spicy citrusy fragrance is simply irresistible.
Freesias are great for Valentine's Day, as they express complete trust in someone - definitely something you want in a relationship! The different colours also have various meanings, with white freesias being a popular addition to bridal bouquet as they symbolise innocence and purity. Red freesias are the most stereotypically romantic, representing passion, and they are also unusually the most fragrant type of freesia.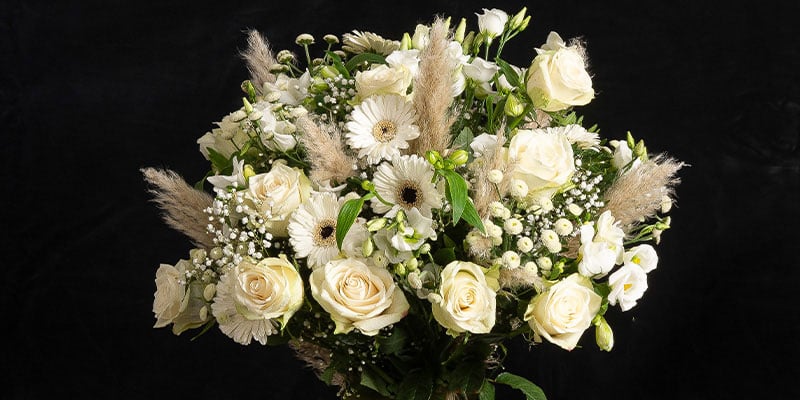 8. Tulips
Although they're more well known as a herald of spring, tulips actually have one of the most deeply romantic meanings, as they signify a perfect and undying love. This is an ancient meaning rooted in the old Persian tale of Farhad and Shirin - two lovers who would rather die than be apart. On the most romantic day of the year, tulips will express just how deeply you care about somebody.
As with most flowers, red tulips are most closely associated with romance, but other tulip colours also have meanings relevant to Valentine's Day. Pink tulips convey happiness and affection, and yellow tulips represent joy and cheer. Striking purple tulips are linked to royalty, nobility, and elegance - perfect for someone who deserves to be treated like a king or queen!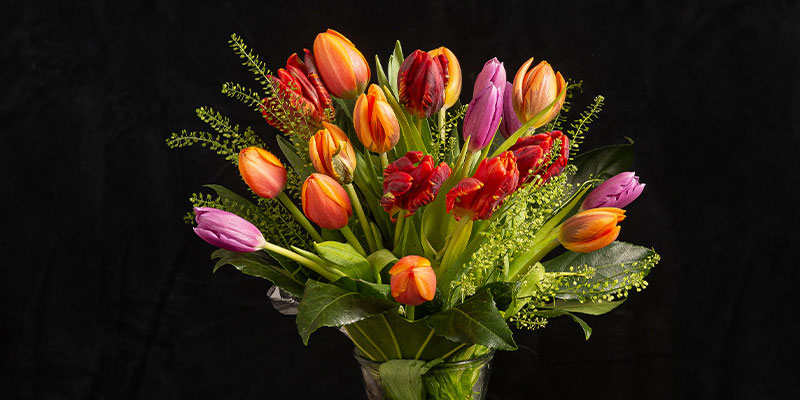 9. Ranunculus
Another popular springtime bloom, ranunculi are part of the buttercup family, and have lovely cup shaped blooms filled with ruffles - a little like compact peonies! The main meaning of the ranunculus is charm and attraction, so they're a fitting Valentine's Day flower whether you've been together for two months or ten years. Pink ranunculus flowers are particularly romantic, symbolising love and passion.