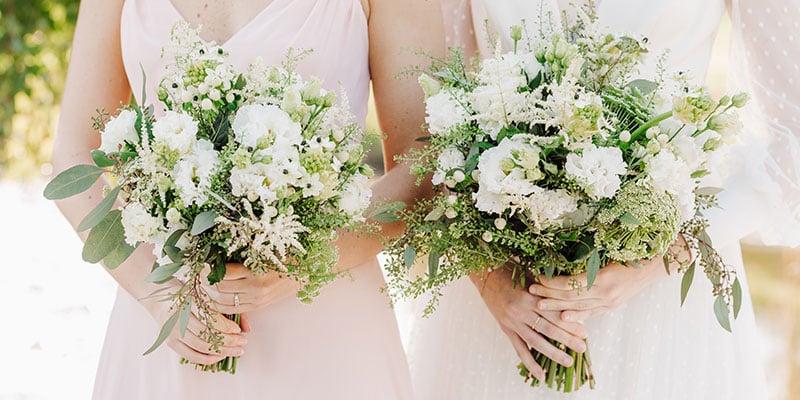 Looking for the perfect blooms for your big day? Read our guide on some of the best wedding flowers to use.
Wedding season is almost here and we know that all of you beautiful brides to be will be busy with your planning. Flowers are a big part of the day and can take a reasonably large chunk out of the wedding budget so it's important to find beautiful blooms to suit your wedding day and its theme.
With so many flowers in so many colours, it can be difficult to find the perfect fit for your wedding. To help you get started we'll be talking you through some of our favourite types of flowers to use for weddings.
Looking for a wedding florist? We are proud to design beautiful wedding flowers for couples in London and surrounding areas. Click the button below to learn more.
Hydrangeas
The hydrangea's huge cloud-like blooms make them the perfect statement flower for bridal bouquets, bringing both volume and instant vintage charm.
Whilst the most well known varieties are blue and white hydrangeas, they come in a veritable rainbow of other colours, including all shades of pink, purple, red, and green. With so many varieties available you are sure to find one to suit your colour scheme or wedding style. Think deep ruby reds or sultry purples for the perfect finishing touch to any autumnal palette, or opt for white and pastel pink hydrangeas for a charming, classically romantic look.
Hydrangeas are also an excellent choice in wedding table centres and centrepieces. Their huge blooms instantly draw the eye, making it easy to create dramatic and full arrangements at receptions and ceremonies.
If you're looking to be efficient with your budget, you should know that hydrangeas are relatively inexpensive during the summer, making them a fantastic option for summer weddings. They can also help you save money on other flowers, as their large heads mean you'll need fewer overall stems to fill out your arrangements.
Combine this beautiful bloom with baby's breath to create a classic and elegant arrangement or add your wedding colours to tailor your blooms to you.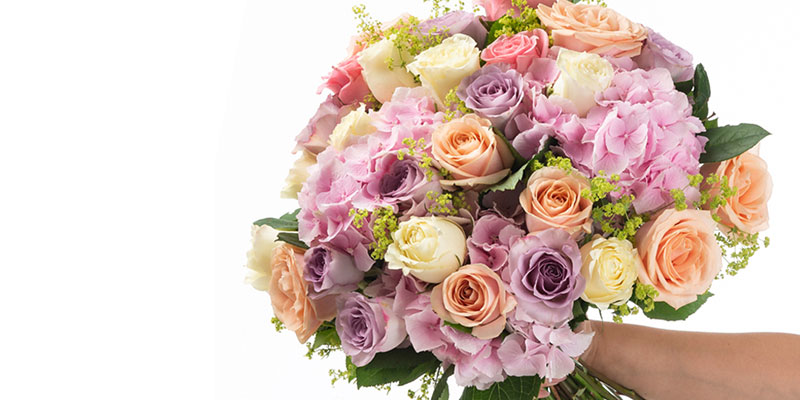 Roses
Roses are a classic flower for weddings and it's easy to see why - these beautiful blooms are incredibly versatile, with a wealth of varieties in different colours and sizes available to suit your preferences. White roses are the obvious choice for a traditional bridal bouquet, but lavender, red, peach, and pink roses can all be used for a pop of colour to suit your wedding palette.
Roses are also easy to use across many types of arrangement, and can either be the focal point or a gorgeous accent flower. Peony-like garden roses, blousy Mondial roses, or luxurious Avalanche roses are all perfect choice if you want your roses front and centre, whilst smaller varieties like sweetheart roses or spray roses beautifully complement other larger flowers.
An advantage to roses is that many types are available all year round, meaning they can be used for weddings in any season. Roses also tend to be quite affordable in comparison to other flowers.
We've designed a number of wedding collections featuring roses in different colours and aesthetics. For a classic bridal look with white roses, explore our Vintage Pearl and Elegance collections. If you're looking for something more colourful, our True Romance collection features red roses for a deeply romantic look, and our Happily Ever After collection includes an array of roses in soft pastels.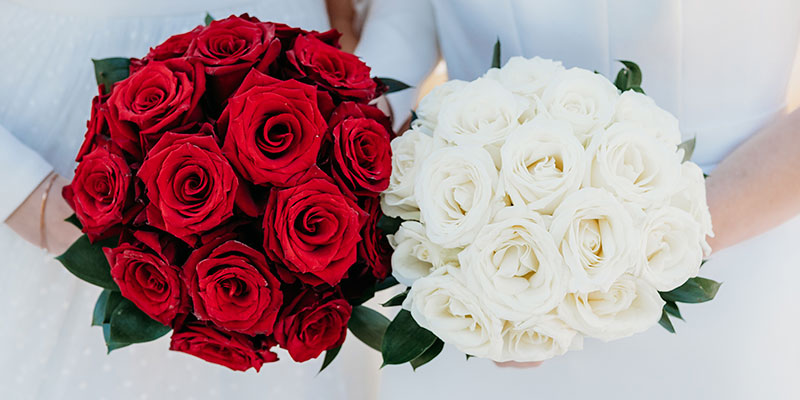 Calla Lilies
Calla lilies are another popular and traditional choice for wedding flowers, bringing instant luxury and elegance to arrangements. Their sleek, trumpet shaped blooms mean they're ideal for creating a streamlined and modern look, perfect for more minimalist wedding bouquets.
Naturally, white calla lilies are a classic at weddings, but there's no reason you can't go for something more colourful. Calla lilies are available in pretty much any shade you could wish for, from bright sunny yellows through to hot pinks and ruby reds. We've used rich amethyst calla lilies in our Ruby Allure Collection alongside red roses and trailing foliage to create seductive and eye-catching arrangements, perfect for autumn and winter weddings.
Calla lilies are available pretty much all year round, meaning you can use them no matter what date your wedding is.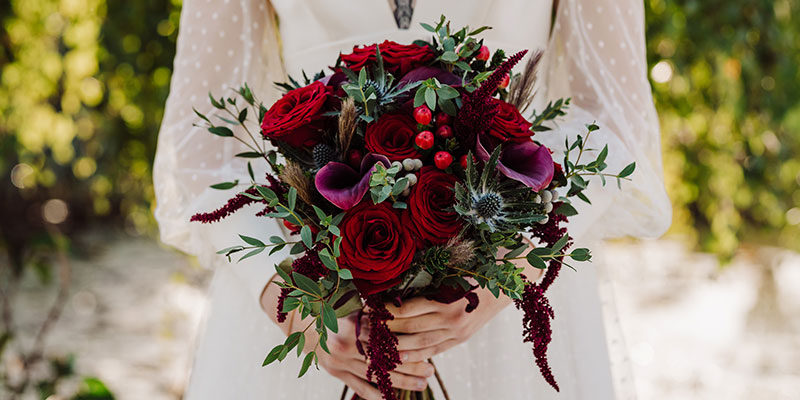 Lisianthus
With its ruffled, lacey petals and abundant blooms, lisianthus brings beautiful flow and delicacy to wedding bouquets. It symbolises lifelong love too, making it a lovely symbol for a happy marriage. It's available all year round and is available in almost every colour, from crisp whites to moody purples.
We've paired gorgeously ruffled white double lisianthus with ammi, ornithogalum, and tumbling natural foliage in our Wild Whimsy collection for an artfully unstructured look full of natural beauty.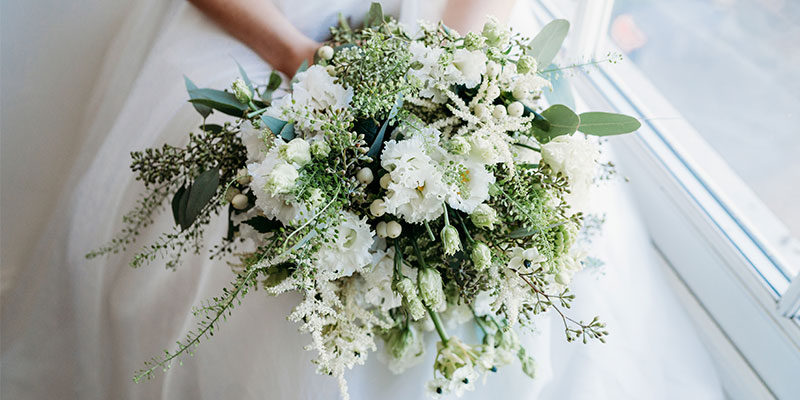 Peonies
We love peonies; everyone goes wild for these stunning blooms and we can see why. With their soft ruffled petals and huge blooms, they embody romance and they make a beautiful statement. Finish off whimsical, pastel colour schemes with pale pink and cream peonies, or use brighter corals and pinks to create a vibrant, summery look.
Peonies are always eye-catching, meaning all you really need is some generous sprays of greenery to create something truly stunning for your wedding. If you want to add more flowers, we love how peonies look with blooms like lisianthus, roses, and ranunculus. For a more bohemian and rustic look, pair your peonies with trailing greenery, sprigs of lavender, and delicate wildflowers.
The big downside to peonies is their short season, as they're typically only available in late spring and early summer. Whilst it's sometimes possible to import them, this will be usually be more expensive, and the popularity of peonies means they can be pricey even when in season. Their large flowers do mean you won't need too many peonies to create a lovely bouquet, which can help to keep costs more affordable.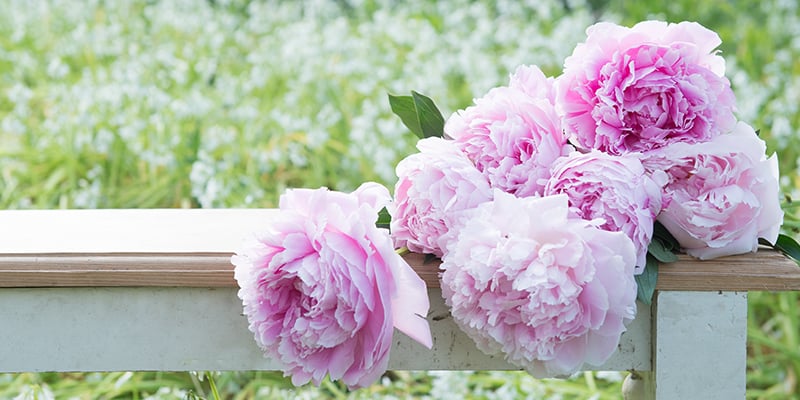 Baby's Breath (Gypsophila)
Gypsophila has been popular in wedding bouquets for years, with these delicate airy flowers adding a lovely ethereal quality to arrangements.
In the past, it rarely took centre stage in bouquets - often being used as simply a filler flower - but nowadays, it's often seen on its own as well. Whilst it looks stunning alongside larger flowers, don't underestimate how elegant a bouquet of baby's breath can look with just a simple tie of ribbon, lace, or twine.
Baby's breath is also very affordable and long-lasting, making it a budget-friendly option for decorating your reception and ceremony venues. You can use it in floral arches, table-centres, and more to create magical cloud-like displays that won't break the bank.
Our English Meadow Wedding Collection includes delicate sprays of baby's breath alongside pastel garden blooms for a dreamy, gentle look.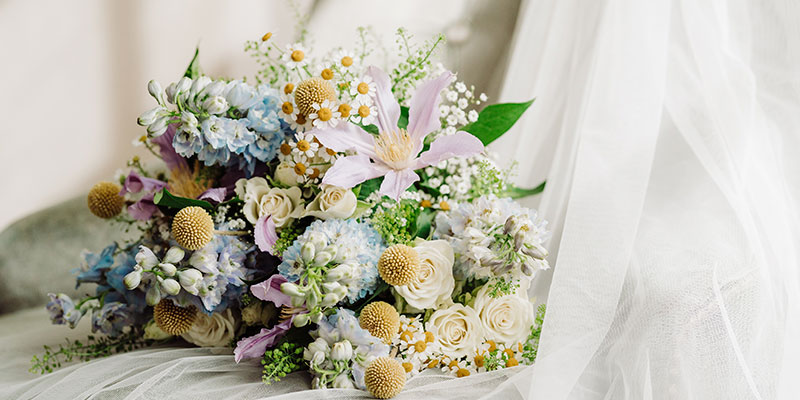 Tulips
Tulips are the perfect blooms for a spring wedding. They're a classic sign of spring, and their symbolic meaning of perfect and undying love means they couldn't be more suited for such a romantic occasion.
Tulips come in nearly every colour, making it easy to match them to your colour scheme and wedding theme. Create a whimsical springtime look by pairing coral, red, and yellow tulips with other seasonal flowers like peonies, daffodils, and ranunculus. For a bouquet that exudes vintage romance, try dusky pink and cream tulips with roses and fragrant lilac. If you'd like a more minimalist palette, a simple bouquet of white tulips finished with baby's breath offers timeless elegance and beauty.
Tulips are generally quite affordable, especially when they're in season in late winter and spring. You may have to shell out more though if you're looking for more uncommon varieties.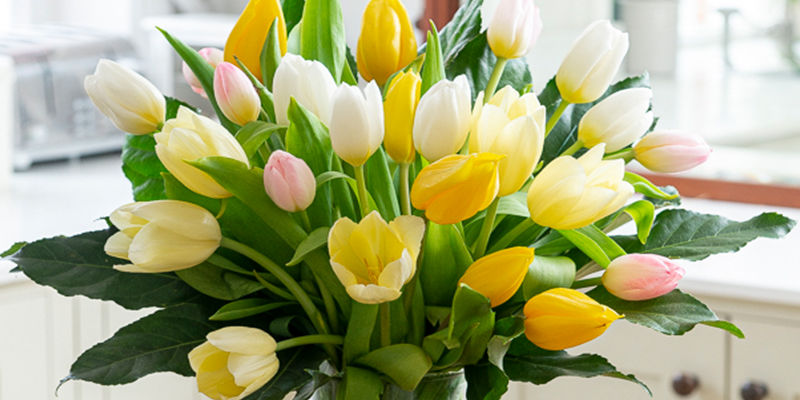 Orchids
Long admired as a symbol of luxury and beauty, orchids bring unique flair and instant glamour to any wedding arrangement. Their unusual flowers instantly draw the eye, making them ideal as a statement stem in both bridal bouquets and table centres. Their defined flower heads mean they look stunning in shower and cascade bouquets too.
Phalaenopsis and cymbidium orchids are most popular varieties, but with thousands of orchid varieties to choose from in almost any colour you could wish for, it's easy to find the perfect fit for your wedding. They're versatile and can be used in plenty of different arrangement styles, from cutting-edge, modern arrangements, to bouquets oozing with vintage luxury. Try royal purple orchids with white roses or calla lilies for old-timey glamour and opulence, or pair delicate pink and white orchids with pampas grass and foliage for contemporary romantic style.
Orchids are available all year round, but unfortunately they do tend to be one of the more expensive wedding flowers, and rare varieties can become very costly. However, there are budget-friendly orchids available - dendrobium orchids, for example, are usually cheaper than other types.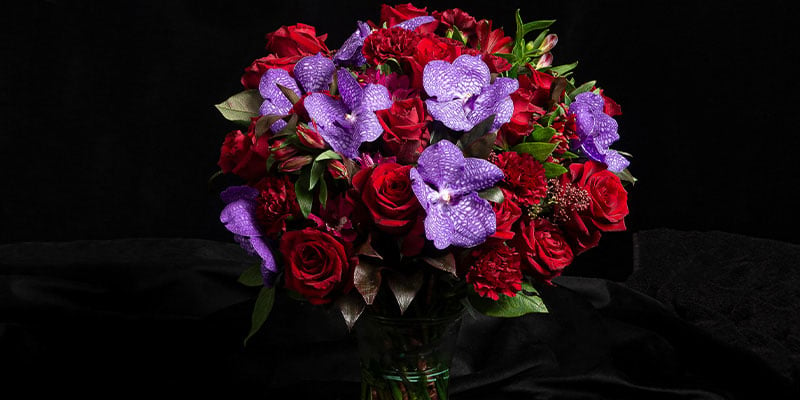 ---
Looking for the perfect wedding flowers? Alongside our wedding collections, we also offer a bespoke wedding floristry service, where our florists will help you to create your dream wedding flowers for your ceremony and reception. Speak to us today to learn how we can make your big day special.