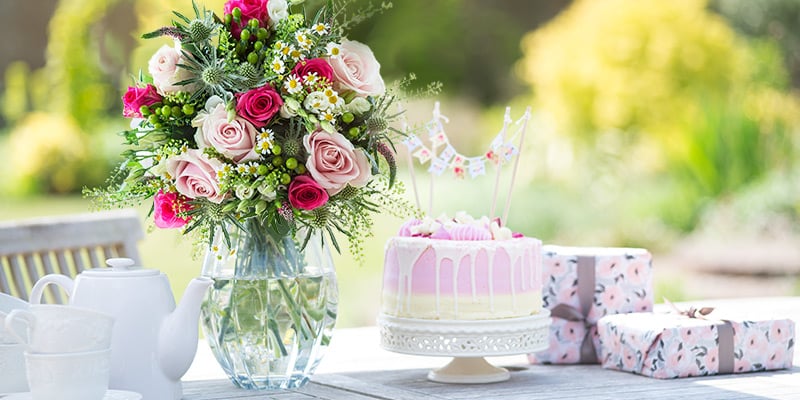 Flowers have long been laden with meanings, but did you know each month has several flowers connected with it?
We've organised all the birth flowers by month, with an explanation of what they symbolise. If you're a fan of astrology, you will be able to see some interesting correlations and differences between birth flowers and their corresponding signs.
Search through to find birth flowers by month and choose a birthday bouquet that matches the personality of the receiver!
Birth Flowers Chart
Take a look at our handy birth flowers chart to find out the birth flower for every month, and keep reading for more information on each one.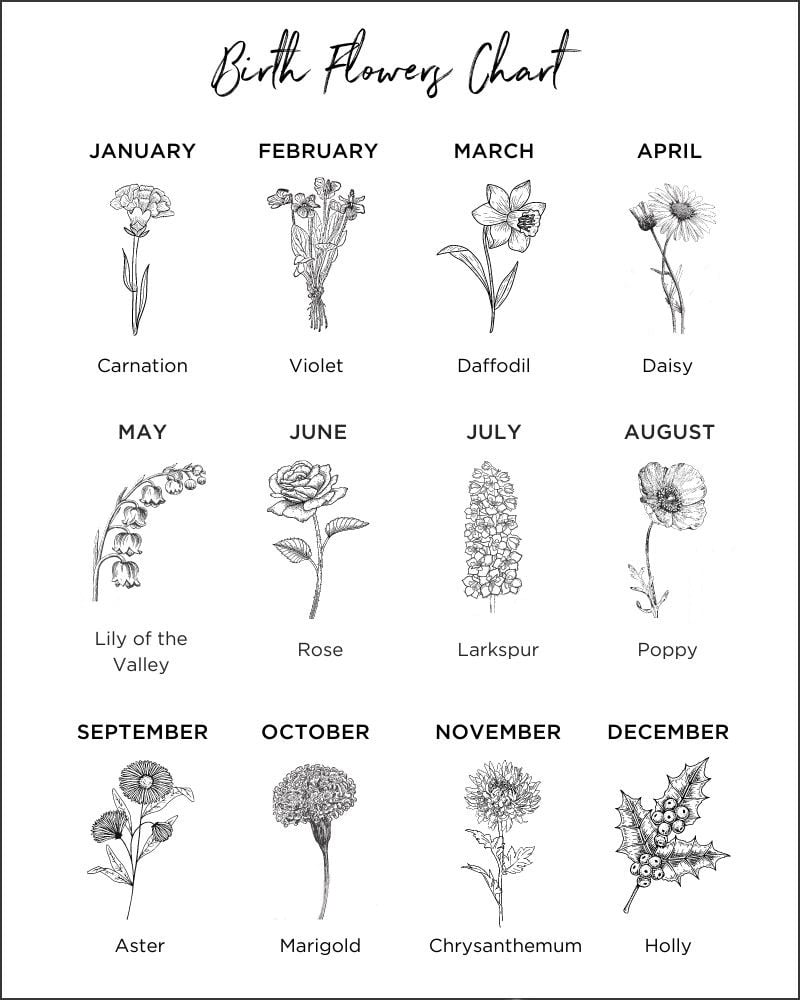 Birth Flowers for January
Leading us fresh into the new year is the humble snowdrop. A symbol of hope and understated beauty, this is an excellent birth flower for those in your life who bring a ray of sunshine to the darker moments. Often found growing in graveyards, the snowdrop also symbolises a greater understanding and appreciation for life.
January is also shared by the carnation. While typically a late spring, early summer bloom, carnations are one of the few flowers that can also flower in the cold months of midwinter. Carnations have a long history of cultivation across many cultures- to such an extent that it is now unclear where they are native to. Some suggest central and southern Europe, the Mediterranean or Asia. As a result, they have had many meanings associated with their various colours over the years, with the most common meanings connected to loyalty, love and devotion.
Specifically, pink carnations are said to show gratitude, red for passion and of course Oscar Wilde famously claimed the green carnation at the 1892 opening of Lady Windemere's fan as a symbol of resilient homosexuality.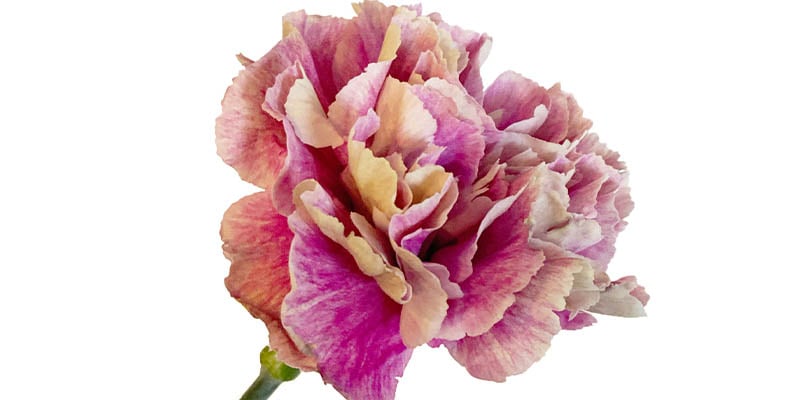 Birth Flowers for February
February's flowers bloom in what for many can be the hardest part of winter. With the fuel of Christmas long gone from our bellies, these early harbingers of changing seasons bring hope to the year's shortest (and emotionally longest) month. Red roses are set to the side; February communicates a more retiring love with its birth flowers violet and primrose.
Violets were very popular in the heyday of the 'language of flowers,' the Victorian era. This is likely as they represent modesty, faithfulness and virtue- strong pillars of the Victorian ideal of true love. Sappho uses violets to this effect in many of her poems and often describes her lovers adorned in "many garlands of violet." Because of this, violets have been seen as a flower for courtship since as early as 600 AD.
A month for poetic flowers; as the first flower of spring primrose has come to symbolise first love. The poet John Donne cemented its connection with femininity and womanhood in his poem The Primrose.
Birth Flower for March: Daffodil
March arrives and spring is beginning to emerge after a long cold winter. The daffodils have emerged to celebrate St David's day on March 1st, making it no surprise that they are March's birth month flowers. More specifically, the flower for march is the daffodil variety jonquil. Jonquil variety daffodils are known for having multiple golden yellow flowers per stem, and a strong, sweet smell.
The Latin name for Daffodil, narcissus, conjures a negative association with the ill-fated Greek myth of Narcissus who fell in love with his own reflection. Their emergence as the bearers of spring, however, have led to them representing new birth, inner reflection and vitality.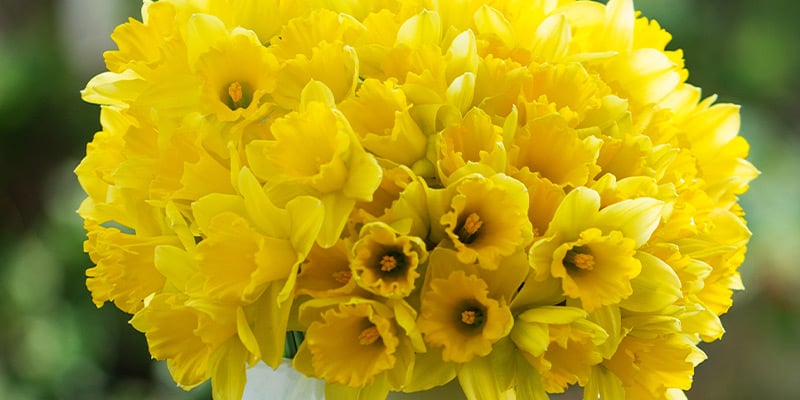 Birth Flowers for April
April Showers are great for the greenery, with daisies and sweet peas out in full force as the month's birth flowers. Both are fresh, humble and cheerful and associated with kindness and love. Daisies show trusted friendship; perhaps rooted in the childhood gifts of daisy chains and crowns. A bouquet with daisies is an excellent birthday treat for that special friend in your life. Upbeat and determined, daisies bring joy to any room they're in!
Sweet peas are a gift to show romantic love, and signify bliss. With such a wonderful, delicate fragrance sweet peas make a great addition to a bouquet. The lingering scent will remind the receiver of the gift long after you've gone. Sweet peas were a flower of bittersweet goodbyes for Shakespeare, so be careful what flowers you pair them with!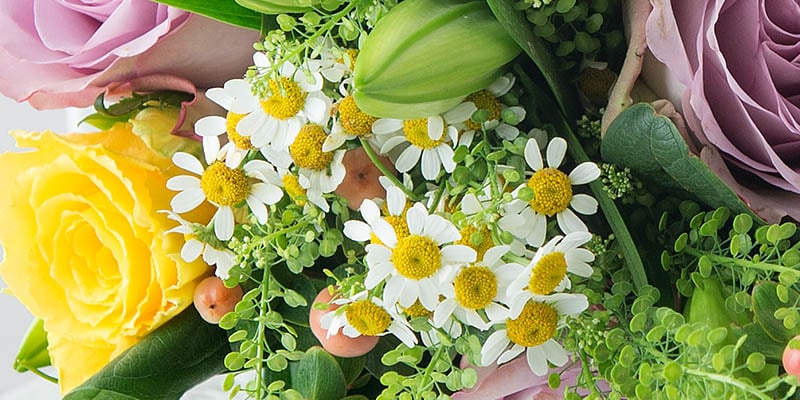 Birth Flowers for May
Always a month for contrasts, May's birth flowers are lily of the valley and hawthorn. Lily of the valley is a delicate flower of small bells, and is a symbol for discretion and happiness. The small bells have been said to represent Mary's tears on hearing Jesus' death and so the flower is occasionally known as "our lady's tears" or "Mary's tears." This is a much prettier name than the old English for this flower; glovewort.
Hawthorn is a pagan symbol of fertility and has long been connected to May Day celebrations. Hawthorn is also disparate to Lily of the Valley in scale as despite its small individual flowers it is best known as a tree or bush. Hawthorn is not often found in bouquets or wreaths. This is in part due to its thorny nature, and in part due to the old myth that bringing hawthorn inside is a harbinger of death. Hawthorn trees can live for hundreds of years, and are very resilient. The British countryside has countless examples of hardy hawthorns who have re-rooted and continued to thrive.
Birth Flowers for June
With both rose and honeysuckle as the birth flowers for this month, we're in for a heady treat. Roses are perhaps the best known for their many associations.
Red roses are the flower most associated with romantic love, and gifting a rose is heavily layered with meanings. One red rose is said to communicate "love at first sight" and twelve red roses are gifted to show the receiver they're thought of twelve months a year. Each colour rose also has its own associations, with yellow for friendship and pink for appreciation.
Honeysuckle, a flower refined and elegant in appearance, but reminiscent of childhood summers spent sucking the sweet sap from the flowers, is a bloom of layered meanings. Honeysuckle can stand for devotion and everlasting bonds due to its hardy nature and sweet flavour. As a long time inhabitant of the British Isles, honeysuckle was represented in the druidic Ogham system of writing as staying true to your path and vision.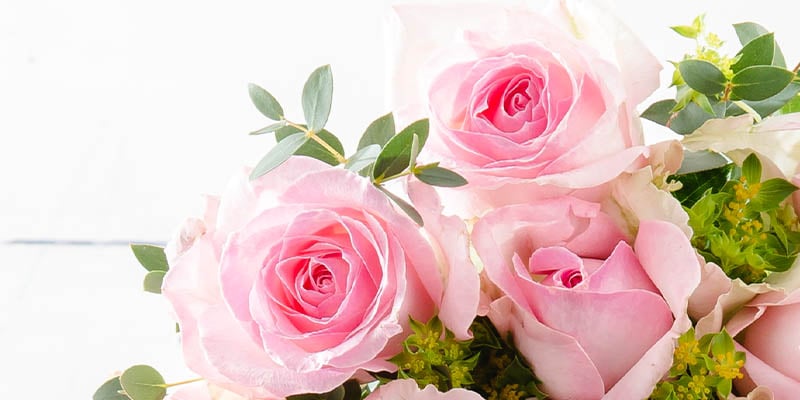 Birth Flowers for July
July's birth flowers are unafraid of drama. Both the larkspur and water lily are dramatic blooms that naturally create a focal point. The flower of the water lily lasts for only a few days. Perhaps this is why they have been connected with spirituality and rebirth.
Larkspur, also known as delphinium, appears in Greek mythology. Blue larkspur were said to grow where the blood of the warrior Ajax was spilled. Despite this morbid association, the flower has come to represent goodwill, cheer and warding off negative intentions. A romantic flower, pink larkspur can represent a fickle lover and purple signifies a first love.
Birth Flower for August
A bloom to soak up the sun. August flowers plan ahead, with deep roots and forward planning to stay hydrated and flourishing in the scorching heat of late summer. Here we have gladioli and the humble poppy. Both are bold, with big pops of colour that add joy to the long hot days of summer.
Gladioli, also known as sword lilies, have long pointed leaves and shoots of colours along their long, flower laden spears. Perhaps it is this bold shape that gives the flower its meaning; heroism and remembrance.
In the last 100 years, the red poppy has taken on a similar meaning. Red poppies are also a symbol of love and passion. Both of these flowers make a dramatic bouquet and reflect well the boldness, warmth and creativity associated with August birthday signs,
Birth Flowers for September
With unexpected heat waves and the first bites of winter, September is connected to aster and morning glory. This tension perhaps underlies the meaning of September's birth flowers: unrequited love.
September is a time of great change and flexibility, which both flowers demonstrate. Morning glory will flower all the way up to first frost, which perhaps gives it its unloving association- or an association with its cousin, the invasive field bindweed.
Aster is named after the Greek word for star, and was a symbol of love for the gods in Greek mythology. Aster is also more broadly associated with love and faith in the modern day.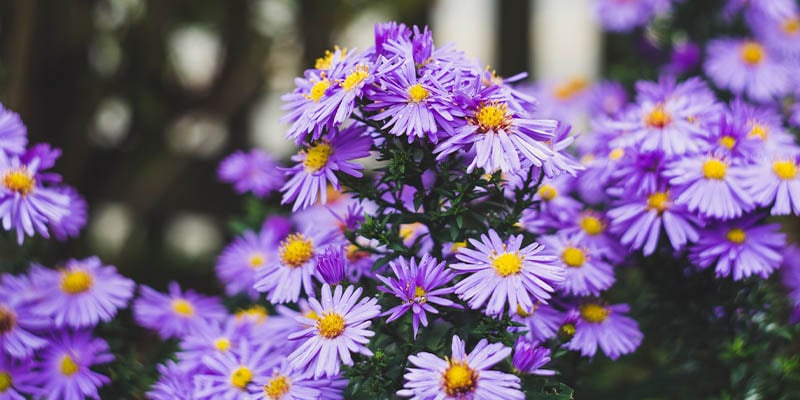 October's Birth Flowers
Red, golds and oranges are abundant in October with the birth flowers marigold and cosmos. Cosmos flowers can come in many colours. Perhaps the most striking is the deep dark red of Cosmos atrosanguineus which comes with a wonderful chocolatey aroma. Cosmos are a flower connected with peace and balance. An incredibly symmetrical flower, it is no surprise they are the birth flower for many Libra.
Marigolds are still used today in herbal medicine and beauty treatments. A nurse among flowers, marigolds reflect warmth, protectiveness and a caring attitude… but with a touch of stubbornness in there too. Traditionally used in making dye, marigolds are also associated with creativity and brightness. Marigolds represent the rising sun, bringing life.
Birth Flower for November: Chrysanthemum
The late time of year is likely the reason November has but one birth flower. It is one of the world's most popular flowers, however- the chrysanthemum.
In Asia, the chrysanthemum can represent life and rebirth and in Europe they can be given to show sympathy. Much like the rose, the colour can change the meaning. Similarly, red represents love and passion, white for purity and devotion. Yellow, interestingly, can represent a neglected and uncared for love, so be careful who you give them out to!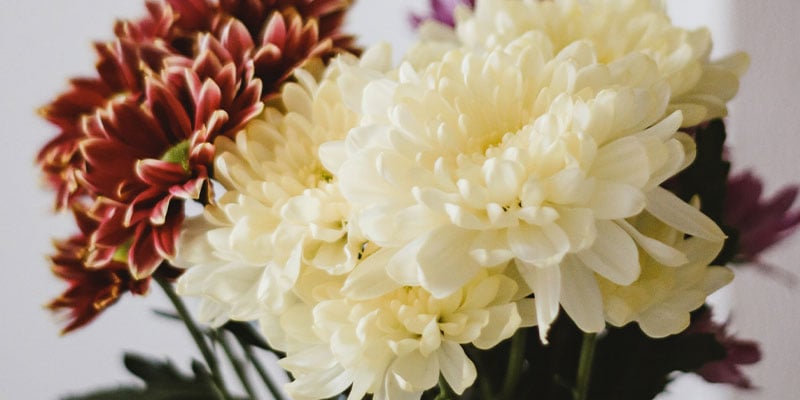 Birth Flowers for December
With few flowers blooming in December, it is perhaps unsurprising for those with December birthdays to find out that their birthday flowers are holly and poinsettias. One slightly more unusual addition to December's flowers is the cousin to the daffodil, the paperwhite narcissus. Emerging pure white and months before other members of the daffodil family, this flower symbolises innocence and purity. In China, the narcissus signals wealth and prosperity.
Poinsettias were first cultivated by the Aztecs, and it is a 16th century Mexican legend that brings them their Christmas connection. With hidden depths and a diverse range of uses, the poinsettia are symbols of cheer, goodwill and celebration across many cultures.
While they are perhaps more common in the UK, let us not discount the humble holly. Providing nutrients to British wildlife while we're all indoors with a box of chocolates, holly symbolises protection, defence and a giving nature. An important plant in Celtic mythology, a gift of holly was a gesture of goodwill and peace. A few sprigs of holly can add an unexpected twist to a floral bouquet, or make a traditional and warming wreath.