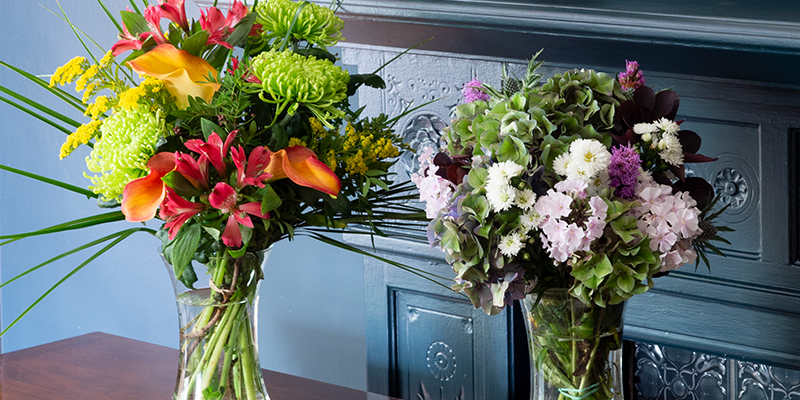 Floriography, or 'the language of flowers', has a long, romantic history that dates back to biblical times.
William Shakespeare had a penchant for flower symbolism, but floriography soared in Western popularity during the 19th century, when the Victorians would use posies, known as tussie-mussies or nosegays, to send secret messages to their lovers.
Each bloom had its own significance, from pink chrysanthemums, meaning well wishes, to white peonies, meaning bashfulness. This charming floral dictionary has stood the test of time, which is why we still send red roses, meaning 'be mine', to the object of our affections today.
Inspired to send your own symbolic sprig? Let's get you up to speed with all the flower meanings. Don't worry, floriography is much easier to learn than French.
What do roses mean?
Red roses meanings
The ultimate, timeless symbol of romance, red roses symbolise passion, affection and desire. Have you ever realised that the name 'rose' is an anagram of Eros, the Greek god of love? Red roses can also mean courage, due to their association with the 15th century Wars of the Roses. A single red rose conveys love at first sight, while a dozen red roses lets the lucky recipient know that you think of them all year long. If you want to leave them in no doubt that you love them endlessly, we offer a bouquet of 200 red roses!

Pink roses meanings
Pretty pink roses mean joy, playfulness and admiration in the language of flowers. They're the perfect bloom to send to a crush, or as a thank you, as they also mean appreciation.
White roses meanings
Classic and elegant, white roses have long symbolised purity, everlasting love and remembrance, hence their enduring popularity at weddings (they're sometimes called 'bridal roses') and funerals.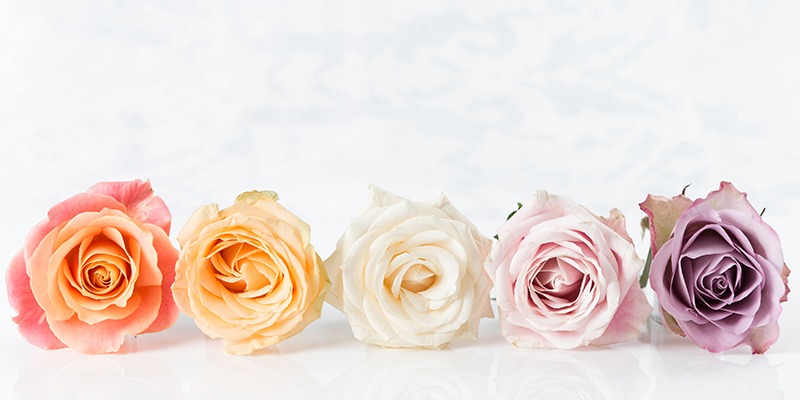 Purple roses meanings
These beautiful and unusual blooms come complete with their own magical meaning. Lavender and lilac roses signify enchantment and love at first sight, whilst deeper purples are associated with luxury and a lasting love.
Yellow roses meanings
These jolly flowers represent friendship, happiness and devotion. If your bestie is feeling down in the dumps, a cheery bunch of yellow roses is sure to brighten up their day, and remind them that you'll always be there.

Black roses meanings
Symbolising death and dark magic, black roses are actually very dark red or purple. Though far from a conventional choice, they make a stunning, quirky gift for a friend with alternative tastes.

What do lilies mean?
White lilies meanings
In Victorian floriography, if you received a sweet-smelling lily, it meant you were beloved. Lilies, and especially white lilies, were also used to express sympathy during times of sorrow. Today, they are the most popular funeral flower, in a nod to their transient beauty and meaning of peace, devotion and restored purity after death.

Pink lilies meanings
Famously a symbol of femininity and fertility, Greek and Roman brides wore pink lilies in their hair in the belief that they would bring them family and fortune. They are similarly tied to good luck in China, as well as 100 years of love, making them a popular choice for Chinese brides too.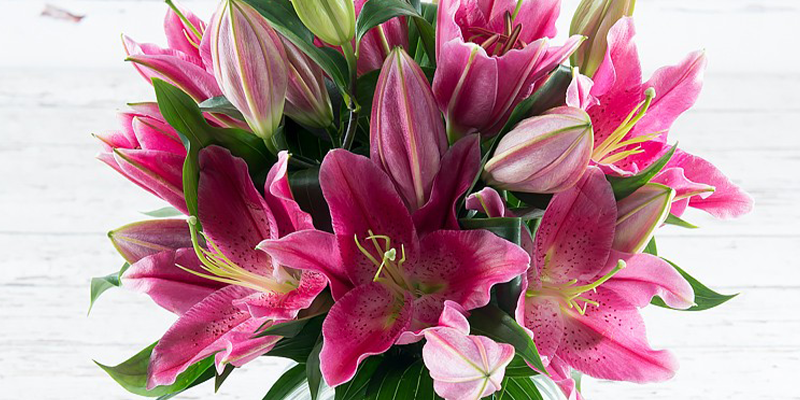 What do calla lilies mean?
These exotic blooms symbolise magnificence in the language of flowers, so display them when you're looking to make a statement as a host. They can also convey faithfulness and appreciation, making them a unique pick for a long-term love interest who deserves a special treat.

What do orchids mean?
Orchids are linked to strength and integrity in floriography, making them a top pick to send to anyone in need of a morale boost. They symbolise sophistication and refined taste, on account of them only being found in the tropics during the Victorian age, so if you're looking for the perfect gift for that oh-so-chic, hard-to-please friend, look no further. Hint: our Couture Collection features an eclectic range of high-end bouquets to browse..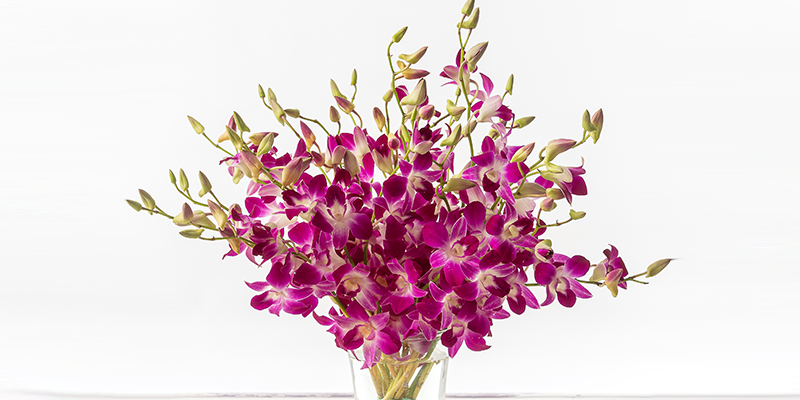 What do carnations mean?
Red carnations meanings
Similarly to red roses, red carnations symbolise love, admiration and pride, making them an ideal anniversary flower for letting your other half know how much you care.

Pink carnations meanings
Pink carnations convey the love of a woman, especially a mother, so buy them as a new baby bouquet. Legend has it that they were born from the Virgin Mary's tears during Christ's crucifixion, and therefore now symbolise a mother's eternal love.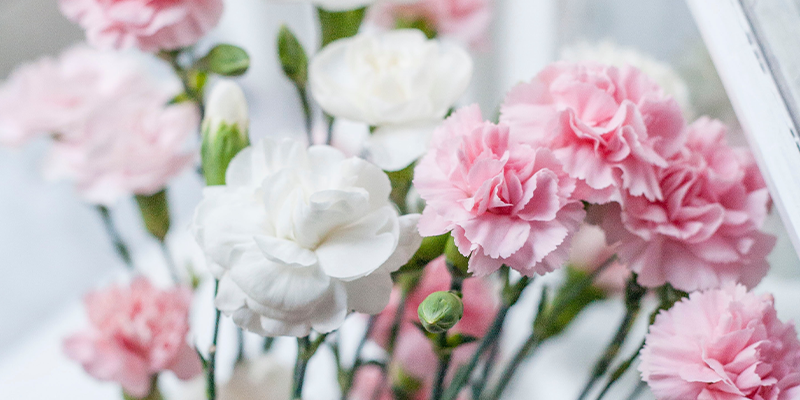 White carnations meanings
You'll have noticed a theme with white blooms in the language of flowers – you guessed, it these reflect purity, though they can also mean good luck. Just stay clear of striped carnations, meaning refusal, or yellow carnations, symbolising rejection, disappointment or disdain.

What do peonies mean?
Pink peonies meanings
They may only bloom very briefly in early summer, but blousy peonies are always a stunning sight to behold. In floriography, red and pink peonies symbolise love, happiness, health and prosperity – pretty much everything you might wish for in a marriage, hence their popularity with brides!

White peonies meanings
These fairytale flowers mean bashfulness, making them a fail-safe choice for when you need to say sorry with flowers, or convey your sympathy.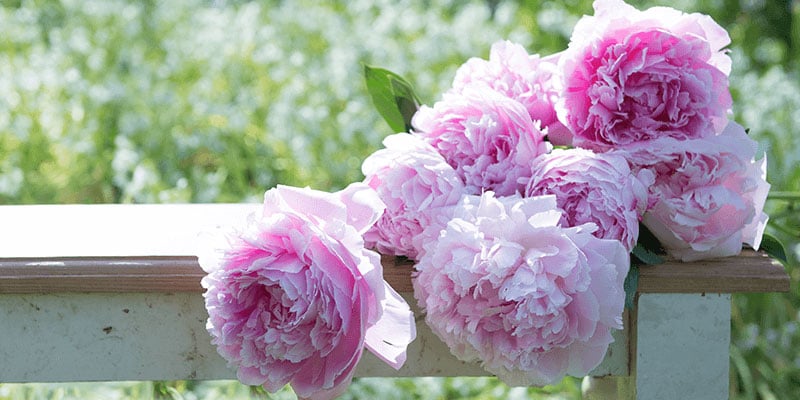 What do sunflowers mean?
The biggest, boldest and arguably most beautiful of all the summer flowers, opulent sunflowers have an array of meanings around the world. Most commonly, they signify loyalty, strength and positivity, but they can also mean congratulations or good luck, so buy them for anyone who's graduating, taking their driving test or starting a new job.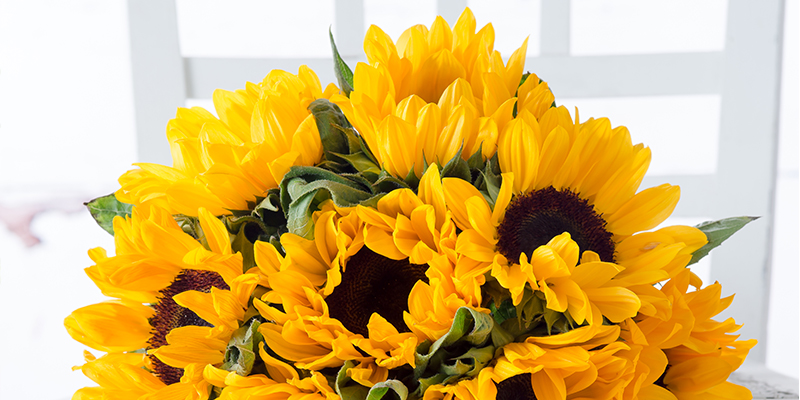 What do hydrangeas mean?
The Victorians often sent hydrangeas to love interests who had rejected them, as their showy blooms symbolised vanity and arrogance. Happily, receiving these statement flowers with their abundance of clustered petals is no longer considered an insult – quite the opposite, in fact! Today, hydrangeas are a go-to flower for saying thank you, as they convey heartfelt emotion and gratitude. You'll find soft pink, vibrant purple, and baby blue varieties among our luxury range.

What do alstroemeria mean?
These long-lasting beauties, also known as Peruvian lilies, have a primary meaning of enduring friendship in the language of flowers – their six petals are believed to represent empathy, understanding, humour, commitment, patience and respect, and their twisted leaves symbolise bonding through adversity.
But alstroemeria of all colours can also symbolise the achievement of goals. Know someone in need of a sprinkling of good luck before an interview, university exam or driving test? Browse our huge selection of alstroemeria bouquets and help them on their way to success.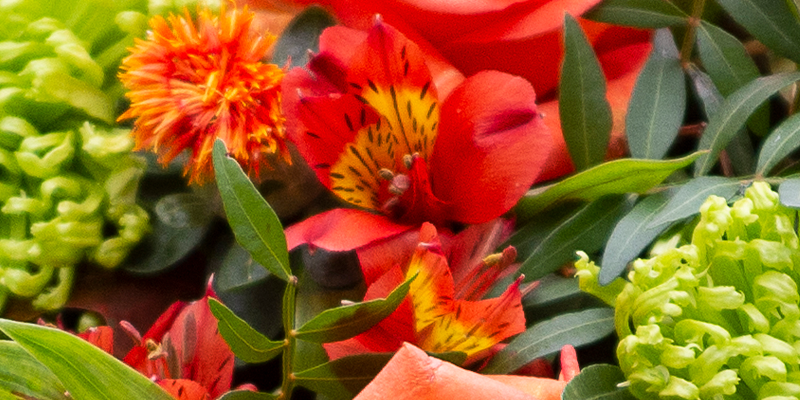 What do lisianthus mean?
Purple lisianthus meanings
Undeniably majestic with their regal colour, display purple lisianthus when you want to convey a sense of sophistication or please a friend with refined taste. They can also mean admiration, so send them to say congratulations and celebrate an achievement, be it graduation or a new job.

Pink lisianthus meanings
Like many candy-coloured flowers, pink lisianthus, or 'lizzies', reflect love, affection and a life-long bond. The pastel pink variety symbolises youth and innocence, should you be looking to take a bunch of blooms to a baby shower or send some to welcome a new arrival.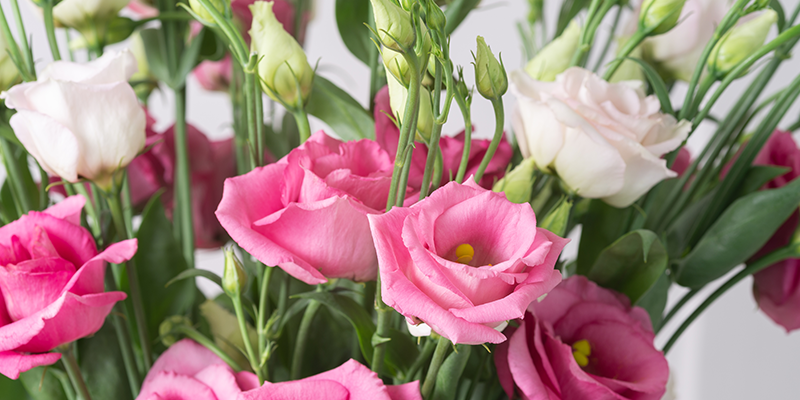 Yellow lisianthus meanings
Sunshine yellow always puts a smile on our face, which is why these flowers signify joy, optimism and new beginnings – the perfect new home or birthday gift.

White lisianthus meanings
Yet another popular wedding bloom, oh-so-elegant white lisianthus symbolise spirituality, purity and enduring love.

What do chrysanthemums mean?
White chrysanthemums meanings
White chrysanthemums are often used to say goodbye, particularly in their native Asia, making them a popular bloom for funerals and graveside gifts. Send them as a token of comfort and friendship to someone who's grieving or going through a rough time, perhaps a bereavement, divorce or redundancy, as they represent sympathy in Europe.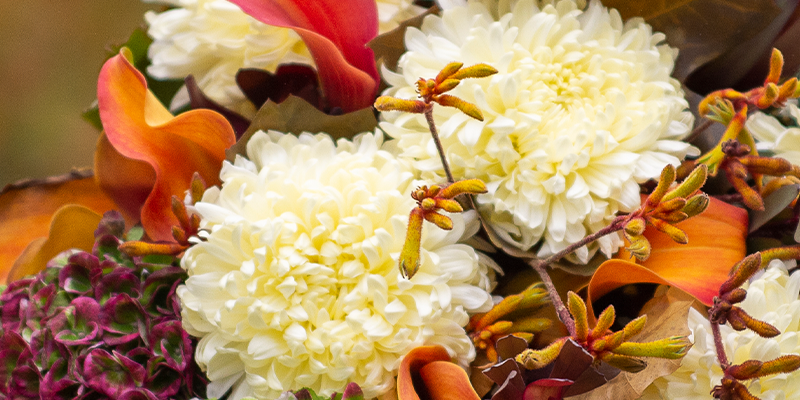 Yellow chrysanthemums meanings
The Japanese believe that yellow chrysanthemums represent the sun and the light, which in turn symbolises immortality. The 'kiku' is their national symbol and they celebrate the annual Festival of Happiness in honour of 'the golden flower'.

Pink chrysanthemums meanings
Pink chrysanthemums symbolise longevity and deep faithfulness, making them an excellent choice for a milestone wedding anniversary. The Victorians sent them to friends to convey their well wishes. Choose red chrysanthemums, or 'mums', for a romantic gift, as once again, they mean love and passion.

What do dahlias mean?
There are over 50,000 varieties of dahlias, ranging in colour from pink, purple and red to orange, yellow and even blue. Floriography has it that most stand for wealth, creativity, loyalty and dignity.

For the Victorians, they signified enduring commitment and eternal love, with red dahlias considered a symbol of power and rebirth (perfect for a recovering friend or someone taking on a new challenge). The black dahlia, however, is a famous symbol of betrayal – avoid sending these to a lover, else sparks may fly for all the wrong reasons!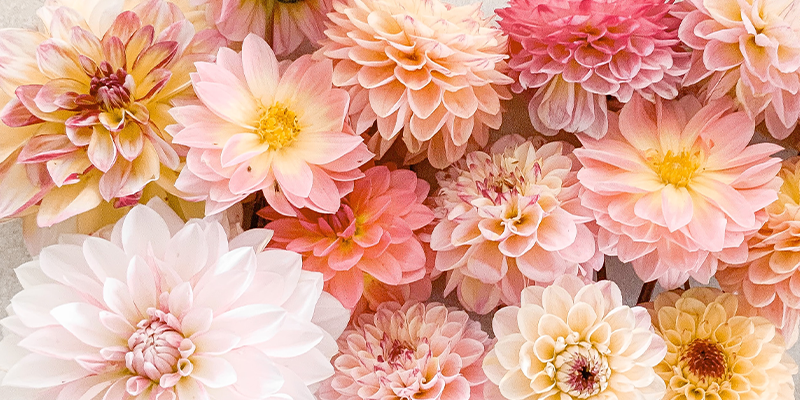 What do tulips mean?
Tulips are a spring favourite for good reason, as they're timelessly beautiful. No wonder 'tulip mania' ensued in the Netherlands when they were first brought over from Asia in the 16th century! In floriography, they tend to stand for deep, unconditional love, on account of their enduring popularity. The timing of their blooming, at the start of a new season, also connects them with hope and rebirth, while the Victorians considered them a symbol of charity.

Colour-wise, their meanings are similar to those of many other blooms listed here - red means passion, pink means affection and purple means royalty. Dream of white tulips, and a fresh start is coming your way. Yellow tulips, meanwhile, signify cheerfulness and good luck. To the Victorians, they meant 'There's sunshine in your smile'. How heartwarming is that?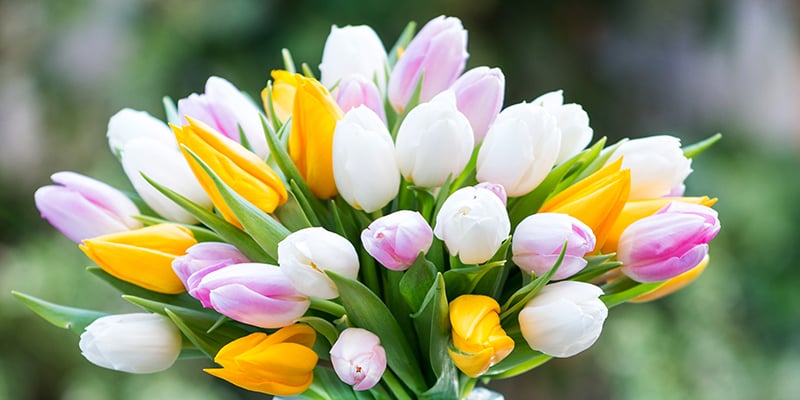 What do hyacinths mean?
These fabulously fragrant flowers are often found in Christian churches, as they appropriately symbolise peace, commitment, constancy and love in the language of flowers. Other meanings ascribed to the spring-time hyacinth, particularly during the 19th century, include happiness, pride, playfulness and power.

Send purple hyacinths if you need to seek forgiveness, white hyacinths if you are praying for someone and blue hyacinths to express your condolences. Just avoid yellow hyacinths, which mean jealousy and sorrow – unless you're feeling betrayed and need someone to get the hint, of course.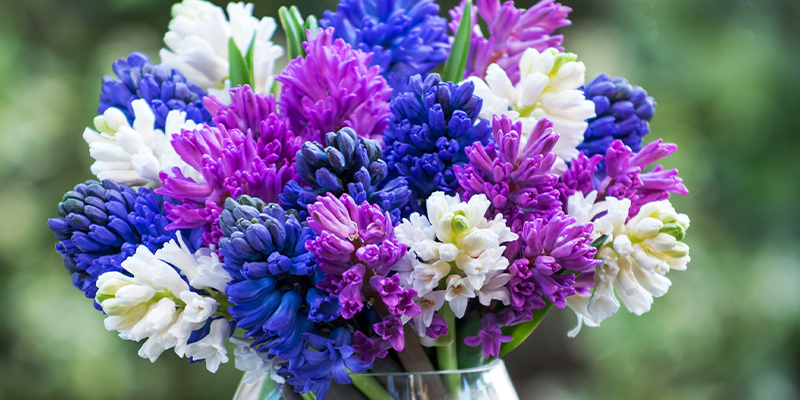 ---
Browse Appleyard's beautiful, bountiful range of romantic roses, good luck sunflowers and sympathetic lilies and say it with flowers today.