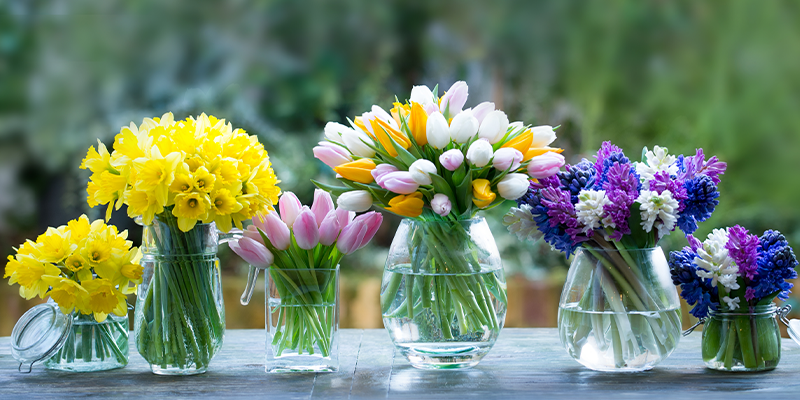 Spring is here, and the world is back in bloom! Some of our favourite blooms are in season in spring, including tulips, hyacinths, and daffodils.
Here's everything you need to know about these beautiful spring flowers.
Tulips
A springtime classic, tulips are full of colour and it's no surprise they're one of the most popular spring flowers. They're available in a wide range of tones, including pink, purple, yellow, red, white, and pink. We send them in bud, but they'll open up after a few days in water to reveal their lovely cup shaped blooms.
In the language of flowers, tulips signify deep love, with other colours having varying meanings. Pink blooms symbolise happiness, whilst yellow tulips send a message of cheer. White tulips are associated with forgiveness, and purple tulips signify royalty.
Tulips are native to Central Asia, and as a result they play a central role in myths and legends from the region. Most notably, they're significant in the Turkish and Persian story of Farhad and Sharin. Nowadays, however, tulips are most often associated with the Netherlands. From March to April, parks in the city are filled with the colourful blooms, and there are stunning tulip fields not far from the city. In the Dutch Golden Age, 'tulip mania' spread through the nation, with the prices of tulip bulbs hitting unprecedented levels, before unceremoniously crashing not long afterwards.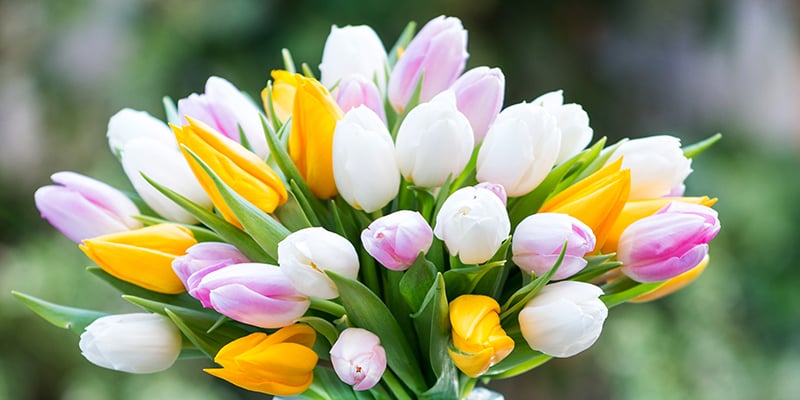 Hyacinths
Another spring favourite, hyacinths have striking spires of densely packed florets, and an unforgettable, heady fragrance. They're the perfect way to fill your home with the scent of spring and are a beautiful statement stem for bouquets. Hyacinth colours include periwinkle blue, fuschia, pastel pink, and white.
Unlike most cut flowers, you shouldn't trim the stem on arrival. This is because the thick, stubby base is in fact part of the bulb, and helps them to stay well hydrated. Hyacinths also arrive in bud form, which means they become more colourful after a couple of days in water, and may appear quite pale at first.
In Victorian times, hyacinths were said to symbolise sport and play, with blue hyacinths representing sincerity.
Hyacinths are native to Turkey and the Middle East, and were mentioned in Greek and Roman poetry. The name 'hyacinth' comes from the Greek name 'Hyakinthos'. Hyakinthos was a sportsman who was killed by Zephyr, the god of the west wind, who was jealous of his discus prowess. The hyacinth was said to grow from the slain man's blood.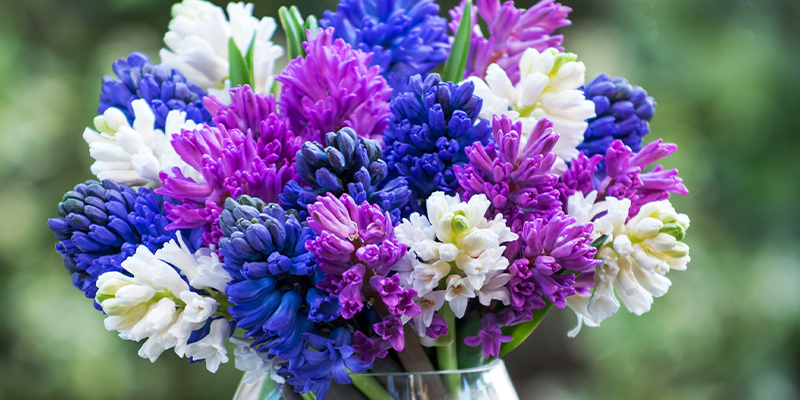 Daffodils
A common sight in Britain in the spring, daffodils are one of the most recognisable spring blooms. These joyful flowers are found all over the world, with their natural range covering many countries in Europe and North Africa.
Their Latin name 'Narcissus' shows their link to Greek mythology. Narcissus was a vain and arrogant man, who was lured to a river by Nemesis, the god of vengeance. He became completely enraptured with his own reflection, and was unable to move away. Depending on the version, he was either turned into a daffodil, or he fell into the river and drowned, with the flowers growing nearby then named after him.
Despite this rather grim tale, daffodils are a symbol of hope and renewal. Their cheerful yellow blooms emerge at the end of winter, and they represent new beginnings, rebirth, and spring itself.
Daffodils are also the national flower of Wales, and are traditionally displayed and worn on St David's Day.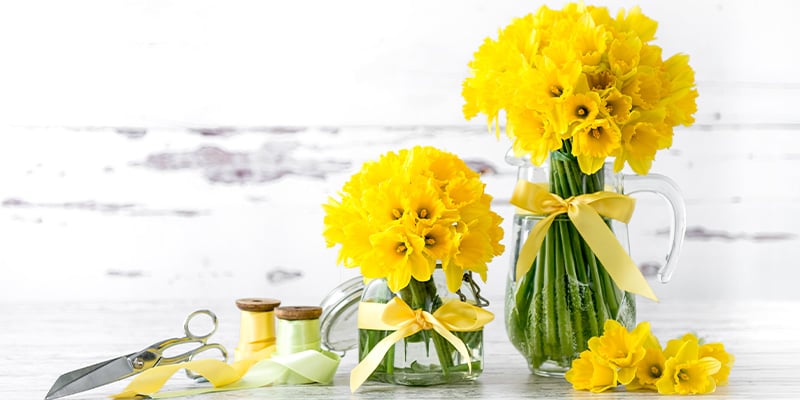 Paperwhites
Also part of the Narcissus family, paperwhites have delicate, creamy white flowers and a powerful, sweet fragrance. They're smaller than daffodils, with clusters of pretty blooms on each stem.
Not everyone likes the scent - in fact, it's often the case that people love it or hate it! This is due to the organic chemical 'indole' which is also found in other flowers like jasmine.
Like daffodils, they're associated with rebirth, renewal, and the beginning of spring. They're one of the earliest spring blooms to emerge, and can even bloom at the end of winter. Fittingly, they're one of the three birth flowers for December.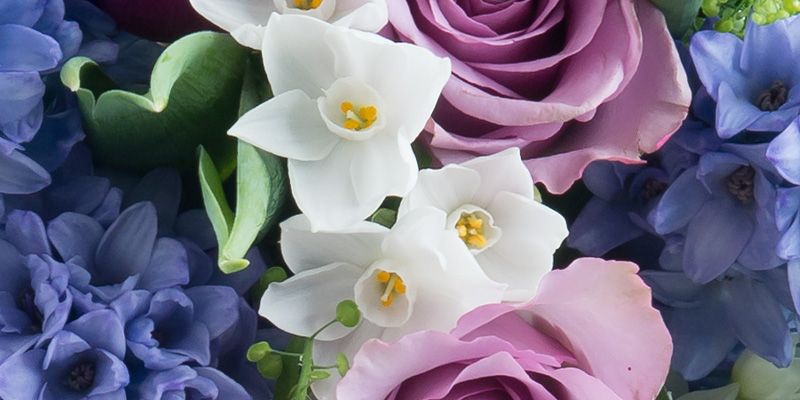 Peonies
Peonies are without a doubt one of the best loved seasonal flowers. Their season is later than other spring flowers - typically starting in April and stretching into the summer - so there's always a bit of a wait, but they're well worth it! With their gloriously huge flowers, blousy petals and heavenly fragrance, peonies shine in any bouquet.
Peonies symbolise romance, elegance, honour, wealth, and prosperity, making them the perfect way to celebrate happy occasions, or express your hopes for the future. Of course, the worst thing about peonies is that their season is so short compared to other flowers - make sure to get them whilst you can!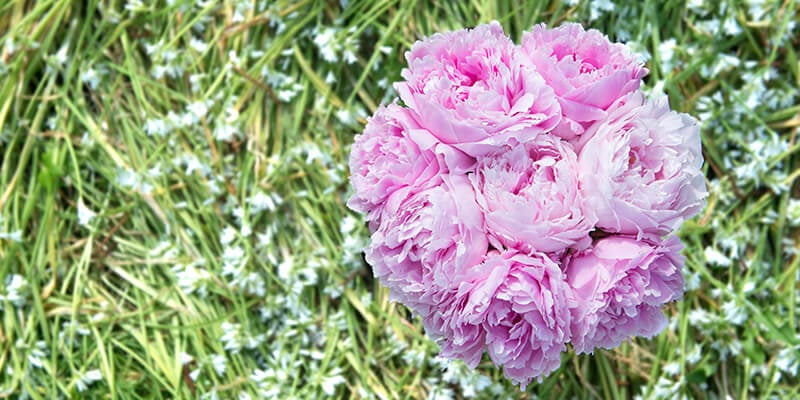 Cherry Blossom
There's nothing more magical than cherry blossom trees blooming with their enchanting clouds of pale pink flowers. Cherry blossom season is at its peak in March and April so we love adding a few sprigs of the delicate blooms to our spring bouquets.
Symbolically, cherry blossoms signify concepts such as renewal, new beginnings, and rebirth, making them a perfect reflection of the season.
In Japan, cherry blossom festivals known as hanami (meaning 'viewing flowers') are held annually to celebrate the blooms. This tradition has existed for centuries, and people typically celebrate by having picnics and parties under the trees in parks and gardens. This time of year is also Japan's peak tourist season, as people travel from around the world to see the flowers. Cherry blossoms have rich symbolic meaning in Japanese culture; as each tree only blooms for a couple of weeks, they are said to represent the transient nature of life and beauty, and act as a reminder to live life to the fullest.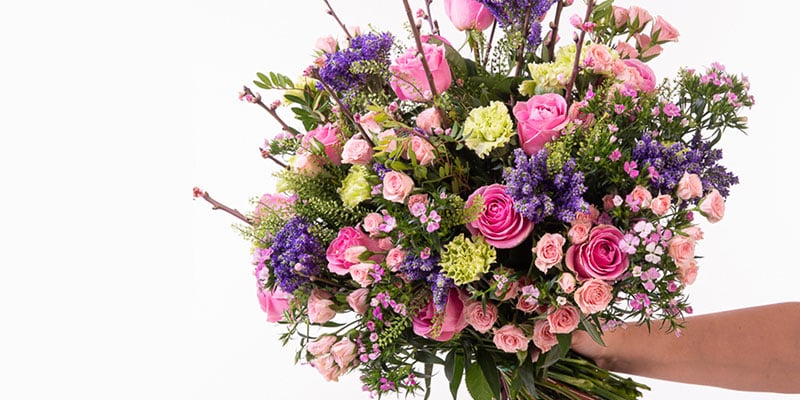 Iris
Irises are instantly recognisable by their showy flowers; in most varieties, the central petals stand upright whilst the outer petals known as 'falls' hang down. They flower in the spring (although some types are summer bloomers), and they look fantastic in bouquets, with their unique flowers instantly drawing the eye and adding a lovely pop of colour. The most common colours are purples and royal blues, so they contrast beautifully with bright yellow daffodils in spring bouquets.
In the language of flowers, irises symbolise virtuous concepts such as faith, trust, courage, valour, hope, and wisdom. They've also had plenty of cultural influence too. They were depicted by Vincent van Gogh in one of his paintings (aptly named 'Irises'), and alongside lilies, are one of the floral inspirations for the fleur-de-lis symbol. The iris is also the state flower of Tennessee.
Sweet Williams
An old-timey cottage garden staple, sweet Williams bloom in the spring and summer with sprays of miniature flowers in pink, red, white, and purple. They have a long and storied history; they've been cultivated for at least a thousand years, and are believed to have been introduced to Britain by King Henry VIII, who requested them for the garden at one of his castles. No one's completely certain where the name comes from, although plenty of famous Williams have been suggested as possible inspirations!
Although they're not an instant show-stealer like some spring flowers, they're perfect for bringing a delicate and colourful finishing touch to spring bouquets, and on top of that, they're wonderfully fragrant as well, with a sweet and spicy clove-like scent.
As part of the dianthus family, they're related to carnations, and like their more famous cousin, they have an excellent vase life, often lasting 2 weeks or more when cut. Once the other flowers in your bouquet have faded, try displaying your sweet Williams in bud vases to enjoy their gorgeous fragrance for even longer.
In the language of flowers, sweet Williams symbolise ideas such as gallantry, courage, and masculinity.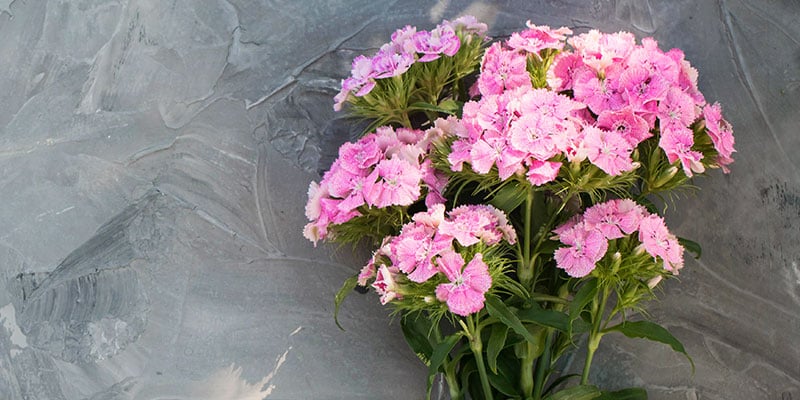 ---
Want to celebrate the new season in style? Shop our spring flowers to find your perfect seasonal bouquet.