CORPORATE FLOWERS & GIFTING SERVICE
Contact us on 0203 137 1269 or [email protected] to discuss your corporate gift requirements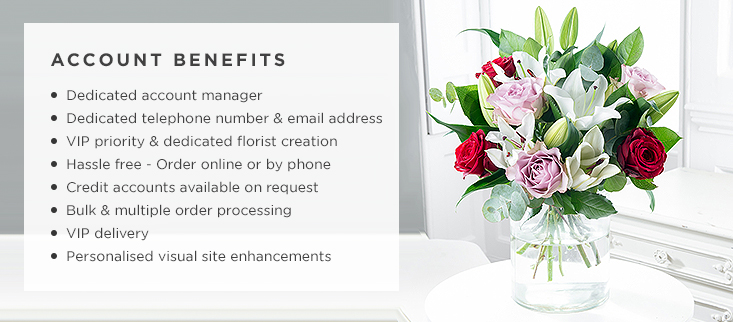 With a range of boutique flowers and luxury hampers, our corporate gifting service is the perfect way to enhance your customer and supplier partnerships. We tailor our gifting service to provide a bespoke solution for your business to meet your individual requirements.
Individually designed each season by our small team of expert florists, our bouquets are beautifully wrapped to make stylish gifts. We source flowers directly from the grower and quality check stems before they leave and when they arrive at our warehouse. Whether you're looking to send large volumes or one-off gifts, our regional fulfilment and national distribution service means we'll have the flower delivery service for you.
Our fine wines and champagnes are certain to impress. Send to your clients in your own branded packaging or pair your favourite wine to a bouquet from our range to create a truly unforgettable gift that's unique to your business.
With an extensive range of hampers, covering gourmet, fresh and traditional styles, we also offer a bespoke service allowing you to choose the contents. Your hampers can be branded to include your own merchandise whilst being presented beautifully in a basket of your choice.
Ensure your event or office space looks superbly stylish, with our bespoke floral arrangement service. Whether you're looking to create an impact with a grand bouquet in your reception area, or accessorise an events space with eye-catching floral creations, we can design with your brand in mind to ensure you create a lasting impression.
Corporate Team Call: 0203 137 1269
Email: [email protected]