Prepare your blooms

Trim the stems & remove excess foliage. Carefully remove discoloured guard petals from roses. For hand tied bouquets, there's no need to remove the tie holding the flowers together - they're already arranged and ready to go!

Pick a vase

A wide, full vase works well for larger arrangements, whilst you might want a slim vase for tall stems to add extra support. Top tip: Brighten all the rooms in your home by dividing your bouquet into miniature posy arrangements.
See our video here.

Find a good spot

Flowers are happiest and will thrive in a cool, light location away from draughts, direct heat, sunshine or fresh fruit. Draughts, high temperatures, and direct sunlight can cause your flowers to dry out and wilt more quickly than they should. Flowers are also sensitive to ethylene gas which is released from fruit.

Keep your blooms fresh for longer

Retrim the stems every couple of days and replace the water in the vase to keep your blooms fresh and healthy. Bacteria can build up as flowers sit in water, so changing the water prevents this from affecting the flowers.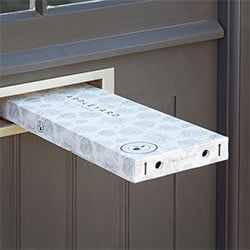 What is it?
We pride ourselves on delivering beautiful long lasting flowers on time. For the rare occasions we fall short, we have the 100% happiness guarantee. If you're not happy with the service you've experienced, we'd like the chance to put it right.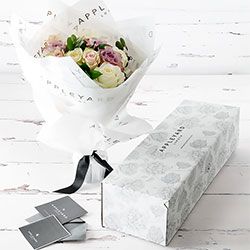 How does it work?
If you're unhappy with our service, we'd like to add credit to your Appleyard Flowers account to the value of your order* plus £10. This means you can upgrade your next order or add an extra gift such as chocolates or a vase.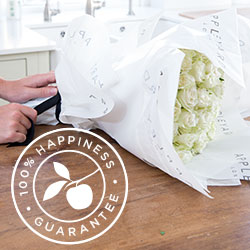 How can I redeem?
To redeem this, please complete our happiness form. If you are unhappy with the condition of your product, please include a picture so we can review and improve.


STEP 1

STEP 2

STEP 3

STEP 4

TAKE A PHOTO

SHARE YOUR PHOTO

WE'LL CONTACT YOU

YOU RECEIVE VOUCHER

+£15

When your bouquet arrives with you or the recipient, be sure to take a photo of the flowers at their best.

Upload your photo to Facebook or Instagram. Remember to tag @AppleyardLondon with hashtag #appleyardluxuryflowers
When you have completed these steps, we will contact you through a direct message. Please read our T's & C's.

Once verified, you will receive an email with your £15 gift voucher code to spend at appleyardflowers.com.