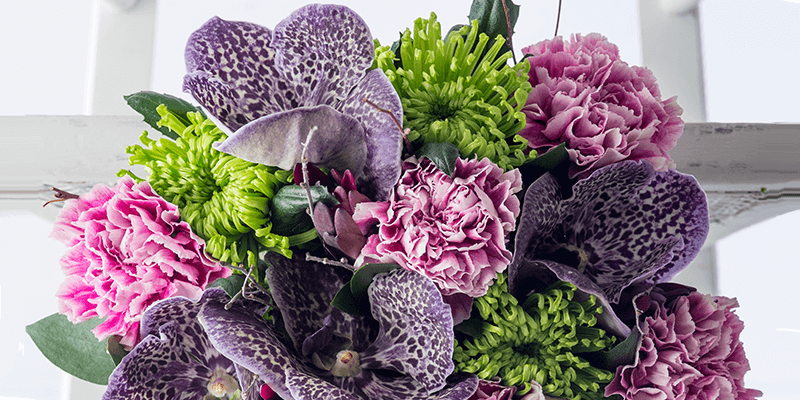 A fresh bouquet of flowers is the perfect way to brighten up your home, and a gift that is sure to make someone's day.
When choosing an arrangement, you'll naturally consider things like the colour and variety of the flowers to find something that suits the occasion. However, one other thing to take into account is the vase life of the flowers.
All Appleyard flowers are covered by our 7 day freshness guarantee, which promises that all of our flowers will last at least a week. Despite this, we know that some varieties naturally have a longer vase life than others, so they're good choices if you're looking for a bouquet that will keep looking beautiful and fresh for even longer. In this article, we're going to share our favourite long-lasting cut flowers and foliage.
Before we start, remember that you can extend the life of your bouquet by following our flower care tips, which are included in every bouquet. One of the most neglected aspects of flower care is changing the water every few days - this will really revitalise your blooms and keep them looking their best!
1. Chrysanthemums

Chrysanthemums are renowned for their vase life, and can last 3 weeks (or even longer!)
They come in a wide range of colours and shapes. Hues range from creamy whites through to bold purples, and everything in between. Types include single chrysanthemums, spider blooms, pompoms, anemones, and decorative. This wide choice makes them a versatile bloom for many different types of bouquet, and they bring beautiful texture to many arrangements.
In mixed bouquets, they will often outlast other flowers. However, you can keep them in a single stem arrangement on their own and simply remove any wilted blooms and foliage.
2. Orchids

Orchids are undeniably elegant and have long been seen as a symbol of luxury, making them a sophisticated addition to any arrangement. Orchid plants flower for up to three months, but even when cut they can last a relatively long time.
Cymbidium orchids, vanda orchids, and phalaenopsis orchids all offer impressive vase lives. Generally, orchid flowers will last two to three weeks when cared for properly. They tend to do better when kept in cooler rooms, and particular care should be taken to keep them away from ripening fruit. Orchid flowers are very sensitive to ethylene gas released by fruit, and will wilt far more quickly if exposed to it.
3. Carnations

Carnations are a classic and immensely popular cut flower, and boast a long vase life to match. Versatile and attractive, they come in lots of different colours, and their frilly texture complements many other blooms well. They'll usually last for at least two weeks, and will often make it to three weeks in a vase.
4. Lilies

Our lilies arrive in bud, ready to open up in your home. This has a dual benefit; firstly, it protects the lilies whilst they're in transit, and secondly it means you'll get to enjoy watching them bloom, and make the most of their long vase life. Trim lilies every few days and change the water, and it's likely they'll last for 10-14 days.
5. Alstroemerias

Alstroemeria are a staple in many of our bouquets. Resembling miniature lilies, they are available in a wide variety of bright and exotic colours, and are fantastic for adding delicate beauty and texture to a floral arrangement. Despite their diminutive appearance, they are very hardy and long lasting, and more often than not achieve a vase life of 2 weeks. They are fairly thirsty flowers, so help them along by replacing the water every couple of days.
6. Freesias

Beautifully fragrant, freesias are a welcome addition to any bouquet. Even better, the more heavily perfumed yellow and white blooms tend to last the longest! These pretty flowers have an average vase life of around 10 days when the water is changed regularly. 
7. Hydrangeas

The word 'hydrangea' means water vessel, and this is very fitting. Hydrangeas drink a lot of water, so you'll need to refresh their water every day or so. If this is done, hydrangeas can last around 10 days.
However, part of the reason they're included in this list is that hydrangeas can actually last much longer if the flowers are allowed to dry out. The best way to do this is to place them in a vase with only a few inches of water. Then, simply leave them alone. As the water in the vase evaporates, the hydrangeas will dry over a few weeks.
It's best not to move dried hydrangeas if possible, as they can become quite fragile and break apart. Drying hydrangeas doesn't always work, but it's definitely worth giving it a go, as the dried flowers will often last a year more.
8. Hypericum

We love adding hypericum berries to bouquets. The plump, glossy berries bring a rustic, natural feel to many different arrangements, and add enticing texture and visual flair to our seasonal bouquets. It's a fantastic filler stem to break up more typical flowers and foliage.
Hypericum has grown in popularity over the years, and there are now lots of different colours and varieties available, including pink sugar flair berries, shiny red autumnal hypericum, and fresh green berries in the spring. As well as being very versatile, hypericum has an impressive vase life, usually lasting at least two weeks.
9. Eryngium (Sea Holly)

Eryngium is a thistle-like flower with spiky leaves. Available in silvery blue, green, and white, they add visual drama and texture to bouquets, as well as a more rustic appearance. They do well in vases, lasting between 10 and 14 days on average.
10. Clematis

Clematis produces beautiful, showy flowers in vibrant colours including purple, pink, white, red, and blue. They are long lasting, usually staying fresh for around two weeks - ideal for adding a splash of colour to your home.
11. Sunflowers

Sunflowers are iconic, with their bright yellow petals really capturing the joy of hazy summer days. Our sunflowers arrive in bud, meaning you get to watch them bloom in your home. Sunflowers really benefit from having their stems retrimmed, and their water replaced every few days. With proper care, they can keep looking fresh and cheering up your home for as long as 12 days. 
12. Leucadendron

Leucadendron is a shrubby flower with spirals of deep red leaves that add fantastic shades and textures to bouquets. It can quite reliably stay fresh for up to 3 weeks, making it great for pairing with other long lasting stems like orchids and chrysanthemums.
---
Looking for some beautiful flowers to send? Explore our stunning bouquets here - all guaranteed to last at least 5 days!