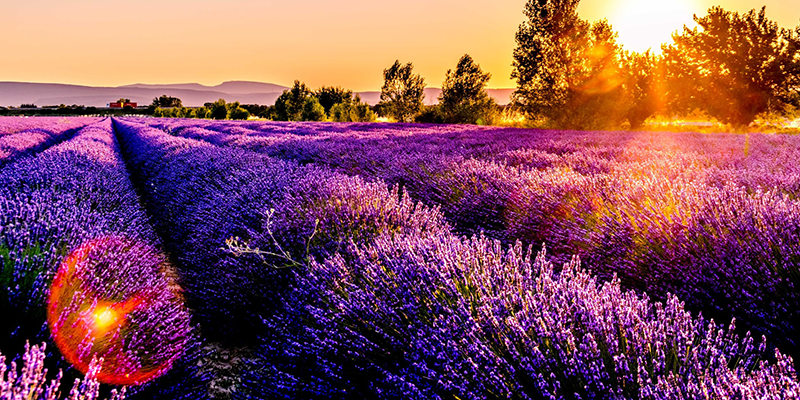 Love flowers, but not sure what grows when in the UK? We've put together a handy, quick-to-read guide to our favourite British blooms that are in season in winter, spring, summer and autumn.
Take a look through our guide to find out everything you need to know about British floral seasons. Whether you're looking for the perfect cut flowers for a seasonal bouquet, or want to grow your own beautiful blooms, you'll find everything you need right here.

Summer
Woohoo, it's finally peony season! But that's not all. The English country garden is bursting into bright colour, with roses, delphiniums, sweet peas, poppies, sunflowers and more at their blooming best. Then, of course, there's all that lush green foliage to play with, too. You're spoiled for choice, but here are a few of our favourites:
Peonies
Peony season is short but spectacular. These ruffled, blousy beauties are only available in early summer - usually the end of May and beginning of June. You'll know when they're back as they'll be all over your Instagram feed - that's how photogenic they are!
Coral peonies come first, with the pinks hot on their tails. Choose corals for the most exciting floral experience, as their colour fades to peach and cream over the course of a few days, but opt for pinks or whites for the most divine fragrance.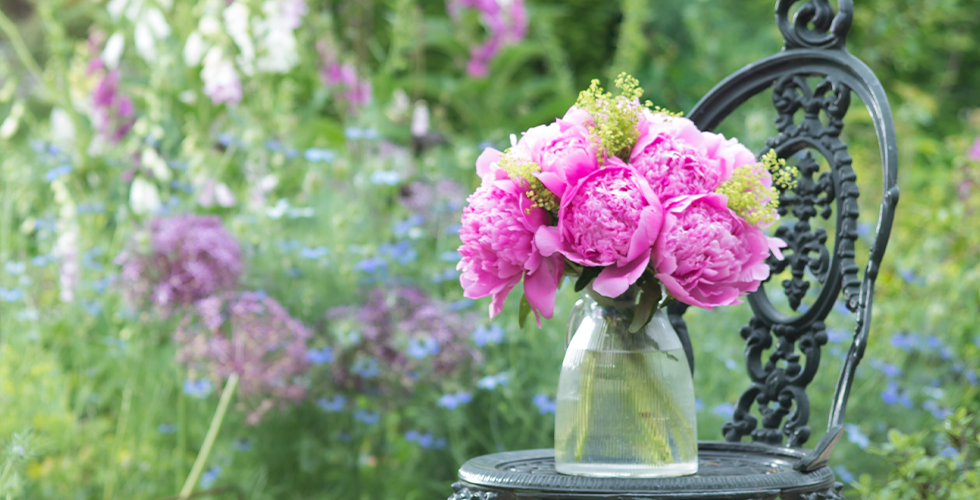 Sunflowers
If you want to cheer someone up, it's all about a massive bunch of sunflowers! These miniature suns get a big thumbs up from the bees, too, as their huge yellow flower heads are overflowing with nectar. Did you know that sunflower pollen helps to boost a bee's immune system? They're also fun and speedy to grow - get a group of friends together and see who can grow the tallest sunflower over the summer. They tend to reach a height of 6 to 10 feet, but can get even bigger - 30-feet is the record! For a joyful cut flower arrangement, try mixing them with lilac stocks, memory lane roses and alstroemeria, as we've done in our Summer Martini bouquet.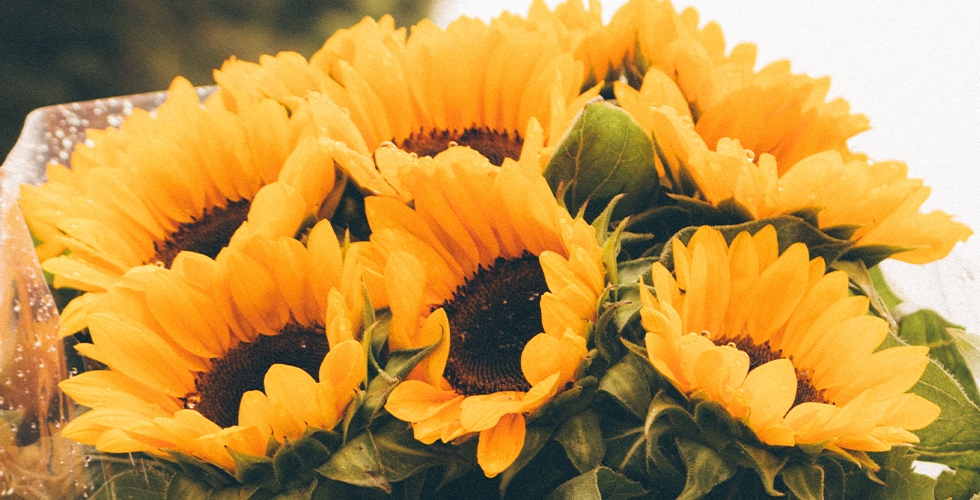 Hydrangea
You don't need many hydrangeas to make a big impact, as each flower head boasts a mass of lacy petals. Scientific show offs of the flower world, their colour depends on the pH of the soil - expect purple or blue flowers in acidic soil and pink or red blooms in alkaline!
Hydrangeas are thirsty, so put them straight in water and top it up regularly, before changing it completely a few days later. They make wonderful dried flowers, too - simply leave them alone in a few inches of water and let them dry out. They'll last a year or two if treated gently and look 'wow' against a moody dark wall.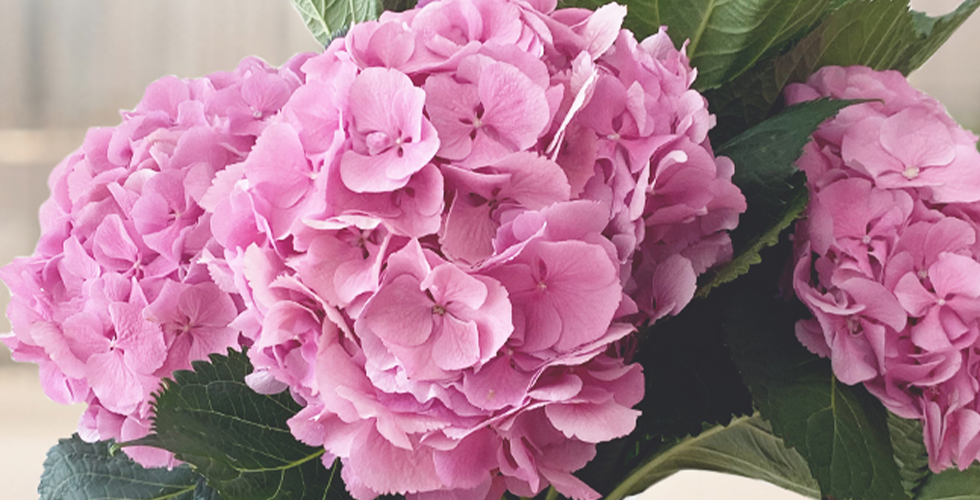 Lavender
The calming fragrance of freshly-picked English lavender is simply irresistible. It's also one of the best plants for bees, reaching its peak in June and July, just as the furry little fellows are out in force, foraging for nectar. Its bobbly purple flowers make excellent posies and filler, scattered among lilac memory lane roses, like in our bestselling scented lavender bouquet.

Autumn
The leaves may be starting to turn fiery red, burnt orange and crackly brown, but you can expect flowering of many summer species to continue until the first frosts of October. Dahlias and roses are still plentiful and blousy throughout September and look striking scattered amongst foliage-heavy bouquets. Here's what to look out for:

Dahlia
The national flower of Mexico, dahlias bloom all the way through autumn, keeping us happy once the flood of summer colour starts to wane. The varieties can look very different - expect to find dahlias that look like pom poms, others that look like spiky stars and some that are so big (think 35cm in diameter!) they are known as 'dinner plate dahlias'.
Dahlias are thought to represent dignity and gratitude. They aren't scented, but they make up for this by flowering in every colour bar blue. The trendy Cafe au Lait dahlia is a pale peachy cream that looks incredible teamed with blush roses and burgundy amaranthus.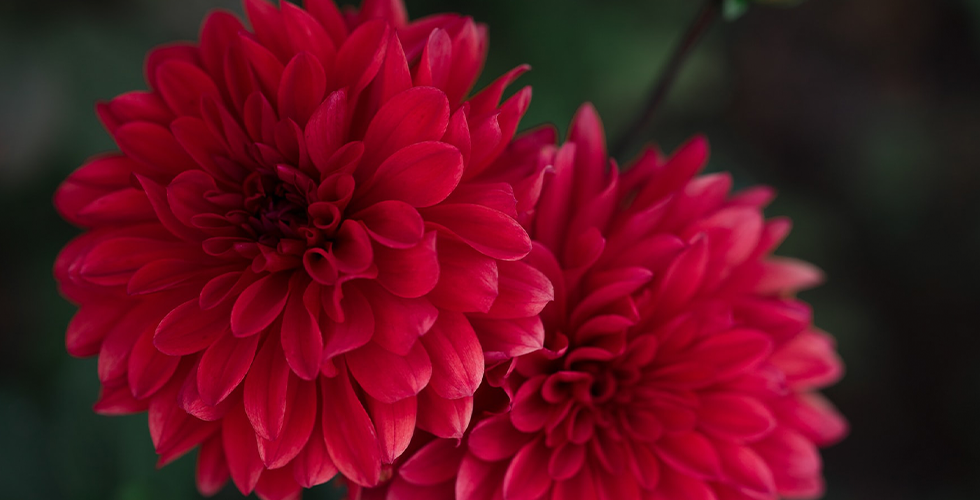 Scabiosa
OK, so the name is pretty nasty, but scabiosa is beautiful! It's called such because the Romans used it to treat scabies and other skin diseases. Scabiosa flower heads have so many miniature blooms that they famously look like pincushions. They produce a lot of nectar, making scabiosa a popular species with butterflies and bees.
It grows best in warm, mostly dry soil and will flower continuously if you remember to dead-head it. There are more than 1,000 species, in almost every colour you can think of, but we love the reddy, chocolatey varieties in early autumn.

Cosmos
These colourful members of the daisy family plough on with blooming right through to late autumn. They love the milder days that October and November bring, but if you're growing them for cutting, remember to deadhead them regularly to encourage further flowering. The white and pink varieties are the hardiest, but the chocolates can fare well in autumn, too. Their soft, feathery foliage is a highlight and can bring unique, wild-style interest to a bouquet.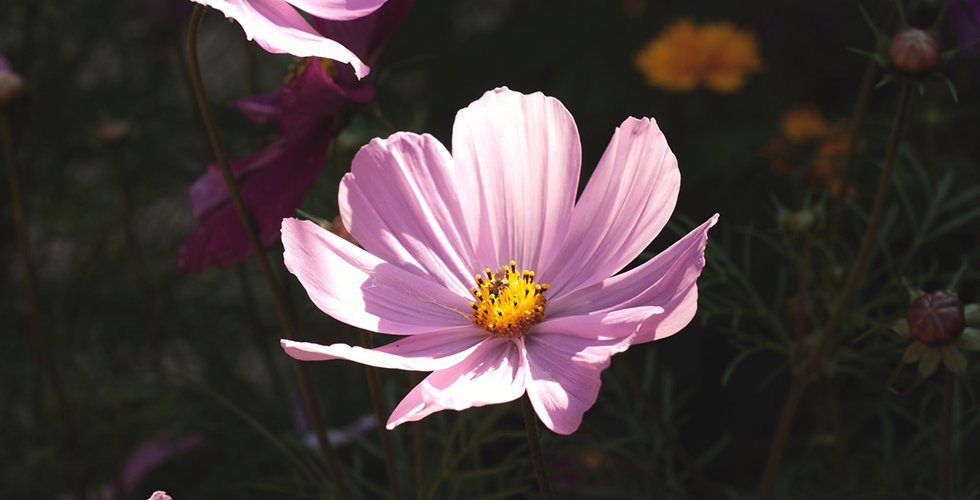 Winter
It may be cold, dark, rainy and sometimes even snowy, but flowers do grow in the harshest winter months of December, January and February. Though the quietest season for flower growth, these pretty species are hardy enough to withstand frost:

Snowdrop
Snowdrops are the first winter flower many of us think of - the clue is in their name, after all! Delicate yet surprisingly durable, they're happiest in damp soil and are often found growing around the shady base of a tree. They start popping up in early November and can last right the way through to February. Pick a few handfuls and display them in glass posy jars on a windowsill. Simple perfection.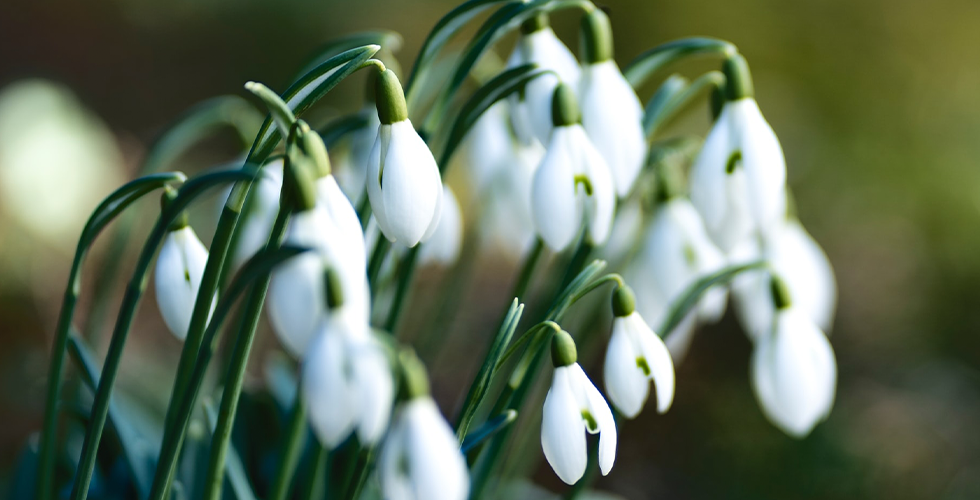 Helleborus
The elegance of this wild-looking white flower belies its impressive robustness. Known as the 'Christmas rose', it actually belongs to the buttercup family! It's a popular choice for winter weddings, especially when paired with green foliage (think holly, spruce and eucalyptus) and red berries.
Easy to grow, even for amateur gardeners, perennial helleborus likes moist soil in partial shade - avoid extremes, and it'll be happy when the rest of your garden is frozen, thanks to deep-growing roots. Expect to see its pretty petals turn pale pink in spring as they age.

Pansy
Plant these colourful flowers in autumn to enjoy blooms all-year round, even in winter. They're a doddle to grow and spread quickly, but if you live in the countryside, expect the rabbits to munch them! Pansies come in a range of colours, including deep magenta and vivid purple, making them ideal for brightening up a drab garden. Short stems make them less popular with florists, but they look lovely in short vases, or left in tubs on the patio.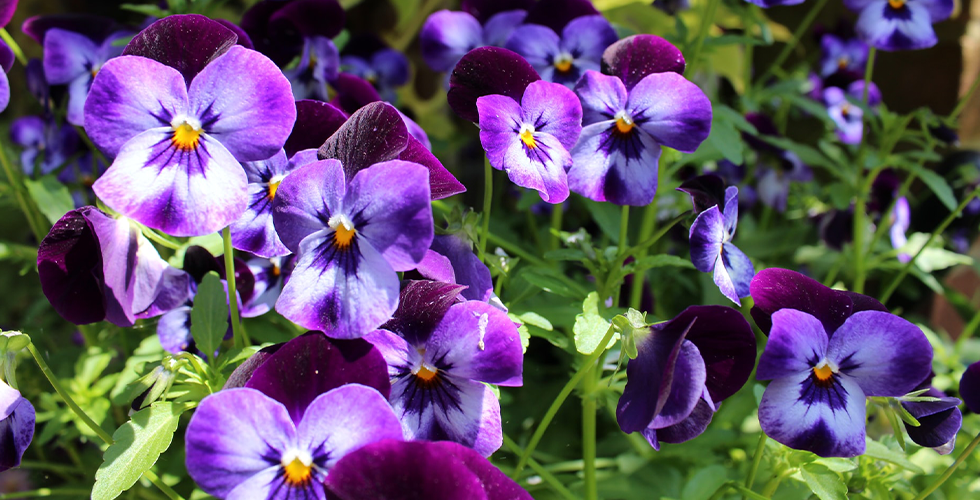 Viburnum
This compact shrub is a great choice for black-thumbed gardeners. Watch the red buds become white flowers and finally dark blue berries, without you lifting a finger! Viburnum makes a great filler for festive bouquets, especially when contrasted with, say white helleborus (above).

Spring
Spring is when the earth slowly starts to thaw and come back to life. It's the season of renewal, with the days (usually!) getting warmer and brighter throughout March, April and May. It's a happy and hopeful time of year, represented by the uplifting colours of it's leading flowers, which often smell fabulous, too:

Daffodil
Is there anything more spring-like than a yellow daffodil, also known as narcissus, nodding merrily in the dappled morning sunshine? We'd argue not. This traditional Easter flower and national flower of Wales reaches its peak in March, just as you're really over winter.
For a dazzling display that'll brighten up the gloomiest of kitchens, look for big daffodil-only bouquets. Daffodils have a tendency to kill mixed bouquets, as their sap is poisonous to other species, but you can get around this by leaving them alone in water for 24 hours first. Never give anybody a single daffodil - folklore has it that this brings bad luck their way! Come spring, you'll find us selling bunches of 100 English daffys for that full-blown (lucky!) wow factor.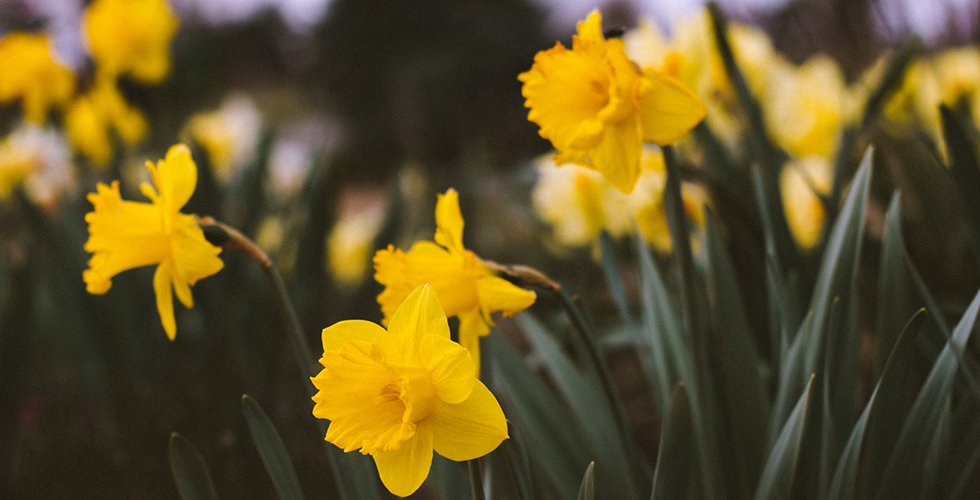 Hyacinth
One of our favourite Easter gifts to receive is a pot of gloriously-scented hyacinths. They come in a range of dainty colours, from bridal white and pastel pink to bright purple and deep blue, and are instantly recognisable with oval petal groupings that make them look like candy floss. Hyacinths grow from bulbs but are popular as cut flowers too, popped as a mass in a vase.
The 19th century American poet John Greenleaf Whittier had it right when he said, 'Buy hyacinths to feed thy soul'. Sniff a hyacinth for an instant mood lift - summer is just around the corner!

Tulip
Tulips are one of those flowers that we're loath to blend with any other blooms - they make such a striking statement gathered in a bunch in a minimalist vase. Plant your bulbs in mid to late autumn, before the first hard frost, ready for perennial blooming from March through to May.
Perfect for an Easter centrepiece, there's a veritable rainbow of colours to choose from, including red, yellow and purple. Tulips are actually lilies. Their petals are edible, replacing onions in some recipes, and in the 1600s, they were so expensive that they cost more than many people's homes!