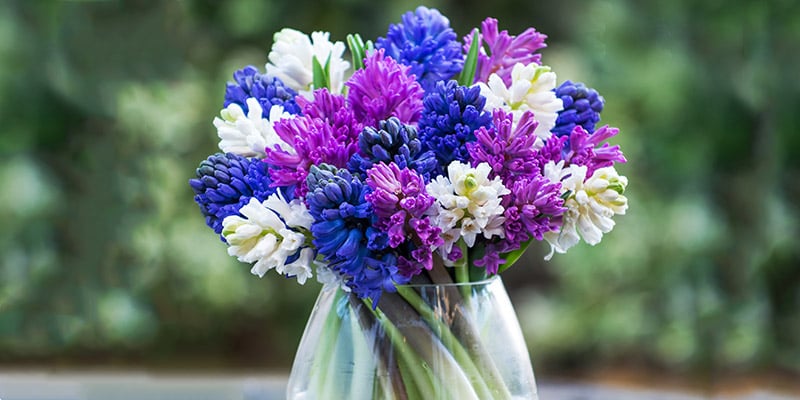 Hyacinths are one of our favourite spring blooms, available in gorgeous pastel shades as cut flowers from November through to May.
Showcase them at their best - simple and elegant, arrange your hyacinths in a vase massed together in their dainty colours to fill your home with that beautiful fragrance of spring. Alternatively, send a bouquet of hyacinths with other spring flowers like tulips for a real seasonal treat.
'Hyacinths to soothe the soul'
Hyacinths truly are an amazing spring flower and it's a true joy to see them come round each year. They come in a beautiful selection of colours, from rich periwinkle blues to creamy whites and pretty pinks, and they have a gorgeous fresh springtime fragrance to top it all off.
In the language of flowers, hyacinths are a symbol of peace, commitment, sincerity, and loyalty - perfectly captured in this beautiful quote by John Greenleaf Whittier.
"If thou of fortune be bereft,
and in thy store there be but left
two loaves, sell one, and with the
dole, buy hyacinths to feed thy soul."
- John Greenleaf Whittier
How to care for your cut hyacinths
Hyacinths are a cut flower grown from a bulb, so when you receive your cut hyacinths the stem can on occasion be a little sandy. It's important to wash their stems to remove this before adding them to your vase. Hyacinths arrive in bud, so they can seem a bit pale or colourless to begin with. Don't worry - as they bloom, they'll grow much more vibrant and full.
We send our hyacinths with some of the bulb still intact - this is the stubby base you can see at the bottom of the stem. This helps them to last longer, and there's no need to cut it off.
If you do cut them, they will open a bit quicker but they can release a sap which can cloud the water in the vase. It's a good idea to change the water more regularly - ideally daily - to keep the water fresh and clean.
As hyacinths bloom, they can become quite top heavy as they have soft stems. This can cause the flower to bend and eventually break. As they bloom, you can trim them down and place them in a shorter vase to help them stay upright.
Hyacinth arrangement tips
If you are feeling creative, why not arrange your cut hyacinths together in posies in little jam jars? Then, just dot them around your home to welcome the joys of spring to your whole home.
Hyacinths are perfect for...
Hyacinths are perfect for springtime occasions such as Easter and Mother's Day. They are also perfect bouquet choice for people who love gardening.
Why not take a look at our range of Spring Flowers which includes hyacinths?