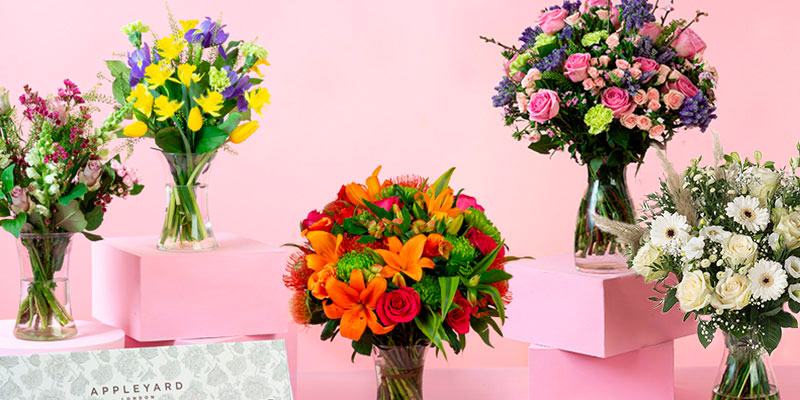 Mother's Day is about showing Mum how grateful you are for everything she does, be that passing on her pearls of wisdom or always being there with a cup of tea and hug.
But if meeting up isn't possible or you simply want to spoil her rotten, may we suggest a beautiful bouquet of luxury flowers?
Our experienced team of creative florists hand-tie every bunch of blooms with love and care. Rest assured, then, that Mum will elicit a squeal of delight when your five-star floral gift arrives on her doorstep.
If you're wondering which flowers to send for Mother's Day, here are our recommended favourites, including those that symbolise motherhood, gratitude and affection.
Carnations
Some believe that carnations sprung from the soil where the Virgin Mary's tears fell during Christ's crucifixion. They are therefore thought to convey a woman's love, and particular that of a mother, making them the perfect flower for a new mum celebrating her first Mother's Day.
You'll find blousy antique carnations in our pretty Letterbox Frangipan, backed up by rustic snapdragons, lilac roses, and purple lisianthus. For something a little brighter, try our English Garden or Coral Garden bouquets, both of which feature vibrant green carnations for a pop of fresh colour.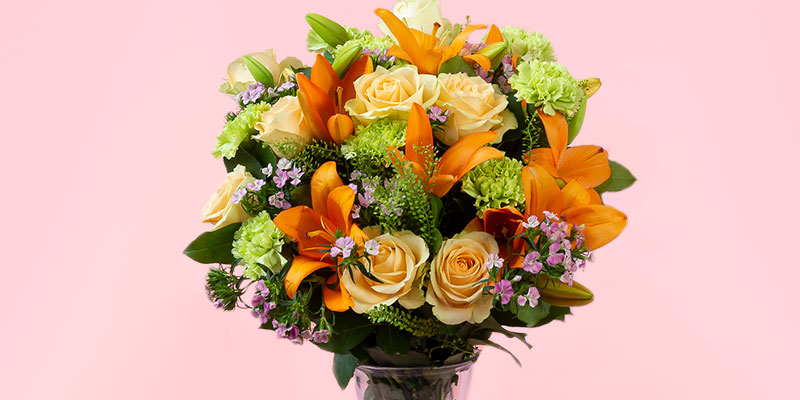 Orchids
If Mum has a taste for the finer things in life, consider gifting her an opulent orchid. In floriography, they stand for strength and integrity, but they also symbolise sophistication; this stems from their rarity during the 19th century when they were only found in the tropics.

Though often only available in pots, they also make for striking and elegant statement flowers in bouquets. Consider our chic and fragrant Cottage Garden, with its generous smattering of pink orchids among roses, lilies, stocks, lisianthus and clematis.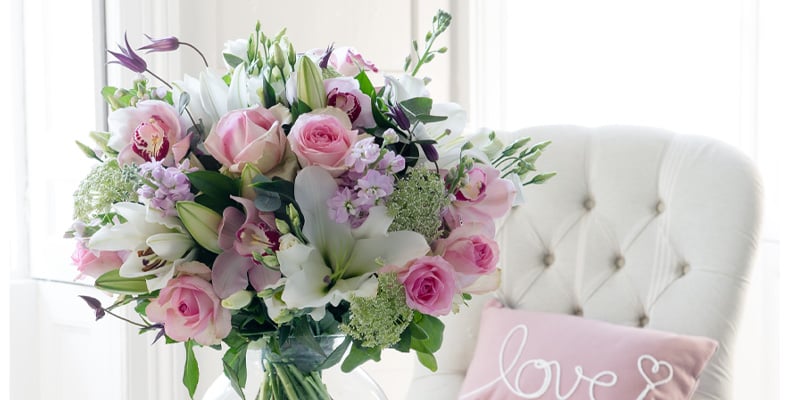 Lilies
One of our favourite Mother's Day flowers, the lily has long been considered a symbol of femininity, fertility and motherhood. Its history is rooted in a Greek myth involving Zeus and Hera, the king and queen of the gods.

The story began when Zeus embarked upon an affair with the mortal princess Alceme. He fathered her son, Hercules, and asked his wife, Hera, if she would feed her heavenly milk to the newborn. Understandably, she refused his request, so he drugged her and attached Hercules to her breast. Hera awoke, flung the baby away, and sprayed her milk across the sky.
Legend has it that most of the droplets formed the starry Milky Way, but those that fell to Earth bloomed into elegant white lilies, such as those found in our Chantilly and Cottage Garden bouquets.
Should Mum prefer a burst of colour, look instead to our vibrant Coral Garden or Mardi Gras, both of which come brimming with orange lilies.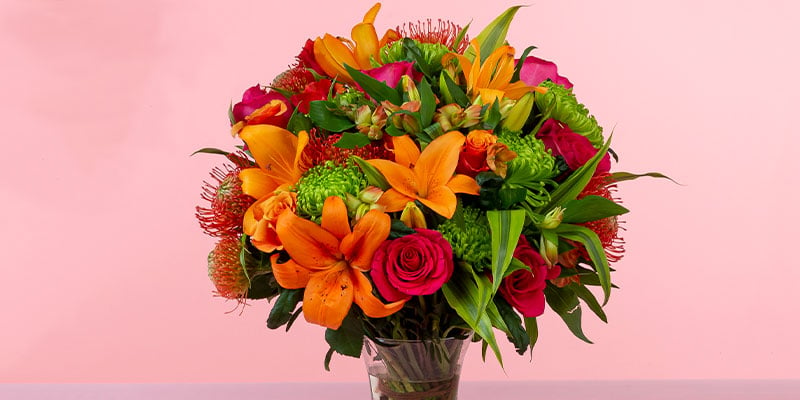 Roses
No mum will turn their nose up at roses, so timelessly beautiful is this ever-popular flower. In the traditional language of flowers, pretty pink roses are the best choice; they have meanings of joy and gratitude. Find them in our Cotswold Garden bouquet, alongside cherry blossom and sweet Williams, or opt for a pink rose plant that she can nurture.

If you consider your mum your best friend, opt for cheering yellow roses, symbolising friendship. Or, of course, you could ramp up the extravagance factor with a regal bunch of 100 luxury red roses; they're not only for Valentine's Day.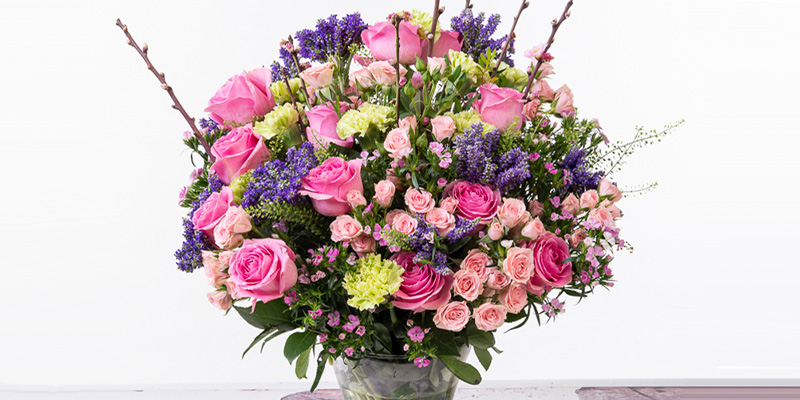 Hydrangeas
Hydrangeas have taken on a much more positive meaning than their Victorian association with arrogance and vanity. Today, their showy heads of clustered petals are a popular choice for saying thank you, making them excellent Mother's Day flowers. Should you agree, consider our Spring Hydrangea bouquet.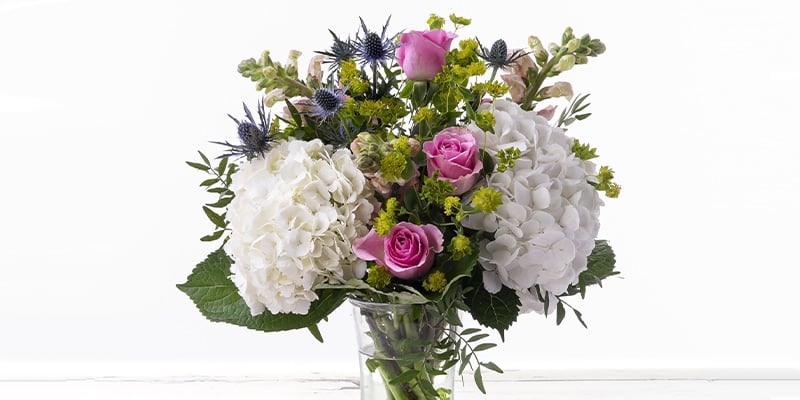 Alstroemeria
Few flowers represent mothers as well as the alstroemeria, which we champion for its outstanding longevity (up to three weeks in the vase, with proper care).

The Peruvian lily's six petals stand for commitment, understanding, empathy, humour, patience and respect – all wonderful qualities that the best mums not only possess, but also deserve. Find orange alstroemeria in our Mardi Gras bouquet, white in Purity, and soft pink in our lavish Afternoon Tea.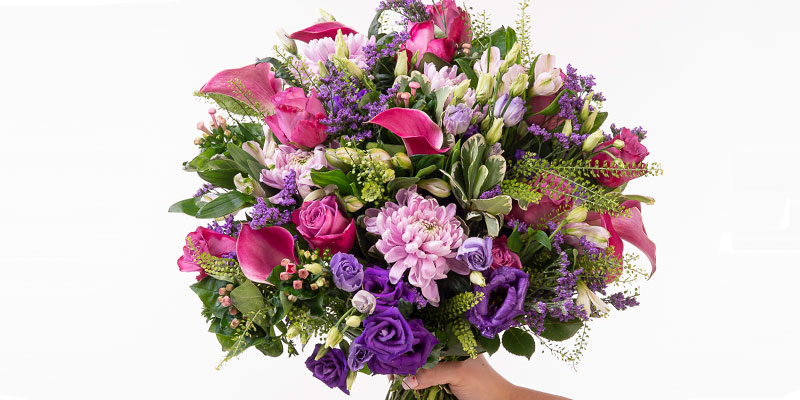 Lavender
Most mums would put some well-earned relaxation at the top of their Mother's Day flowers wishlist, and dainty and fragrant lavender is sure to do the trick.
Its little purple flowers smell divine and are often used to help soothe stress and aid a better night's sleep. You'll find sprigs of lavender in our stunning Pomegranate Rose & Peony bouquet (not that you need an excuse to send peonies anyway!)
Want to pamper her some more? Treat her to a relaxing night in with a bouquet paired with beautifully scented hand creams, candles, lotions, and more from Neom.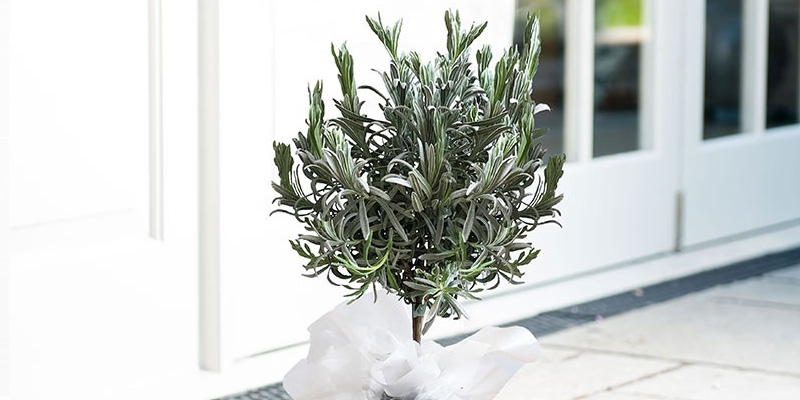 Hyacinths
Few flowers smell as heavenly as hyacinths, which symbolise love, constancy and commitment in the language of flowers – three qualities that the best mothers offer generously.

You'll find four blue hyacinths in our divine Scented Spring bouquet, along with purple tulips, lilac roses and white paperwhites. Our Spring Blossom bouquet also features lovely blue hyacinths, alongside pink spray roses, tulips, and elegant bouvardia.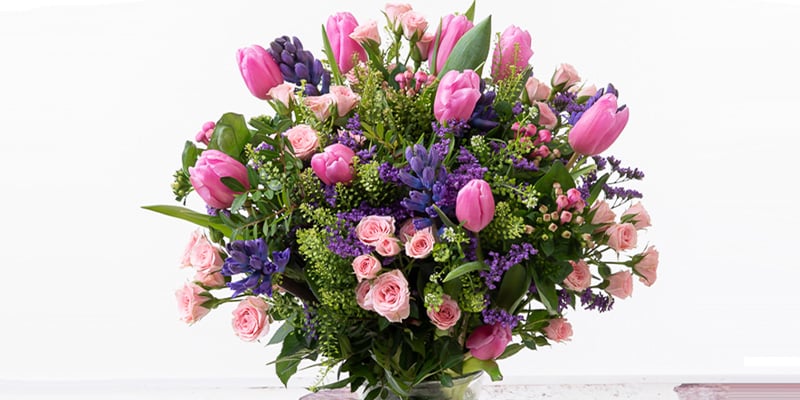 Tulips
Elegant in their simplicity, tulips come in a range of colours, from pink and purple to yellow and white. In floriography, they stand for deep love of all kinds, be it romantic or familial.

Their springtime blooming connects them with joy and positivity for the new season ahead, making them a cheering choice for any much-loved mother.

To the Victorians, gifting someone tulips was a way of saying 'There's sunshine in your smile'. Our Tulip Fancy bouquet features ruffled white parrot tulips as well as traditional pink and lilac varieties.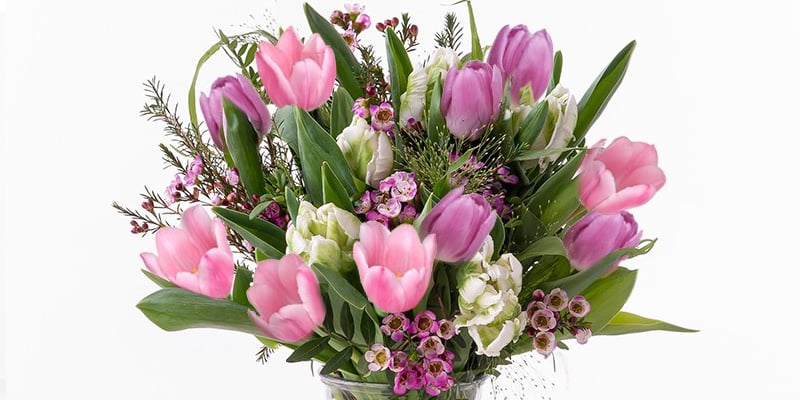 Daffodils
Daffodils, with their nodding yellow heads, represent rebirth and new beginnings, so gift some to a new mum. Heralding the start of spring, they suggest hope and resilience after surviving the long winter frost.
It's nigh on impossible not to smile at these uplifting blooms, which is why our daffodil bouquet features 100 of the finest British stems. The daffodil is also the national flower of Wales, making it a thoughtful choice for a Welsh mother.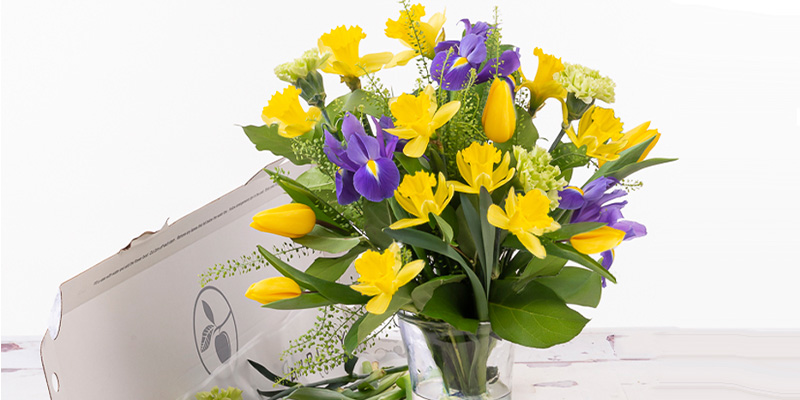 Baby's Breath
Cloud-like, dainty and almost ethereal, gypsophila is nicknamed 'baby's breath', making it an obvious choice for a loved one's first Mother's Day.
This popular wedding flower symbolises innocence and eternal love ('philos' means loving in Greek), which is why it can be found in our classy Purity bouquet, alongside pom pom chrysanthemums, white roses and fragrant freesia.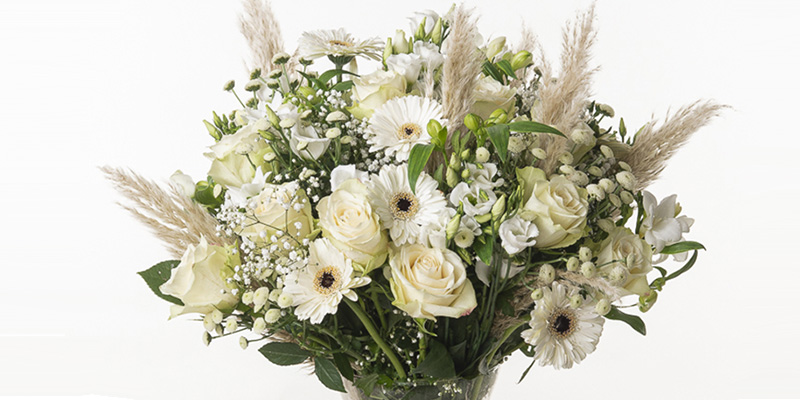 Mother's Day flower subscription
Let Mum know you love her all year round with our Mother's Day flower subscription. Prices start from £25 per month, including delivery, with 3-month, 6-month and 12-month pre paid options available.

Each bouquet comes with a tailored guide from our florist, telling your mum all about her stems and how to care for them. The first bunch to land on her doorstep will be our delightful Scented Spring. This one's full of seasonal favourites including tulips, hyacinths, and paperwhites.

---
Spoil Mum with a luxury bouquet from our new range of Mother's Day flowers. Buy now and save up to £20 with our limited Mother's Day offers or save £12 when you buy two or more bouquets.