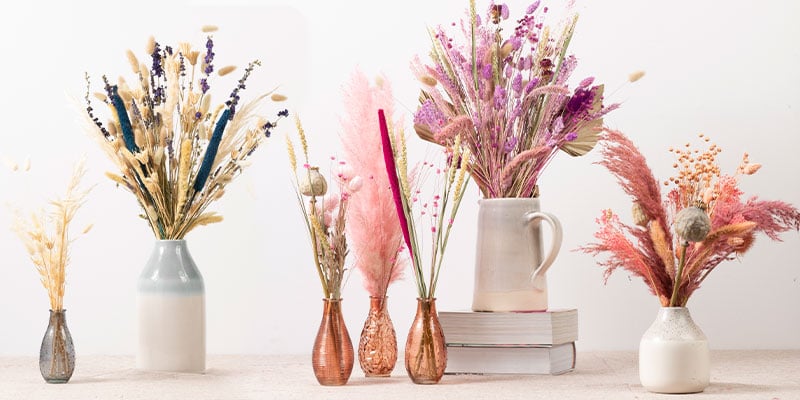 Find the perfect long-lasting bouquet with our guide to the best dried flowers and grasses.
As much as we all love receiving (and sending!) a beautiful big bouquet of fresh flowers, whether it's for a birthday, anniversary, or well, 'just because', it's undeniably always a little sad when the blooms begin to wilt.
Enter dried flowers, which can last years and years – just be sure to keep them away from too much heat, moisture and direct sunlight, as those with colours will fade and blooms can become brittle and break. Best of all, you can get dried flowers delivered to your door, just like fresh flowers, and they can even be sent in letterbox form.
Dry flower arrangements can be so versatile, from big and bold bouquets to little tied posies and dainty arrangements. Dried flowers come in more colours than just au natural too – plenty of dried stems are dyed and include jolly tones of pinks, purples and blues as well as pastel hues, so it's easy to find something to match your interior scheme.
Keep reading to learn about some of our favourite dried flowers and grasses!
Pampas Grass
These long fluffy stems are a 70s interiors trend that have made a full comeback in the past few years. You'll be familiar with them after they exploded in popularity on social media, where they're a mainstay in boho-themed wedding flowers, adding stunning height and texture. Pampas grass is most commonly seen in white and natural tones, but it can also be dyed lots of different colours - pink pampas grass is a favourite of ours!
Send a pampas grass bouquet as the ultimate dried flower gift, or to bring them into your home, go for around 8-10 large stems and display them in a big clear apothecary style vase and sit them on an unused fireplace.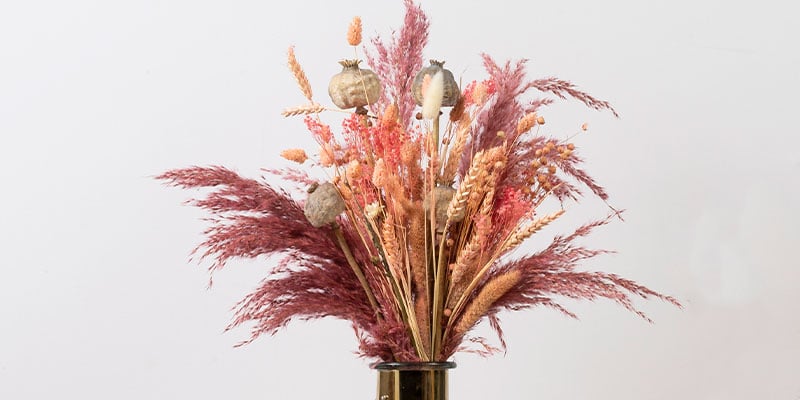 Wheat
Much smaller in size and more structured than fluffy, these dried grasses have a very autumnal feel to them owing to their connection with the harvest festival.
In bouquets, they can be used as the base to work around to easily create a countryside feel with. Display them in a terracotta vase at home, matching them with other similar earthy toned dried blooms and grasses, and create a rustic Italian kitchen feel.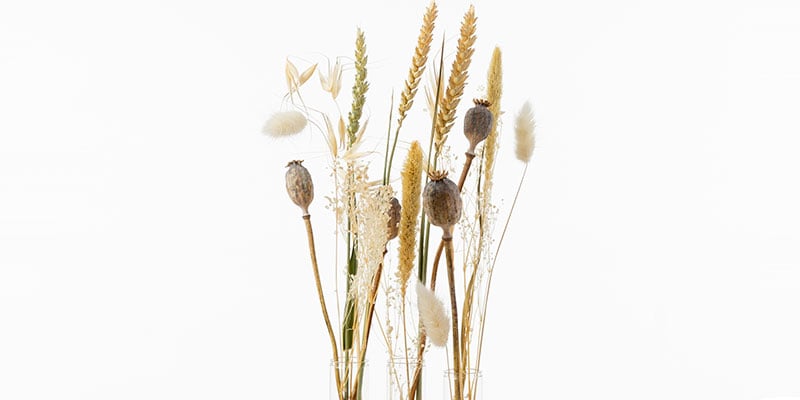 Lavender
Traditionally used for its scent, whether that's to send you off into a deep slumber, or to keep clothes drawers smelling fresh, the full stem of these small dried flowers can also be used in a bouquet, not only for its relaxing aroma, but also for its pop of colour.
Dried lavender flowers are particularly striking used on their own, or in mixed dried flower displays, arranged alongside contrasting lighter coloured stem. Go for an earthenware vase to really set off the colour.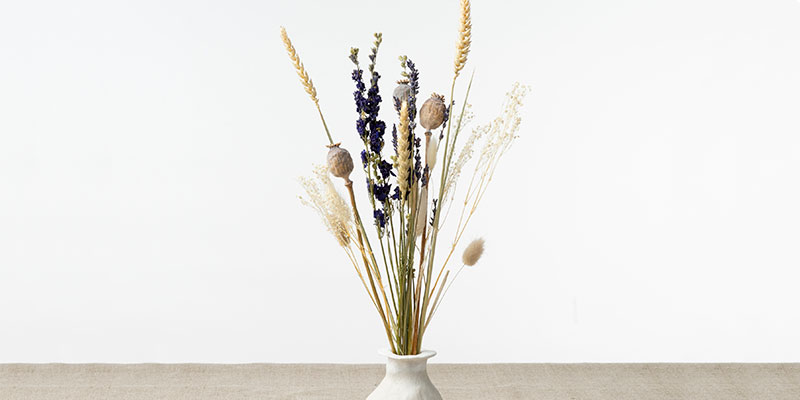 Bunny Tails
Much like pampas grass, but in mini form, there's no prizes for guessing for how these little dried grasses got their name. As one of the best dried flower forms, they're great for button holes as well as adorning autumnal wreaths and garlands too. Pop a generous bunch of them in a contrasting coloured vase, and use them as a decoration on a mantlepiece. Or in a multi-dried flowers boutique, they soften up a bouquet of harder looking dried blooms.
They're also one of the easiest to use when they're coloured, so if you're after a dried pink flower bouquet, or perhaps wanting some dried white flowers, bunny tails are an obvious choice.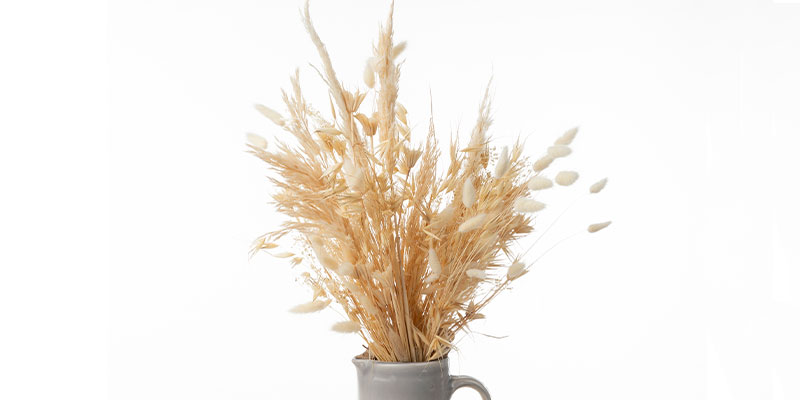 Palm Spears
Palm spears are one of the top showstopping pieces when it comes to dried flower bouquets and arrangements. You don't want them to overwhelm a bouquet, so use them sparingly. You'll likely find that just one or two large spears in a big bouquet bring plenty of drama to the shape and texture of the arrangement, and they're perhaps the biggest nod towards creating the ultimate boho look.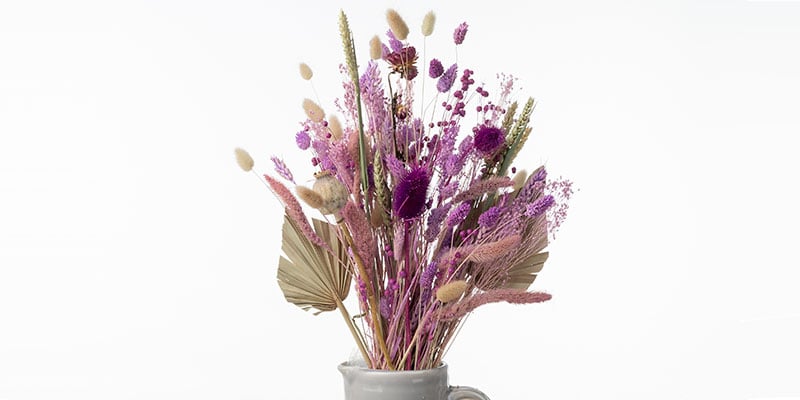 Delphiniums
If you're craving something a bit different, look to delphiniums (also known as larkspur). Although they're better known for their use in fresh bouquets, the delphinium's long spears and dainty flowers make excellent dried flowers too.
Often found in shades of purple, blue and white (which all still look perfectly natural), you can place them together in a country chic water jug to create a full bodied bouquet that will last far longer than their fresh-cut stemmed counterparts.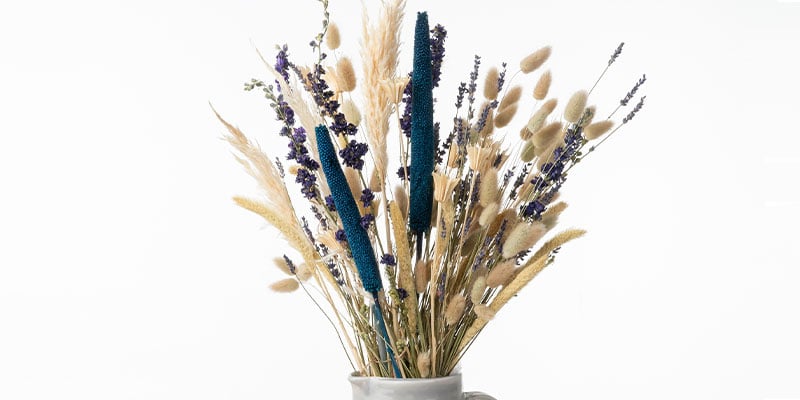 Poppy Heads
One of the most common dried flowers that have been used in bouquets for decades are poppy heads. These rounded heads bring such a strong and bold shape to bouquets, with their pretty floral-shaped lid.
Pop a couple into smaller bouquets for drama, or go all out and arrange 15 or so into a smallish vase for quite a majestic display. Or for something daintier, take one stem and put it in a little bud vase with a narrow neck.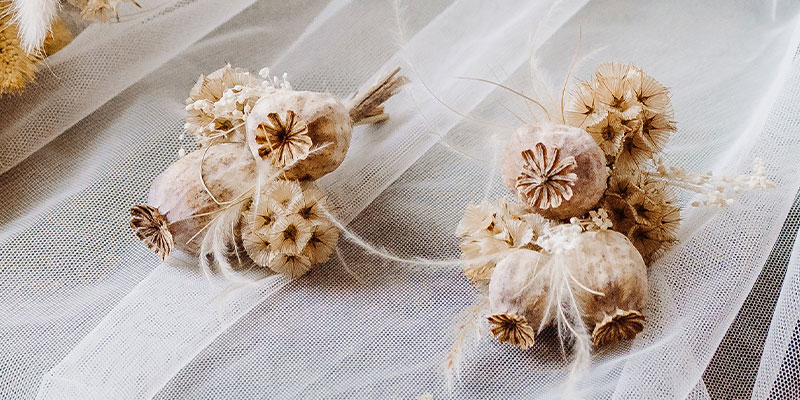 Thistles
As the floral symbol of Scotland, these little spiky globe thistles (also known as Echinops) add a real focal point to a bouquet, as well as a lovely deep lilac, blue, or magenta hue. Mix them with other smaller dried grasses such as bunny tails, wheat and lavender in pastel colours and display them in a textured white vase so they really stand out.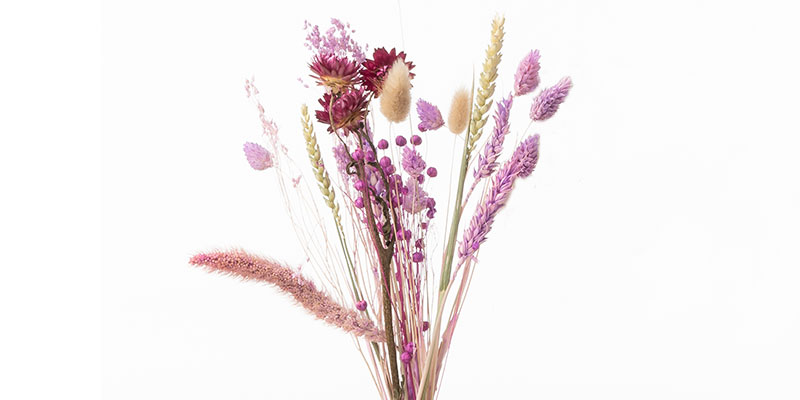 ---
Feeling inspired? Explore our beautiful dried flowers collection and treat someone to the long-lasting gift of a dried flowers bouquet, or find the perfect dried flowers to brighten up your home.