Anniversaries are a special day for any couple, giving you the chance to celebrate the years you've spent together. Here at Appleyard, we want to help you make the most of any special occasion, so we've put together this guide covering absolutely everything you need to know about planning the perfect wedding anniversary. From gift ideas and traditions, to romantic anniversary date ideas, you'll find it all here.
Wedding Anniversary Milestones & Traditions
Although every anniversary is important, old traditions dating back to the Holy Roman Empire have made certain wedding anniversaries into special milestones. Historians believe that these medieval traditions probably marked the very first celebrations of anniversaries.
On their 25th anniversary, husbands would give their wives a wreath of silver. Likewise, on the 50th anniversary, a wreath of gold was given. And so, silver and gold wedding anniversaries were born.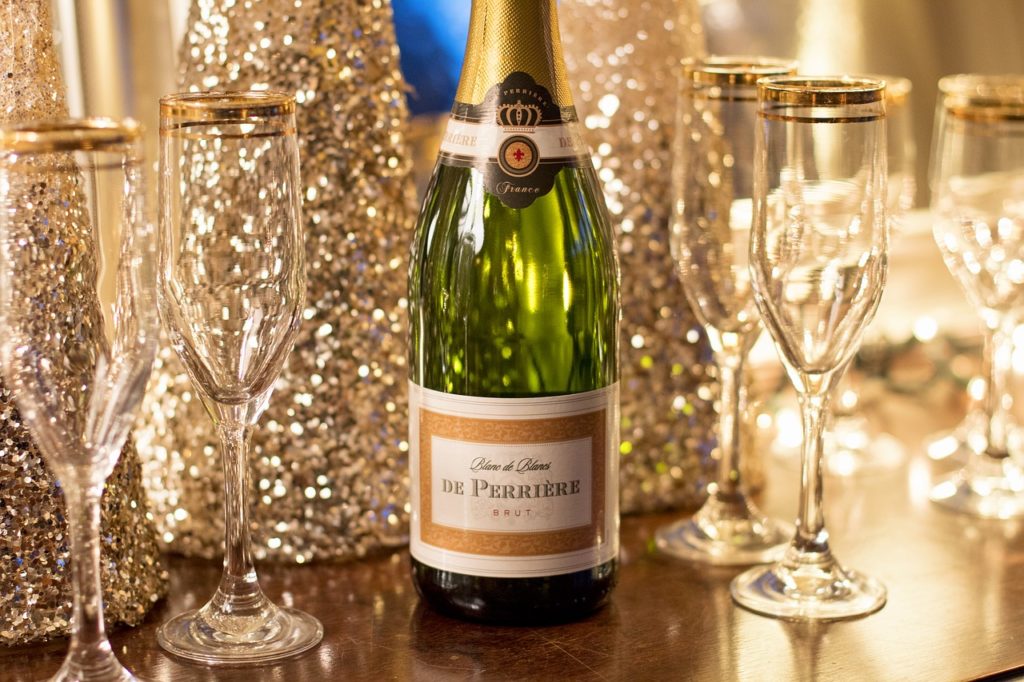 Nowadays, there are additional milestone anniversaries, including the pearl anniversary after 30 years of marriage, the ruby anniversary after 40 years, and after a momentous 60 years, the diamond anniversary. Other anniversaries are also marked with traditional gifts, which we will cover in our gifts section.
These milestone anniversaries are usually considered particularly important, and may be marked by parties with family and friends, or even the renewal of vows – so make sure you plan something special. And of course, congratulations on your many years of marriage!
Romantic Anniversary Date Ideas
Regardless of whether you're celebrating your first anniversary or your 50th, you and your partner will probably want to mark the day by doing something special. If you're struggling to decide what to do on your anniversary, here are some of our favourite romantic date ideas.
Dinner Date
It's a bit of a cliche, but you can't go wrong with a good old fashioned dinner date. After all, it's an ideal excuse for trying out that fancy restaurant you've been eyeing up! Wherever you end up going, you've definitely got an excuse to pop open a bottle of champagne and really celebrate.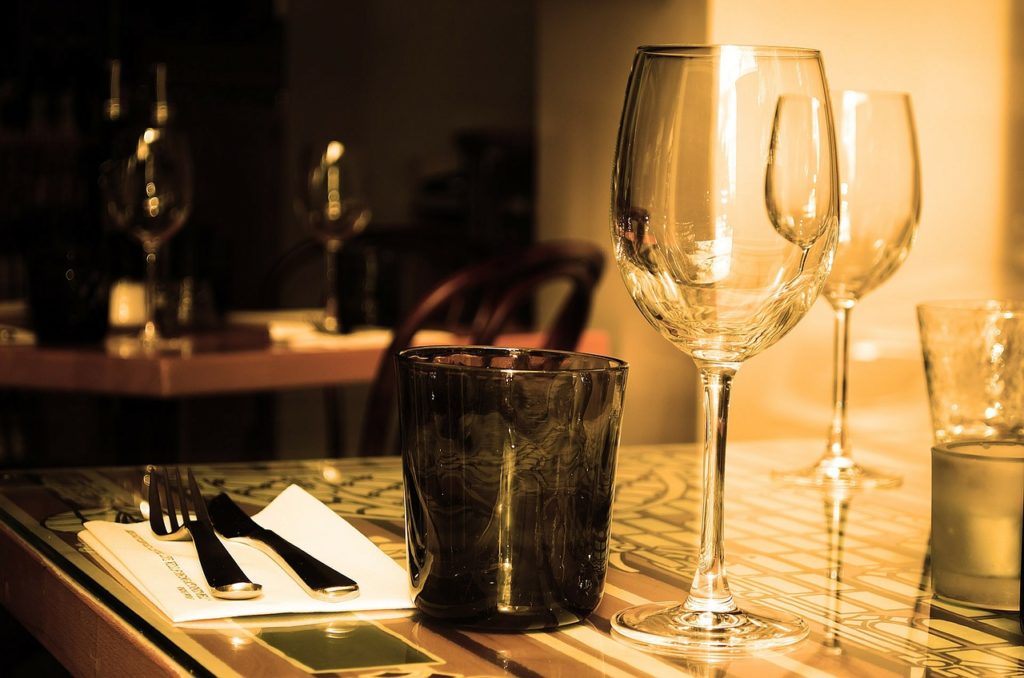 Go for a weekend away…
Escape the humdrum of daily life and book a mini break to celebrate your anniversary. Whether you'd prefer to spend a few days relaxing at the seaside, a cosy weekend in a countryside B&B, or a city break exploring the sights and sounds of a metropolis, a weekend away is the perfect opportunity to reconnect and really appreciate why you fell in love in the first place.
…or a longer holiday
For those bigger anniversaries, why not spend a week or two celebrating somewhere a bit further afield? From observing the ethereal beauty of the northern lights in Iceland, to exploring  the sun soaked streets of Italy's enchanting towns and cities, the world is full of romantic destinations perfect for celebrating your anniversary in style.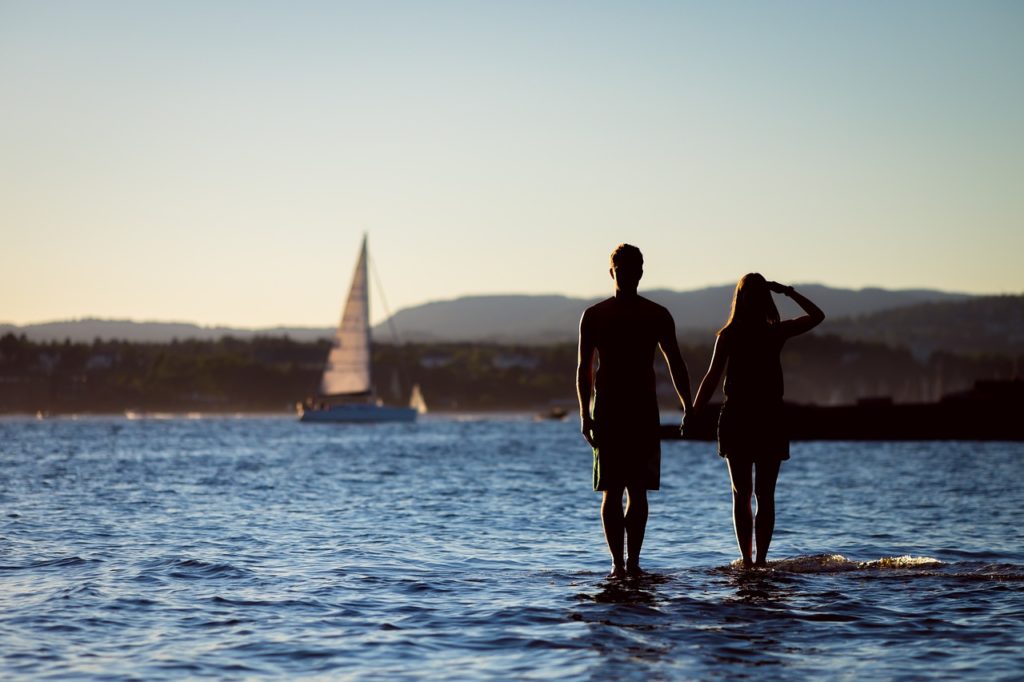 Music Events
Whether you're more into an evening at the opera, or a night spent partying away at a rock gig, concerts and other music events are a great way to spend your anniversary. Why not go and see that band you both love?
Enjoy a relaxing spa day
A couple's spa day is a lovely way to unwind and spend some quality time together. Many spas offer days catered to couples, usually with a choice of treatments like massages, facials, and body scrubs. The two of you will definitely come away feeling pampered and refreshed after a day spent relaxing in a jacuzzi or sauna.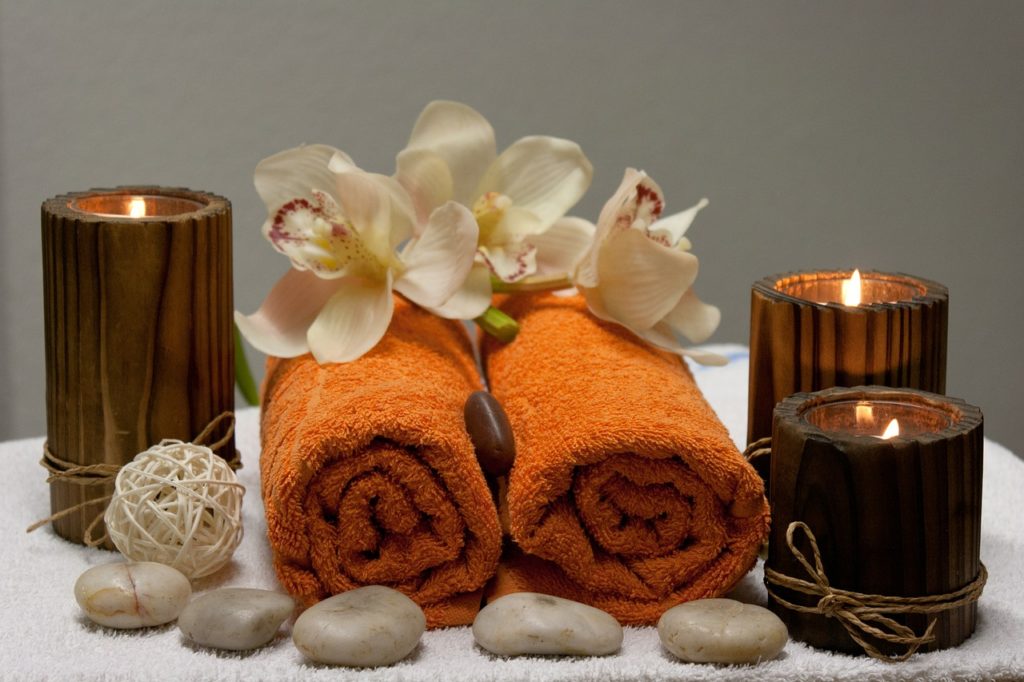 Bar Hopping
Your anniversary is the perfect excuse to paint the town red! Plan an evening exploring your local bars and pubs. We think cocktails, wine, and champagne should definitely be on the menu!
Scenic Walks & Hikes
Get away from the hustle and bustle and explore some of the UK's fantastic countryside. There are plenty of national parks and nature reserves perfect for a romantic hike, from the Lake District to the Yorkshire Peaks and Snowdonia National Park. Plus, you can always finish off a day's hike with a romantic meal and drink in a cute countryside pub.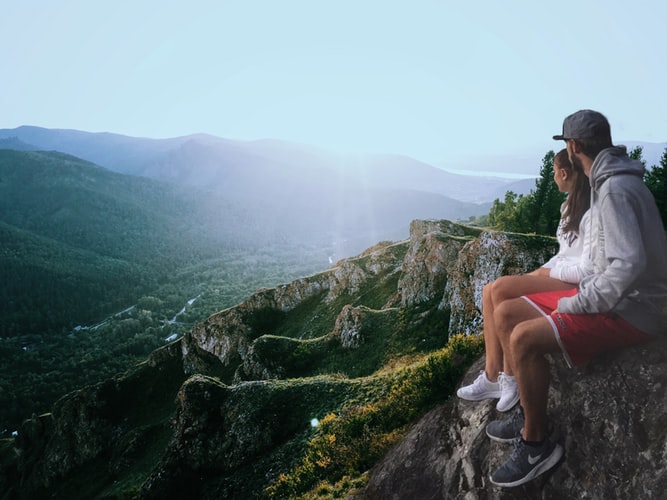 Fun Date Activities
For a more understated anniversary date, why not book a more typical date activity? We're thinking fun activities like crazy golf, bowling, or even going to the cinema. These are great choices when you don't want to make a massive fuss for your anniversary.
Relive your first date
Why not head back to the place you first met and spend your anniversary revisiting those first hours you spent together? Your anniversary is the perfect time to reminisce on your relationship so far and remember all the great times you've had as a couple. 

Wedding Anniversary Gifts
Another important aspect of any anniversary celebration is the anniversary gift. It's a time to spoil each other and make your partner feel loved. You know them better than anyone, but if you're finding it hard to choose a gift, there's some inspiration for you in this section.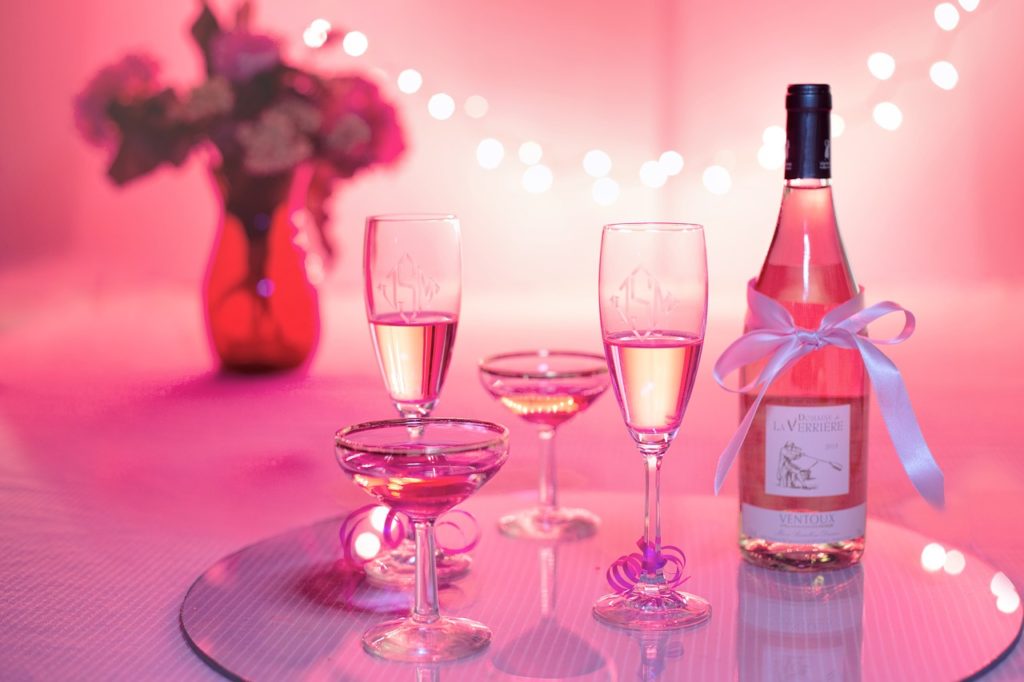 What are the traditional wedding anniversary gifts by year?
Traditionally, particular gifts have been linked with each anniversary. These start as lower value and weaker materials, and build up to more expensive and more durable items, to symbolise the growth of the relationship. See the full list below.
| | | | |
| --- | --- | --- | --- |
| 1st Anniversary | Cotton | 25th Anniversary | Silver |
| 2nd Anniversary | Paper | 30th Anniversary | Pearl |
| 3rd Anniversary | Leather | 35th Anniversary | Coral |
| 4th Anniversary | Linen | 40th Anniversary | Ruby |
| 5th Anniversary | Wood | 45th Anniversary | Sapphire |
| 6th Anniversary | Sugar | 50th Anniversary | Gold |
| 7th Anniversary | Wool | 55th Anniversary | Emerald |
| 8th Anniversary | Salt | 60th Anniversary | Diamond |
| 9th Anniversary | Copper | 70th Anniversary | Platinum |
| 10th Anniversary | Tin | 80th Anniversary | Oak |
| 12th Anniversary | Silk | 85th Anniversary | Wine |
| 15th Anniversary | Crystal | 90th Anniversary | Stone |
| 20th Anniversary | China | | |
Obviously, in the modern age you probably won't want to stick religiously to these – after all, after 90 long years of marriage who would be impressed to receive a slab of stone?
However, you can always use these traditional gift ideas as inspiration, and interpret them more creatively. For example, for the paper gift, you could make cute origami gifts, or put together a photo collage of the things you've done over the year.
Anniversary Flowers
Flowers are a popular anniversary gift for a reason – they're a classic symbol of romance, and so a beautiful bouquet of flowers is a lovely way to express your love and affection. A flower arrangement will look stunning in your home, and help to make your anniversary feel even more special.
Anniversary Flowers by Year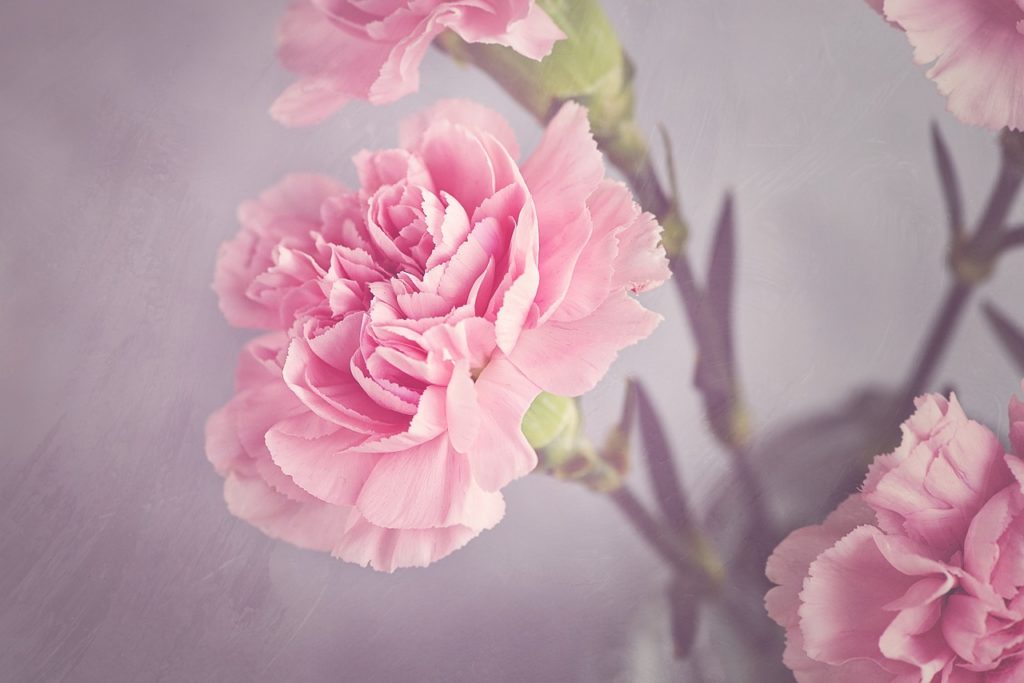 As with gifts, there are traditional anniversary flowers for each year of marriage. Whilst there's definitely no need to follow these guidelines, you could select a bloom featuring the year's variety to make the gift feel more personal and thoughtful. 

| | | | |
| --- | --- | --- | --- |
| 1st Anniversary | Carnation | 10th Anniversary | Daffodil |
| 2nd Anniversary | Lily of the Valley | 11th Anniversary | Tulip |
| 3rd Anniversary | Sunflower | 12th Anniversary | Peony |
| 4th Anniversary | Hydrangea | 13th Anniversary | Chrysanthemum |
| 5th Anniversary | Daisy | 14th Anniversary | Orchid |
| 6th Anniversary | Calla Lilly | 15th Anniversary | Rose |
| 7th Anniversary | Freesia | 25th Anniversary | Iris |
| 8th Anniversary | Lilac | 30th Anniversary | Gladiolus |
| 9th Anniversary | Bird of Paradise | 50th Anniversary | Yellow Rose |
Our Favourite Appleyard Anniversary Bouquets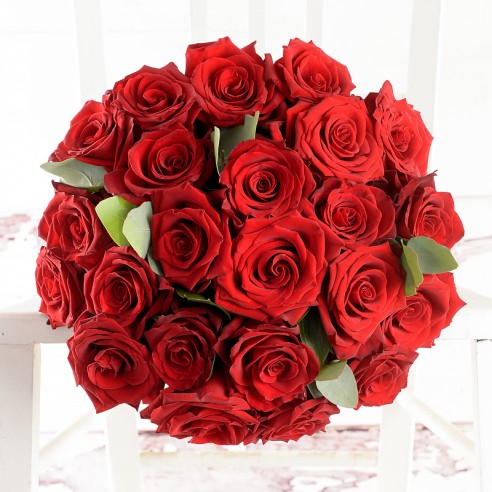 A bouquet of 50 luxuriously velvety roses in deep red. 
There's no flower more widely associated with love than the red rose, so we would definitely recommend this bouquet for an anniversary. Red roses symbolise love, romance, and passion, and will instantly say "I love you" to your partner. 
For those really lavish occasions, upgrade to 100 (or even 200!) red roses for a truly sumptuous anniversary present. And if you're not a fan of red, we also offer beautiful rose bouquets in peach, lavender, and sorbet pink.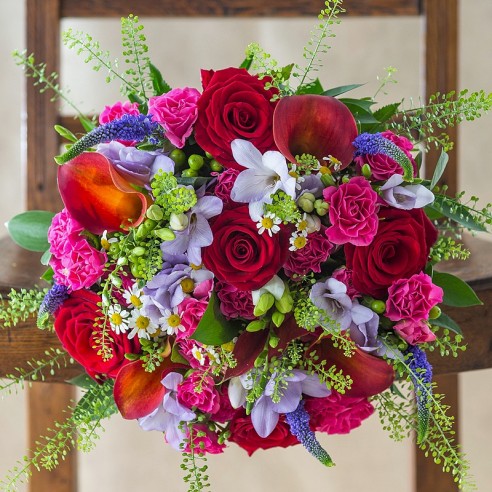 Our signature luxury collection, the Couture collection features our finest stems arranged in eye catching and indulgent floral designs. Jade is a perfect anniversary gift, with vibrant cerise spray roses, mango calla lilies, radiant red grand prix roses, and fragrant lilac freesia. Elegant and unusual, this bouquet is sure to impress on your anniversary.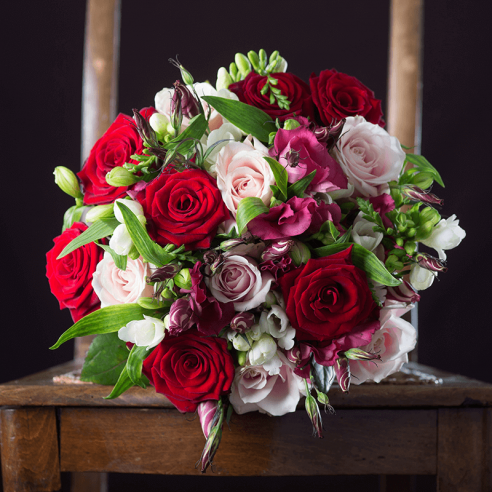 Treat her like the goddess she is with this bouquet of red grand prix roses, soft pink sweet avalanche roses, lisianthus adom, and scented white freesia. Classically romantic colours, radiant stems, and an intoxicating fragrance make this an iconic anniversary bouquet.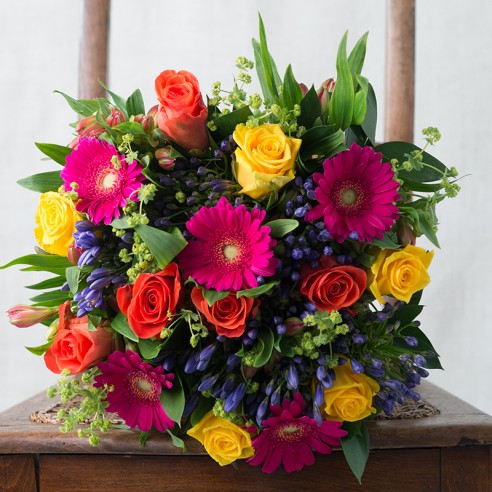 Your anniversary is a cause for celebration, and Citrus Coulis is a bouquet that really shows that. Featuring an exotic mixture of our most radiant and vibrant stems, this arrangement looks just like fireworks. Stems include cerise germini, bright wow and tara roses, and deep blue agapanthus.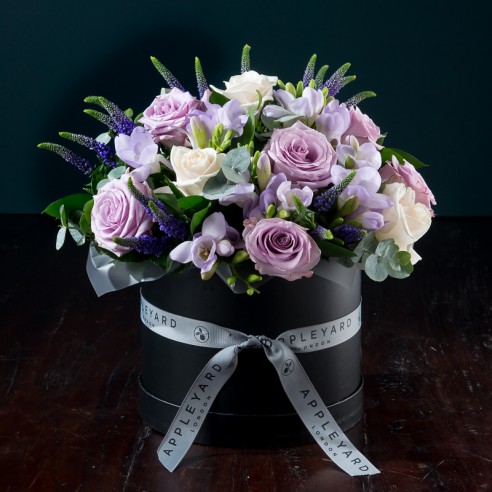 For something more unusual – yet equally romantic – our hatbox arrangements are sure to make an impression on your anniversary. This hatbox features pale lavender Ocean Song roses, creamy Vendela roses, scented lilac freesia, and blue spray veronica, all packed into an elegant Appleyard hatbox. Our hatboxes stand out from more typical arrangements and will definitely surprise and delight your partner on your big day.
Show your love until next year's anniversary with a flower subscription. With an Appleyard subscription, you'll receive beautiful florist styled blooms each and every month for up to 12 months. The perfect gift for year round happiness!
Alternative Anniversary Gifts
Jewellery
As a lasting symbol of your relationship, jewellery is a great option for anniversaries. Plus, jewellery can be engraved with a romantic message, or your anniversary date to give it a personal finish.
Champagne
Champagne is always a good option as it's something you can enjoy together! Nothing says celebration like popping a bottle of bubbly. You can also pair it with flowers for a more extravagant gift. 
Champagnes and wines are also a superb anniversary gift for other couples on a big anniversary.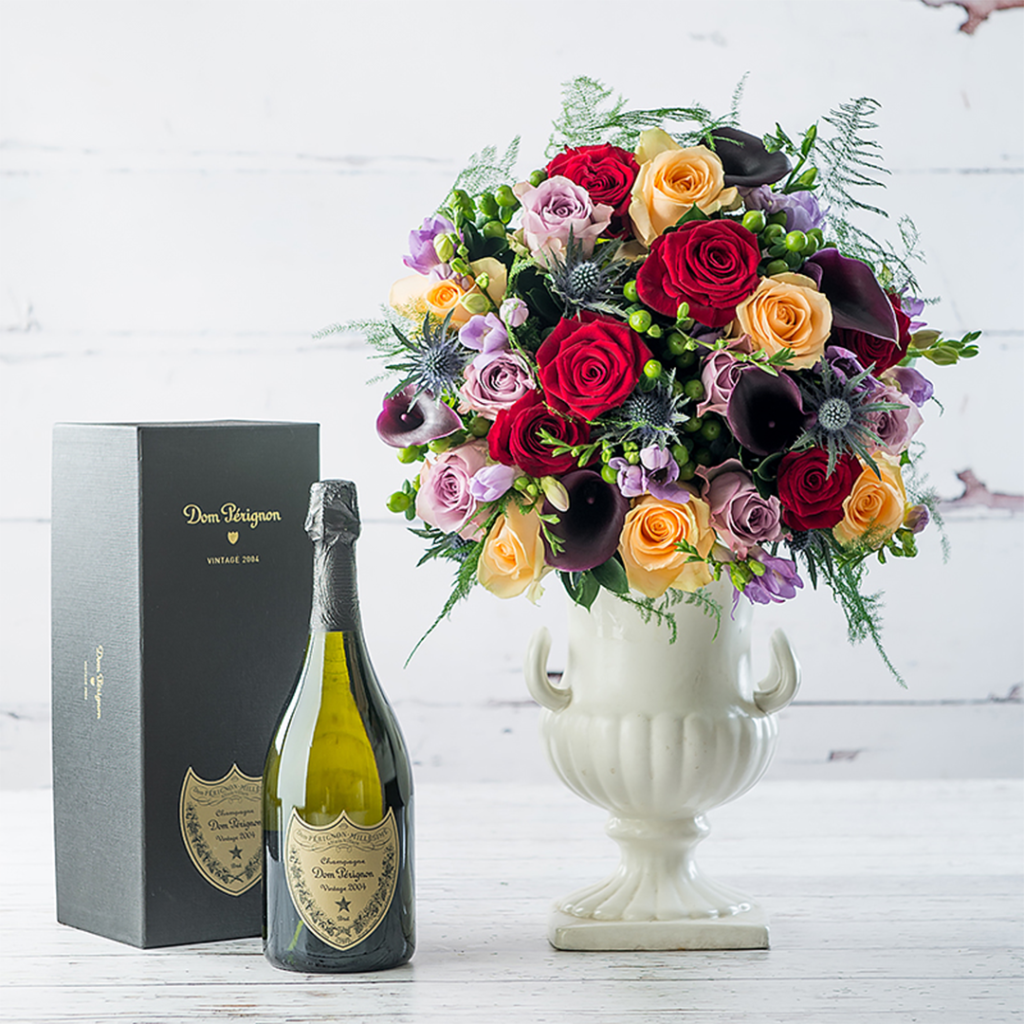 Scrapbooks & Photo Gifts
Creating a scrapbook of the year's events is a lovely way to commemorate the adventures you've had. You can read through it with a glass of wine and have a good old giggle about the stuff you've been up to. 
Personalised Gifts
Personalised photo frames, books, keepsake boxes, and similar can make for very thoughtful gifts. Often you can add your own photos or personal message, such as your names or your wedding date.
---
The most important part of any anniversary is the two of you spending time together, but we hope this guide helps you make this year extra special!

Share this post with your friends