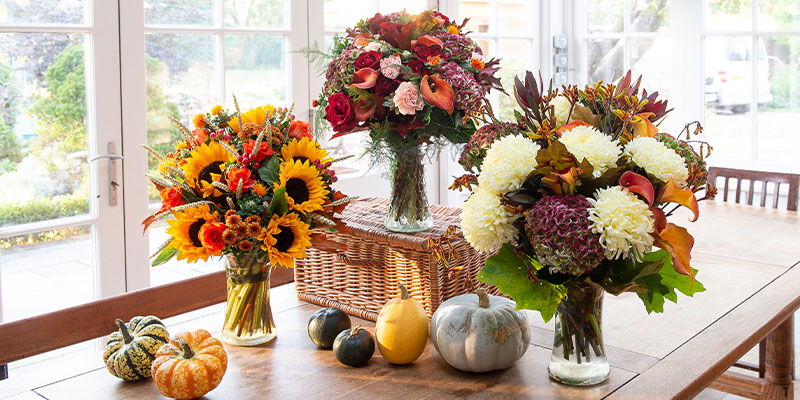 Celebrate autumn with some of our favourite seasonal flowers.
The season of mists and mellow fruitfulness is upon us once again, meaning it's time to dig out those woolly jumpers, bake an apple crumble, snuggle up in front of a crackling log fire and treat yourself to a joyful bunch of our best autumn flowers.
Rich in cosy colour, the rustic reds, oranges, golds and greens of autumn leaves and blooms make them some of our all-time favourites, which is why our new autumn range is our most beautiful and bountiful yet.
From classics such as cerise roses, copper calla lilies and golden sunflowers to the more unusual likes of goldenrod, anigozanthos, leucadendron and brassica, this year's stems are sure to brighten up a dreary day.
Ready to enjoy a floral fall? You'll find these dazzling varieties jazzing up our autumnal bouquets:
Hydrangea
Magnificent hydrangeas always steal the show with their huge, ruffled heads packed full of little flowers. They are thirsty plants, hence the 'hydro' in their name, so keep their water fresh and topped-up.
Symbolising heartfelt emotion in Japanese legend, our red/green hydrangeas look like they have been dipped in a glass of Merlot. They make fantastic dried flowers for festive decorations; simply leave them to dry out in the vase, away from direct sunlight. Find them in our Butternut Squash and Pumpkin Spice bouquets.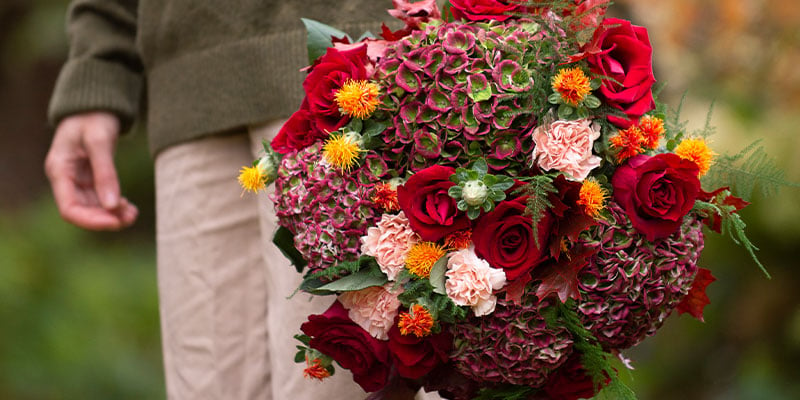 Brassica
Believe it or not, the intriguing brassica that dominates our Autumn Garden bouquet is a type of ornamental cabbage. Once braised and flavoured with apples and cider vinegar, nutrient-rich red cabbage is known as Blaukraut – a popular German side dish often served at Christmas – but this decorative variety tastes bitter, making it better suited as a garnish.
Brassica's leaves grow more reddish in acidic soil, with alkaline soil turning the leaves greenish yellow, such as in our Apple White bouquet. Cauliflower, broccoli, kale and Brussels sprouts are all part of the brassica family, and rumour has it that dreaming of cabbage means a baby might be on the way. It's either that or a vast fortune, so take your pick!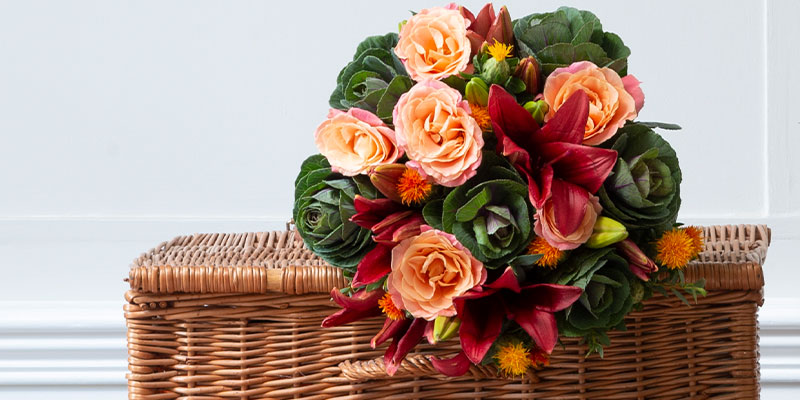 Sunflowers
Although we normally think of them as summer blooms, sunflower season actually lasts into the autumn. They're a great addition to any autumn bouquet, with their sunny yellow blooms beautifully complementing the fiery reds and oranges of the season. They'll definitely make you feel warmer on those chilly autumn days too - like a bit of sunshine in a vase!
Want to get creative with your sunflowers this year? Try popping them in a pumpkin vase for an on-trend nod to the season.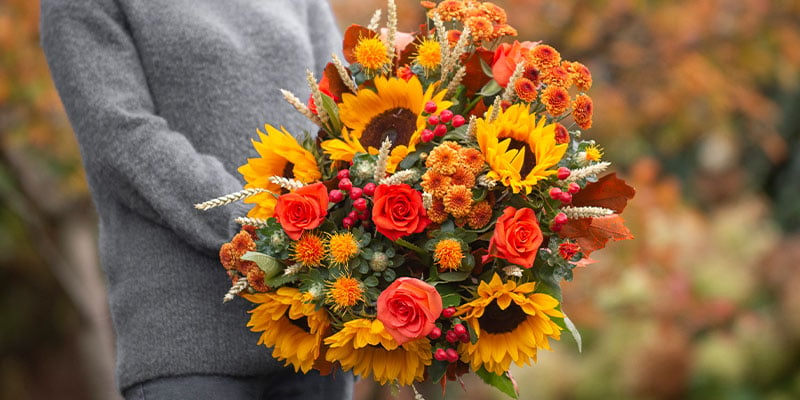 Chrysanthemums
Chrysanthemums are at their best in the late summer and autumn, and we love them for the striking textures and colours they bring to our bouquets. Vivid green chrysanthemum blooms beautifully contrast the oranges and reds in our Autumn Punch bouquet, whilst a sprinkling of coppery mini chrysanthemums add a delightful pop of texture to Pumpkin Pie.
The birth flower of November, chrysanthemums are an apt and traditional gift for an autumn birthdays. They've got one of the longest vase lives of any flower as well, lasting up to 3 or 4 weeks with proper care. Perfect for keeping your home colourful throughout the season.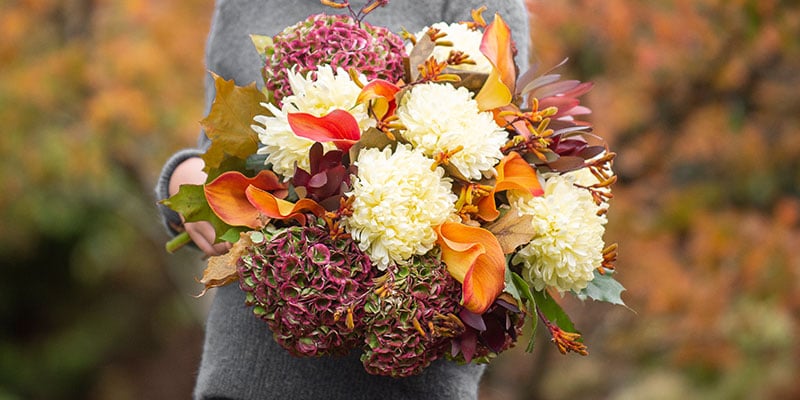 Oak
Nothing heralds the arrival of autumn quite like an oak tree slowly turning brown, before dropping its crunchy leaves for us to stomp through. Luckily, Appleyard's florists saved some orange oak leaves for our Pumpkin Pie bouquet, where they add natural, majestic texture to sunflowers, roses and chrysanthemums. If you're after a letterbox option, consider Firecracker, with its 'foraged from the forest' feel.
In ancient times, kings would wear crowns of oak leaves to reflect nobility and godly blessing, while Roman commanders would be presented with them during victory parades. Oak trees remain much revered as enduring symbols of constancy, honesty, fertility and power.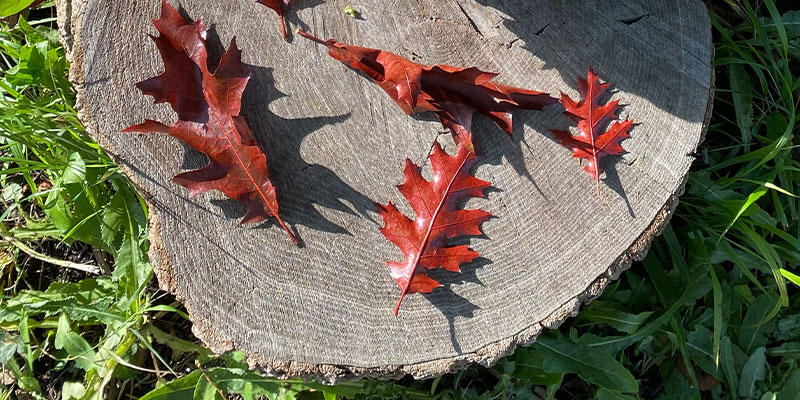 Goldenrod
Goldenrod, also known as solidago, brings a charming hint of the hedgerows to our Lemon Sherbet and Firecracker letterbox bouquets. This bee-friendly wildflower, with its tall spikes of cheery yellow flowers, has long been invoked as a symbol of hope, luck and a pioneering spirit.
Often used in herbal healing to reduce inflammation, stop muscle spasms and as a diuretic, goldenrod is also touted as a soother of gout, arthritis and eczema. Its fresh or dried flowers are used to make tea, and its leaves can be added to stews, soups and stir fries.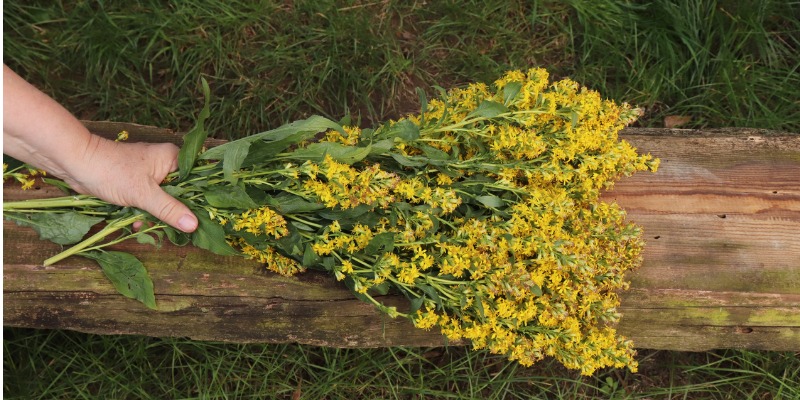 Carthamus
Exploding throughout our Autumn Punch bouquet like miniature fireworks, orange carthamus, also known as safflower, zings against lime green chrysanthemums and crimson photinia. This thistle-like plant's tender shoots make a tasty herb for salads, while its edible oil makes a good substitute for saffron and has been proven to help with weight loss.
Carthamus was popular in ancient Egypt, where it was used to dye textiles, with clothing dyed with safflower found on mummies centuries later. Its folklore meanings are of happiness, good luck and attractiveness, perhaps due to its slight stickiness.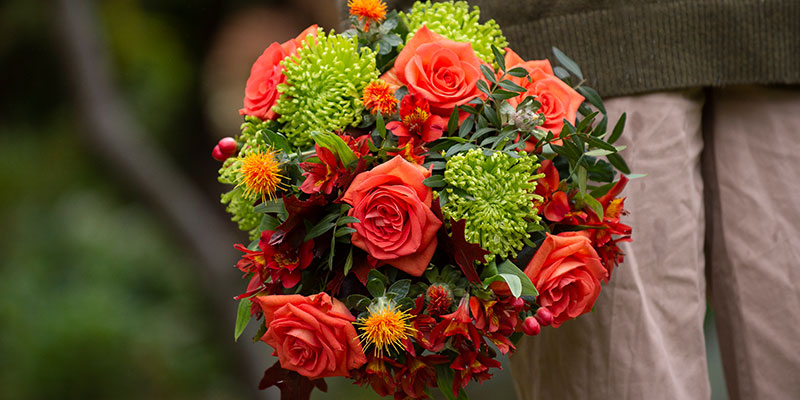 Hypericum Berries
No autumn bouquet is complete without a smattering of hypericum berries, be they fresh green as in our Pumpkin Chutney, or juicy red like in our Autumn Punch. Some florists call them coffee berries because of their resemblance to coffee beans, but they are poisonous so please don't eat them! 
In bygone days, sprigs of mood-lifting hypericum, also known as St John's Wort, were hung over doors, windows and paintings to protect a home from evil spirits. Hence, in the Victorian language of flowers, hypericum symbolises superstition. Once it stops flowering with bright yellow petals, the berries appear, making it a plant that keeps on giving throughout the year.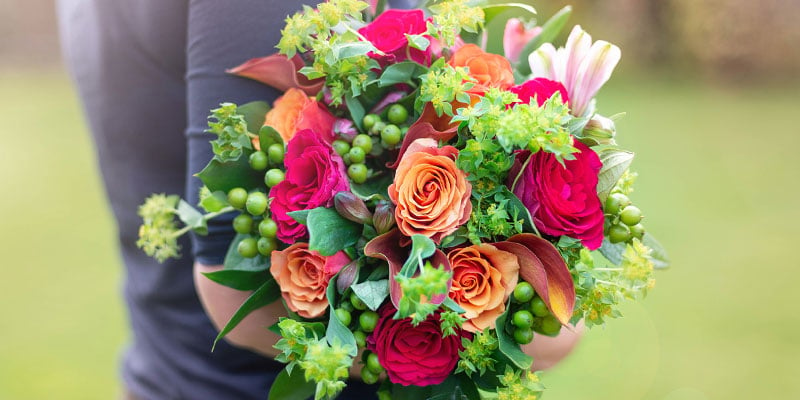 Anigozanthos
This quirky stem is also known as Kangaroo's Paw on account of its Australian origin, animalistic shape and furry texture. Found adding lively movement to our Pumpkin Spice bouquet (the 'Gold Fever' variety), hardy anigozanthos grows in arid terrain and is known to attract colourful hummingbirds. 
Kangaroo's Paw symbolises uniqueness, making it a thoughtful choice for a friend who values their individuality – or is moving down under, of course!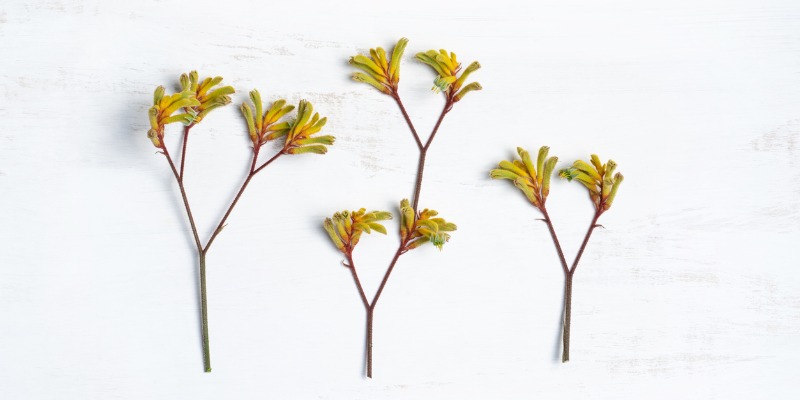 Leucadendron
Native to South Africa, evergreen leucadendron is a favourite with florists for the sculptural interest it brings to bouquets. Our Pumpkin Spice bouquet features the 'Safari Sunset' variety, with its burgundy bracts, which was actually developed in New Zealand in the Sixties. 
In the wild, some shrubs can grow up to 30 feet tall, but most reach a far tamer 30cm. Happily, leucadendron has a wonderfully long vast life of between 14 and 25 days – oh the joy of striking foliage! – meaning it should outlast the flowers in your bunch. Try pairing it with pines and grasses for a trendy rustic vibe.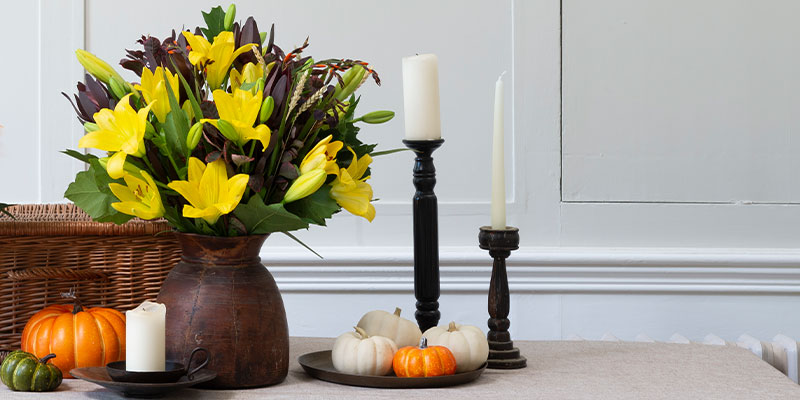 Asclepias
Commonly known as butterfly weed because of how much our winged friends enjoy it, asclepias is a species of milkweed that hails from North America. Pioneers used to boil its roots to treat respiratory illnesses and diarrhoea, while down from the seed pod was spun to make candle wicks.
In Greek mythology, Asclepius was Apollo's son. He became famous for creating potions that could cure snakebites and was later turned into a constellation by Zeus. Nowadays, his namesake's fiery orange flowers add pops of celebration to bouquets, with asclepias symbolising remembrance.
Wheat
Known as the 'staff of life', wheat has long been a symbol of fertility and abundance. It is a food staple in many cultures, some of which consider it a gift from heaven, so what better time to display it than in autumn, when it's traditionally harvested?
Soft spires of fluffy wheat can be found in our Pumpkin Pie bouquet, proudly poking out from a sea of orange roses and oak leaves. 
---
Celebrate snuggle season in fabulous floral fashion with our new range of autumn flowers, including all the stems mentioned above. Shop today, assured by our 100% Happiness Guarantee.