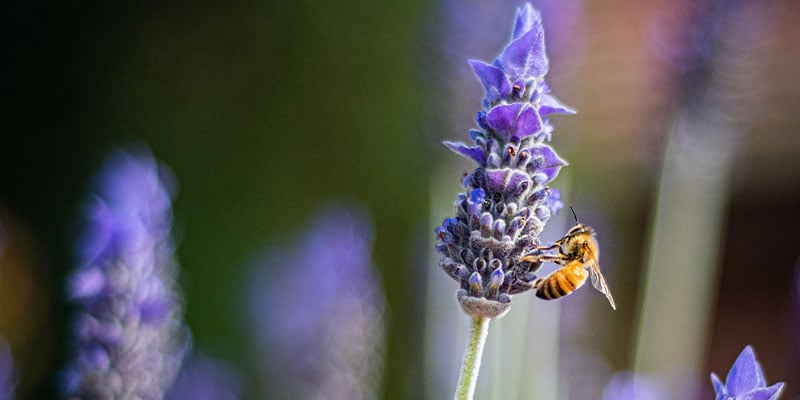 Fill your garden with wildlife with these flowers that attract bees to your garden and help to save the bees.
Why are Bees Important?
There is something quite beautiful about having wildlife in your garden, especially pretty little bees. But not only are bees beautiful, they are also very beneficial for the health of your garden. Bees are vital to plant (and human!) life as they are pollinators, which allow all flowers and plants to reproduce. In fact, bees are responsible for 80% of all pollination worldwide, and 90% of our human food crops are reliant on bees.
Sadly, the bee population is in decline. This has been caused by several factors, including insecticide use, habitat loss, and global warming. If bee colonies continue to collapse, this could have major environmental consequences - many plants would go extinct, and it would likely lead to widespread famine. It's definitely in our best interests to do what we can to help the bees.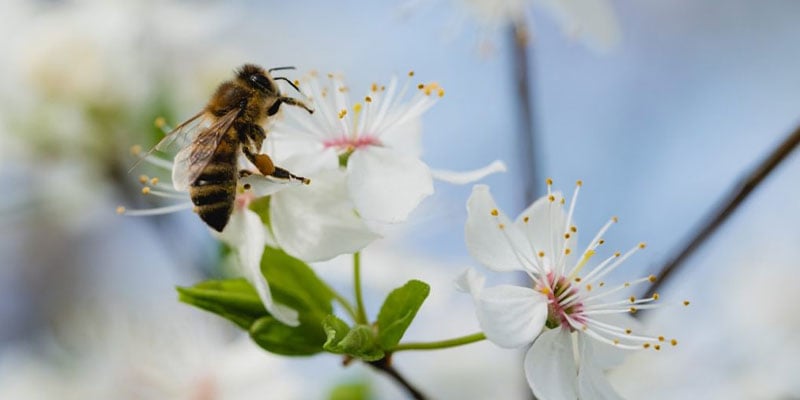 Help the Bees with a Bee-Friendly Garden
We can all do our small bit to help the bees around our homes by planting a bee-friendly garden.
To encourage and welcome bees into your garden, you should opt for bee-friendly flowers and plants, more specifically, those that offer nectar and pollen. Ideally, you'll want to have flowering plants throughout the year - after all, bees need a habitat and food all year long, and winter is when colony collapse is at its worst. Try to include a mixture of trees, shrubs, herbs and flowers to give bees the variety they need to thrive.
Bees are especially attracted to blue, purple, and yellow flowers. Avoid double petaled flowers, as bees find it difficult to access the nectar.
Here's a few species to look for and plant to benefit bees throughout the seasons.
Spring Flowers for Bees
In the spring, colonies will have thousands of young bees to feed and so need plenty of nectar to keep the hive healthy and strong. You're most likely to see them on sunny and mild days.
Crab Apple
Flowering crab apple trees bloom with an abundance of white or pink flowers in the spring, providing a rich supply of pollen for bees. In early autumn, the tree will produce fruit which can be used in cooking.
Lungwort
Lungwort flowers very early in the spring spring, giving bees a vital source of nectar at a time when typically there are less flowers in bloom. Lungwort has funnel shaped flowers, in colours like blue, purple, red, white, and pink depending on the variety. 
Hardy Geranium
These are very popular garden flowers and are available in a wide range of colours, including violet, purple, pink, blue, and white. They start flowering in spring, but continue to produce flowers throughout the year, making them a brilliant long term pollen source. Blue and violet varieties are particularly attractive to bees. 
Honesty
Honesty blooms in April with delicate clusters of fragrant white or purple flowers. Its pollen rich petals are attractive to a variety of pollinators, including butterflies, moths, and bees.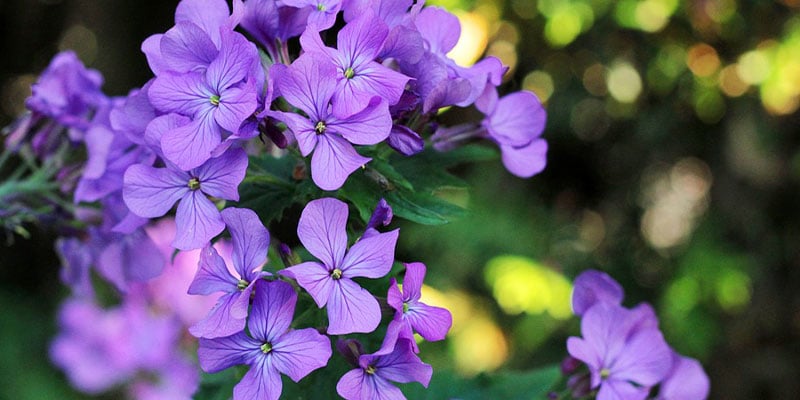 Summer Flowers for Bees
The main challenge with summer flowers is planting the right varieties to cover the whole season. It might sound surprising, but in June there can be a shortage of flowering plants, known in beekeeping as the 'June Gap'. This can lead to a nectar shortage, where bees find it difficult to sustain their hive, as there's nothing for them to forage. This can be very damaging, as summer is when the bee population reaches its peak.
Try and include a mix of flowers with different flowering periods to prevent this. Here are some of the best varieties to plant:
Bergamot - Bee Balm
Bergamot produces unusual spikey flowers in shades of red, pink, purple and white from summer to early autumn. It's part of the mint family and so has lovely fragrant foliage, which can be eaten. As its name suggests, it's irresistible to bees and a great addition to any bee friendly garden. 
Borage
Borage is a herb with nectar-rich periwinkle blue star shaped flowers. It is sometimes called starflower. It's a very popular plant in the beekeeping world, as it has a long flowering period (from June to October or November) and is very attractive to bees. It's ideal for covering the June gap. Its leaves and flowers are also edible - try adding the flowers to a glass of Pimms!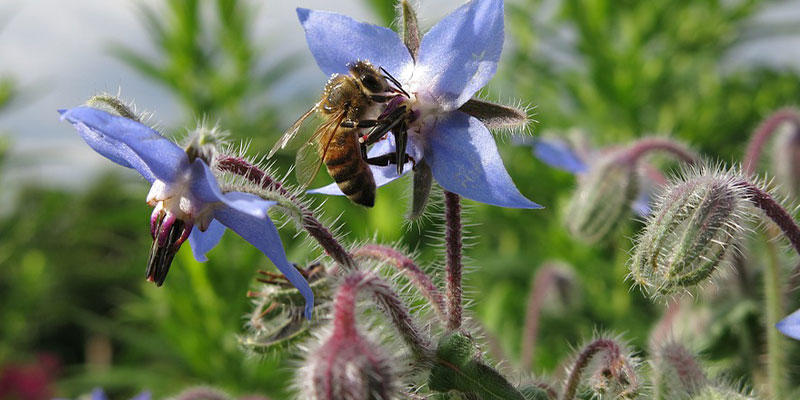 Cornflower
A pretty wildflower with electric blue petals. It looks very beautiful in gardens, and blooms throughout the summer months. It has sweet nectar which bees love. Make sure to cut them back regularly to extend their flowering period. 
English Lavender
Intoxicatingly fragrant, lavender is widely known to be one of the very best plants for bees. English Lavender blooms in the mid summer in June and July, and is rich in nectar - bees just can't resist it! Its purple flowers are also very pretty, and you'll enjoy its scent wafting through your garden.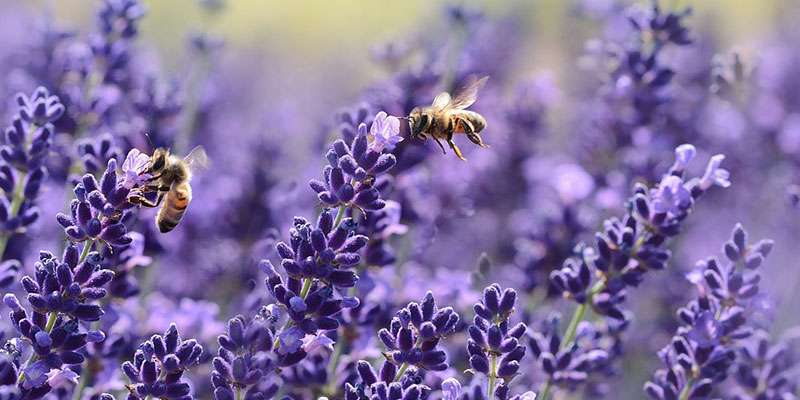 Globe Thistle
Globe thistles add texture and detail to your flower beds, with indigo coloured, spikey, spherical flowers appearing in July and August. They produce large amounts of nectar, making them very popular with bees - it's not uncommon to see several bees sharing one flowerhead! 
Ice Plant
This is late summer flowering plant with flat clusters of bright pink, star shaped flowers. It's a fantastic magnet for bees, and a useful nectar source for later in the year, with flowers usually appearing in August and lasting until November. 
Foxglove
Foxglove is a common sight in the British countryside, with elegant spires of bell shaped flowers in pink, purple, and white. With plenty of colourful flowers, it's very attractive to bees, and the shape of the flowers also makes it very easy for them to land and find the nectar. Plus, their flowers appear in June and help carry bees over the June gap.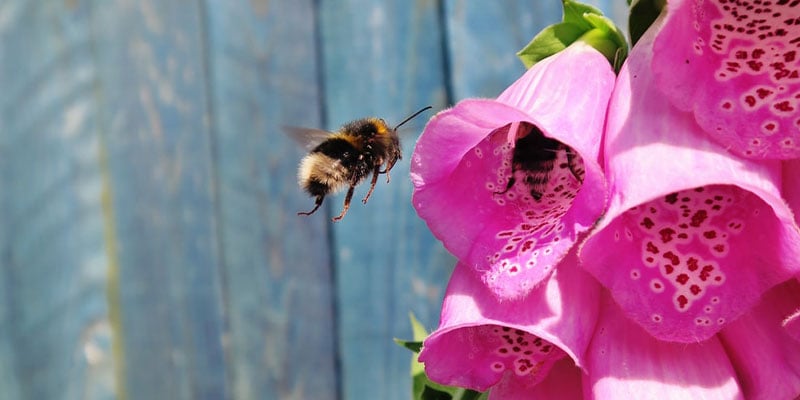 Poached Egg Plant
A low growing plant with attractive bright white and yellow flowers (that look a bit like eggs!) Bees love them, and you can expect flowers from June to September. 
Sunflower
These cheerful summer flowers need no introduction. Their large, vibrant flower heads are packed full of nectar, providing a lovely treasure trove for bees. Research has also shown that a diet of sunflower pollen helps to boost a bee's immune system, and improve overall colony health. Plant groups of sunflowers for the best effect!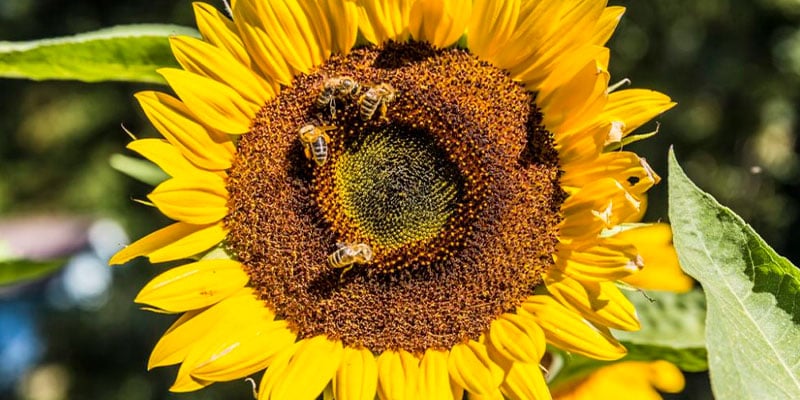 Autumn Flowers for Bees
After a flowery days of summer, bees will start to go into hibernation in the autumn. On warmer days, you may still see them flitting about. Try the following plants for reliable food sources for them in these cooler months.
Common Bistort
Common Bistort has ethereal spires of pale pink flowers in summer and early autumn. Its nectar is much loved by bees. 
Common Ivy, English Ivy
Although it's not widely known, ivy actually has small green flowers. As it flowers in September and October, it's an essential food source for bees in the autumn - in fact, it's where they get most of their nectar from at this time of year. It can be grown as ground cover, in hanging baskets, or on trellises. Hanging baskets are a good choice if you are worried about it taking over your garden! 
Hardy Fuchsia
Fuchsias are instantly recognisable by their dangling, brightly coloured flowers in pink, cerise, and lavender shades. Hardy fuchsias will stay in bloom until the first frost of the year, making them a good long term source of nectar for bumblebees. 
Dahlia
Available in many different colours, shapes, and varieties, dahlias flower throughout autumn. Single petalled varieties with open flowers are the best for bees, as it's easier for them to access the nectar. 
Winter Flowers for Bees
Bees generally hibernate during the winter, but will occasionally come out of the hive when the weather is milder. If they do come out, they will still need nectar to survive so it's still important to have a selection of plants available for them to feast on.
Oregon Grape
Oregon Grape has scented clusters of vibrant yellow flowers from November to March. They are rich in pollen, giving bees some much needed mid-winter nourishment. 
Shrubby Honeysuckle
A bushy shrub that produces fragrant white flowers from January to March. Its flowers are very attractive to bees in the winter. 
Winter Flowering Crocus
Crocus has attractive cup shaped flowers in a variety of colours, including white, yellow and purple. Flowering in February and March, they're a good choice as few other flowers will be in bloom at this point, and produce large amounts of nectar.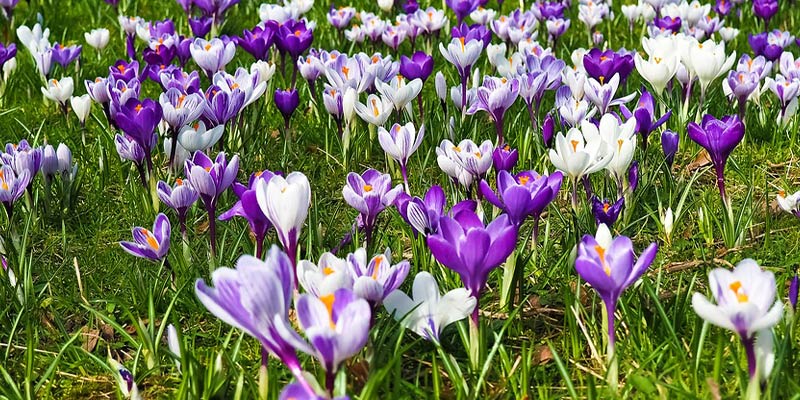 Winter-Flowering Hellebore
Sometimes called Christmas Roses, hellebores add a splash of colour to your garden in the winter. They usually flower from February until April, providing a good source of food for bees on milder winter days.  

Additional Tips for a Bee-Friendly Garden
As well as planting a variety of flowers throughout the year, there are several other ways you can encourage bees to come to your garden.
Avoid Pesticides
Avoid using pesticides in your garden, as these are very damaging to the bee population. There are plenty of safer, natural alternatives - for example, plants like alliums, petunias, and lavender repel many common pests such as slugs, aphids, and flies.
You can also introduce predators such as ladybirds, which prey on aphids, or add a bird feeder to encourage wild birds to visit your garden. This is called biological pest control.
Looking after your your garden properly with appropriate watering and soil management will help to prevent disease. Read the RHS guide on organic gardening for more information.
Provide water
Provide the bees with some water. Try having a shallow margin in your pond or place down a shallow dish filled with pebbles and water, this will provide them with a safe place to drink.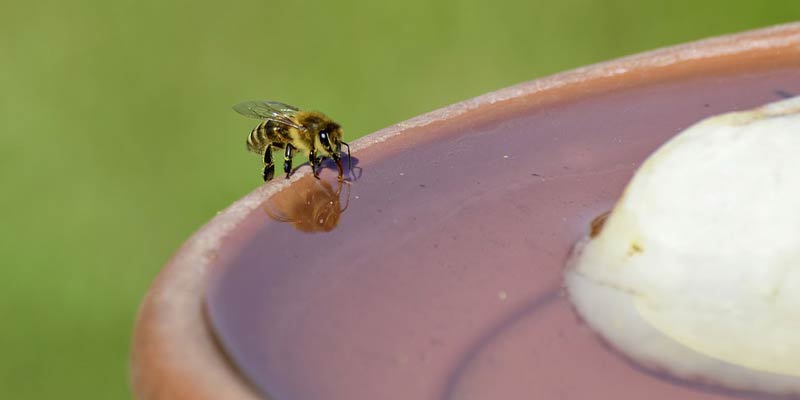 Wild Lawns
Allow parts of your lawn to grow a bit wild. The loss of flower meadows has contributed to bee decline, but we can help by allowing wildflowers like daisies, buttercups, dandelions and clovers to grow in our gardens. It's not necessary to let your entire lawn become overgrown - simply allow a strip to grow long and wild. What could be better than your own miniature flower meadow?
Don't be scared of bees
Finally, remember that there's no need to be scared of bees! Getting stung by bees in your garden is unlikely, as long as they don't feel threatened bees will happily go about their business and cause no harm at all.
How Appleyard is Helping Bees
Climate change is a huge threat to bees, and with this in mind we work with growers who are environmentally sustainable and responsible - for example by including areas in their farm that are suitable for wildlife, and using sustainable and renewable energy sources. For instance, at Lamb's Flowers in Lincolnshire, the team have set up their own bee houses to provide shelter for bees. They also harvest their own rainwater off roofs for irrigation, use solar panels for energy, and a carbon-neutral woodchip boiler to heat their greenhouses.
Where possible, we source our flowers from British growers to limit carbon emissions from transport, and have designed our packaging to produce as little waste as possible.
We also aim to create bouquets that include flower varieties that are good for bees. For example, every summer we sell sunflower bouquets, meaning farmers are encouraged to grow sunflowers in large quantities. Sunflowers are an ideal food source for bees, and as mentioned earlier, sunflower pollen improves overall bee health!
---
We hope this guide helps you to take the first steps to make your garden a haven for bees!