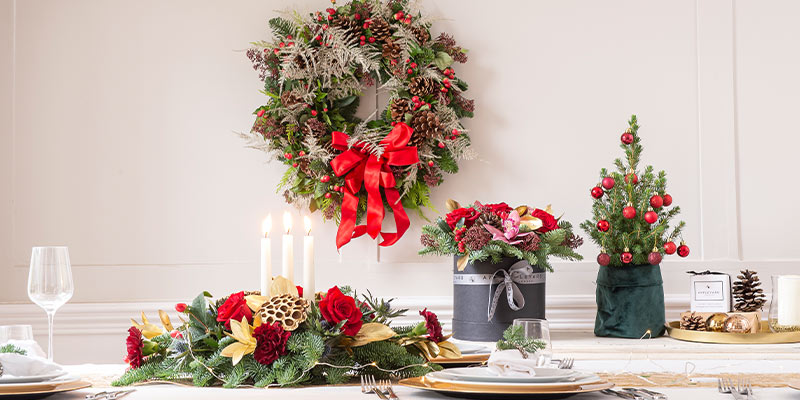 Get ready to deck the halls with boughs of holly, and a lot else besides, as 'tis the season to be jolly once again.
From brightening up your front door with a traditional Christmas wreath to impressing guests with celebratory centrepieces, it's time to fancy up your home with festive flowers and foliage.
Keen to incorporate some beautiful blooms into your Christmas decorations this year? You've come to the right place, as The Flower Diaries team loves nothing more than getting creative with all things floral. Many of our DIY ideas are quick and easy, leaving you plenty of time for all that gift wrapping, but should shopping be your modus operandi (no judgement here), you'll find some gorgeous grab-and-go delights in our extensive online range. Mini Christmas trees, anybody?
Swap baubles for berries (and roses, lilies, hydrangeas…)
Christmas trees decorated with flowers are back in vogue, just in case you needed an excuse to sprinkle some floral joy all over your chosen fir. There's a plethora of YouTube tutorials showing you how to make paper flowers, but nothing looks classier than the real thing.
Simply get hold of some striking Christmas flowers - perhaps a mix of your favourite bouquet and some foraged foliage? - and cut the stems to size. You'll also need some mini water tubes – these plug onto the end of the stems to keep your blooms looking fresh for up to seven days.
Red roses always look gorgeous, but big, blousy hydrangeas will fill more space and also look beautiful once dried. For a modern twist, we love the opulent jewel tones of our Golden Fig bouquet, the festive flamboyance of Amaryllis & Hypericum and the wintery fairytale magic of Festive Forest. Our favourite thing about floral Christmas trees is that you can mix up its look every week, and try them all.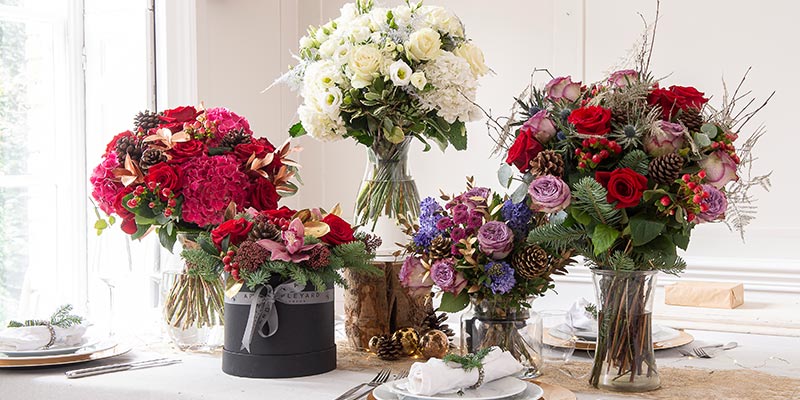 Make your own Christmas wreath
Making a Christmas wreath is a surefire way to spark some festive spirit, and it's a lot easier than it looks. You'll need a floral hoop or wreath frame, some floral wire and, of course, some flowers (again, you'll find a bunch to suit all tastes within our varied range). Then, follow our easy steps to seasonal decor delight. For a contemporary, minimalist edge, only decorate half of the hoop.
If you're pressed for time but still want to dazzle your guests, there are three stunning ready-made gems in our collection, including our Winter Forest half wreath with its red skimmia, rose gold lotus heads and natural pine cones. They're all 52cm in diameter, for a striking statement that will bring yuletide joy to any large, bare wall.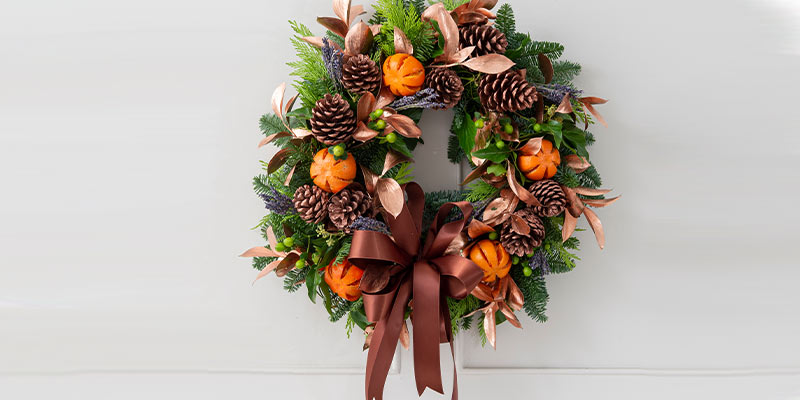 Decorate a mini Christmas tree
Mini Christmas trees are the perfect solution for small spaces in need of a festive makeover, as they can sit on desks or bookshelves without taking up precious floor space.
For a simple, family-friendly idea, pick up some conical floral foam and adorn it with your chosen Christmas flowers (keep the foam damp for longevity). Better still, have a play with our online Christmas tree builder.
Firstly, choose the kind of mini Christmas tree you'd like – a small or medium traditional evergreen or a Scandi-style silver or gold twig tree. They range from 40cm to 65cm in height and all come with a set of lights. Next, select your baubles – opt for classic reds and silvers or our favourite rose gold and burgundy mix – and book a delivery day. Don't worry, it'll come undecorated – we'd hate to spoil the fun.
To help your mini Christmas tree last longer, keep it away from drying heat sources like fireplaces and radiators and keep its soil moist but not waterlogged – if in doubt, water it every two to three days. In the new year, you can earn some green points by replanting it in the garden.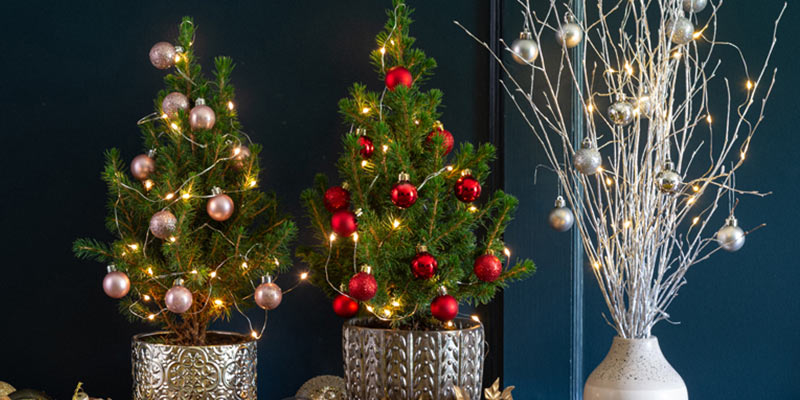 Give mantelpieces, bannisters and more a festive makeover
Sprinkle Christmas over every corner and crevice of your home by draping foliage over mantelpieces, bookshelves and cabinets and weaving it around bannisters.
If, like us, flowers are central to your decorating, place trays of soaked foam along your ledges and pack it with beautiful, bountiful blooms. Stick taller stems into the back and asymmetrically off the sides, and shorter or trailing stems at the front. Your home will be fit for the cover of your favourite interiors magazine in no time.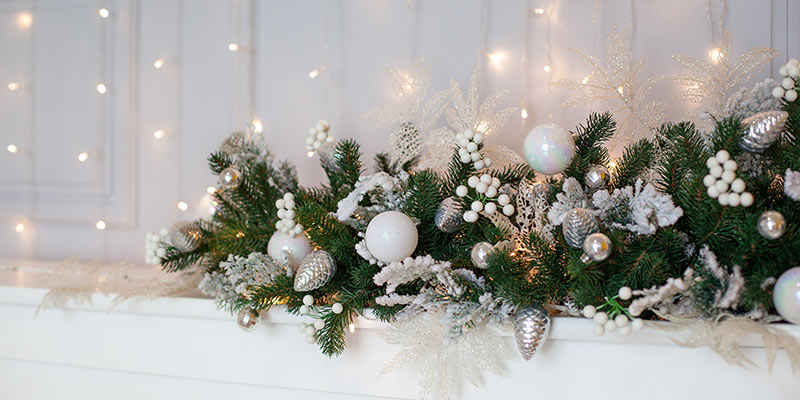 Impress guests with Christmas centrepieces
Christmas lunch, and all the fizz-filled dinner parties that precede it, are highlights of the festive calendar, so let's turn our attention to our favourite Christmas table decorations – centrepieces.
Our choice of four are delivered ready to pop on the table, totally fuss-free. Red Rose and Polar Rose feature lashings of spruce and pine, elegant red or cream roses, juicy berries and rustic pine cones. If you're feeling extra fancy, our luxury Frankincense comes with gold-sprayed foliage, while Winter Forest features fabulously fragrant cinnamon sticks. Ivory pillar or tapered candles are included with each centrepiece, but you may wish to weave some battery-powered fairy lights around its base for a glittering Christmas table centre to remember. Let the feasting begin!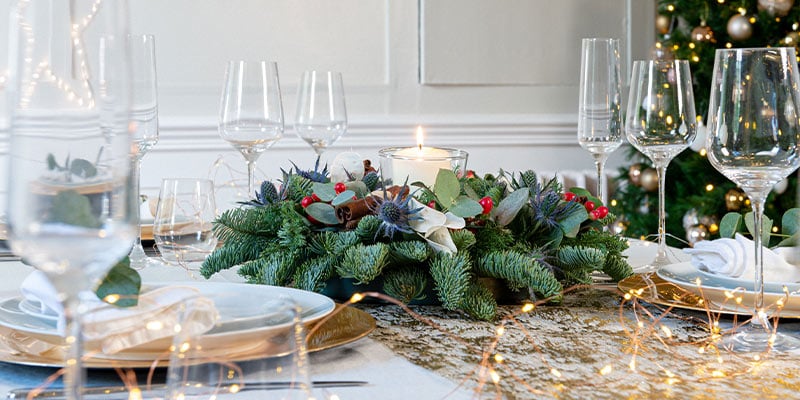 Indulge in an oh-so-versatile hat box
Our three gloriously abundant hat boxes – the cosy Festive Fireside, ethereal Frosty Mist and majestic Winter Forest – make unique Christmas decorations (and memorable gifts) that will add sumptuous splendour to any table setting. It's easy to move these self-contained displays around your home, meaning you can enjoy them all day, every day. Once we've finished eating, we move ours over to our coffee table and gaze upon it as we laze, full and happy, on our sofa. Bliss.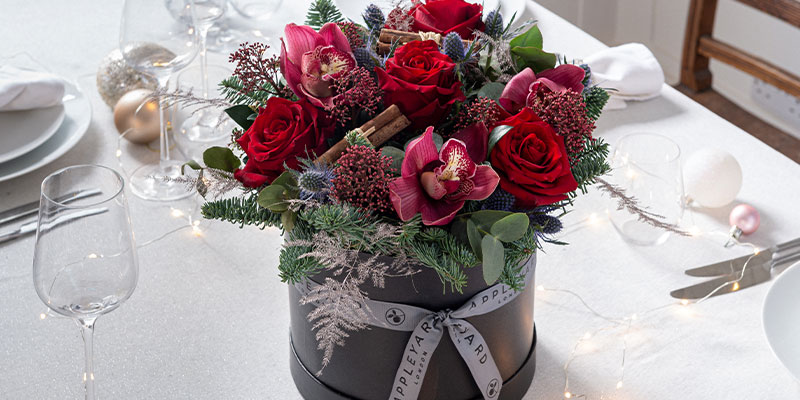 ---
We'd love to see your Christmas floral decorations, so please tag us at @appleyardlondon when uploading your photos to Instagram.