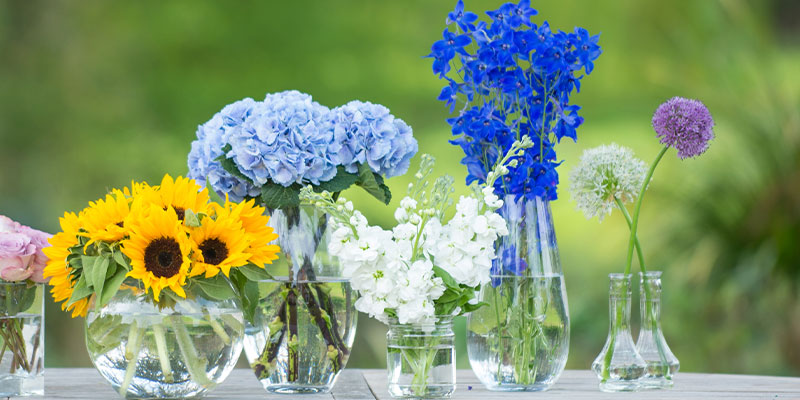 If there's one thing we know about King Charles III's upcoming coronation, it's that flowers will play a starring role.
Our new monarch has made no secret of his love for nature, so we're excited to see which species take centre stage on Saturday 6th May.

From his personal favourite bloom and those loved by his late mother, Queen Elizabeth II, to the spring flowers grown across the UK and in his own royal gardens, His Majesty is spoiled for floral choice. Let's take a leisurely stroll through our predictions for his coronation flowers.
Delphiniums
During the Covid pandemic, when the 2020 RHS Chelsea Flower Show was forced to go online, the royal family lent their support to the iconic garden show by revealing their favourite flowers.
The King, then the Prince of Wales, chose the suitably majestic delphinium. He said: "For me, the magnificent, gloriously appareled delphinium, with its impeccable bearing and massed in platoons, holds pride of place in my botanical affections."
His Majesty, who finds gardening "marvellous and therapeutic", grows the towering blooms in the grounds of Highgrove House, his private Gloucestershire residence. "I have an absolute passion for delphiniums and I've always had it," he told BBC Radio 4. "There's something about those Edwardian watercolours. To me, gardening is rather like painting; you need to get the paint on and not muck about."
It stands to reason, then, that if delphiniums don't feature at the coronation, other flowers in similar pastel colours may well do.
If you're looking for the perfect bouquet to commemorate the coronation, our Royal Coronation Celebration featuring a delightful selection of garden blooms (including delphiniums, of course!) is the way to go.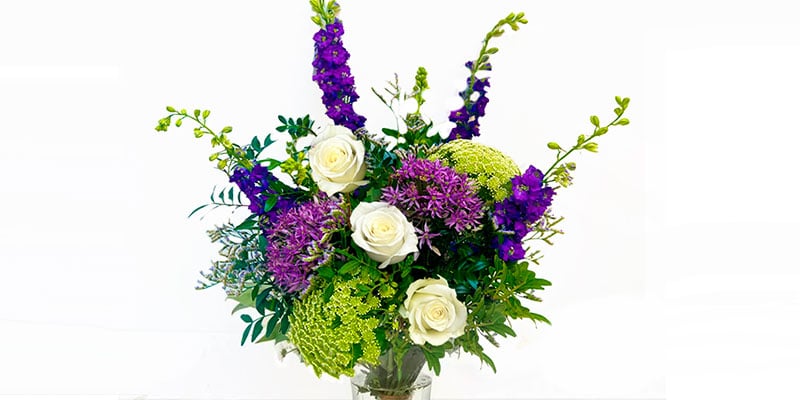 Lady's mantle
Of course, Camilla will also be crowned Queen during the coronation, so her floral preferences will likely also feature. She surprised gardening aficionados by choosing the humble alchemilla mollis, also known as 'lady's mantle', as her favourite bloom. This perennial plant has vibrant foliage and produces fluffy, acid green flowers in the summer, making it a popular filler and, in Camilla's words, "a must for any gardener".
Other flowers that the new Queen may plump for at the coronation include primroses – yellow, lavender and white varieties featured in her 2005 wedding bouquet, along with lily of the valley.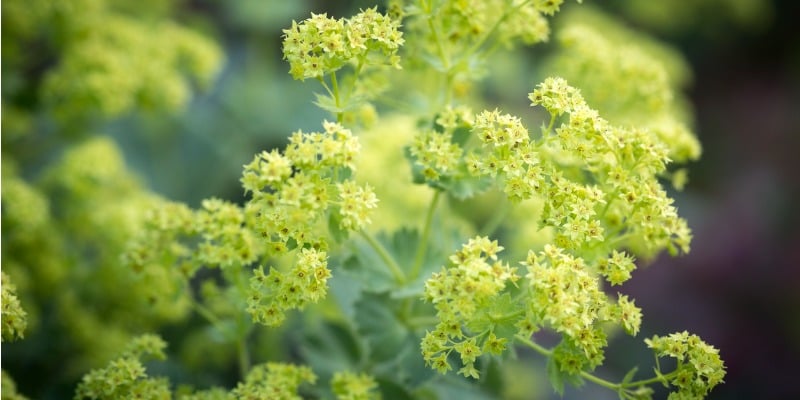 Lily of the valley
One bloom that is nigh on guaranteed to be decking the halls of Westminster Abbey is the bell-shaped lily of the valley. Popular in spring, this fragrant, creamy white flower is highly poisonous despite its dainty beauty. It has been a royal favourite for generations and was particularly beloved by the late Queen, featuring in her own coronation bouquet in 1953 and holding "special associations" since.
The coronation is expected to be a largely traditional affair and Charles will be eager to pay tribute to his much-loved mother on one of the biggest days of his life. Other potential nods could include rosemary, symbolising remembrance and English oak leaves, symbolising the strength of love, both of which featured at her funeral in September, alongside pine from Balmoral and lavender from Windsor.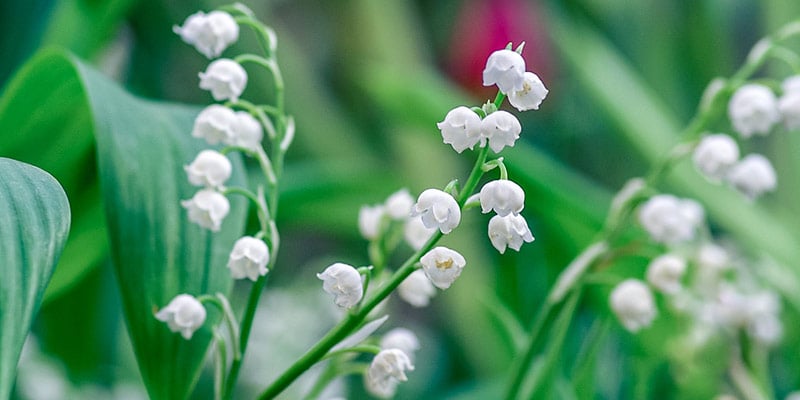 Best of British
King Charles has been a passionate environmentalist for decades, championing causes such as organic farming and biodiversity, with many describing him as a man ahead of his time. He is unlikely, therefore, to pass up the opportunity to put the spotlight on sustainability at his coronation.
Flowers will almost certainly be taken from his bountiful gardens at Highgrove, as well as other royal estates, as they have been for past state occasions. He is particularly fond of wildflowers, with his Meadow Gatefold meadow (also at Highgrove) featuring many rare species. Other blooms currently in season include bluebells, with their meanings of constancy, humility, gratitude and everlasting love in the language of flowers, and primroses, representing optimism and renewal.
Coronation flowers not taken from royal gardens will likely come from British growers, both to support their livelihoods and avoid creating a carbon footprint through importation. Expect to see blooms reflecting all the nations of the UK, as per Queen Elizabeth II's coronation bouquet comprising English orchids and lilies of the valley, Scottish stephanotis, Welsh orchids and Northern Irish carnations.
The official coronation logo features a blue crown surrounded by the national flowers and plants of the four UK nations – a rose for England, a thistle for Scotland, a daffodil for Wales and a shamrock for Northern Ireland – perhaps hinting that Charles is likely to follow his mother's example.
Similarly, the stunning coronation invite, designed by heraldic artist Andrew Jamieson, is awash with colourful illustrations of these same floral emblems, along with other British wildflowers and wildlife. The feel is bright, joyful and heavily spring-like, suggesting a break from the all-white tradition of royal events.
But that's not all when it comes to our new King's green endeavours. Last year, Charles revealed that floral tributes left for the Queen would be recycled for use as compost. This same compost will be used for tree planting as part of his coronation celebrations – a fitting symbol both of rebirth for the Carolean era and his personal hopes for a more sustainable future.
Fit for a king and queen
Whether you're after some floral decoration for a coronation party or simply treating a loved one to a beautiful bouquet this May, you're sure to find some appropriately regal flowers in our extensive range.

Our top pick is the resplendent Wild English Garden, featuring the King's favourite delphiniums backed up by hydrangeas, clematis and garden roses. Or, for something with even more luxury factor, look to the resplendent English Garden from our Couture Collection, brimming with cherry blossom, pink roses, purple veronica and sweet Williams. The classic Rose Pearl and sumptuous Afternoon Tea would also make excellent choices for a coronation surprise.

If it's a letterbox delivery that you're after, it has to be our Eton Mess; Charles may not have attended Eton himself, but he sent princes William and Harry there, and this mix of lilac roses, white snapdragons and pink wax flowers is timelessly pretty.

---
Celebrate the coronation with our Couture Collection of the finest flowers or pop some champagne with our celebratory bundles. Shop now and make Saturday 6th May a day to remember with Appleyard.