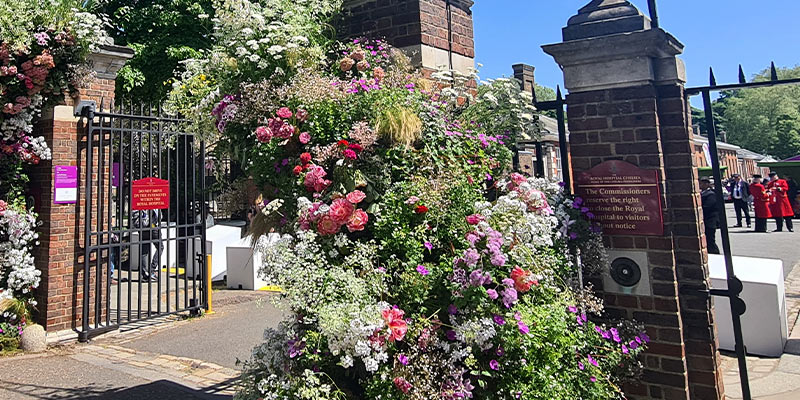 We visited the iconic Chelsea Flower Show and had a fabulous day exploring the beautiful gardens and floristry displays.
Here are some of our highlights from this year's show, from gorgeous show gardens to lush nurseries filled with lush flowers and plants.
If you're inspired to add some seasonal blooms to your home, explore our stunning collection of summer bouquets, featuring Chelsea favourites like peonies, alliums, hydrangeas, and more.
Show Gardens
Chelsea's show gardens represent the very best in garden design, with 36 stunning gardens on display this year. This year's gardens had a big focus on biodiversity and sustainability, with lots of use of recycled and natural materials, along with wilder gardens (instead of the lawns and neat flowerbeds of the past!)
Take a look at some of our favourites!
The Fauna & Flora Garden
Designed by garden designer Jilayne Rickards for the wildlife conservation charity Fauna & Flora, this show garden brought the lush natural beauty of the mountain gorilla's natural habitat to Chelsea. Alongside abundant mountain plants, a gorilla nest, and a 5m tall waterfall, the garden also featured a tourist kiosk and trail, beautifully blending together both human and natural elements to emphasise the importance of collaboration and community in protecting wildlife.
The garden's goal was to draw attention to the vital importance of conservation work, and biodiversity and sustainability were key principles in its design. No concrete or cement were used to minimise the carbon footprint, with recycled boulders and rocks instead used for structures like the waterfall and boundary wall.
After the show, the garden will find a new home at the Eden Project - so there's still plenty of time to see it!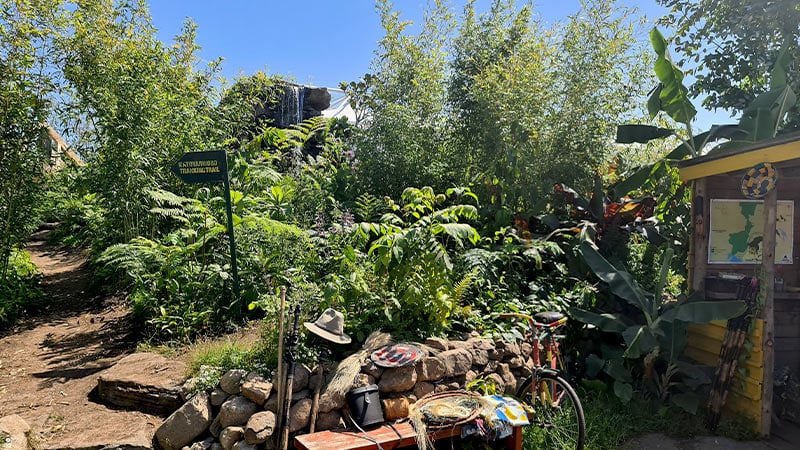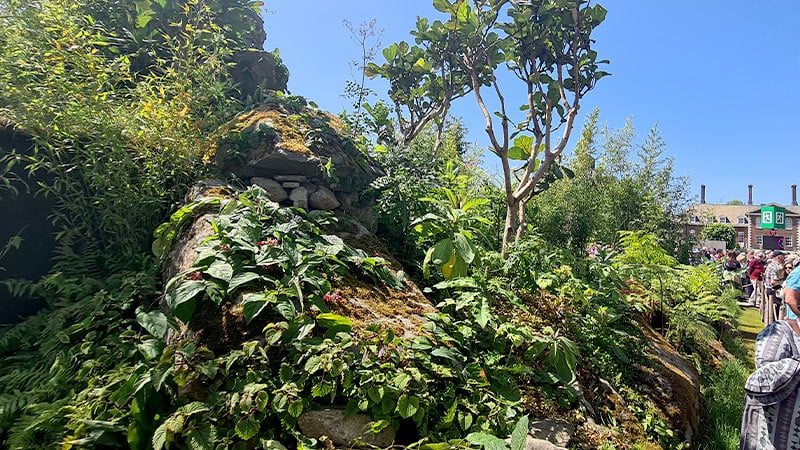 The School Food Matters Garden
This garden won the People's Choice awards for Best Sanctuary Garden and Best All About Plants Garden. It was designed by Harry Holding on behalf of the School Food Charity, and aims to draw attention to the importance of food education and access to nature for children.
Harry Holding's original inspiration for the garden was Alice in Wonderland, and he created a colourful and immersive space, with paths weaving between edible, forageable plants like beans, radishes, and beetroots, as well as beds of colourful flowers that pollinators love. Quotes from children about the importance of plants and the environment were painted on a central wall to put their voices centre-stage.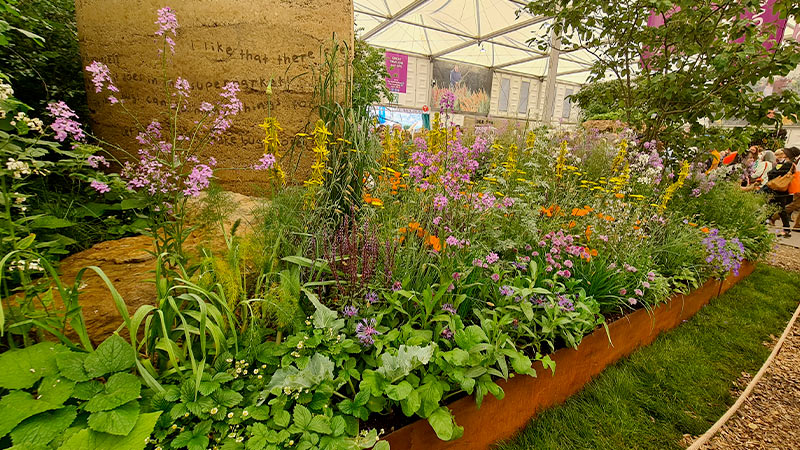 The Royal Entomological Society Garden
The Royal Entomological Society made their debut at Chelsea this year , with a creative and dynamic garden that demonstrated the importance of insects in the world. The garden was filled with beds of pollinator-friendly flowers like borage, dandelions, hawthorn, and hazel. There were also plenty of homes for beneficial insects with dead wood, rubble, and gabion walls placed amongst the plants. Perhaps most strikingly, the garden also included a working lab for insect research, with an eye-catching design inspired by compound eyes. The garden and lab will be relocated to IQL Stratford to be used for future scientific study.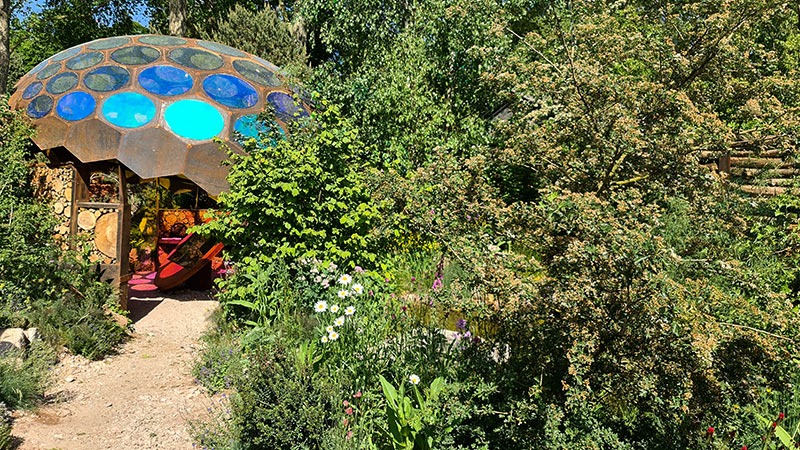 Centrepoint Garden
The Centrepoint Garden depicted a derelict house being overtaken by nature, with overgrown shrubs, wildflowers, weeds, and a fallen tree creating a wild and dynamic environment. Cleve West designed the garden on behalf of Centrepoint as a visual metaphor for the plight of young homeless people, and to highlight Centrepoint's work supporting this group through accommodation, healthcare, and education.
This garden won a gold medal, as well as the Best Construction award, and its untamed design reflects the broader shift away from the perfectly manicured lawns and gardens of the past.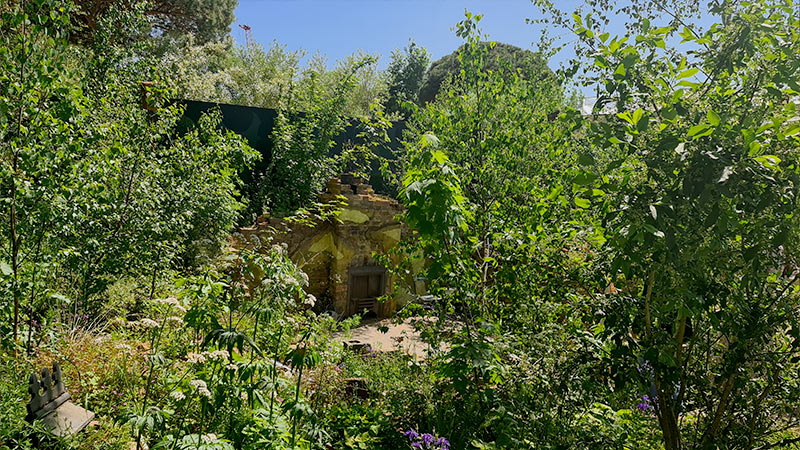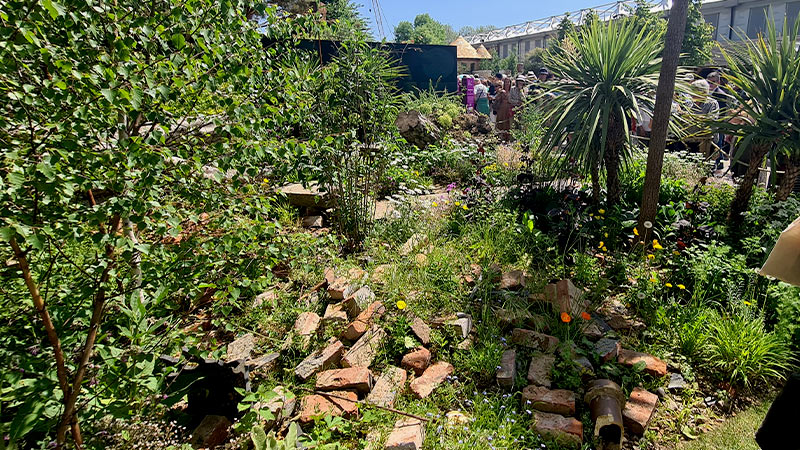 Florist of the Year
This year's floristry competition challenged entrants to brighten up a metal floral bin or lamp post, and they were certainly up to the task, with a wide range of inspiring and unique designs on display. Take a look at the gold medal winning designs, plus a few of our favourites, here!
Hubbards Florist: The Beauty of Recycling
This stunning display of purple and lilac blooms earned a gold medal and was the overall winner for the Florist of the Year award. Purple flowers were popular at Chelsea this year, and this design uses a beautiful mix, with stems including stocks, alliums, and orchids. This design has a lovely free-flowing look to it, with the recyclable bottles seamlessly blending in with the cottage-garden style blooms to demonstrate "how nature and recyclable objects work in harmony together."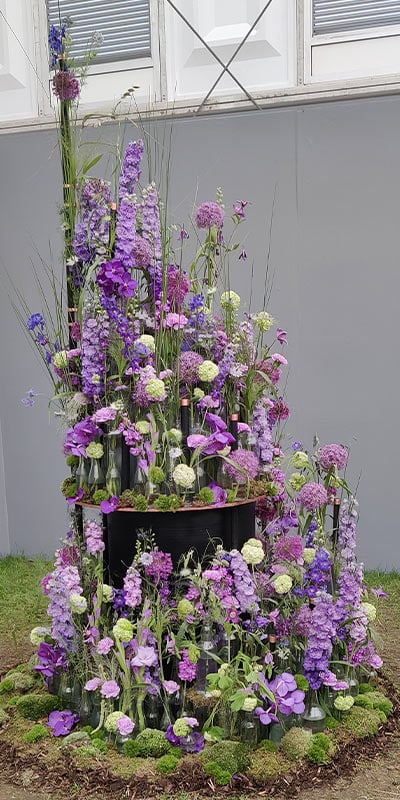 Helen James Flowers: On the Verge
Another gold medal winner, this floral lamp post was inspired by projects to plant flowers in wasteland areas and roadside verges. It's a dynamic and eye-catching selection of bright flowers that makes wonderful use of space and colour. The taller stems like the yellow foxtail lilies help to create a tiered look around the lamp post, and we loved the way the base flower bed of orange ranunculi and pink dahlias gives way to stones and ferns to capture the idea of an evolving landscape.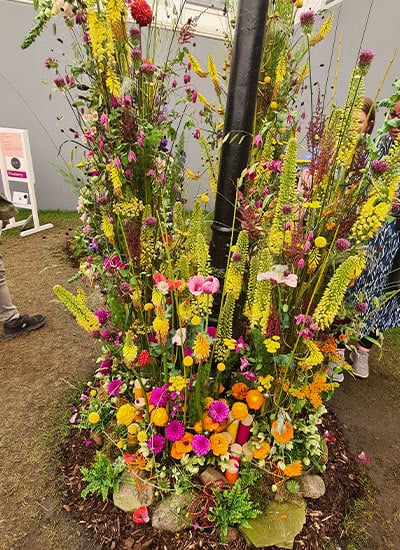 Julie Pearson Floral Designer: A Botanical Spillage
The final gold medal winner was 'A Botanical Spillage', a tumbling design which is a beautiful re-imagining of the ugliness of oil spills. We loved the use of trailing flowers and greenery like amaranthus, fern, and crown imperials to create a sense of motion. This display also made great use of more unusual tropical flowers and succulents like aeoniums and kalanchoes for a unique and vibrant look.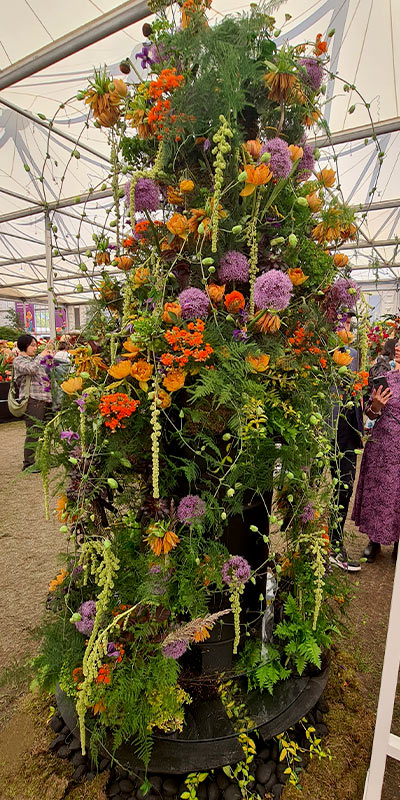 Norris Floristry: Tipping Point
This creative display earned a silver medal, and as the name suggests, reflects the fact that the world is as a tipping point with regards to climate change, but the flowers represent the hope that positive change and action are still possible. We loved the unique way the floral bin is suspended in this display, and the beautiful colour gradient created by the blooms. Soft blousy flowers like hydrangeas, garden roses, and peonies also create a striking contrast with the stark industrial bin.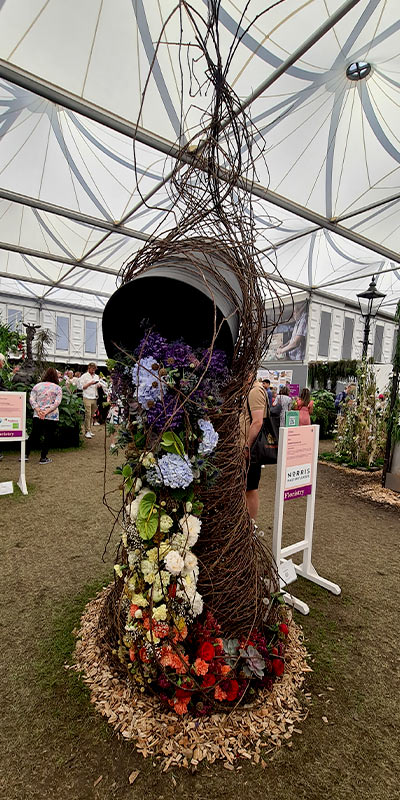 Fresh Ideas Florists: Eyes in the Line
This design was another silver-medal winner, and used a selection of vibrant flowers to deliberately create an "alarming colour palette". It was constructed with sustainable methods, to highlight how florists can make more environmentally friendly choices.
We noticed a greater use of tropical blooms at this year's show, and this display uses an eclectic variety, including orchids, monstera, bright pink painter's palette, and birds of paradise. The bright flowers set against the industrial scaffolding and rubble at the base create a disjointed architecture, and an explosive, energetic effect.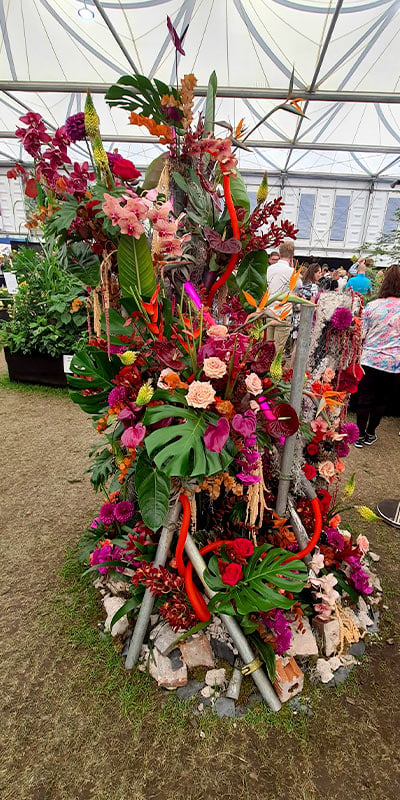 Floral Media - Wasting Time
A call to action to not waste time on combatting climate change, this display earned a gold medal with its beautifully tumbling design. Log clocks set amongst the flowers highlight the urgent central message, whilst the handcrafted roots emphasise the need for lasting change. Floral Media designed the display using British seasonal flowers, including coral peonies, alliums, and ranunculi.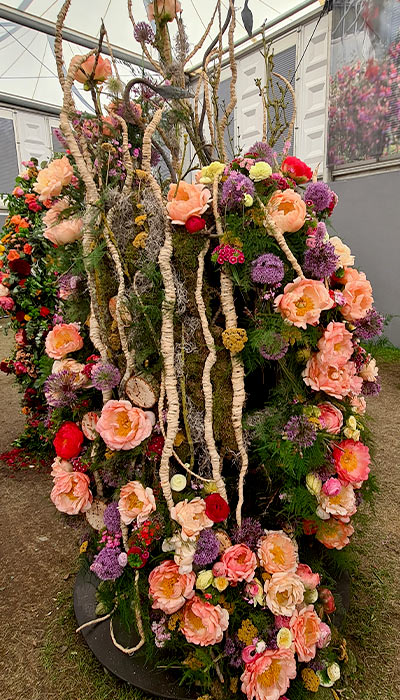 Nurseries
As always, the Great Pavillion was a paradise for flower and plant lovers, filled with gorgeous displays from a wide range of nurseries.
David Austin Roses
The legendary rose breeders once again came away with a well-deserved gold medal for their breathtaking rose display. They showcased a staggering variety of roses, including English roses, garden roses, climbing roses and shrub roses. As well as looking amazing, their rose garden smelled incredible too!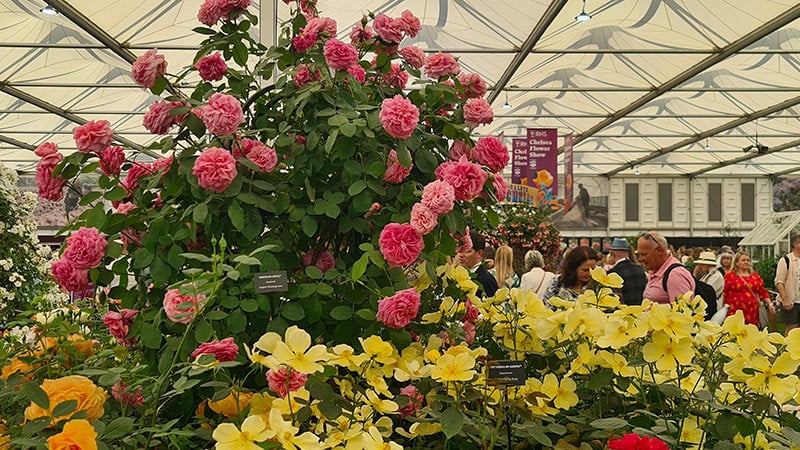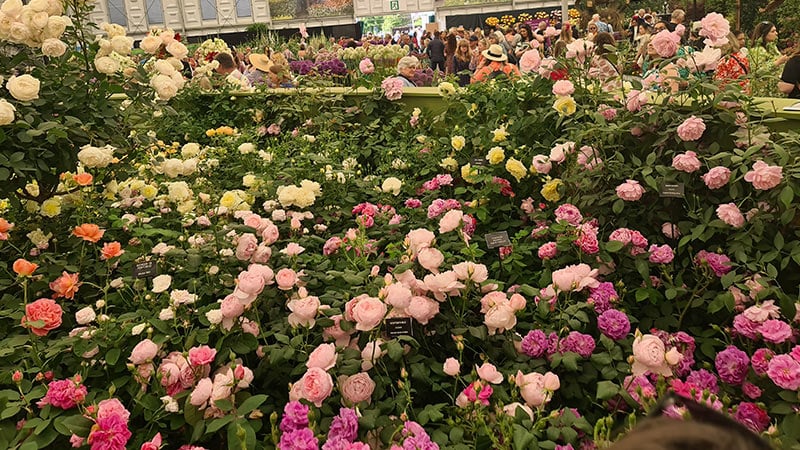 Surreal Succulents
Succulents are definitely in vogue right now, and Surreal Succulents was the place to be for anyone who's a fan of these colourful and unique house plants. Their awe-inspiring display featured an eclectic variety of succulents, from towering aeoniums to aloe veras, yucca plants, and echeverias.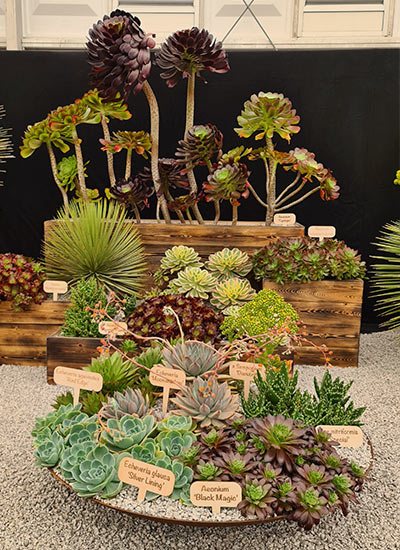 Pheasant Acre Plants
Pheasant Acre Plants showcase a beautiful rainbow of gladioli. Gladioli have made something of a comeback in recent years, adding vibrant, tropical colour and tiered, dynamic height to gardens.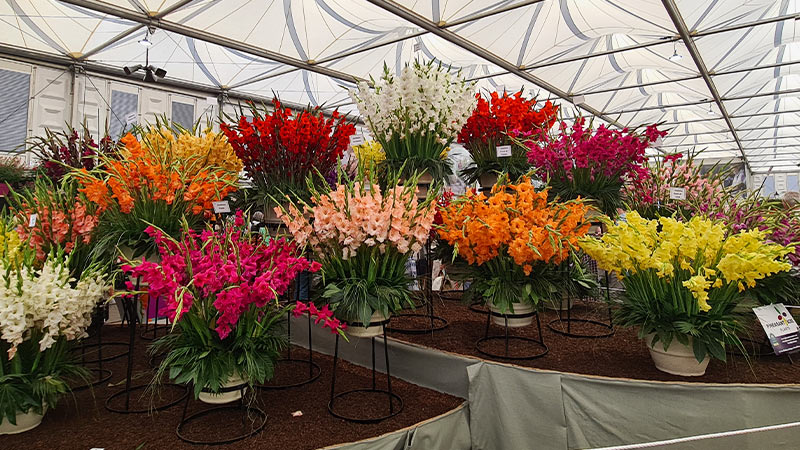 Harkness Roses
Harkness Roses are renowned for their collection of over 200 rose varieties, which they've been breeding for over 140 years. As well as showcasing their existing roses, they also debuted five new varieties at Chelsea this year, including a charity rose for the Menopause Charity.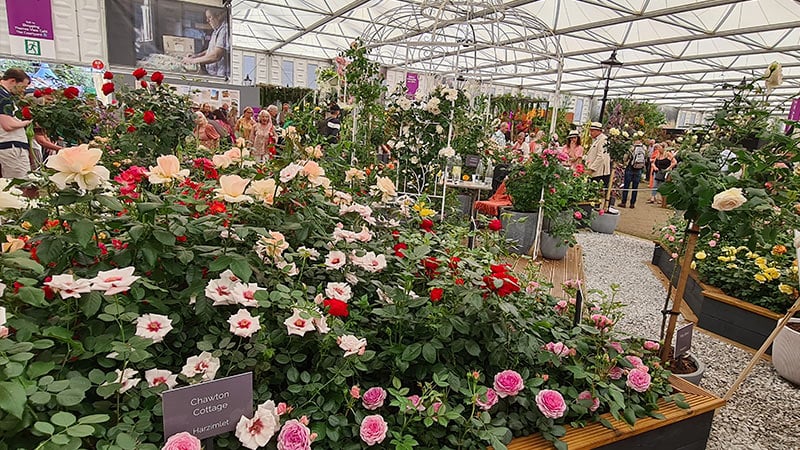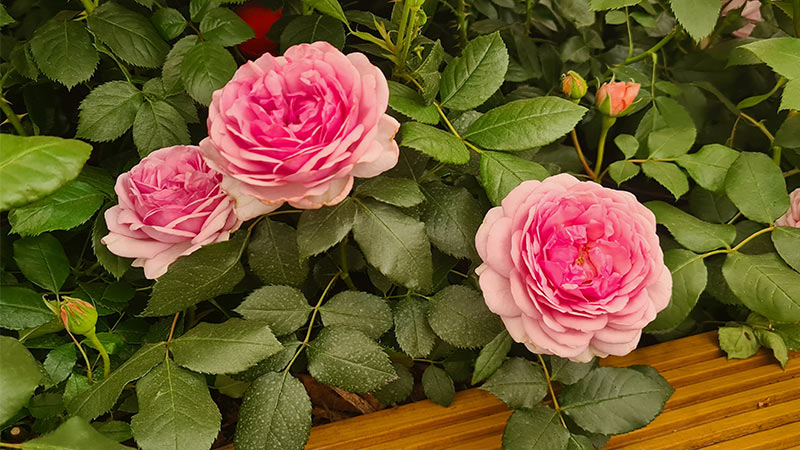 Every Picture Tells a Story - Bromeliads & Tropical Flowers
Tropical flowers are definitely a growing trend this year, and this nursery's double gold medal winning display showcased bromeliads of all shapes, colours, and sizes.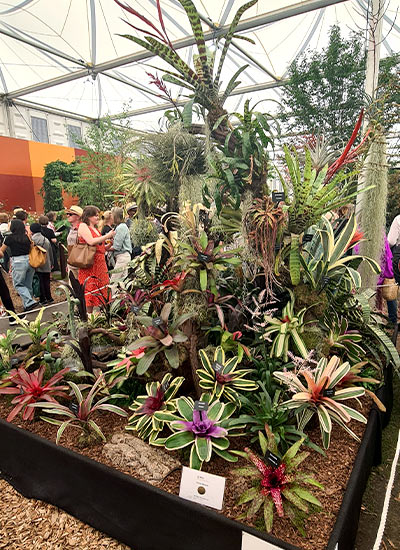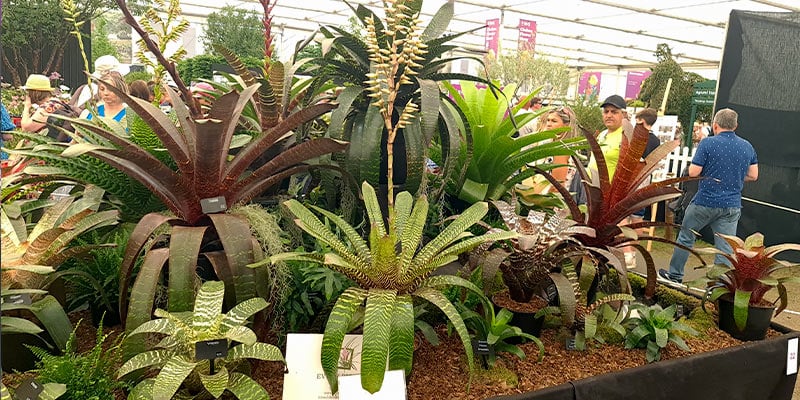 Trends You Can Use at Home
The Chelsea Flower Show is always at the cutting edge of floristry and gardening trends; here are some of the top ones we spotted this year that you can use at home.
Sustainable Gardening & Rewilding
Sustainability's a huge concern for everyone, and the focus on sustainable garden designs has only grown at Chelsea over the years. Since last year, the show's also ruled that all show gardens must be relocated, meaning that sustainability has to be at the forefront of every design.
The trend can be seen in the more wild and unstructured show gardens; many designs incorporated weeds and wildflowers that were traditionally unwelcome.
There's plenty you can do to make your own garden do its part for the environment:
Plant pollinator-friendly flowers and plants to help bees and other beneficial insects.
Try rewilding part of your garden. Leave sections of your lawn unmown to promote the growth of wildflowers like daisies, buttercups, and clovers - all of which are fantastic for bees.
Collect rainwater to use when watering your garden.
Add things like birdboxes to provide a home for wildlife.
Use recycled and natural materials like wood in your landscaping.
Brights & Tropicals
Bright colours and quirky tropical blooms were definitely on the rise this year. Succulents can make a unique addition to flower bouquets, or of course are wonderful and low-maintenance house plants. Other tropical plants like monsteras and bromeliads are also ideal for growing in the home. For a more vibrant, tropical garden, try plants like birds of paradise, hardy palms, and gloriosa, all of which can be grown in the UK.
Cottage Garden Style
Traditional cottage-garden blooms like hydrangeas, alliums, ranunculi, and delphiniums have made a comeback in recent years and were out in full force at Chelsea this year. They're perfect for creating free-flowing, natural gardens, and their increasing popularity reflects the move away from strict borders and neat flowerbeds.
---
We hope you've enjoyed our coverage of our visit. If you've got a craving for some flowers or plants of your own, there's plenty to explore in our fabulous collection of bouquets and house plants.