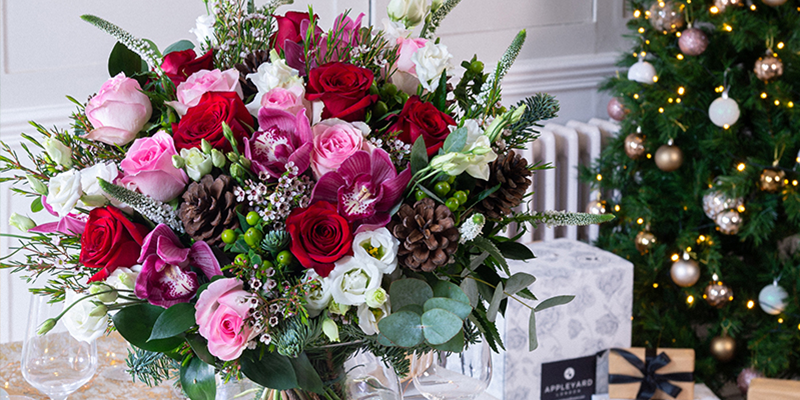 'Tis the season to be jolly, but decking the halls with boughs of holly isn't the only way to get festive with flowers and foliage.
Pops of floral colour - red being particularly Christmassy! - will brighten up your home and beautifully complement the greenery of Christmas trees, wreaths and centrepieces. 
From roses and lilies to amaryllis and anemones, let's run through the best blooms and loveliest leaves to decorate with this December.
Carnation
Carnations are naturally decorative with their eye-catching crêpe-like petals. These ruffled blooms have come to symbolise love and devotion, with the white variety representing good luck - something we all need going into 2021! White carnations look angelic as part of a blush and sage green arrangement. If you're aiming for a classy, timeless festive style this year, look to our Spiced Apple bunch, featuring white carnations, lilies, eryngium, eucalyptus and a succulent!

Amaryllis
This tropical plant's trumpet-shaped petals are suitably show-stopping, either in traditional red or winter wonderland white. Though native to Central and South America, it can flower indoors throughout our winter for up to seven weeks! It's similarly long-lasting when cut for bouquets, looking vibrant for at least three weeks. Top tip: insert canes into its hollow stems to double its vase life. Let the amaryllis be the star of your display, backed up by juicy crimson berries, as we've done below.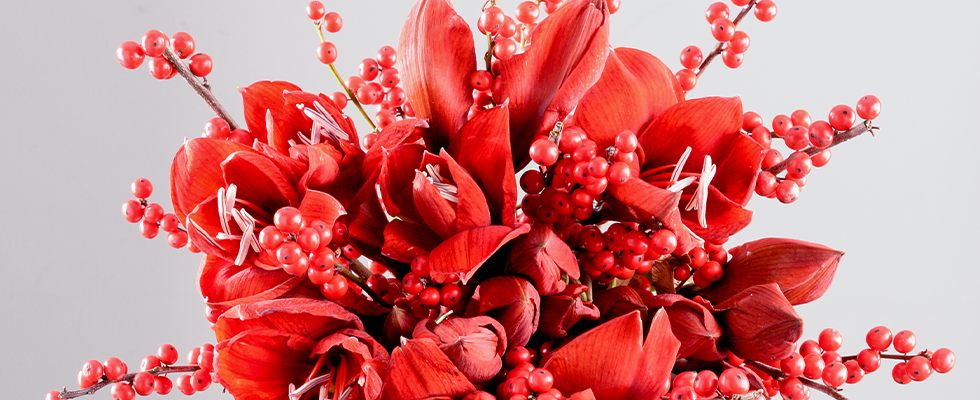 Cymbidium Orchid
These opulent orchids usually grow above cloud level in the cold Himalayan forests, meaning they only bloom in winter. Elegant and texturally interesting, we love the snowy white varieties at Christmas. Their stems last for up to a month once cut, so you can rest assured that they won't wilt before the big day. Our Festive Forest bouquet mixes cymbidium orchids with blush roses, scented spruce and pine cones for a fairytale feel. Or why not ramp up the luxe factor with the fabulously feathery Champagne Orchid?

Anemone
Part of the poppy family, the anemone's deep black stigma makes its bright blooms zing. Master painters Monet and Matisse counted the anemone among their favourite flowers, and folklore has it that fairies sleep within their petals when they close up at night. The postbox red variety takes centre stage in our Cherry Brandy bouquet, supported by gloriously fragrant blue hyacinths, peaking playfully out of a mass of cerise roses and tulips.

Poinsettia
The most popular Christmas house plant actually comes from Mexico, where it features in a festive legend. Folklore has it that a poor girl picked a posy of weeds from the side of the road to take to a Christmas service. When she placed her modest offering at the Nativity scene, it magically transformed into the poinsettia we know and love today. Its red 'petals' are, in fact, leaves! They can last until spring with sufficient sunlight and watering.

Hydrangea
With their blousy mass of flower heads, hydrangeas are the height of indulgent luxury. They look splendid displayed in a wide-rimmed vase that gives the abundant petals space. Either make a single-species statement, or weave in some vintage roses, berries and metallic foliage, a la the Appleyard way. Top tip: once your bouquet's spent, leave the hydrangeas to dry. They make stunning dried flowers!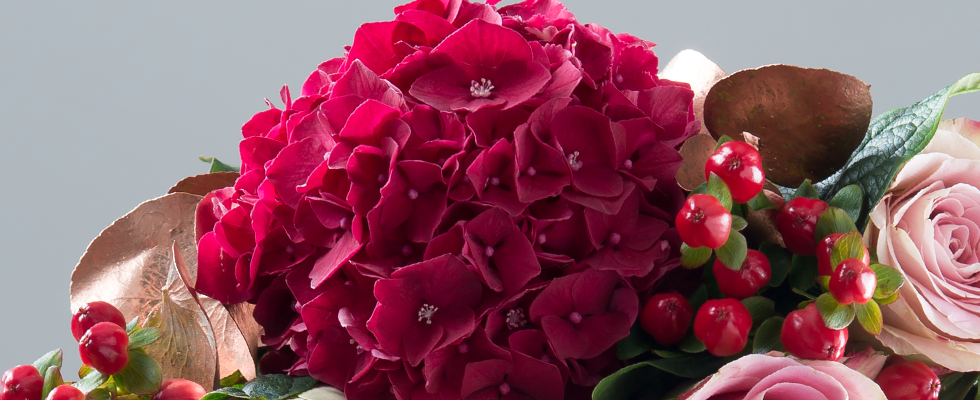 Rose
Valentine's Day may be the most romantic day of the year, but Christmas Day comes a close second! Fill your house with the greatest symbol of enduring love there is: the red rose. Exquisitely festive, nothing complements lush green foliage better. The downside is that roses are among the most transient flowers. Get around this by choosing a bouquet that will look amazing days after the last rose has faded, such as our Christmas Fudge and Festive Punch with their luscious lilies and trusty alstroemeria.
Lily
It's hard to beat the lily for wow factor that literally unfurls over the festive period. There's something forever contemporary about this species, making it the perfect choice for freshening up traditional Christmas decor. Rich red lilies look striking when combined with golden seasonal foliage, white lilies exude Hollywood glamour and black calla lilies will add a touch of drama to your yuletide scene.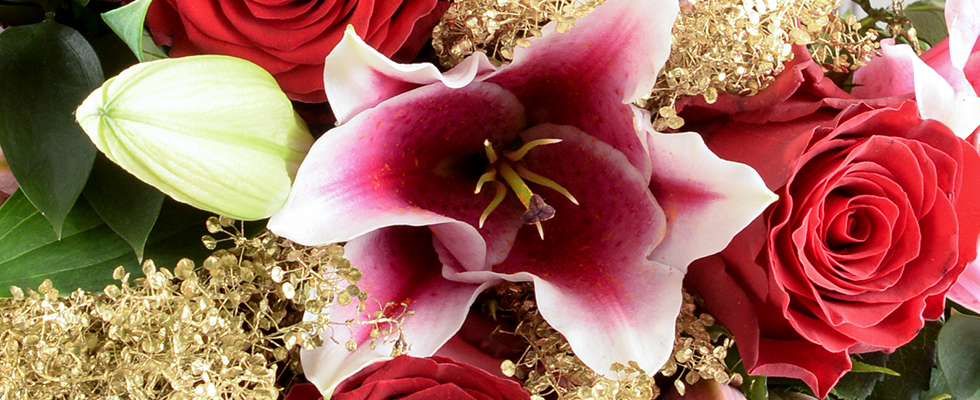 Eryngium
Spiky and thistle-like, blue or white eryngiums may not be a natural Noel go-to. Team them with soft blue pine and glossy red berries, however, and they look more stylish than scary. Case in point, the rustic table centre we've put together as part of our Winter Forest edit. Use eryngium to add edge to feminine blooms like purple vanda orchids and ethereal white roses. 

Christmas tree
OK, so it's not a flower, but here at Appleyard, we're firmly of the belief that you can never have too many Christmas trees! Miniature firs are ideal for bringing festive cheer to small spaces, side tables and shelves. Our Christmas tree builder lets you pick between traditional evergreens and contemporary birches before adding your choice of shimmering baubles. Best of all, your personalised tree is then delivered straight to your door!

---
Ready to branch out from holly this Noel? Browse our new range of Christmas flowers, be inspired by the woodland wonder of our Winter Forest edit or build your own Christmas tree.