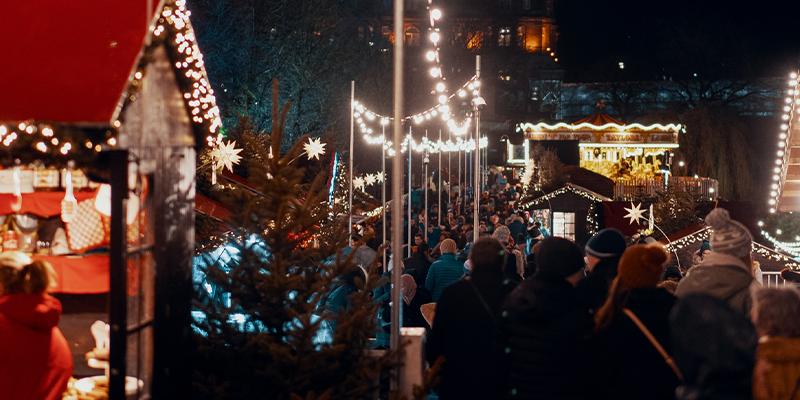 Christmas is approaching fast and one of the many festive occasions we are really looking forward to is attending the Christmas markets with our family and friends!
Christmas markets have become highly inspired by European culture such as the German markets and have gained much popularity over the years all over the U.K. That's why we have put together our top 5 Jolliest Christmas markets covering different regions of the country. With so many to choose from you're bound to be within travelling distance from your hometown to one of these spectacular markets!
1. London Hyde Park Winter Wonderland
London's Winter Wonderland is returning to Hyde Park for the 11th year! This London Christmas Market is free to enter and packed with things to do, from the huge Christmas market to the festive fairground rides and much more such as; ice skating, warming winter food, grottos and of course delicious mulled wine!
The Winter Wonderland has a traditional German Christmas market which houses more than 200 charming chalets overflowing with festive goods. You can explore the 150 chalets of the Angels Christmas Market, shop for unusual and unique items, including arts and crafts, trinkets, jewellery and decorations.
Keep the kids entertained and let them have a go on the carousel, helter skelter and run around funhouses at the traditional fairground. Older children will love the adrenaline-fuelled Winter Wonderland roller coaster rides.
Be sure to head to the various restaurants, bars and food stalls for churros, mulled wine or warming hot chocolate. Visit the festive German fare and enjoy the German sausage and gluhwein in the Bavarian Village. Relax with a cocktail at Bar Ice, which features tables, walls and sculptures crafted from ice and inspired by Ancient Greek mythology.
When is Winter Wonderland?
This year Winter Wonderland opens at 5pm on 17th November and then every day from 10am to 10pm until January 1st 2018, except for 25th December (Christmas Day).
Where is Winter Wonderland?
Winter Wonderland is held in Hyde Park, London and the nearest tube stations are Marble Arch, Green Park, Hyde Park Corner, Victoria and Knightsbridge.
In true London fashion this Xmas market has not been put together haphazardly and we are certain that when attending the Hyde Park Christmas Market this year you will not be disappointed!
If you're starting to feel festive and getting into the Christmas spirit with all this talk of delicious food and drink why not check out our selection of Luxury Hampers, a perfect gift for this time of year.

2. Manchester Christmas Markets
Over the years the Manchester Christmas Markets have continued to get bigger, better and even more festive than the previous year! The market stalls are now found not only in Albert Square (where the main market is found) but all over the city centre.
There are nearly 350 beautifully festooned stalls and chalets spread out across 10 distinctive market sites within the city centre. Not only that but Manchester's Christmas markets are free and accessible to all.
Whilst soaking up all of the festive atmosphere that Manchester markets have to offer you'll be spoilt for choice, tempted with gifts, crafts, jewellery, clothes, toys and even more. The choice is getting bigger every year, with local and European producers offering everything from fine amber jewellery, handcrafted leather bags, top-quality bonsai trees, handmade Belgian kitchenware, framed photo prints and French soaps.
When visiting the Manchester Christmas markets make sure you don't miss out on the amazing array of food and drink! Famous for traditional bratwurst but you also have the choice of Hungarian goulash, Spanish paella or an old-fashioned hog roast (our favourite!). Vegetarians need not worry when it comes to food options at the Manchester markets, there are plenty of vegetarian options on offer. For those with a sweet tooth the choices are even more mouth watering, such as Dutch mini pancakes or French profiteroles.
The drinks on offer will keep you just as warm and cosy as the food whilst making your way through the market trail. With all the glasses and mugs returnable as part of an environmentally friendly deposit scheme, your Christmas markets are greener than ever!
Whether you're relaxing with a hot chocolate, German or Spanish beer, or French wine we are sure you'll enjoy soaking up the atmosphere of this truly international event.
When are the Manchester Christmas Markets?
The Manchester Christmas Market is on from 10 Nov to 20 December, with Albert Square open until 6pm on 21st December
Where are the Manchester Christmas Markets?
The Christmas markets are located in 10 different spaces each with its own distinct character and atmosphere; Albert Square, Brazennose Street, St Ann's Square, Exchange Street, New Cathedral Street, The Corn Exchange, King Street, Market Street, Exchange Square, Cathedral Gardens.
Manchester Christmas markets have some exquisite cheeses to choose from, it wouldn't be Christmas without a selection of mouth watering cheeses to choose from. If you can't wait for the markets to start take a look at our range of deliciously festive cheese hampers.

3. Bath Christmas Market
Bath Christmas market is now in it's 17th year and has grown to become one of the UK's favourite Christmas markets, hence it being featured on our list!
Soak up the sights, smells and festive ambience of Bath at the Christmas market, there are lots of family friendly events, restaurants and beautiful architecture, not to mention the UK's only natural thermal day spa, Thermae Bath Spa.
The market now boasts over 200 chalets which is 30 more than last year! Packed with Christmas gifts, homewares, tasty food and drink, jewellery and much more. What makes this market so special is the chalets and individual stallholders who make the market so unique and festive. With over 80% of the stallholders coming from Bath and the South West and an impressive 99% of all products being either handmade by the stallholders own hands, in Britain or abroad with Fairtrade certification. When you shop at Bath Christmas Market, you are also supporting all of the wonderful small business owners.
When is Bath Christmas Market?
Bath Christmas Market is open every day from Thursday 23rd November – Sunday 10th December 2017.
Monday, Tuesday & Wednesday: 10am – 7pm
Thursday, Friday & Saturday: 10am – 8:30pm
Sunday: 10am – 6pm
Where is Bath Christmas Market?
Bath Christmas Market is located in the city centre, only a short walk from Bath Spa train station and various car parks. Bath is a very compact city, so festive shoppers are able to visit the market and all other shops and attractions by foot.
New for 2017: The Bath Christmas Market has extended into Southgate Street, Union Street and Hot Bath Street.
With our Christmas range now available, it's the perfect time to see what festive gifts we have on offer to spoil your loved ones this year!

4. Edinburgh Christmas Market (East Princess Street Gardens & George Street)

You'll be spoilt for choice this year when attending the Edinburgh Christmas Markets, this beautiful city has two Christmas markets on offer, the East Princes Street Market and the George Street Christmas Market.
East Princess Street Market is one of the two markets that Edinburgh city has to offer, the East Princes Street Christmas Market has a whole host of bespoke and traditional Christmas items!
This traditional and romantic Christmas Market located in the heart of the City offers a unique shopping experience for every visitor with its fair of crafters, artists, gift shops and gastronomic surprises.
George Street Christmas Market is the more traditional focused market of the two, offering a unique, festive shopping experience for every visitor with its array of crafters, artists, gifts and tasty delights!
When is Edinburgh Christmas Market?
East Princess Street Gardens - 18th Nov - 6th Jan 2018
George Street - 17th Nov - 24th Dec 2017
Please note: markets are open from 10am - 10pm.
Markets open at 1pm on 18 November, close at 8pm on 24 December, are closed 25 December, open 12pm 26 December and 1 January.
Where is Edinburgh Christmas market?
East Princes Street Market is close to the city centre near Edinburgh Castle, with the closest train station being Edinburgh Waverley.
George Street Market is in the city centre, located outside of Princes Street Gardens on George Street close to Charlotte Square Private Garden. The closest train station is Edinburgh Waverley and then Haymarket Station.
Don't let Christmas sneak up on you this year, we have beautiful trees and wreaths for you to choose from to help make you're home look delightfully joyous and festive!

5. Birmingham Christmas Market
One of the biggest and busiest cities in UK, Birmingham comes alive every winter with its arrival of the German Market, with great food, warming festive drinks, traditional gifts and even live music! The Frankfurt Christmas Market attracts visitors from all over the UK and it's easy to see why!
The market offers a large range of traditional goods and gifts, such as handcrafted decorations, toys, jewellery and more. There's also a selection of tempting food and drink. Pretzels, schnitzels, bratwursts, and roasted almonds will tempt your taste buds, and can be washed down with glühwein, weissbeer, or hot chocolate.
The market has returned every winter for the past 15 years and is the centrepiece of the city's Christmas event, creating an amazing sense of community.
When is Birmingham Christmas Market?
Dates: 16 November to 24 December 2017
Times: 10am to 9pm
Where is Birmingham Christmas Market?
Located at Victoria Square and New Street next to the Birmingham Town Hall and Birmingham Museum & Art Gallery. The closest train station to the Christmas market are Birmingham Snow Hill and Birmingham Moor Street.
We hope you enjoyed reading about our top 5 jolliest Christmas markets this year, it's great to see so many different locations of the country getting involved and growing their markets. Make sure to visit your local Christmas market this year and go enjoy the festive food and activities!
We hope you enjoyed reading about our top 5 Jolliest Christmas markets for 2018, we can't wait for the markets to open so we can get down and start buying Christmas gifts!
If you're looking for a unique and special Christmas this year then take a look at our Clementine Hatbox, beautifully elegant, it's sure to put a smile on your loved one's face this year.