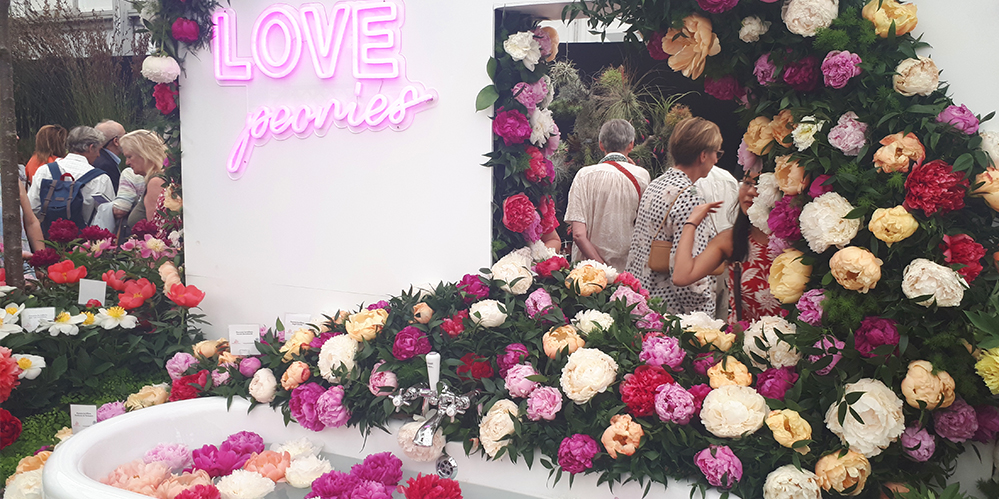 Appleyard London paid a visit to the RHS Chelsea Flower Show 2019.
We had a fabulous time exploring the lush grounds to see the abundant flowers and beautiful gardens. We've taken a lot of pictures so we thought we'd share some of our favourites from the show, and tell you a bit more about the exhibits.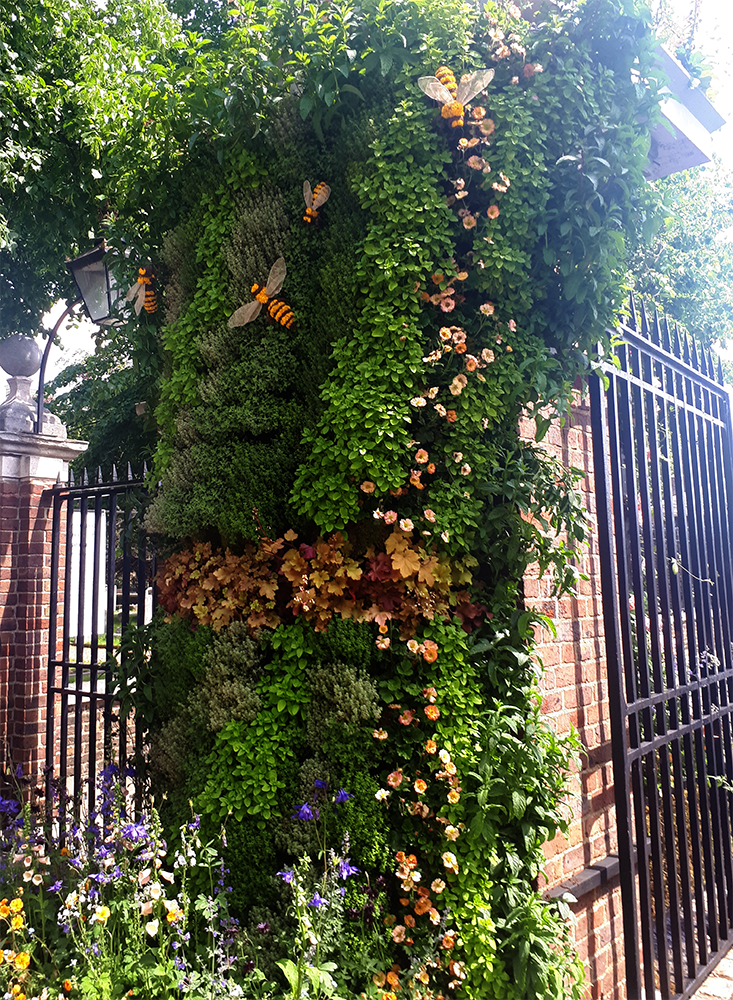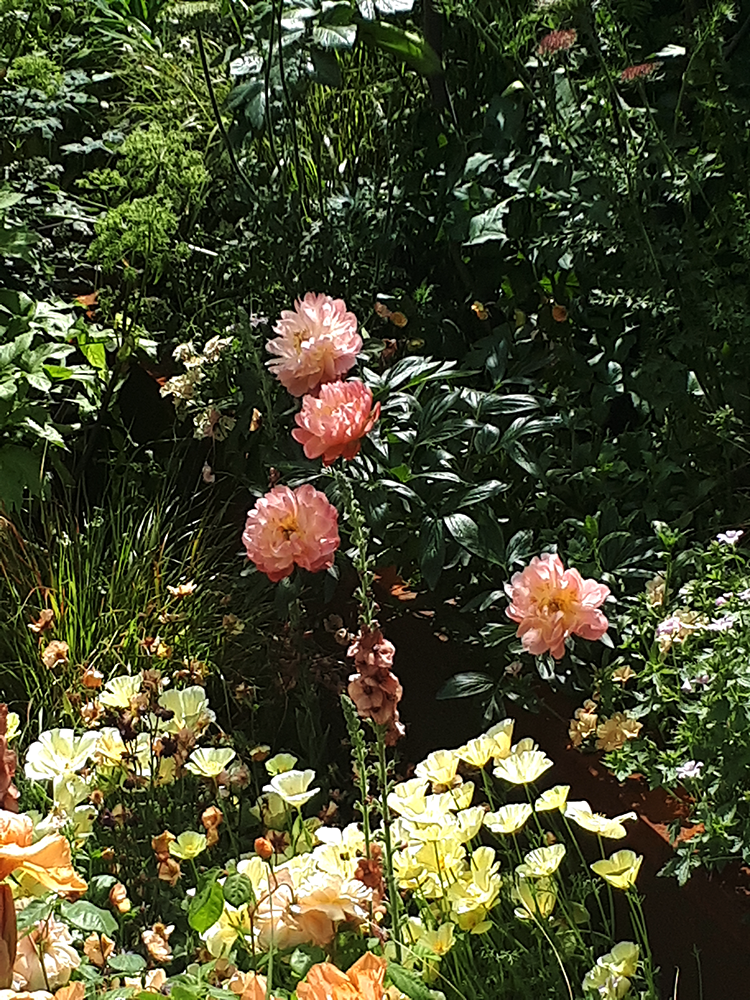 The Great Pavilion
The Great Pavilion is the place to see some of the best plant nurseries from both Britain and worldwide.
David Austin Roses
David Austin Roses has attended the Chelsea Flower Show for 50 years, making this year their golden anniversary. The nursery had a fantastic selection of garden roses and climbing roses at the show this year. The plants were beautifully arranged in a Secret Garden enclosed by white picket fences, treating visitors to an exquisite display bursting with fragrance and colour.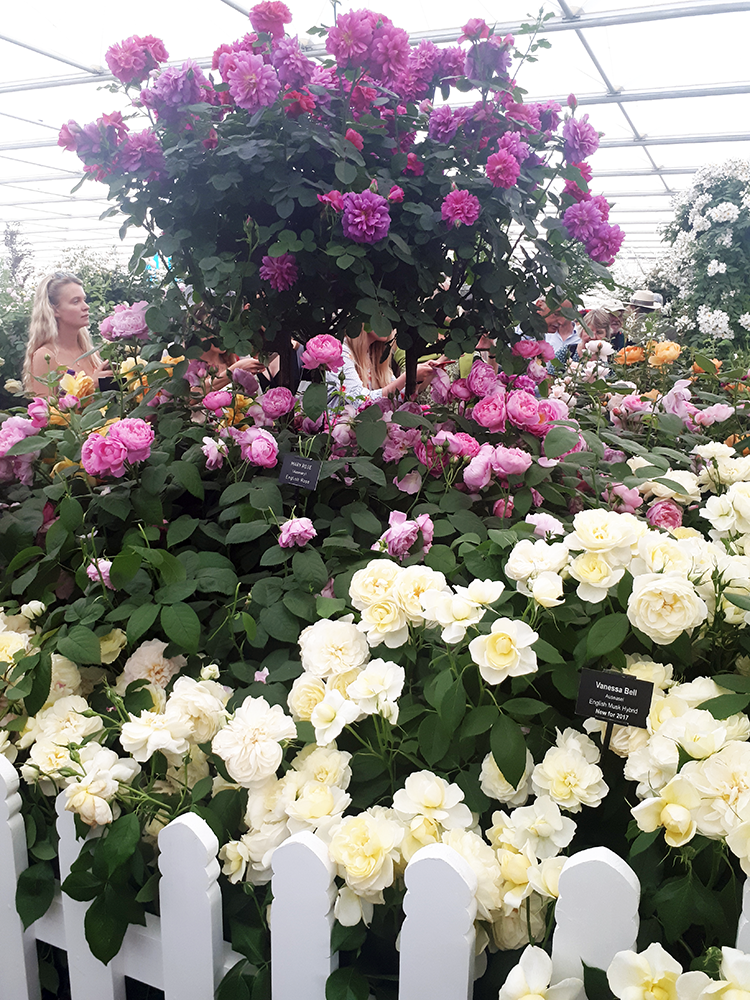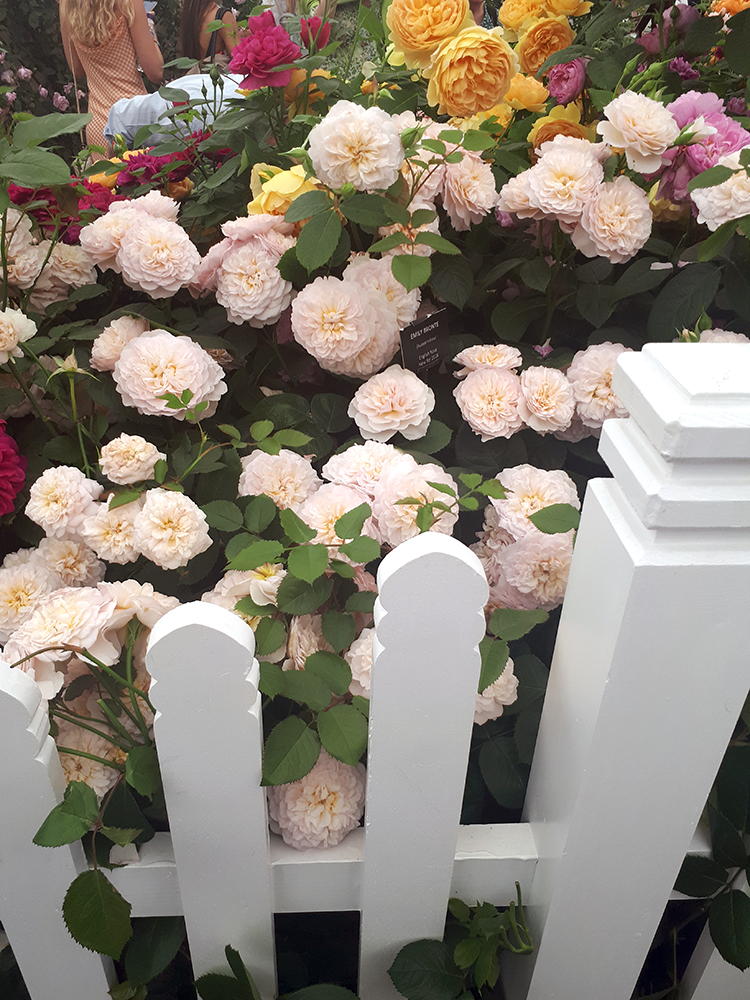 The nursery showcased two brand new English rose varieties this year - the Eustacia Vye and Gabriel Oak. This is the first time the roses have been seen in bloom, after 9 years of work breeding and nurturing these new blooms. Eustacia Vye is a vintage apricot pink rose, whilst Gabriel oak is a striking rossetted cerise variety.
The impressive display earned David Austin Roses their 25th gold medal at the Chelsea Flower Show. Sadly, this year also marks the first year without founder David C.H Austin, who passed away in December 2018. The show remembered him with a memorial celebrating his life, which was decorated with a blanket of colourful roses.
Royal Floral Crowns
Every year the show holds its Florist of the Year competition to showcase the best of British floristry. As the 24th May was Queen Victoria's 200th birthday, this year the challenge was to create a Royal Floral Crown. The rules stipulate that at least two thirds of the crown must be created with fresh flowers and plant material.
Sixteen finalist crowns were on display in the Grand Pavilion, with florist Helen Pannitt eventually emerging victorious. Her crown was an intricate and elegant creation of colourful blooms.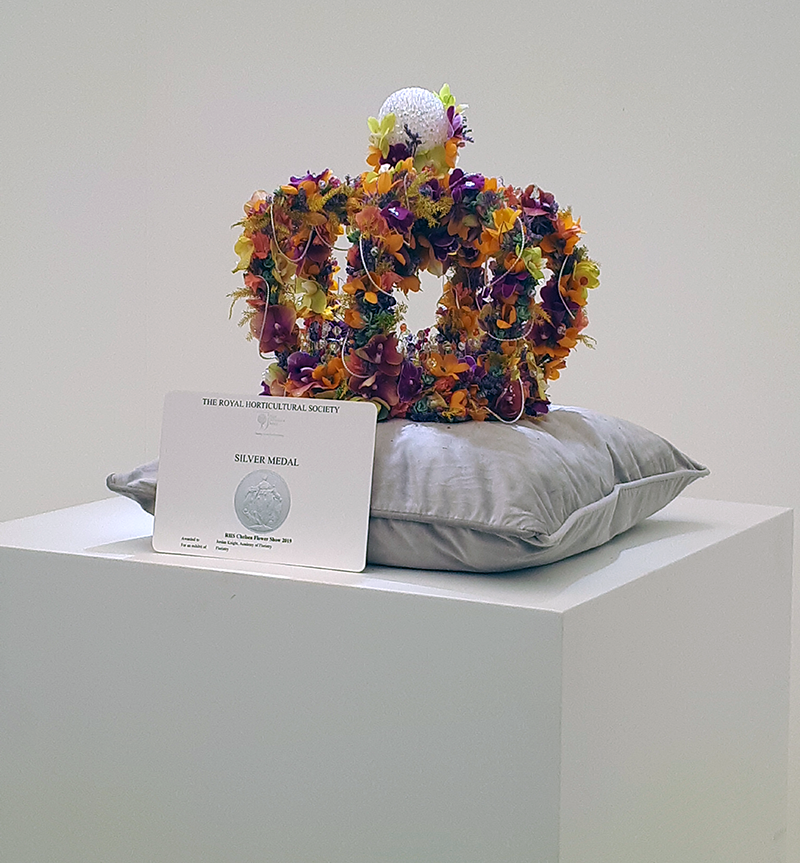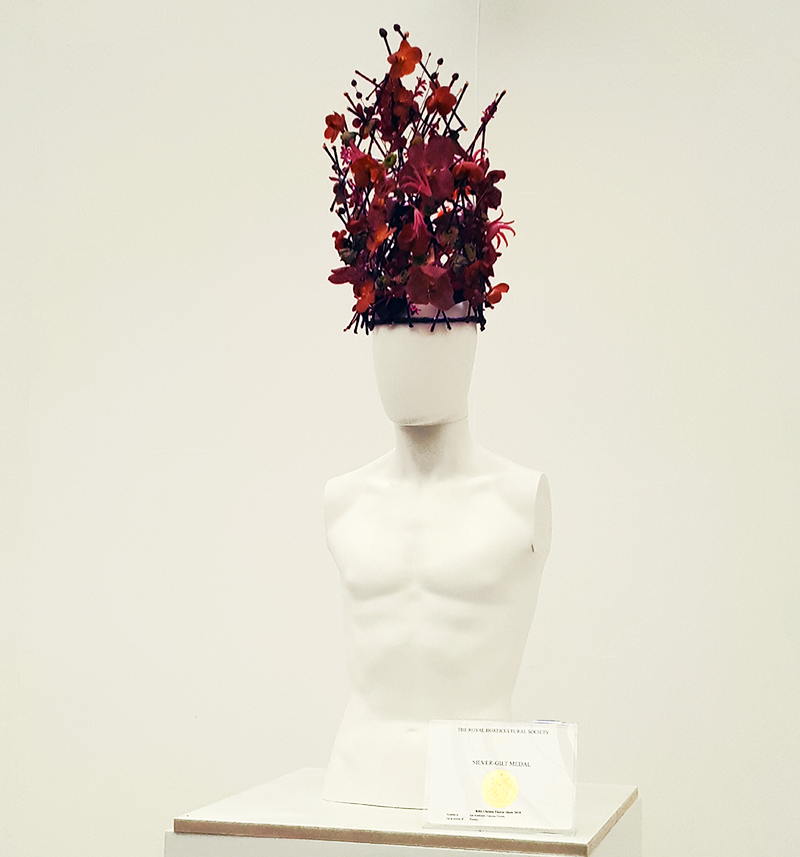 Primrose Hall Peonies
Peonies partly owe their popularity to the fact they're naturally photogenic, and Primrose Hall put together a truly influencer worthy display. Pillars and archways of peonies adorned their "LOVE peonies" exhibit, along with a bathtub full of fluffy blooms.
The nursery specialises in rare and unusual varieties of peonies, so there was a full range of colours to admire - from bright corals and baby pinks, to sunny yellows and pristine whites.
The peony exhibit won the nursery their first gold medal at the show, whilst their newly launched variety Paeonia All That Jazz was shortlisted for Plant of the Year.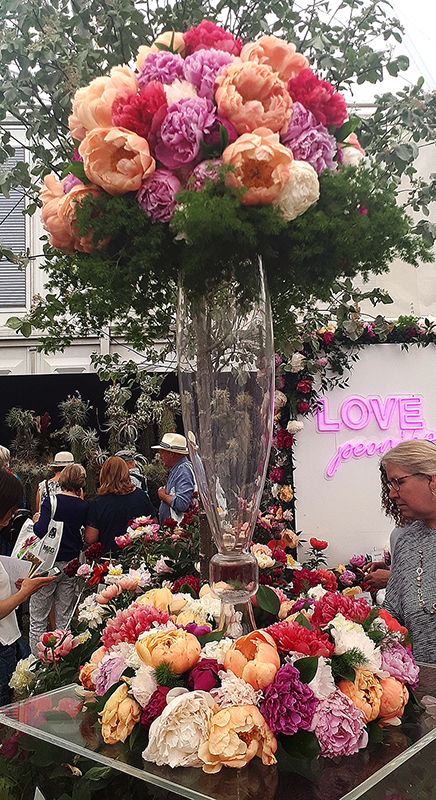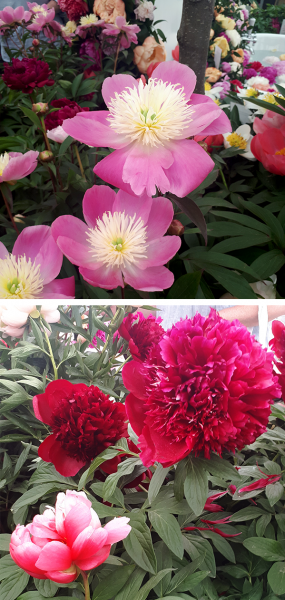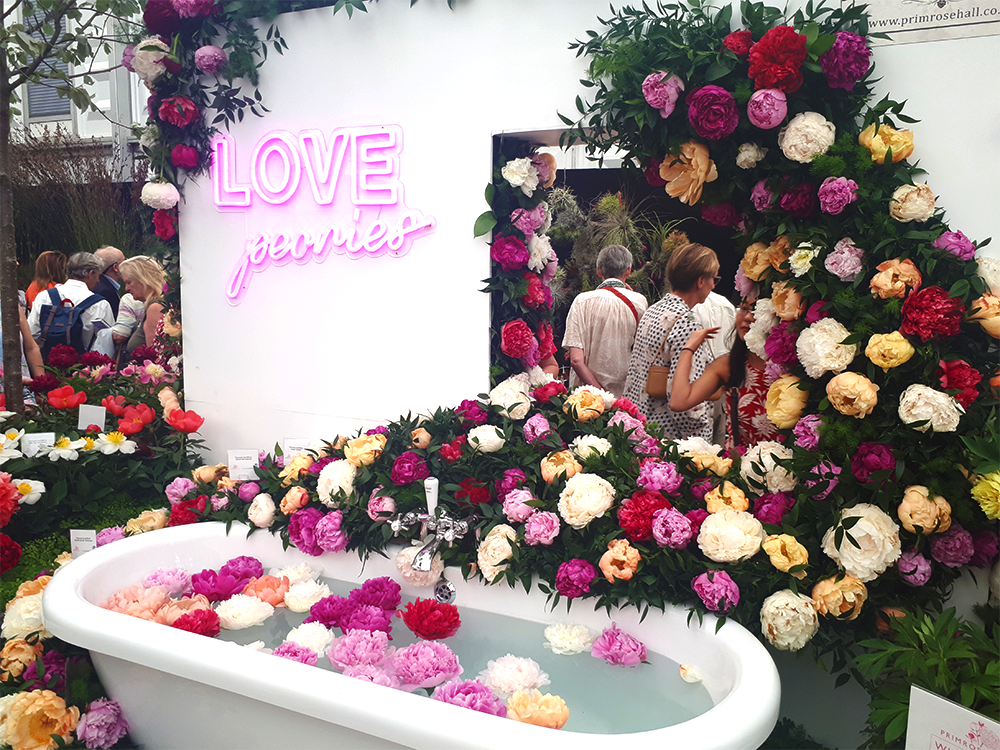 Rare Carnivorous Plants
Complete with a warning to not touch the plants, this exhibit by Hewitt-Cooper Plants showcased a range of exotic carnivorous plants from both temperate and tropical habitats. This included the iconic Venus Fly Trap, as well as other insectivorous plants like Sarracenias and Roridulas.
Nigel Hewitt Cooper has specialised in growing carnivorous plants for over 35 years, and this year's display landed the nursery yet another gold award.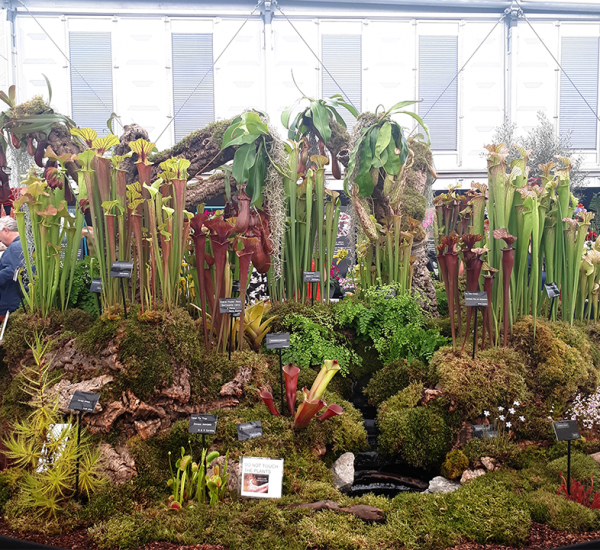 Lupin Choir - West Country Lupins
West Country Lupins designed an astonishing 'lupin choir'. These plants stood tall in this cleverly colour coordinated display, with deeper maroon lupins at the back and peach and yellow coloured plants at the fronts and sides of the exhibit. This striking exhibit earned West Country Lupins their third gold award at the show.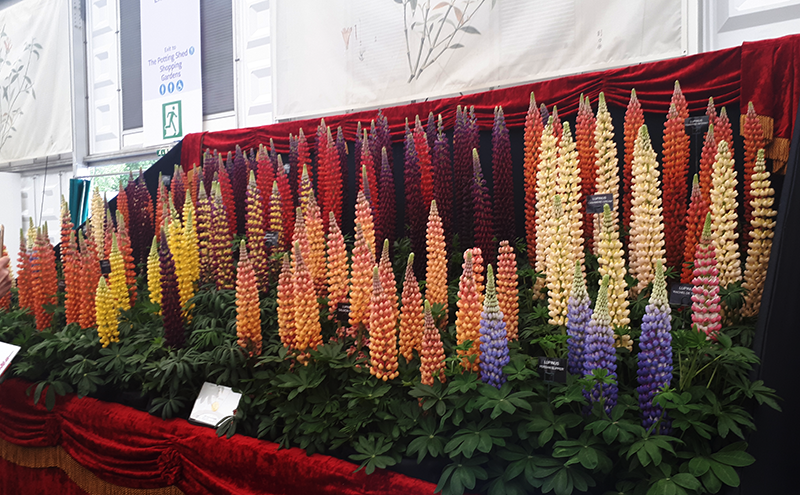 Orchid Society of Great Britain
Another gold medal winner, the Orchid Society's display showed off many different tropical orchid varieties from around the world, including slipper orchids, purple Vandas, and dancing lady orchids. The exhibit included an educational aspect with boards explaining the varieties and information about orchid care. The exhibit also gave visitors the opportunity to vote for their favourite orchid from the ones on display.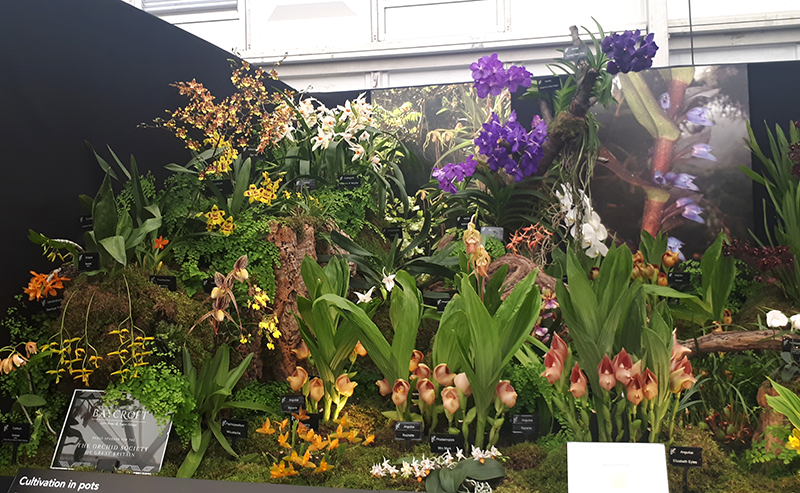 Lilies
Two nurseries showed off a gorgeous array of colourful lilies. Brighter Blooms specialise in calla lilies, with a whole spectrum of colour on display - from rich burgundies and rubies, to bright yellows and pinks. On the other hand, Harts Nursery showcased their impressive collection of oriental lilies, with varieties like Lion Heart, Nymph, and Original Love.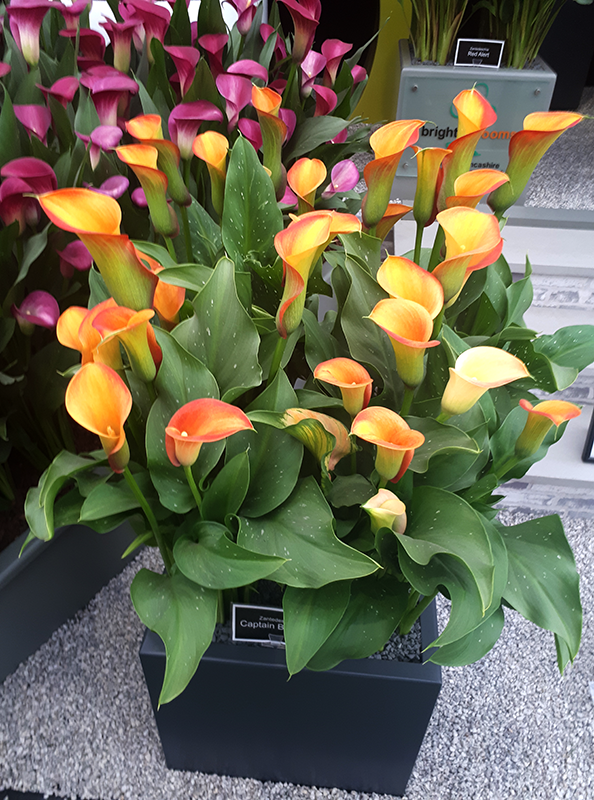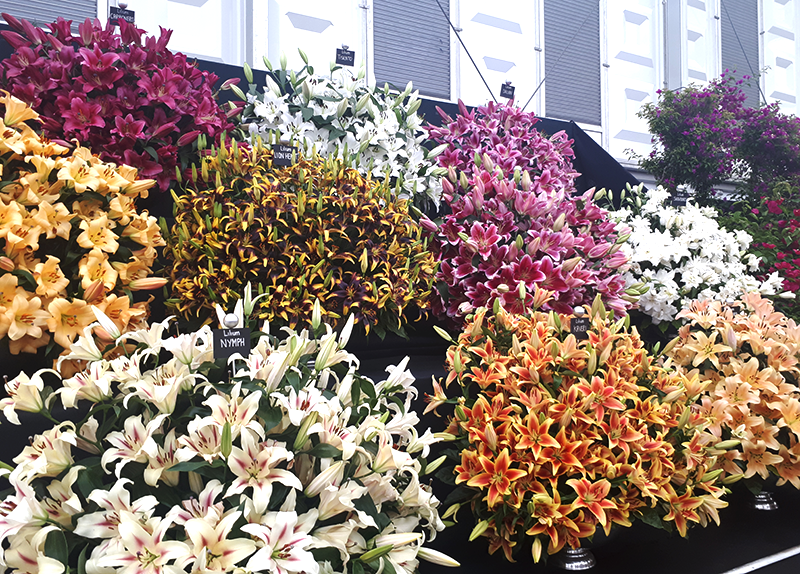 Alliums - W.S Warmenhoven
W.S Warmenhoven created an ethereal display of long stemmed fluffy alliums. Alliums are perfect for a more architectural look in a garden, with elegant stems ending in exquisite globe shaped flower heads.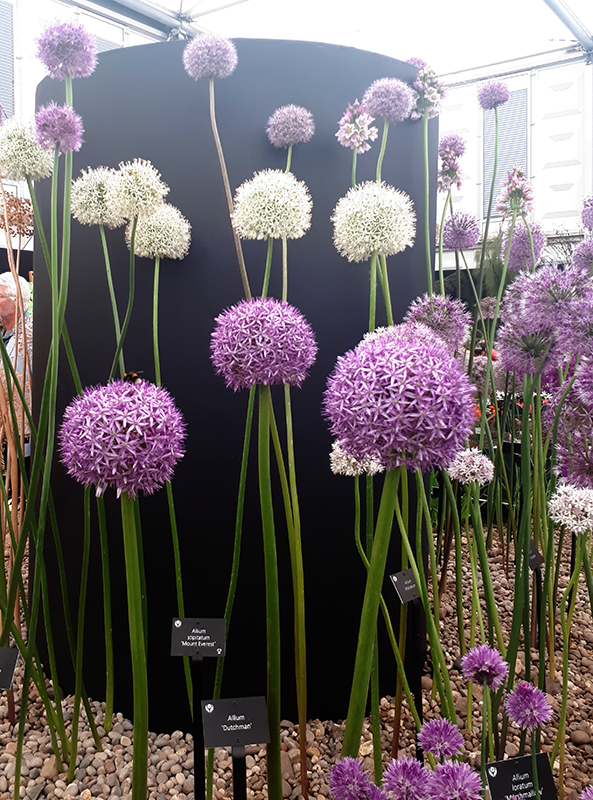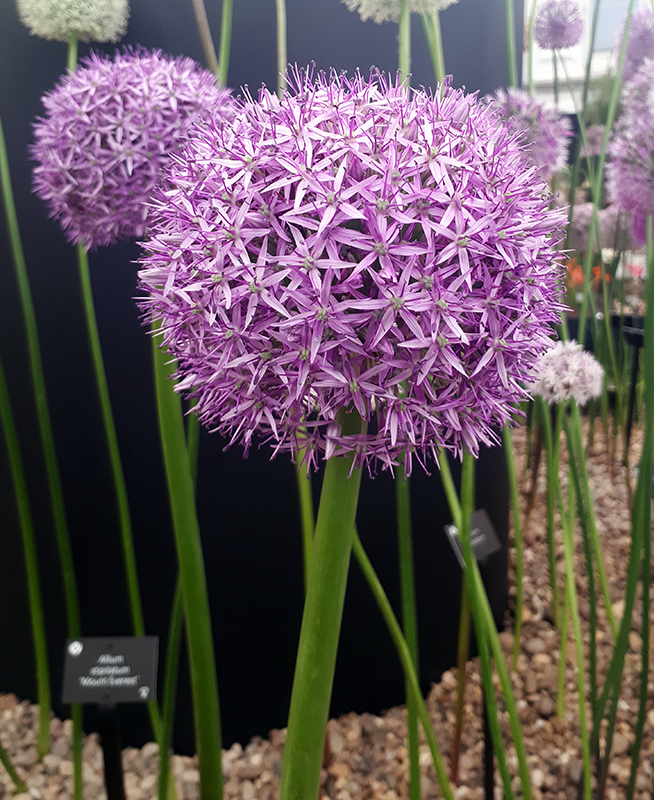 Foxgloves
This year's Chelsea Flower Show focused on a return to natural, with show gardens tending more towards lush greenery than perfectly manicured flower beds. The Botanic Nursery's foxgloves were a perfect fit within this theme, with tall spires of colourful blooms bringing a touch of the wild to the Grand Pavilion.
The foxglove is a wild plant that can be found throughout the UK in forests and hedgerows. Their spires of coloured flowers make them instantly recognisable, and they can reach up to 2m in height. These characteristics make for a very impressive display,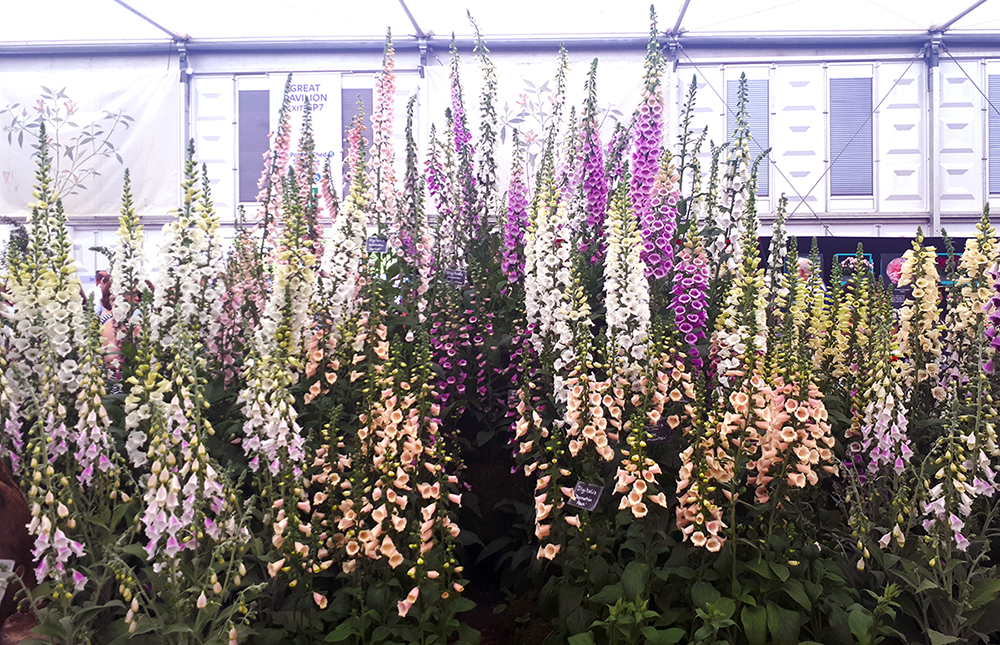 Chrysanthemums Direct
Another specialist nursery, Chrysanthemums Direct sell the largest variety of chrysanthemums in the UK, with over 420 different types. A beautiful selection of their range was showcased at Chelsea, with plenty of different shapes and colours to admire.
They've recently unveiled a new cultivar to honour the birth of the latest royal arrival. This vivid lemon yellow variety is named Archie Harrison after the Duke and Duchess of Sussex's newborn. It can be seen in the image to the left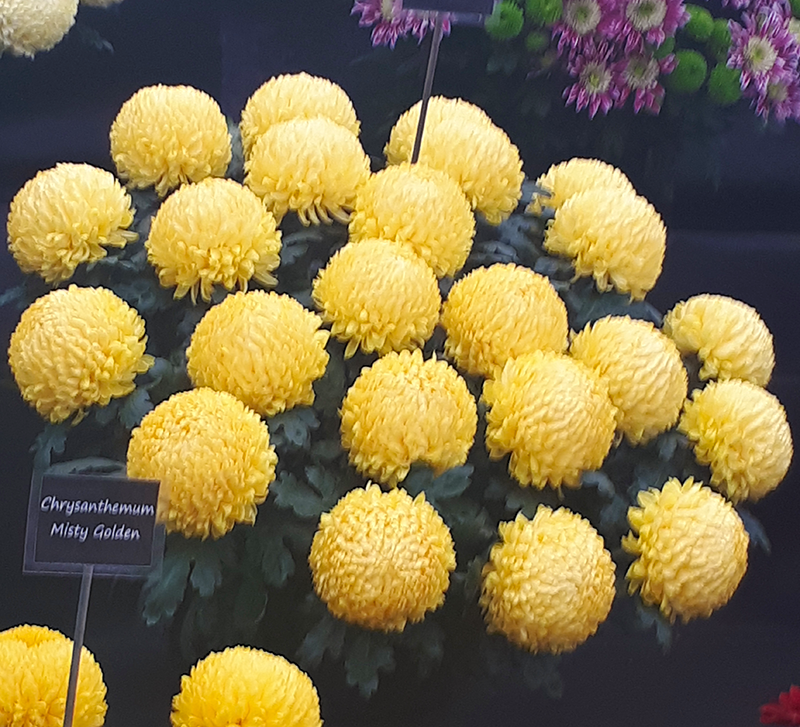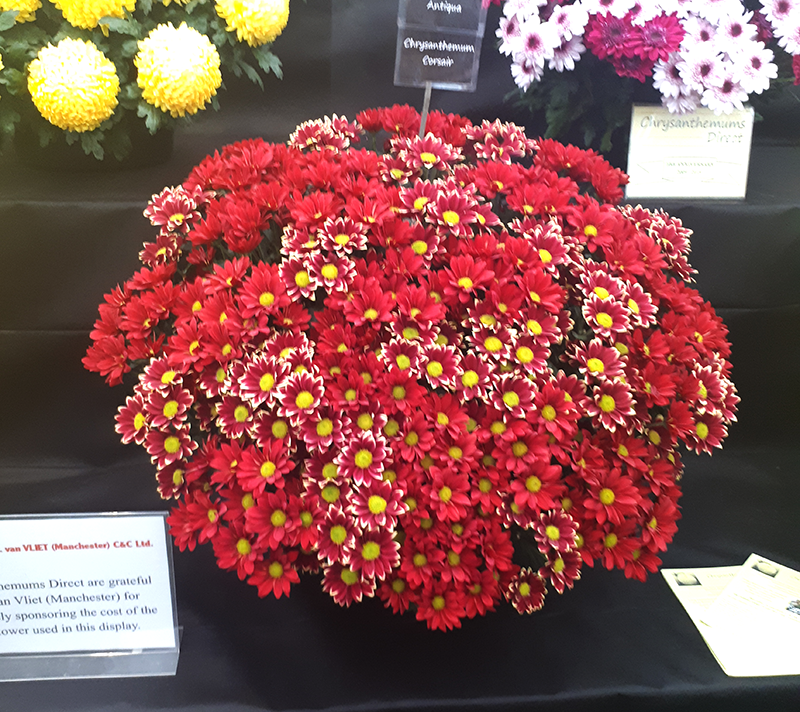 Show Gardens
Another staple of the Chelsea Flower Show, the show gardens exhibit exemplary, cutting edge garden design. Creators design their garden around a theme or concept, giving each show garden its own unique look.
As mentioned earlier in this article, this year the show gardens trended towards a more naturalistic look, with many of the gardens full of greenery, broad leaved trees, wildflowers and undergrowth. This reflects a renewed interest in sustainability, and the show as a whole has taken strides to make the event more environmentally friendly.
Floella's Future Show Garden
Birmingham City Council designed a show garden within the pavilion. Their display centred on environmental sustainability, with a particular focus on reducing plastic waste. The exhibit featured a sculpture of a human head drinking from a plastic straw surrounded by a carpet of colourful blooms. The sculpture was built out of more than 3000 tubes representing single use plastic straws.
The exhibit was awarded a gold, making this Birmingham Council's eight gold medal in a row.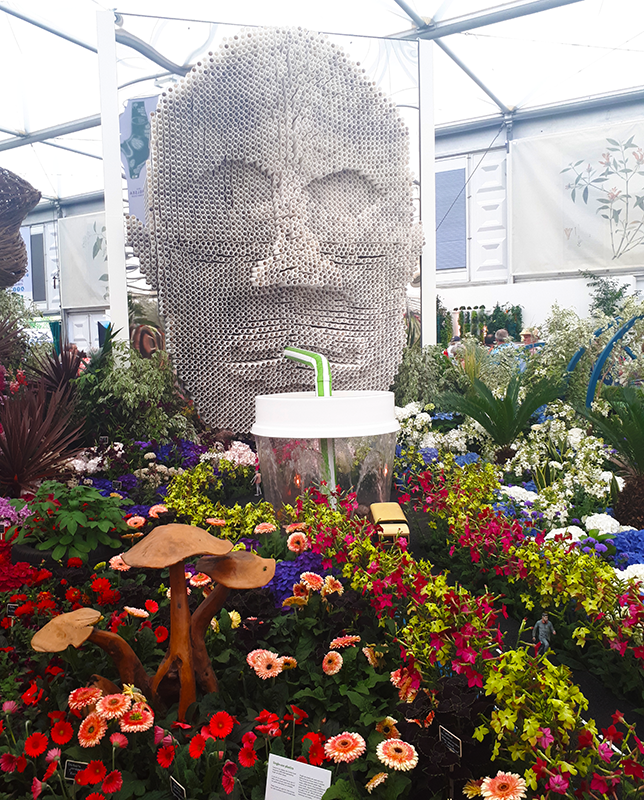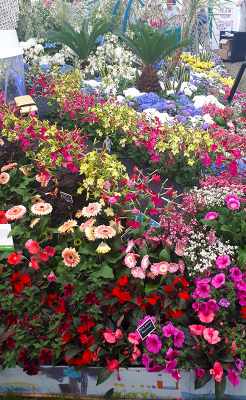 Trailfinders Undiscovered Latin America Garden
Trailfinders' garden was inspired by the South American rainforests of Chile, with monkey puzzle trees and waterfalls prominent features of the exhibit. The whole garden was constructed on a steep slope, with a carpet of temperate rainforest plants such as ferns, gunneras, fuschia, and alstroemeria.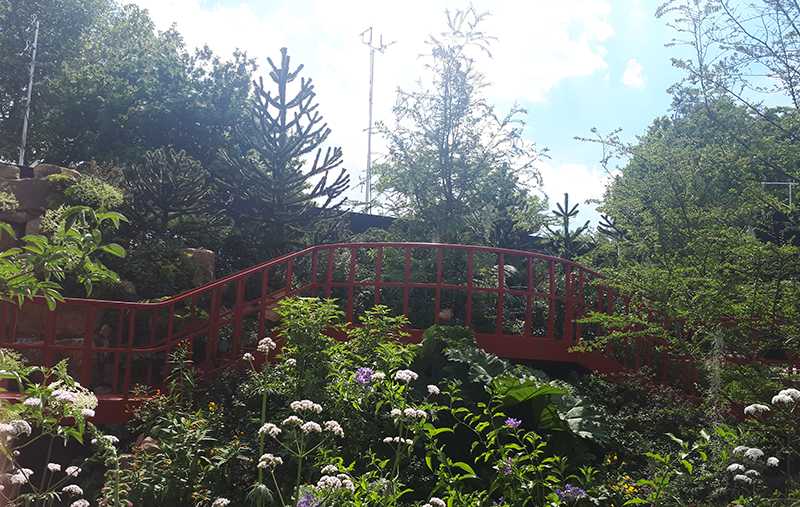 Greenfingers Show Garden
Highlighting the therapeutic benefits of spending time in gardens, the Greenfingers Charity created an accessible and peaceful space designed for children with complex needs, their families, and carers. In the past two decades, Greenfingers has created 56 similar outdoor spaces for children with life limiting illnesses and their families.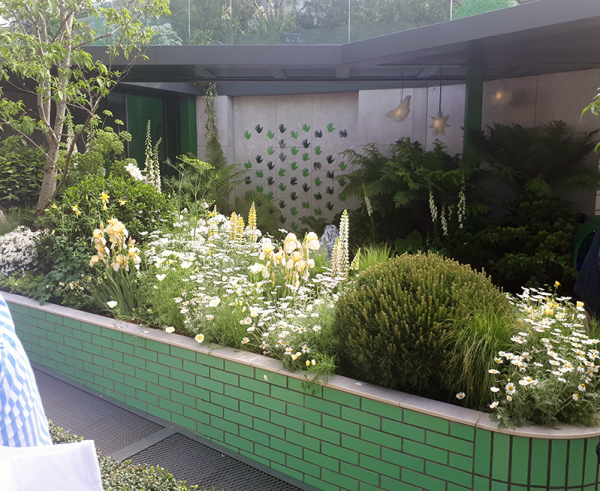 The Savills and David Harber Garden
This garden highlighted the move towards more natural spaces, with Andrew Duff designing a city garden full of sustainable and biodiverse elements. This included a wetland area, large trees, meadow wildflowers, and a central pool.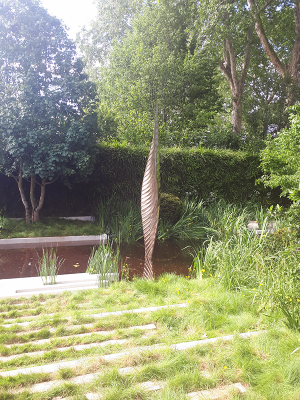 The Floral Design Studio
The Floral Design Studio is another floristry competition which gives amateur florists the chance to create designs around a particular theme. This year, the themes were 'Connections', 'Avant Garde', 'Diamond Days', and 'Silhouette', giving arrangers a chance to get creative and show off their skills. Take a look at some of the amazing floral installations we got the chance to see: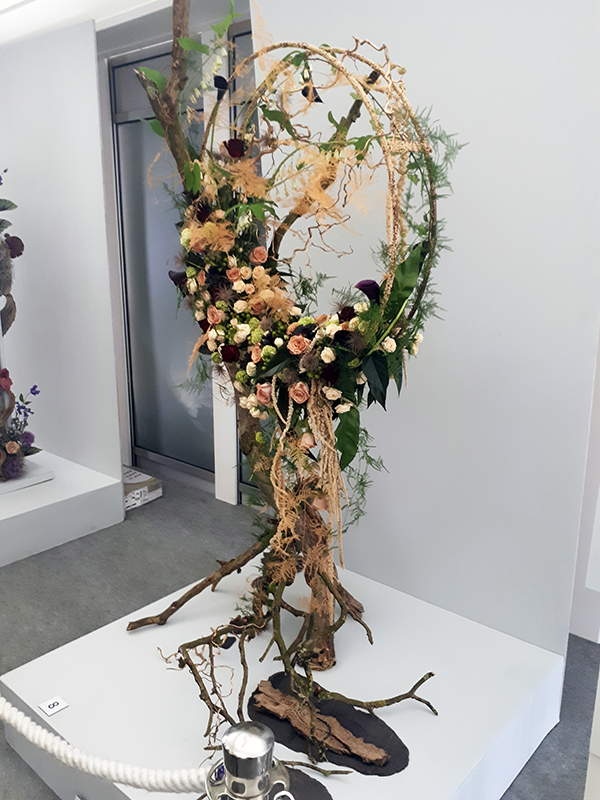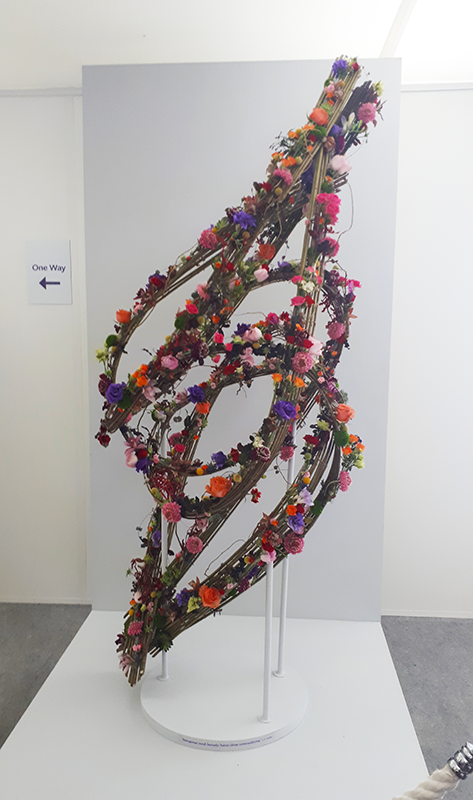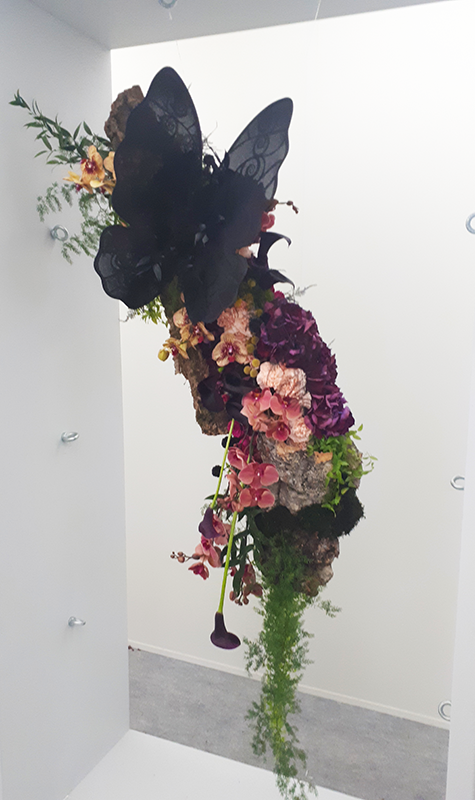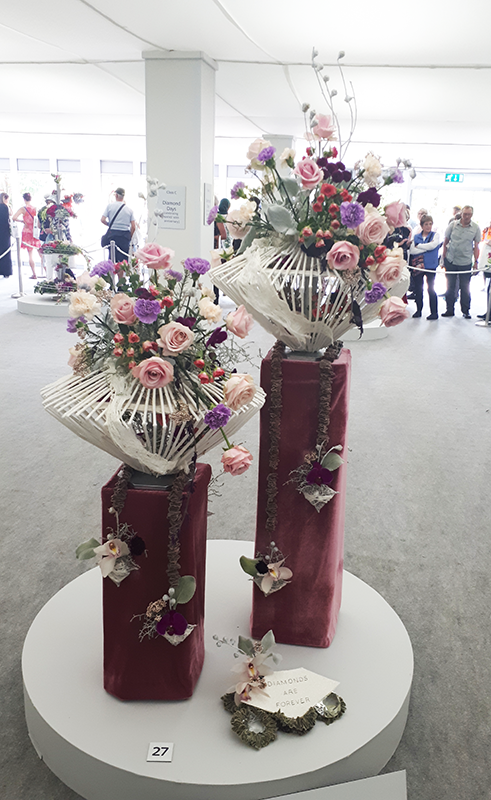 We hope you've enjoyed this roundup of the Chelsea Flower Show. We hope to attend more shows this summer, so will definitely share our thoughts and photos on those as well!