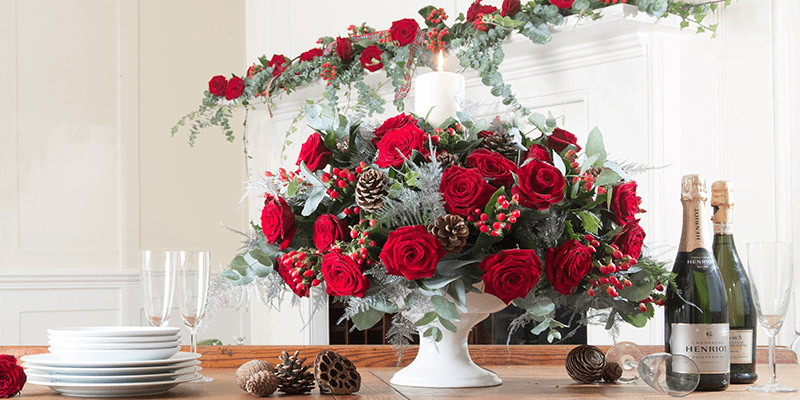 Christmas decorations are one of the best parts of Christmas.
There's nothing quite like seeing your house light up, and it will definitely make you feel festive.
Christmas flowers and plants are a wonderful addition to your decorations, bringing a touch of fresh and natural wintry beauty to your home, and effortlessly complementing other greenery like your Christmas tree and wreaths.
Certain blooms are traditionally associated with the season, so in this blog we'll be covering some of our favourite Christmas flowers and plants, and telling you a bit more about them.
1. Amaryllis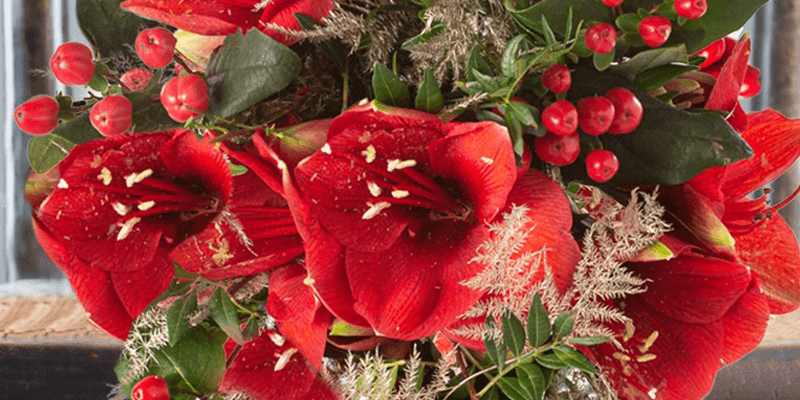 Amaryllis is a popular Christmas bloom. It blooms with festive bright red flowers that are the perfect match for traditional Christmas colours. Other varieties produce snowy white flowers, ideal for that winter wonderland look. The flowers are very large and trumpet shaped, making them naturally eye catching.
Despite their wintry reputation, they are actually tropical plants native to South and Central America. Nevertheless, they became popular gifts at Christmas as they can bloom indoors in the winter. Although it's commonly bought as a plant, it works just as well in bouquets, adding showy flair to arrangements. It looks especially fabulous when paired with other festive foliage like berries.
Amaryllis also has the benefit of being very long lasting. The plants bloom for around 7 weeks at a time, meaning they'll look stunning throughout the festive period and beyond. Similarly, cut Amaryllis have an impressive vase life, and with proper care will last three weeks or more. Buy a bouquet a couple of weeks before Christmas and you can enjoy it until after the New Year.
In the traditional language of flowers, Amaryllis symbolises strength, confidence, success and determination. The perfect way to send your best wishes for a New Year full of prosperity.
Note: Interestingly, the plants commonly called 'Amaryllis' are actually part of the Hippeastrum genus. The only true Amaryllis is native to South Africa, and is the only plant in that genus. This was eventually decided after many centuries of debate and confusion amongst botanists.
2. Poinsettia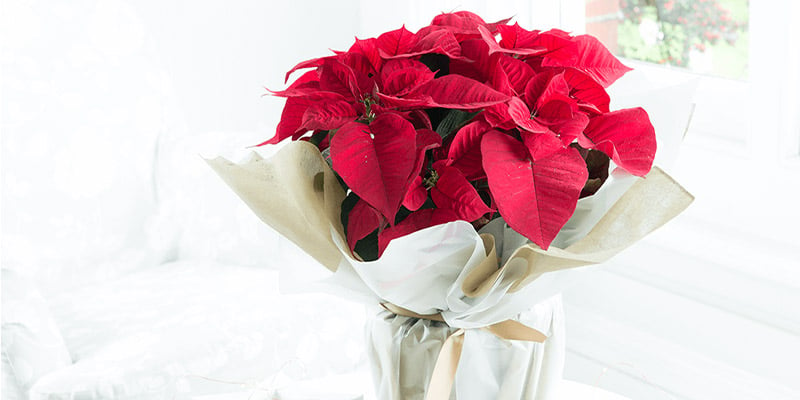 There's no Christmas plant more iconic than the Poinsettia. It's the most popular houseplant in the UK at Christmas, and with its gorgeous mixture of red and green festive foliage, it's easy to see why. Around 8 million are sold every single year. Red varieties are by far the most popular, but other colours, including white and pink, are also grown.
Poinsettias are a little different to other flowering plants. The popular red 'petals' are actually bracts, the upper leaves of the plant. The flowers themselves are tiny, but can be seen nestled in the middle of the leaves, and are usually green or yellow in colour.
Poinsettias are native to Central America, where they flower in the winter. In Mexico, they are part of a Christmas legend. It's said that a poor girl was looking for a present to give to the baby Jesus at a Christmas service, but there was little she could afford, and so she resorted to bringing a small bouquet of weeds from the road. When she placed the humble bouquet at the Nativity scene, it transformed into the beautiful red Poinsettia.
Poinsettia Care Tips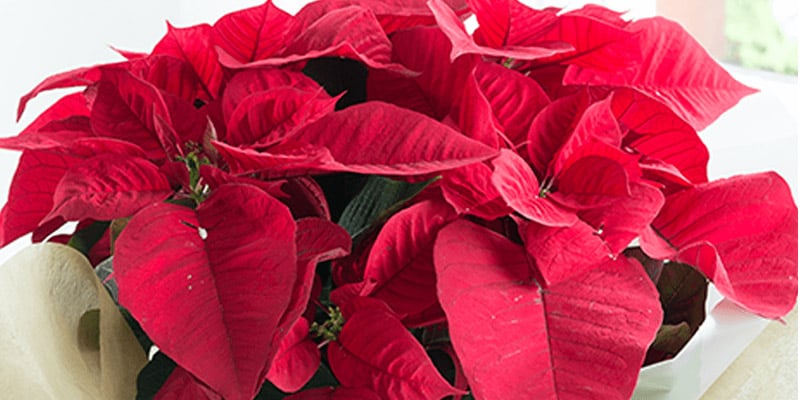 To help keep your Poinsettia looking healthy and fresh over the festive period, you can follow a few simple care tips. Keep the plant in bright sunlight for around six hours a day, whilst keeping it away from direct sunlight, drafts, and heat. The soil should be kept moist, but you should avoid overwatering and having it sit in excess water. Wait until the top layer of soil is dry to the touch before adding more water.
When cared for properly, the flowers and bracts on Poinsettias can last for a few months. Once the plant has finished blooming in the spring, you should trim back the stem and prune old leaves and flowers.
It can be tricky to get them to rebloom the following Christmas, but you can help Poinsettias along by watering them and occasionally adding fertiliser to the soil throughout the year. To encourage them to bloom again, it's recommended to leave them in complete darkness for 14 hours a night starting in October. This can be done simply by covering the plant with a box, or placing it in a cupboard. This kickstarts the flowering process and colour change from green to fiery red.
3. Azalea
Azaleas are part of the Rhododendron family and are popular houseplants at Christmas, perfect for staving off the winter chill. Their beautiful, full blooms are lovely for brightening up your home, with red and white the most popular colours during the festive season. These plants will be much appreciated as gifts.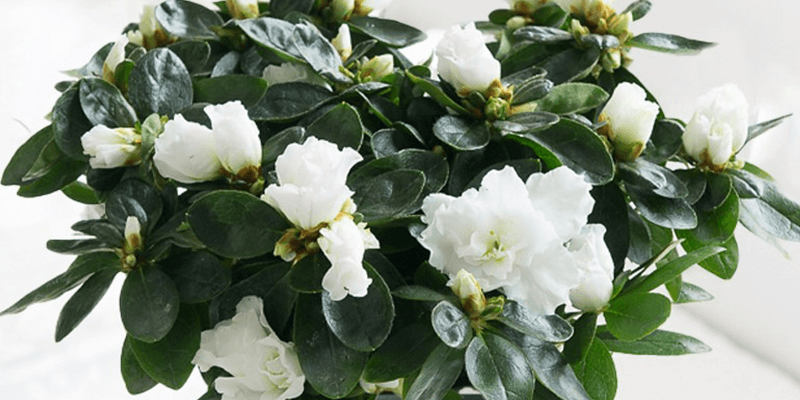 Once Azaleas start blooming, their flowers last up to 4 weeks, making them a great centrepiece for the whole Christmas period. They're best kept in slightly cooler, humid areas, and away from heat sources. To water, submerge the pot in room temperature water and then allow it to drain. The soil should be kept moist at all times, with watering usually required at least two to three times a week.
Azaleas also have rich symbolic significance, with flower meanings including femininity, temperance, softness, and caring for yourself and others.
4. Cymbidium Orchids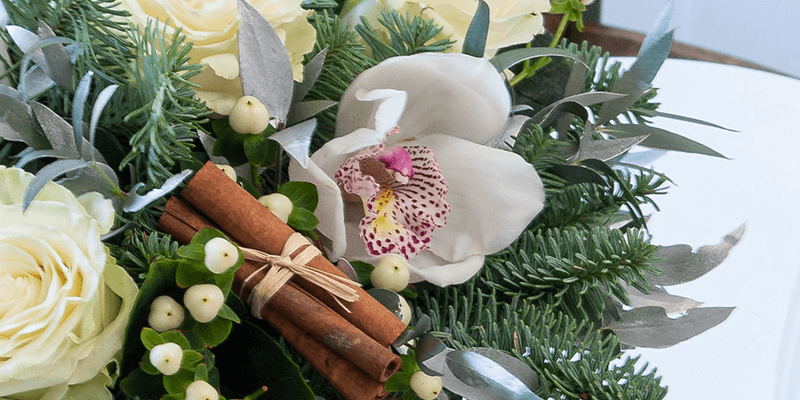 Originally native to Himalayan forests, Cymbidium Orchids are an unusual and elegant addition to Christmas bouquets. Due to the fact they're usually found above cloud level, they're only in season in the winter, so Christmas is a good time to enjoy them.
Sporting elegant flower spikes of decorative blooms, they add gorgeous interest and texture to flower arrangements. The white varieties are particularly pretty at Christmastime, giving bouquets an enchanting snowy aesthetic.
Cut Cymbidium Orchids have the benefit of being very long lasting, with stems lasting up to 4 weeks. This makes them a perfect addition to your Christmas decorations, as you won't have to worry about them wilting before the end of the season.
5. Red Roses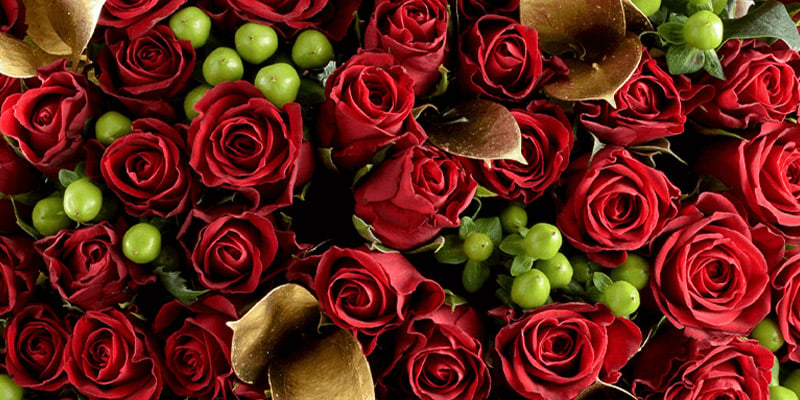 Red roses aren't just for romantic occasions - they're also staples of Christmas bouquets. Their vivid colour perfectly matches the traditional colours of the season, giving bouquets an instantly festive look. We especially love them paired with seasonal green berries and golden foliage, for that classic Christmas colour combination.
Red roses also work well in table centrepieces, bringing a vibrant pop of colour to your Christmas table.
Cut red roses last a week or more in water. If you're wanting to use them in your Christmas decorations, we would recommend ordering them to arrive a couple of days before Christmas. This will mean they'll still look beautiful a few days after Christmas.
6. Christmas Foliages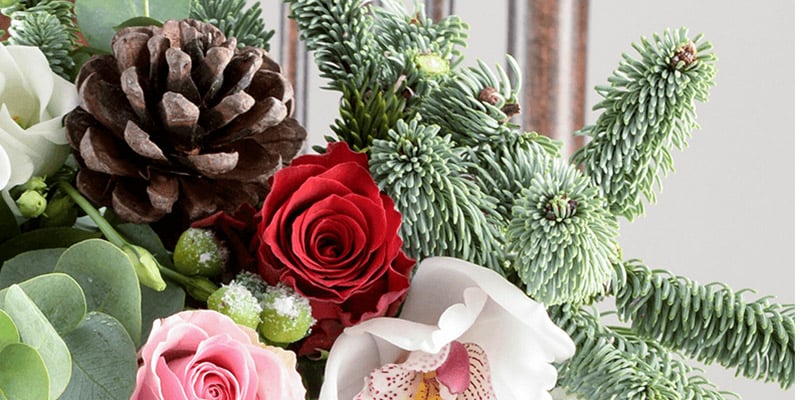 Although not flowers or plants, Christmas foliages are the final ingredients for making a bouquet look truly festive.
Foliages like pine cones and berries really enhance Christmas bouquets, giving them a natural, evergreen look that's welcome during the cold nights of winter. Similarly, spruce is a beautiful addition, as it's reminiscent of Christmas trees and winter forests. Finally, gilded leaves of plants like eucalyptus a touch of festive sparkle to any Christmas flowers.
For a truly luxurious display of Christmas foliage and flowers, see our enchanting Festive Forest bouquet.
---
Feel like adding some floral flair this Christmas? Find the perfect addition to your decorations with our Christmas bouquets, plants, and table centres at Appleyard today.