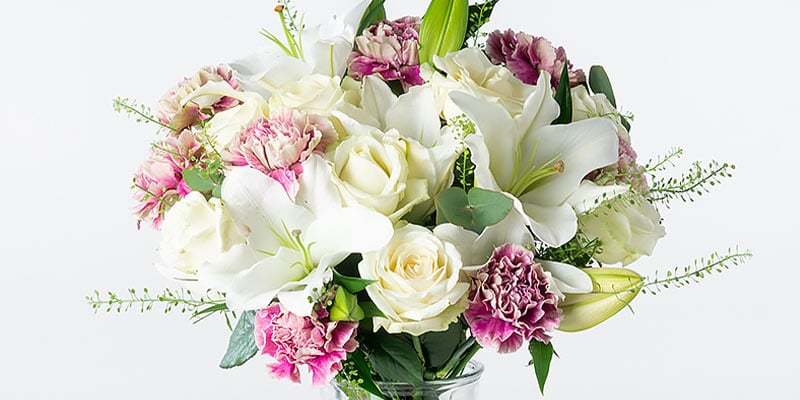 There's a lot more to flowers than their pretty petals. That's why, every day, millions of people ask Google their most burning floral questions.
From the meaning of different rose colours to how to make fresh flowers last longer, we've digged and delved to find all the answers.
Here they are, all in one place. Everything you ever wanted to know about flowers.
What is the most popular flower?
The beauty of flowers may be highly subjective, but we're yet to meet anybody who didn't like roses. This timeless symbol of love comes in a myriad of beautiful varieties and is universally popular. In fact, the red rose is so well-loved in Britain that it is the national flower of England. Honourable mentions go to peonies, tulips and sunflowers.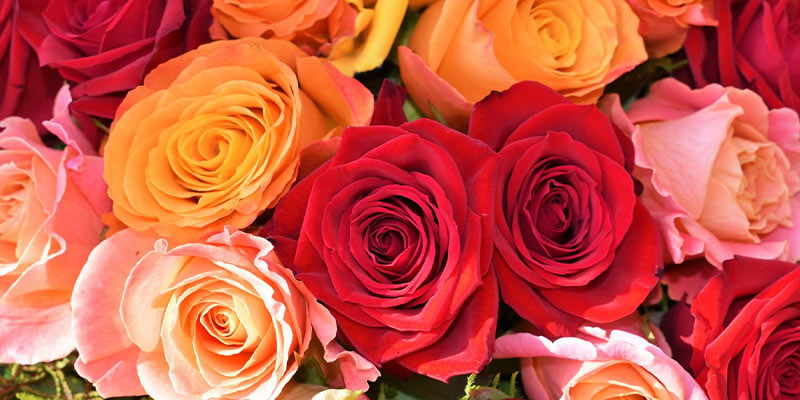 Which flowers last the longest?
How long your flowers will bloom in your vase largely depends on how much TLC they receive. That said, some species are naturally hardier than others. Look to chrysanthemums, which can last 2 to 4 weeks, orchids (2 to 3) and carnations (also 2 to 3). Lilies are another strong bet, lasting up to 2 weeks, as are alstroemeria (2 to 3), freesias (10 days), hydrangeas (7 to 10 days) and sunflowers (7 to 12 days). Remember that all Appleyard's bouquets are guaranteed to bloom for at least 7 days, so you can rest assured of their freshness.
What is the most expensive flower in the world?
The Kadupul or 'ghost flower', a fleeting, floating type of cactus from Sri Lanka, is so transient that it's priceless. It blooms spectacularly once a year in the dead of night and wilts before dawn. The most expensive flower you can buy, however, is the endangered Rothschild orchid, best known as the 'Gold of Kinabalu'. It can only be found in Malaysia's Kinabalu National Park, where it was discovered in 1987. One stem will set you back an eye-watering £3,500!
Why do flowers make us happy?
We know that a bunch of flowers makes us grin from ear to ear, but not everybody knows why. The answer lies in science. Receiving a bouquet triggers our brain to release dopamine, 'the happy hormone'. This is because, as our ancestors evolved, they came to associate bright, blooming plants with the start of spring after a long, hungry winter. Today, when we see flowers, we still expect something positive, even though we have enough food all year round. Nurturing plants, meanwhile, has been proven to reduce stress and foster pride and joy.
What is the best way to send flowers?
Sending flowers through Appleyard is a surefire way to make your loved one smile. Our classy bouquets are sent nationwide in stylish branded boxes, with their stems wrapped in a special hydrated sponge. What's more, we offer a lovely selection of letterbox flowers that pop through standard letterboxes, meaning no more worrying about your recipient missing their delivery! Our flowers always arrive in bud for a longer vase life and hand delivery is available for selected London postcodes. Our 100% Happiness Guarantee means they'll last for at least a week, else we'll give you your money back!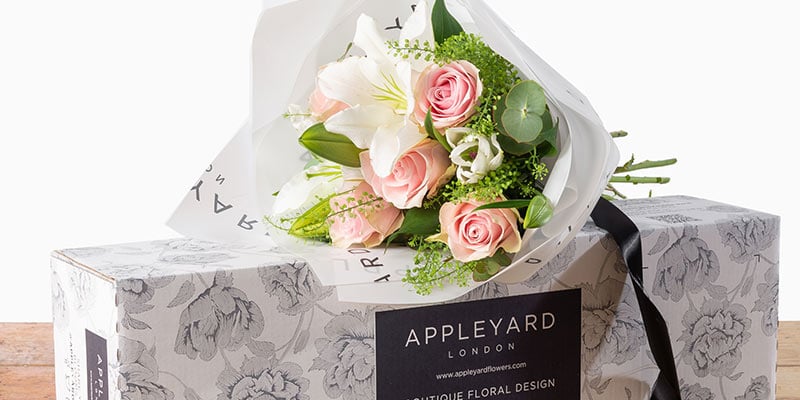 What do 12 roses mean?
During the 19th century, the Victorians would use 'the language of flowers' to send secret messages to lovers via posies known as nosegays or tussie-mussies. In this charming floral dictionary, receiving a dozen roses from a suitor was considered the height of romance, especially if they were red. It was a gallant gesture that simply meant, 'be mine' - and still does.
What do white roses mean?
White roses historically symbolise purity, hence why they remain popular at both weddings and funerals. They are sometimes called 'bridal roses' because of their association with everlasting love.
What flowers are poisonous to cats and dogs?
Some flowers are highly toxic to our furry friends, so check that the blooms you're buying won't harm or kill them if ingested. Lilies are the biggest no-go for cat and dog owners, causing kidney damage, but you should also steer clear of chrysanthemums, daffodils, tulips and hyacinths, which may cause vomiting, diarrhoea or seizures. If in doubt, ask your vet, or browse our pet-friendly range of plants and bouquets.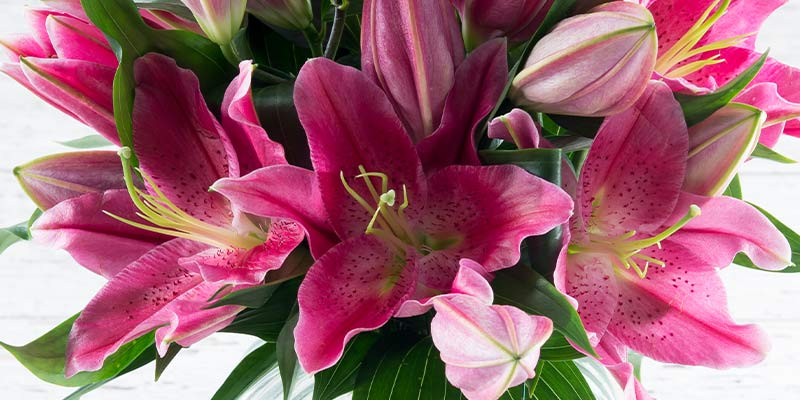 How long do flowers last without water?
Just like us, cut flowers will die without water. Indoors, thirsty blooms should last 2 to 3 days before wilting, but they may only last 2 hours if left outside in hot sun. In general, the woodier their stem and the greater the number of petals, the longer they will last between drinks. Lilies will fare better than tulips, for example. Here at Appleyard, we wrap all our stems in a hydration unit called a porto (it feels like a damp sponge). This keeps them well-watered during transit, but we recommend popping them into a vase as soon as possible after delivery.
How do you make fresh flowers last longer?
Different flowers have different needs, but the following suggestions apply to almost all blooms. Firstly, fill a vase with fresh, room temperature water and stir in your flower food (we supply a sachet with all of our bouquets). Next, cut at least an inch off each stem at a 45-degree angle (this maximises the surface area for water intake) and remove any leaves beneath the water line to avoid rotting and contamination. Display your flowers out of direct sunlight and away from draughts. Keep them away from the fruit bowl, too, as ripening fruit gives off ethylene, a gas that can cause them to wilt prematurely. Refresh your water every few days. For species-specific tips, read our flower care guide.
Which flowers are edible?
It's important to note that many flowers are very much not edible and can damage your health. Therefore, only eat species that you're sure are safe, and wash them carefully first. Some of our favourite florals to nibble on include elderflower (in jellies, tarts and cordials), rose (for icing, jam and drinks), alliums (in salads and dips), lavender (in honey and biscuits), sunflower (in stir fries and salads), nasturtium (in pasta dishes) and chrysanthemum (in soups).
What flowers can kill you?
You don't need to live in a tropical country to be at risk of eating a deadly plant or flower. For example, did you know that hydrangeas contain cyanide, which can cause your blood pressure to plummet? Fortunately, most poisonous blooms are only fatal if ingested in large quantities, but they can also cause convulsions, vomiting and other nasty side effects. Other species to keep firmly away from curious mouths include foxgloves, lily of the valley, oleander, larkspur, azalea and mistletoe.
What plants grow in shade?
It's true that many plants love the sun, but there are plenty of species that will tolerate or even thrive in shady spots. So if your garden's on the gloomy side, don't despair! Snowdrops, foxgloves, aquilegias, astrantias, primroses, hellebores, astilbe, fuschias and hydrangeas are all good bets.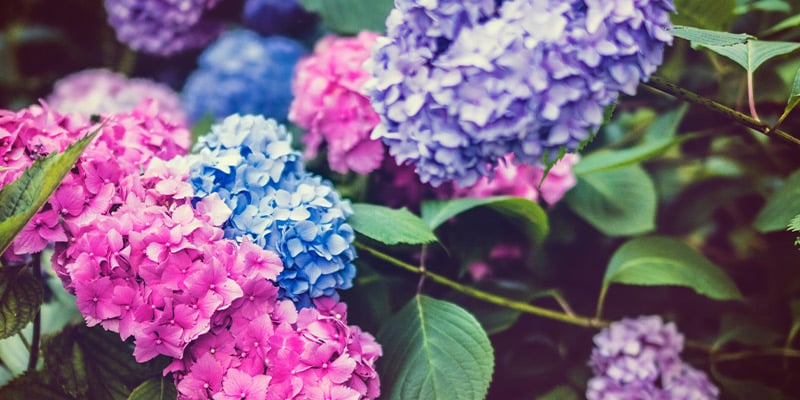 Is it safe to sleep with plants in your bedroom?
Myths about flowers and plants abound, but a lot of them are entirely baseless. One such false myth is that plants release harmful levels of carbon dioxide as you sleep. Let's get the facts straight. During the day, plants absorb CO2 and emit oxygen, during a process known as photosynthesis. The reverse happens at night, as there's no sunlight for photosynthesis to occur, but in such small quantities that it couldn't possibly disrupt your sleep or negatively impact your health. Go forth and bring the outside in, totally worry-free!
Which flower delivery service is best?
It's hard to resist tooting our own horn when we know how good we are, so we'll just come straight out and say it: Appleyard is the best flower delivery service. Enjoy browsing our extensive range of flowers and plants, safe in the knowledge that you'll be buying from the pick of the bunch.