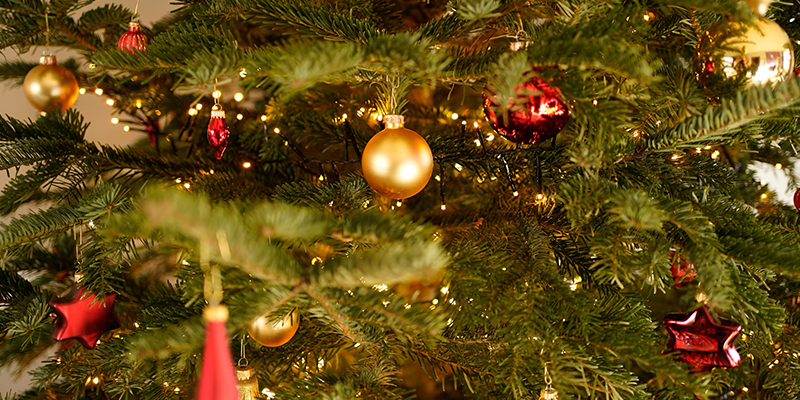 See how festivity looks around the globe with this tour through Christmas trees around the world.
The History of Christmas Trees
The modern tradition of Christmas trees began in Germany in the 16th century, as people started bringing spruce, pine, and fir trees into their home and dressing them with candles, and other decorations such as paper roses and apples.
It's believed that George III's German wife Queen Charlotte introduced the idea to the UK, but the tradition was originally limited to the royal family and other nobility. Christmas trees became more widely popular in the UK in 1841 when a picture of Queen Victoria and her family stood around a Christmas tree was published in the national newspaper.
Since this time Christmas tree decorations have evolved from simple candles to having lights, baubles and much more. As electricity became widely available, candles were replaced with artificial lights. This was probably a good thing as the candles had a nasty habit of setting the trees on fire!
Christmas Trees Today
In modern times we have found many new ways to decorate our Christmas trees, and we have a lot of different options when picking a tree, including real trees, artificial trees, and even living mini trees. Trends are constantly evolving, and nowadays we're likely to be getting our inspiration from Instagram and Pinterest.
National Tree Dressing Day falls in the first weekend of December, and it's the traditional day to put up the Christmas tree with family. We decorate our trees with man-made decorations, such as baubles, beads and lights, and even natural decorations like pinecones.
Public Christmas trees are also a big deal, with many cities and towns putting up impressive outdoors displays in squares and other public areas. Similarly, Christmas light switch-ons are often popular and well-attended events.
Join us on our journey to see the different Christmas trees around the world...
Warsaw, Poland
This huge Christmas tree definitely succeeds in spreading the Christmas cheer with its beautiful and bright festive illuminations, even including giant Christmas presents decorated with fairy lights at the base. Warsaw's annual Christmas tree is located in Castle Square, close to the Old Town and Christmas markets.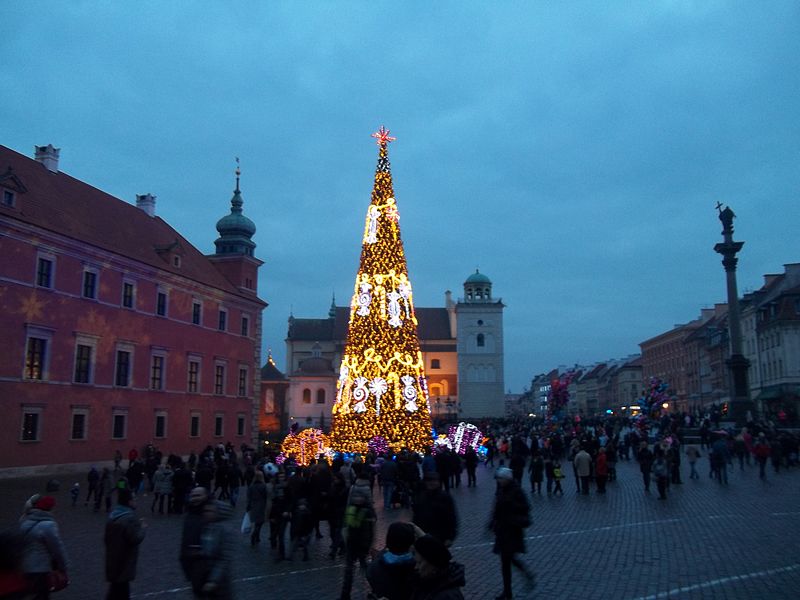 Prague, Czech Republic
Each year, experts select Prague's Christmas tree from living trees nominated by the public. Usually, they'll have between twenty and forty trees to choose from! It can be seen in Old Town Square, and it's always gorgeously decorated.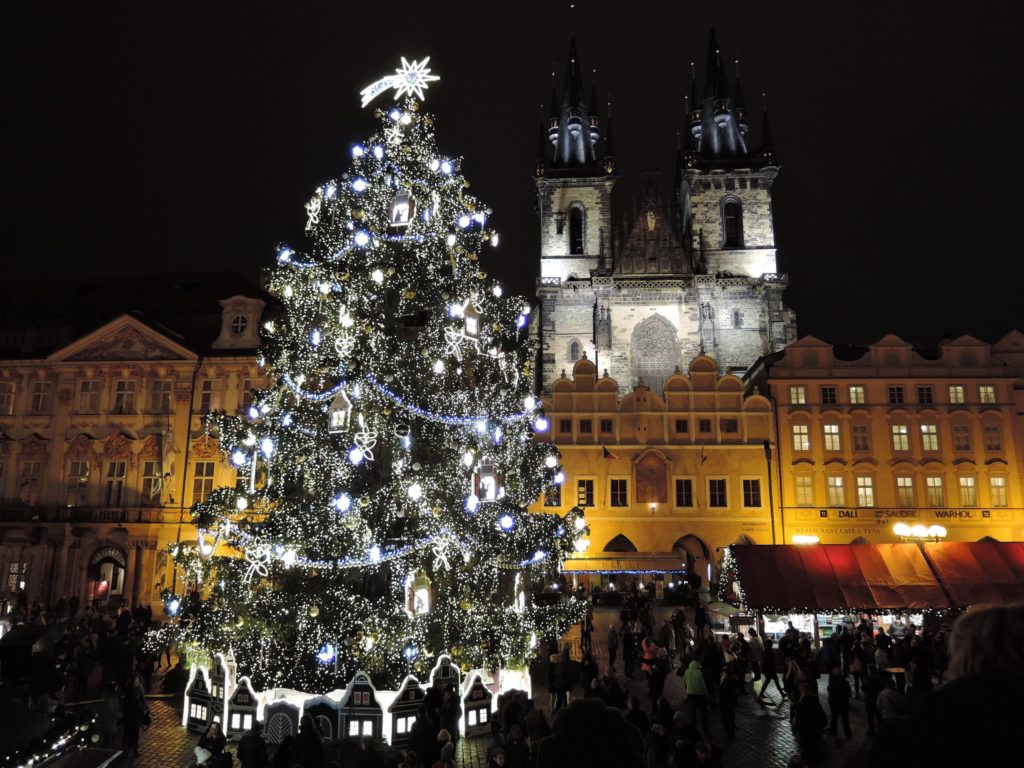 Rio De Janeiro, Brazil
For 20 years, Rio De Janeiro has constructed the world's largest floating Christmas tree. The huge tree sits on a floating platform in the Rodrigo de Freitas Lagoon in the south of the city.
Created with metal frames and millions of lights, it's a truly impressive display. After a two year absence, the tree returned in 2018 and stood 70 metres tall.
The lighting of the tree is one of Rio's most popular Christmas events, with a huge firework display marking the start of the festive season.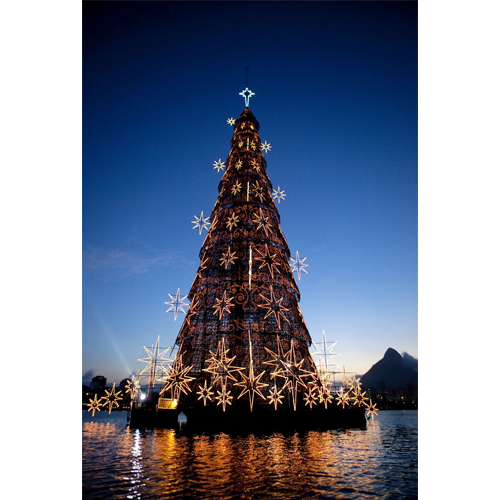 London, UK
This iconic Christmas tree in Trafalgar Square has been given from Norway to England every year since 1947. This is a gift of friendship, thanking Britain for their support in the Second World War. In recognition of this, the tree is decorated in the Norwegian style, with lights hanging vertically.
The tree is carefully selected from forests around Oslo, and it's usually 50-60 years old and around 20 metres tall. It's then cut down in an annual ceremony every November, which is attended by the British Ambassador to Norway, the Mayor of Oslo, and the Lord Mayor of Westminster.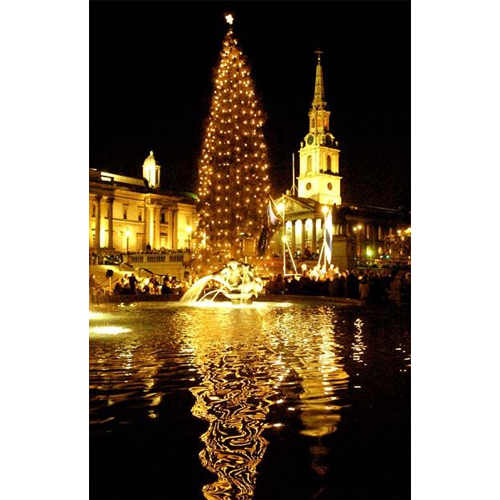 Guatemala City, Guatemala
The lighting of the all-lights Christmas tree in the Plaza del Obelisco is a huge event in Guatemala City and marks the start of Christmas celebrations. The tree is lit at the same time as 32 other trees around the country.
The tree is 40 metres tall, and is decorated with over 1.5 million lights. It's sponsored by Guatemala's oldest and largest beer company, Gallo. The rooster topping the tree is in fact the company's logo!
New York, USA
This Christmas tree at the Rockefeller Centre is the most celebrated in the Big Apple. The lighting of the tree has been televised since 1997, and around 125 million people visit it each year.
Since 2018, the famous tree has been topped with a huge, 408kg star made from 3 million Swarovski crystals. The star has 70 spiky light bulbs, and a total diameter of 2.8 metres. It was designed by architect Daniel Libeskind, and took a team of 12 and two years to create. In addition to this, the tree is decorated with over 50,000 multi-coloured lights.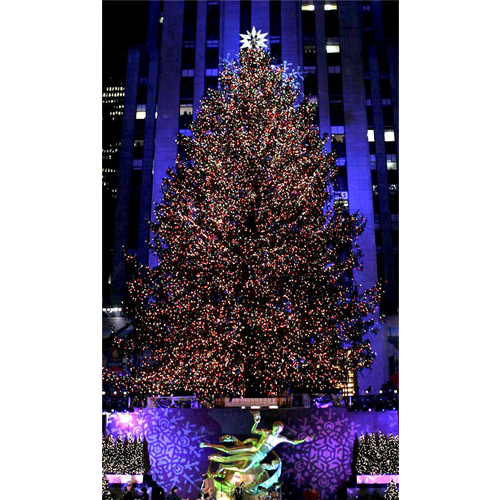 Osaka, Japan
Situated in Universal Studios, Osaka, this Christmas tree claimed the Guinness World Record for the most lights on an artificial tree in 2011. The theme park has gone on to break its own record every year since, with 591,840 lights in 2019. It's always a breathtaking display, and the rest of the park is decorated to match the dazzling tree.
---
Don't forget to order your Christmas Flowers from Appleyard London to help add to the festivity in your home when putting up your Christmas tree! Or, why not mix things up this year with one of our cute miniature trees or festive plants?