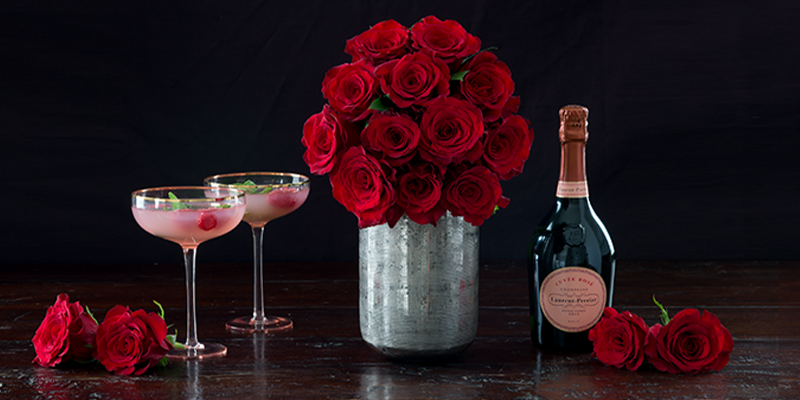 Ever wondered what Valentine's flowers mean? Find a beautiful bloom with the perfect meaning to symbolise your love this Valentine's Day with this simple guide.
Flowers have long held rich symbolic significance; in the Victorian times, the language of flowers was used to send very specific messages through a bouquet. Choosing a flower with meaning adds an extra special touch to your Valentine's gift. For example, we all love roses but why not choose a colour that symbolises the message you want to portray?
Keep reading to find out what message different flowers & their colours convey.

The Meaning of Red Roses
The traditional gift for Valentine's Day, red roses symbolise love, romance, and devotion, and are the perfect bloom to simply say 'I love you'. These flowers are our best sellers on Valentine's Day and we can understand why - it's a timeless, classic Valentine's gift.
Red roses have been considered romantic since ancient times. In Roman mythology, the blooms were associated with the goddess of love, Venus.

The Meaning of White Roses
The white rose represents unity, virtue, purity and the new beginnings of love. It's now commonly used as a bridal flower, but it's also a more understated way to express your love to someone special.
Their quiet beauty has also made them a gesture of remembrance, honor and reverence, which makes them a beautiful memorial for a departed loved one. Whether stately or somber, the white rose is a perfect way to say, "I'm thinking of you.
The Meaning of Purple Roses
Lilac roses have a particularly lovely meaning, typically signifying enchantment and love at first sight. These unusual blooms are a beautiful symbol of profound love and devotion. 
The Meaning of Pink Roses
The pink hues communicate the meaning of elegance, grace, admiration and appreciation. The pink rose is a popular Valentine's gift for those in the early stages of a relationship, as it's not as overtly romantic as the red rose.
That said, it can still be sent to someone you've been with for a long time. For example, it can be used to express your gratitude for many years of love and support, or long lasting admiration.

The Meaning of Lilies
The meaning of the lily varies by the type and colour. Calla lilies carry a range of meanings, but one of the most common ones is faithfulness, making them a great way to show devotion. They can also demonstrate appreciation, admiration, charm, and passion.
On the other hand, the beautiful oriental lily signifies purity and grace, with particular colours having different meanings. Orange lilies can be sent to send a message of confidence and passion, whilst pink lilies are symbolic of prosperity and wealth - a great way to express your best wishes for the year ahead.
The Meaning of Orchids
The elegant orchid makes a striking addition to any Valentine's bouquet, giving them modern flair and style. During the Victorian age, orchids were only found in the tropics and were extremely rare. Therefore, Victorians would collect exotic orchids as a sign of luxury and refined taste. When given as a gift, the rarer the orchid, the deeper your love and passion was for the receiver.
Today, they are more typically regarded as emblems of integrity, elegance and friendship as well as portraying rare and delicate beauty.
The Meaning of Peonies
Peonies signify romance, elegance, honour, wealth and abundance. These beautiful blooms are incredibly popular, and an uncommon sight at Valentine's Day. They'll make for a lovely surprise, whilst conveying your hopes and best wishes for your partner.

The Meaning of Carnations
Generally, this flower symbolises love, distinction and fascination. However, there are many different colours of carnation and each have their own individual meaning.
A dark red connotes deep love and affection, light red symbolises admiration, while white implies pure love and good luck. Purple carnations imply capriciousness and unpredictability - perfect for a more fiery relationship.
Pink carnations began with the belief that they first appeared on earth from the Virgin Mary's tears and therefore they now symbolise a mother's undying love. Although perhaps not the best Valentine's colour, they are stunning - especially for fans of pink!
---
All of the above flowers are available in many of our Valentine's bouquets. Head to our shop to find the perfect blooms for your loved one this Valentine's day. Whether it's a Valentine's gift for your girlfriend, fiancé, wife, boyfriend or husband we have the one to suit you.