Unique Stems
If you want to send a bouquet that's a little different, we've put together a list of our top 10 most unique and unusual flowers to help you choose. From unusually shaped flowers to strange flowers, you'll find some unique inspiration here.

UNIQUE AND UNUSUAL FLOWERS DELIVERED THROUGHOUT THE UK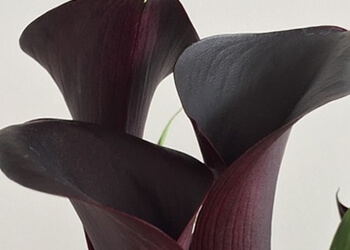 Dark, mysterious and oh-so elegant, the black calla lily is a sultry stem that adds a certain air of glamour to any bouquet. It's an unusual flower originating from South Africa and is certain to impress your recipient. Calla means 'beautiful' in Greek - we can certainly see why the calla lily got its name!
| | |
| --- | --- |
| | Find Black Calla Lilies in our Black Diamond bouquet |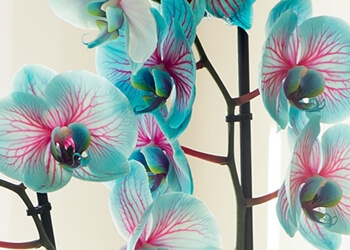 Orchids are a variety of plant that produce some of the most unusual flowers around. With a nod to the far east, unique orchids continue to surprise and delight us with their bright blooms. With their sky blue petals radiating out from a hot pink centre, the pink and blue phalaenopsis orchid is the perfect example of an unusual flower.
| | |
| --- | --- |
| | Find the Wonder Orchid in our Blue & Pink Phalaenopsis Orchid |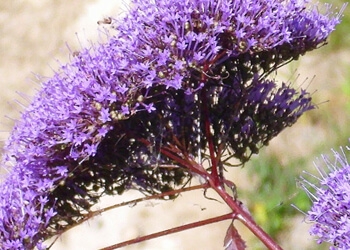 With a dome shaped head dotted with lots of tiny unusual flowers, trachelium is a beautiful addition to any bouquet, which from a distance can almost take the appearance of pincushion. When combined within a bouquet, trachelium adds a wonderful texture in contrast with many other blooms.
| | |
| --- | --- |
| | Find Trachelium in our Coral bouquet |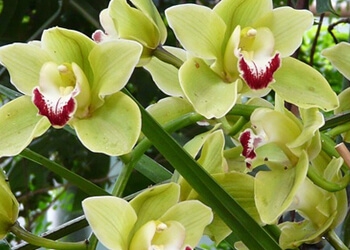 4. GREEN CYMBIDIUM ORCHID
A colour more commonly associated with the leaves and stems of flowers makes green cymbidium orchids a rather unique flower. With a star shaped outer petals in green, and a deep red centre that resembles a winged angel, these blooms are a beautiful addition to any floral arrangement.
| | |
| --- | --- |
| | Find the Green Cymbidium Orchid in our Sumptuous Orchid bouquet |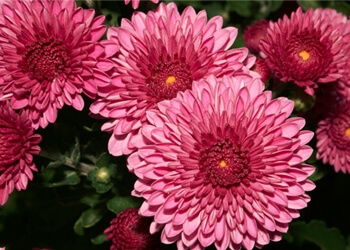 With a beautiful large head of spiked petals, the resomee chrysanthemum is a stunningly unique flower. Coming in a variety of bright and pastel shades, from pretty pink to lemon yellow, the resomee chrysanthemum can be relied on to add an unusual appearance to any flower arrangement.
| | |
| --- | --- |
| | Find Chrysanthemum bloom our Forever 1 bouquet |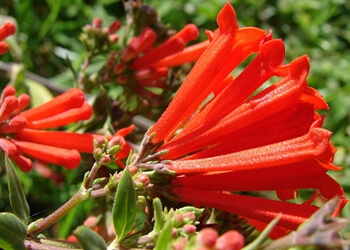 A heavenly scent and small clusters of brightly coloured flowers makes bouvardia a stunning unique flower. The flower heads are often unusual shapes, with certain varieties having the appearance of little white cubes before they fully open, making for a truly unique appearance.
| | |
| --- | --- |
| | Find white Bouvardia in our Purity bouquet |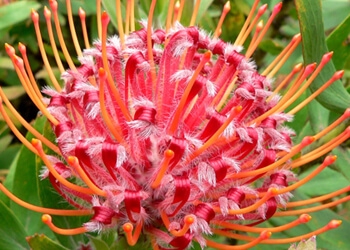 One of the most unusual flowers on our list, leucospermum is a tropical looking species with a flower head produced in a dense inflorescence (cluster of flowers). You'll find leucospermum in bright colours and it is almost certain to be the talking point or any flower arrangement.
| | |
| --- | --- |
| | Find Leucospermum in our Tropicana bouquet |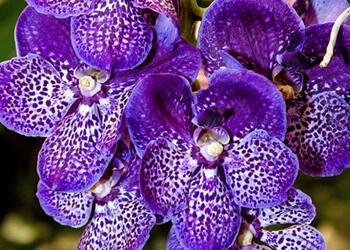 The vanda orchid, also known as the Singapore orchid, is a truly special species of orchid, producing bright clusters of flowers in a variety of colours and patterns. Originating from mountains and forests of east Asia, the vanda orchids unusual flowers are often favoured by florists looking to create an unique luxury bouquet.
| | |
| --- | --- |
| | Find Vanda Orchids in our Mulberry Orchid bouquet |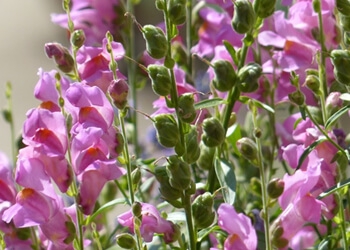 Antirrhinum, or snapdragons as they are more commonly known, are a variety of unusual flowers which bloom on tall stems with flower heads that resemble the face of a dragon when squeezed. The spiky stems with brightly coloured blooms can be used for visual impact in bouquets.
| | |
| --- | --- |
| | Find Antirrhinum in our Purity bouquet |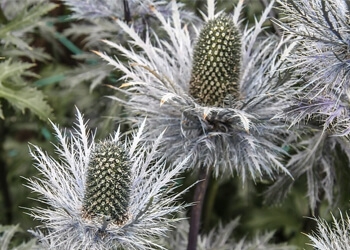 White Eryngium has jagged steely petals which add a unique element to any bouquet. The name actually originates from Ancient Greece, where the plant was used to cure indigestion. The thistle-like white eryngium is a superb contrast with soft petals traditionally found in a bouquet, helping create a visually impressive display.
| | |
| --- | --- |
| | Find White Eryngium in our Quartz bouquet |
Flowers Delivered
Have flowers delivered anywhere in the UK, whether it's to celebrate a birthday, anniversary or simply just because, we have the perfect flower gifts to mark special occasions.Sending beautiful flowers from Appleyard is the ultimate luxury flower gift, our beautiful flower bouquets and flower arrangements paired with champagne make for exquisite floral gift sets. We have designed each bouquet to include only the highest quality stems which is how we can guarantee each bouquet will be fresh for 7 days.
Why not send flowers and add on a gift? Our range allows you to add an extra treat to be delivered alongside the bouquet. These includes luxury chocolates, fine wines and a mini birthday cake. Or why not add a vase to be delivered with the bouquet? This will allow the recipient to display their gorgeous bouquet immediately with minimal fuss.