Florist Inspiration
Join us to celebrate our florist's favourite creation each month and learn a little bit about the history, heart and inspiration behind our bouquets.
just for january..
Topaz
Start the New Year with Topaz, our luxurious couture bouquet of blue agapanthus, white eryngium, creamy avalanche roses, and exquisite lilac memory lane roses.
View Topaz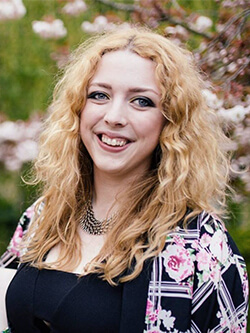 Rebecca
floral specialist
appleyard london
"Pantone have announced that their Colour of the Year is Classic Blue, a cobalt hue symbolising the importance of communication, introspection, and clarity for the year ahead. Our Topaz bouquet is the perfect way to bring a touch of Classic Blue into your home, with deep blue agapanthus taking centre stage in this bouquet, complemented by delicate blue veronica."
what stems are in the mix?
White Eryngium, Tanacetum Baya, Avalanche Rose, Memory Lane Rose, Blue Veronica, Blue Agapanthus, Hard Ruscus & Greenbell
Avalanche Roses

Large, full budded white roses recognised as the 'Queen of Roses'. White roses represent innocence, purity, and reverence.

Tanacetum Baya

These pretty, miniature white flowers are part of the Aster family and signify protection and health for the year ahead.

White Eryngium

These striking thistle like blooms symbolise admiration and add eye catching texture to this bouquet.

Memory Lane Roses

Unique and rare roses with a charming vintage lilac colour. Lavender roses are said to signify enchantment, and love at first sight.

Blue Veronica

Blue Veronica's striking wands of periwinkle blue flowers fade into lush green tones, and add an eye catching detail to Topaz. They are symbolic of fidelity.

Blue Agapanthus

These deep blue star like flowers perfectly capture Pantone's Colour of the Year. The name comes from the Greek word 'agape', meaning love.
caring for
Topaz
When your bouquet arrives, trim all stems by 2-3cm and remove any discoloured guard petals from the roses. Remove any foliage that will fall beneath the waterline and place your bouquet in a vase with deep water and our flower food.

As this bouquet is the grande size and one of our largest bouquets, we recommend a wide, deep vase to give it the best support. Our Grande vase is the perfect choice for this bouquet.
Flower Care Tips
View Topaz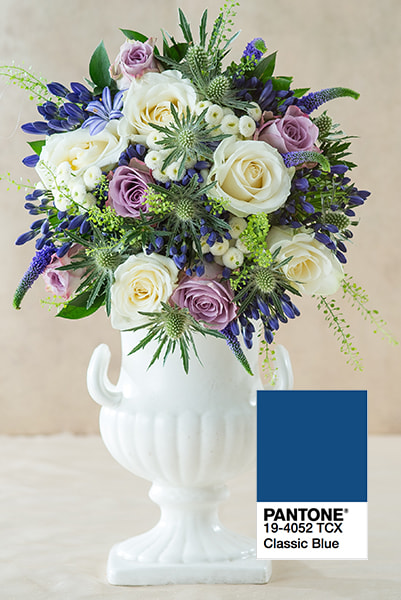 this bouquet is perfect for...
Staving off the January blues and freshening up your home for the New Year! It's also an opulent gift for birthdays, anniversaries, and other special occasions.

December November October September