Florist Inspiration
Join us to celebrate our florist's favourite creation each month and learn a little bit about the history, heart and inspiration behind our bouquets.
just for november..
Rose Envy
A beautiful autumn bouquet of peach versilia roses, lilac memory lane roses, and deep red Kenyan roses nestled in between glossy red berries and blue veronica.
View Rose Envy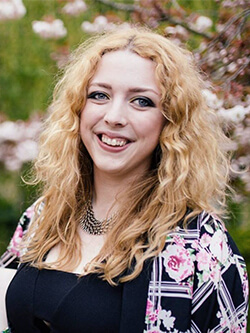 Rebecca
floral specialist
appleyard london
"Rose Envy is an enchanting fairytale arrangement of some of our prettiest roses in peach, scarlet, and lilac. The red berries add a lovely wintry touch to the bouquet, enhanced by the frosted look of the blue veronica. Perfect for the rose lover in your life."
what stems are in the mix?
Versilia Roses, Memory Lane Roses, Red Kenyan Roses, Red Hypericum Berry, Blue Veronica & Hard Ruscus
Versilia Roses

Pretty light peach roses with hints of butter yellow, symbolising deep appreciation and gratitude.

Memory Lane Roses

Unique and rare roses with a charming vintage lilac colour. Lavender roses are said to signify enchantment, and love at first sight.

Red Kenyan Roses

Deep red roses, a classic symbol of love, desire, and romance

Blue Veronica

Blue Veronica's striking wands of periwinkle blue flowers fade into lush green tones, adding eye-catching detail. They are symbolic of fidelity.
caring for
Rose Envy
When your bouquet arrives, trim all stems by 2-3cm and remove any discoloured guard petals from the roses. Remove any foliage that will fall beneath the waterline and place your bouquet in a vase with deep water and our flower food.

For more flower care tips see our Flower Care page, featuring a breakdown of tips on looking after our most popular stems. Alternatively, refer to your care leaflet received in the box with your blooms.
Flower Care Tips
View Rose Envy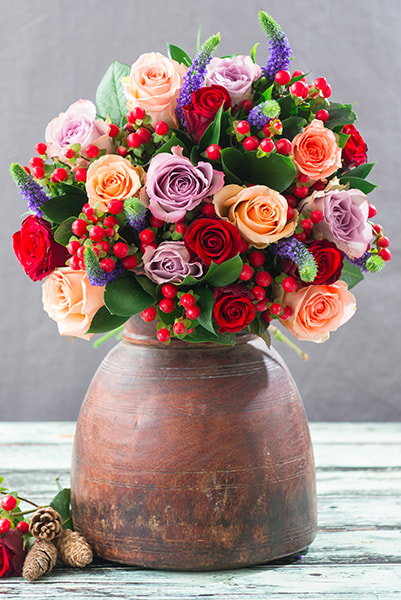 this bouquet is perfect for...
Anyone whose favourite flower is the rose! This arrangement of roses in a range of pretty and unusual tones are sure to make their day. Rose Envy is also a perfect choice for birthdays, anniversaries, and other special occasions this autumn, adding a burst of colour to any home.

October September August July