Florist Inspiration
Join us to celebrate our florist's favourite creation each month and learn a little bit about the history, heart and inspiration behind our bouquets.
just for march..
peach parfait
Inspired by the British garden roses, heavenly scented sweet vuvuzela roses with lilac memory lane roses and blue veronica. Bringing the garden inside.
view peach parfait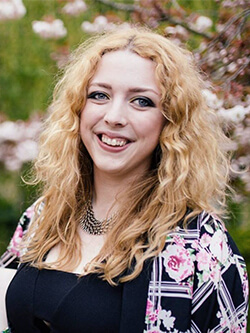 Rebecca
floral specialist
appleyard london
"The peachy-coral tones in this bouquet perfectly match this year's Pantone colour of the year 'Living Coral'."
what stems are in the mix?
Sweet Vuvuzela Rose, Memory Lane Rose, Red Alstroemeria, Purple Limonium, Blue Veronica, Parvifolia Eucalyptus & Bupleurum
Sweet Vuvuzela Rose

A beautiful cup-shaped garden rose with peach and salmon pink tones. Peach roses symbolise deep appreciation and gratitude.

Memory Lane Rose

Unique and rare roses with a charming vintage lilac colour. Lavender roses are said to signify enchantment, and love at first sight.

Red Alstroemeria

These bright, exotic flowers resemble small lilies. They are long-lasting and add a vibrant splash of colour. Alstroemeria symbolise friendship and devotion.

Purple Limonium

With its delicate sprays of tiny violet flowers, Limonium is also known as Sea Lavender. They bring a touch of the wild to Peach Parfait, and signify remembrance.

Blue Veronica

Blue Veronica's striking wands of pale purple flowers fade into lush green tones, and add an eye catching detail to Peach Parfait. They are symbolic of fidelity.
caring for
peach parfait
Don't worry if it looks like the rose petals are a little brown or discoloured on arrival. The outer petals are what's known as the 'guard petals', they protect the rose whilst they make their journey to you. You can simply remove these and the roses will bloom beautifully.

For more handy tips, please see your Care Tips leaflet included. Alternatively, view our flower care page for more handy tips to keep your flowers looking fresh.
flower care tips
view peach parfait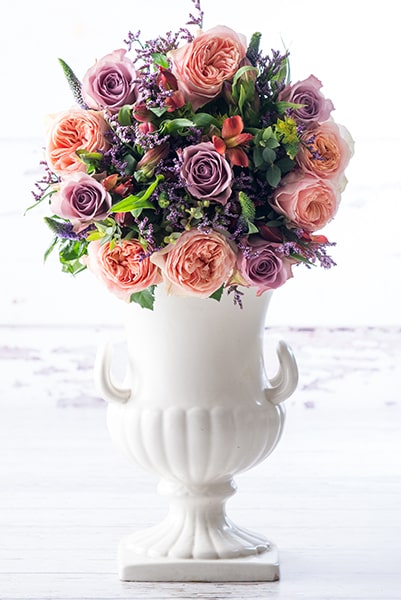 this bouquet is perfect for...
These stems are sure to make anyone smile. Perfect for gifting to mum's, grandma's, friends and family.
Why not separate into 3 tiny vases to make a stunning centre piece?

To celebrate International Women's Day, until 8th March we're gifting 10% of every sale of the Peach Parfait bouquet to The Fawcett Society. This amazing charity campaigns tirelessly to achieve gender equality and support women's rights. Find out more about their work here: fawcettsociety.org.uk