Florist Inspiration
Join us to celebrate our florist's favourite creation each month and learn a little bit about the history, heart and inspiration behind our bouquets.
just for july..
Strawberry Smoothie
A perfect pastel delight of fluffy white hydrangeas, beautiful sweet pink avalanche roses, vibrant kimsey germini & white alstroemeria.
View Strawberry Smoothie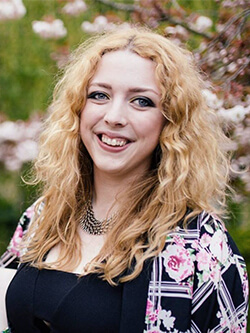 Rebecca
floral specialist
appleyard london
"This bouquet is a sweet pink treat inspired by summertime smoothies and ice cream. Fluffy white hydrangeas give this arrangement its gorgeous texture, detail and volume, whilst the mixed pink blooms bring beautiful pastel pink highlights."
what stems are in the mix?
White Hydrangea, Germini Kimsey, Sweet Avalanche Roses, White Veronica, Pink Alstroemeria and Hard Ruscus
White Hydrangea

Magnificent round summer blooms with abundant lace like petals. Hydrangeas symbolise gratitude and heartfelt emotion.

Kimsey Germini

The brightest flowers in this bouquet; these eye-catching bubblegum pink Germini send a message of joy and happiness.

Sweet Avalanche Roses

Delicately coloured roses with a subtle blush hue. Pink roses traditionally symbolise admiration and appreciation.

White Veronica

White Veronica boasts striking wands of white flowers which fade into lush green tones, adding additional detail to Strawberry Smoothie.

Pink Alstroemeria

Exotic bright pink flowers resembling miniature lilies. Alstroemeria symbolise friendship and devotion.
caring for
Strawberry Smoothie
When your bouquet arrives, trim all stems by 2-3cm and remove any discoloured guard petals from the roses. Remove any foliage that will fall beneath the waterline and place your bouquet in a vase with deep water and our flower food.

As this bouquet contains hydrangeas, we recommend a wider vase to give them the space they need to bloom. It's especially important for hydrangeas to be placed in water as soon as possible, as they require a lot of hydration to look their best.
Flower Care Tips
View Strawberry Smoothie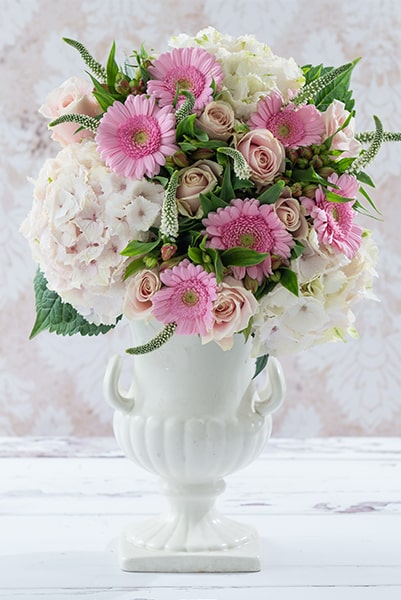 this bouquet is perfect for...
Fans of the colour pink! This bouquet is full of a mixture of pastel pink blooms to brighten their day.

This bouquet makes a wonderfully eye catching centrepiece, due to the volume created by its hydrangeas - perfect for decorating your home over the summer.

For more inspiration, see our featured bouquets from previous months below.

June May April