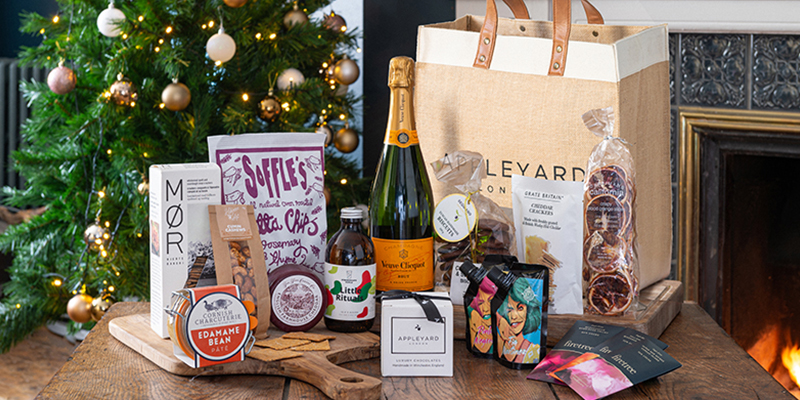 Christmas shopping is either a lot of fun or a lot of faff! Be it a snooty sister or a grumpy grandad, we've all got that one tricky-to-buy-for family member.
If only there was a catch-all gift that would save the day and take the seasonal stress away, eh?
Enter the Christmas hamper!
From cheese, charcuterie and chocolate to craft beer, cocktails and champagne, there's a bundle of festive joy to satisfy all tastes in our fancy yuletide range.
Here's the best artisan hamper to buy for every type of loved one this Christmas. Yes, even that one!
The Chocoholic
Your resident chocoholic will be salivating at the thought of devouring our scrumptious stash of chocolatey goodness. We're talking hand-crafted truffles made in an idyllic Hampshire town, gourmet chocolate popcorn, buttery raspberry and dark chocolate biscuits, mixed chocolate bars made from the finest cocoa, a milk chocolate slab iced with a Christmas greeting and even an organic chocolate spread! Everything comes from talented independent producers, who need our support after a tough year. That's the excuse we're giving ourselves, anyway...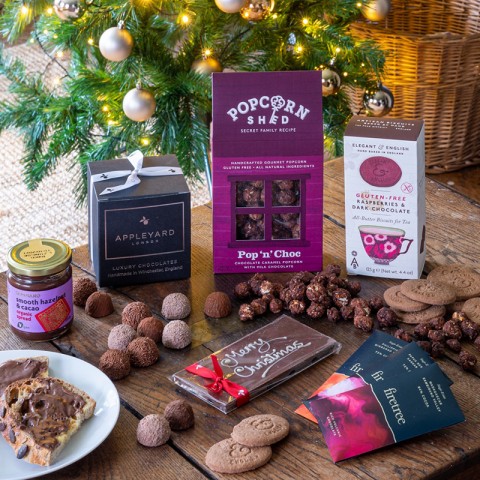 The Girly Girl
Without meaning to suggest that rosé and pink champagne are only for the ladies, if you're buying for a girly girl, you know what to do. The widely beloved Whispering Angel is a fail-safe with its summery grapefruit notes, while a starry bottle of the vivacious Moet & Chandon Rosé Imperial or strawberry-based Veuve Clicquot Rosé are equally likely to impress. Go on, you know they're worth it. 

The Cheese Addict
Cheese, glorious cheese! What would Christmas be without it? Rubbish, that's what! The good news for any cheese addicts in your clan, is that any hamper worth its salt features at least one block of the good stuff. Our Charcuterie, Cheese and Chutney Gourmet Hamper boasts two delicious cheeses, both from The Fine Cheese Company of Bath and Belgravia, no less. There's an oak-smoked cheddar and an English farmhouse cheddar, backed up by mouthwatering salamis, duck rillette, spelt and sourdough snap crackers, and a jar of Cumberland chutney.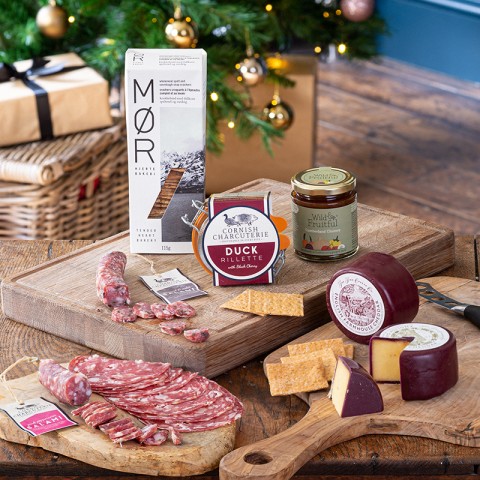 The Party Animal
Suffice to say, 2020 has not been a vintage year for parties! If the party animal in your life has lost their raison d'être, consider bringing the life and soul of a roof-raising fiesta to them with a fun-loving hamper. Christmas parties may be off the table, but our Xmas Party Box is brimming with cocktails, wine and tasty nibbles. Oh and a Santa hat, naturally. If they like cracking upon a can, try the Craft Beer Lovers' Christmas Party - a crate of 12 acclaimed craft beers, carefully curated from indie microbreweries up and down the country. 

The Bartender
If your giftee loves nothing better than lovingly stocking their wine cellar or drinks trolley with exciting new booze, then buy them a hamper full of it. Simple! Our Ultimate Luxury Booze Christmas Selection is a real extravagance, featuring regal Veuve Clicquot champagne (complete with limited edition ice jacket), superb French Burgundy, scrummy port, three artisan cocktails and some chocolate truffles to top it off a treat. They'll be champing at the bit to throw a boozy dinner party at the earliest opportunity.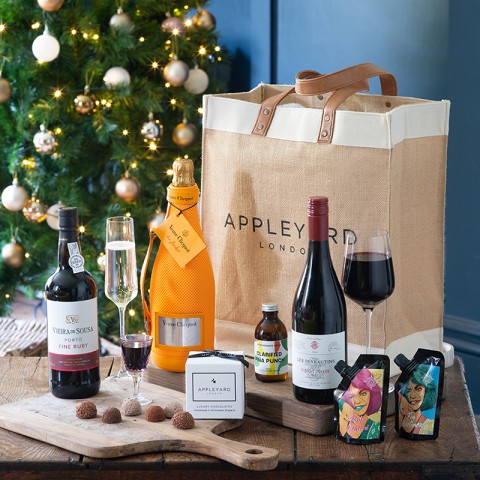 The Adventurous One
It's a hard time to be an adventurer, grounded by a series of government lockdowns. Take your bold explorer on a gastronomic journey through the wares of some excellent indie food and drink producers instead, with any one of our Christmas artisan hampers. They'll find everything from pear and walnut chutney and chocolate orange cantuccini to chilli pitta chips and aromatic loose leaf tea, all lovingly packed and ready to be gobbled up.

The One Who Deserves a Treat
It's been a gruelling year for everybody, but if a loved one has had a tougher time than most, they deserve an indulgent surprise. Give them some serious TLC with our Christmas Champagne Deluxe Hamper - it's overflowing with the finest food and champagne, including rosemary and thyme pitta chips, cumin cashew nuts and blood orange crisps. The Festive Indulgence is a splendid, more affordable substitute, with its organic prosecco, raw honey and volcanic chocolate.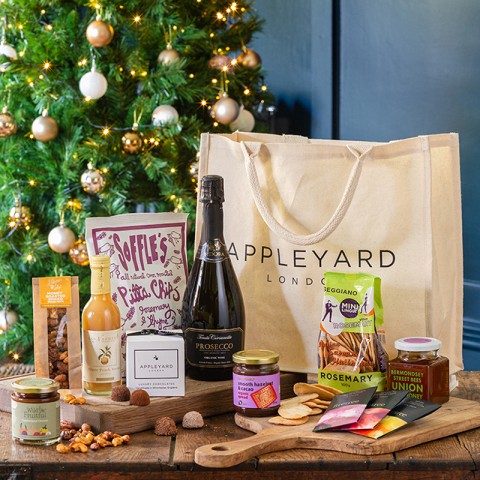 The Whisky Lover
Enjoying a Christmas whisky by a roaring log fire is an unparalleled joy - if you like whisky, that is! Gift your whisky-sipping relative a half bottle of 10-year-old Glenmorangie and some handmade chocolate truffles, and watch them smile smugly. This single malt Scotch whisky has been crafted in stills as high as giraffes and stored in oak casks for a rich flavour. It has a nutty, toffee sweetness that all palettes will enjoy. 

The Snacker
Got a brother or sister who raided the snack cupboard so often, there were never any treats left for you? Chances are, they still can't resist an afternoon pick-me-up or two. Or three. Give them a licence to snack with the Rudolph's Graze Artisan Hamper, which we've jam-packed with green olives, Cornish pate, cheese, charcuterie, crackers, nuts and chutney. They might even make up for all that childhood disappointment and share - but we doubt it!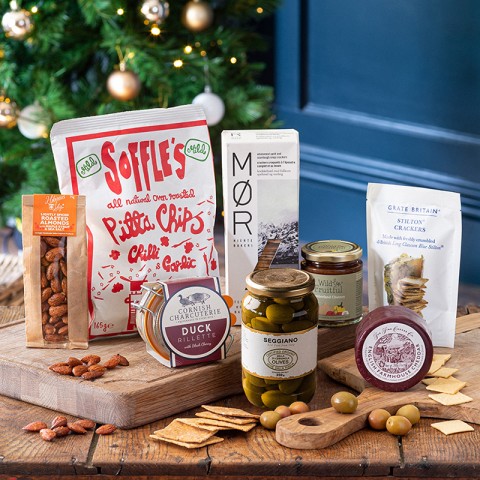 The Wine Snob
Wine snobs can be notoriously impossible to please, but we're willing to bet they'll nod with approval at a bottle of the best from our champagne and wine range. Nobody can turn their nose up at vintage Dom Perignon, fruity Bourgogne Pinot Noir or citrussy Chablis Premier Cru, can they now? Especially when they all come with velvety chocolate truffles!

---
There's no need for a last minute Christmas Eve panic. Pick up one of our artisan hampers and enjoy a guaranteed thumbs up on Christmas Day! Prices start at just £39.99.