Florist Inspiration
Join us to celebrate our florist's favourite creation each month and learn a little bit about the history, heart and inspiration behind our bouquets.
just for may..
Peony Meadow
A summer delight of Sarah Bernhardt peonies, vintage Miss Piggy roses, scented yellow freesias and café germini.
View Peony Meadow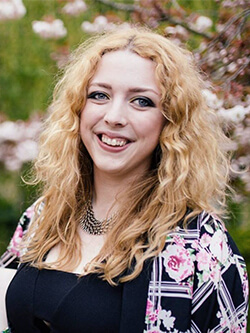 Rebecca
floral specialist
appleyard london
"This is a gorgeous early summer bouquet full of enchanting pink and peach tones, with the variety of seasonal flowers adding beautiful texture and detail. Peonies steal the show in this bouquet, and are sure to catch the eye as they open to reveal their iconic billowing blooms."
what stems are in the mix?
Sarah Bernhardt Peony, Miss Piggy Rose, Yellow Freesia, White Eustoma, White Bouvardia, Café Germini, Greenbell and Hard Ruscus
Sarah Bernhardt Peonies

Enchanting peonies with huge blooms & layers of ruffled petals in pastel pink. Peonies symbolise romance, elegance, wealth and abundance.

Miss Piggy Roses

Enchanting two toned roses with coral and pink petals. Coral roses are said to symbolise desire and enthusiasm.

Yellow Freesia

Bright yellow funnel shaped blooms with a sweet fragrance. They signify friendship and trust.

White Bouvardia

Delicate clusters of star shaped white flowers with a delightfully sweet and fruity scent. In the language of flowers, bouvardia symbolises enthusiasm.

Café Germini

These soft apricot coloured germini beautifully complement the deeper corals in this bouquet. Germini carry the meaning of joy and happiness.

White Eustoma

Crisp white bell shaped blooms with delicate ruffles. These pretty flowers signify friendship and appreciation.
caring for
Peony Meadow
Peonies arrive in bud ready to bloom, but just need a little extra help from you. Firstly, trim all the stems by 2 - 3cm and wash away any sticky sap from the peony buds. Ensure that you carefully remove any discoloured guard petals from the roses.

You can then place the flowers into a vase of deep water & enjoy watching them unfurl over the next couple of days.

For more handy tips, please see your Care Tips leaflet included. Alternatively, view our flower care page for more handy tips to keep your flowers looking fresh.
Flower Care Tips
View Peony Meadow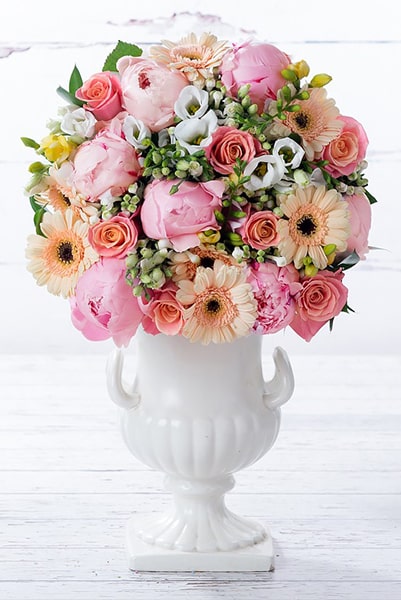 this bouquet is perfect for...
Getting into the mood for summer. Its beautiful coral and yellow tones will remind you of sunny days and warmer weather.

It's an ideal gift for peony lovers, and they'll love watching the peonies in this bouquet unfurl and bloom. Peonies aren't around for long, so don't miss out on these perfect summertime blooms.