Florist Inspiration
Join us to celebrate our florist's favourite creation each month and learn a little bit about the history, heart and inspiration behind our bouquets.
just for april..
Scented Spring
A wonderful bouquet of vibrant blue hyacinths, purple tulips, memory lane roses and paperwhites. A perfect floral gift this spring.
View Scented Spring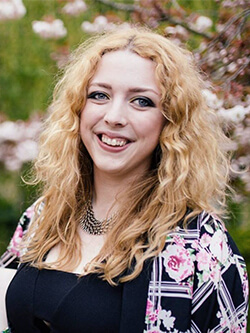 Rebecca
floral specialist
appleyard london
"The jewel tones in this bouquet are a twist on traditional spring colours, with classic springtime flowers in more unusual blues, purples, and lilacs. The combination of flowers like hyacinths and paperwhites make this one of our most fragrant bouquets."
what stems are in the mix?
Blue Hyacinths, Paperwhites, Memory Lane Roses, Purple Tulips and Greenbell
Memory Lane Roses

Unique and rare roses with a charming vintage lilac colour. Lavender roses are said to signify enchantment, and love at first sight.

Blue Hyacinths

Beautiful clusters of deep periwinkle hyacinths give Scented Spring its sweet fragrance. Blue hyacinths are an expression of sincerity.

Paperwhites

These delicate white blossoms are a fragrant relative of the Daffodil. Like yellow daffodils, they signify new beginnings, hope, and renewal.

Purple Tulips

Rich violet tulips bring an eye catching depth to the colours in this bouquet. Purple tulips are said to symbolise royalty and nobility.
caring for
Scented Spring
When our fresh Hyacinths arrive in bud please don't be alarmed by their lack of initial colour, they are best shipped in this form. The stubby base you see at the bottom of the stem is actually a part of the Hyacinth bulb and doesn't need cutting.

For more handy tips, please see your Care Tips leaflet included. Alternatively, view our flower care page for more handy tips to keep your flowers looking fresh.
Flower Care Tips
View Scented Spring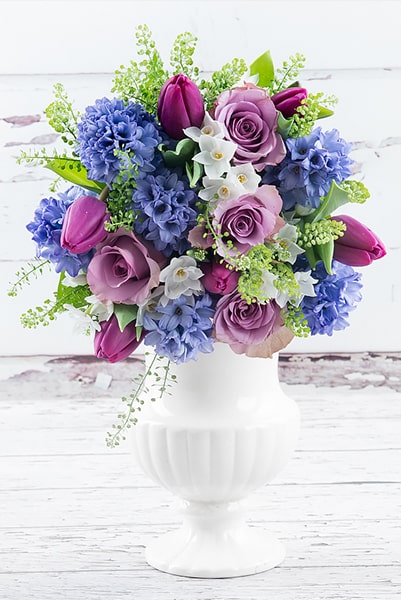 this bouquet is perfect for...
This beautiful bouquet is sure to brighten up any space - a perfect way to make your home look more cheerful for spring. It smells divine too, so why not finish off your spring cleaning with these flowers?

This is a wonderful gift for friends and family with spring birthdays, or even just to send to someone who needs cheering up.

To complement its slightly wilder look, why not try experimenting with something other than a traditional vase? Try a metallic pail or watering can for a more rustic and bohemian feel.